United States of America
The United States is a developed country and has the world's largest national economy, with an estimated GDP in 2013 of $16.7 trillion – 23% of global nominal GDP and 19% at purchasing-power parity. The economy is fuelled by an abundance of natural resources and the world's highest worker productivity, with per capita GDP being the world's sixth-highest. While the U.S. economy is considered post-industrial, it continues to be one of the world's largest manufacturers. The U.S. has the highest mean and second-highest median household income in the OECD as well as the highest average wage, though it has the fourth most unequal income distribution among OECD nations with roughly 16% of the population living in poverty. The country accounts for 39% of global military spending, being the world's foremost economic and military power, a prominent political and cultural force, and a leader in scientific research and technological innovation.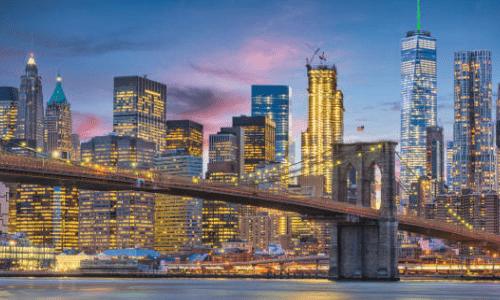 New York, NY
New York is a global hub of international business and commerce and is one of three "command centers" for the world economy (along with London and Tokyo). The city is a major center for banking and finance, retailing, world trade, transportation, tourism, real estate, new media as well as traditional media, advertising, legal services, accountancy, insurance, theatre, fashion, and the arts in the United States. New York City has been ranked first among 120 cities across the globe in attracting capital, business, and tourists. Many major corporations are headquartered in New York City, including 45 Fortune 500 companies. New York is also unique among American cities for its large number of foreign corporations. One out of ten private sector jobs in the city is with a foreign company.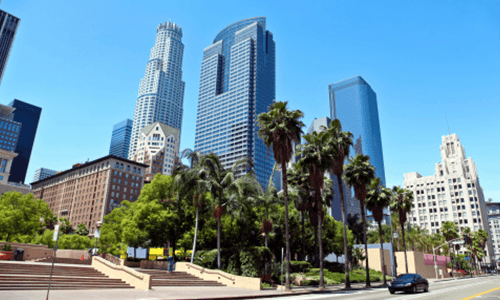 Los Angeles, CA
The economy of Los Angeles is driven by international trade, entertainment (television, motion pictures, video games, recorded music), aerospace, technology, petroleum, fashion, apparel, and tourism. Los Angeles is also the largest manufacturing center in the western United States. The contiguous ports of Los Angeles and Long Beach together comprise the fifth-busiest port in the world and the most significant port in the Western Hemisphere and is vital to trade within the Pacific Rim. Other significant industries include media production, finance, telecommunications, law, healthcare, and transportation. The city is home to six Fortune 500 companies. They are energy company Occidental Petroleum, healthcare provider Health Net, metals distributor Reliance Steel & Aluminium, engineering firm AECOM, real estate group CBRE Group and builder Tutor Perini.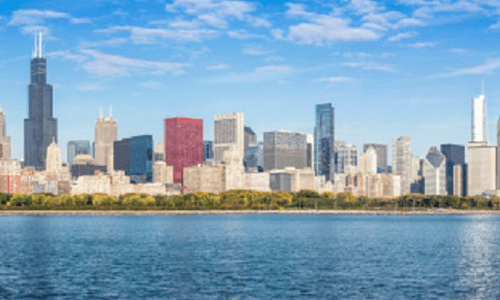 Chicago, IL
Chicago has the third largest gross metropolitan product in the United States. The city has also been rated as having the most balanced economy in the United States, due to its high level of diversification. Chicago is a major world financial center, with the second largest central business district in the United States. The city is the headquarters of the Federal Reserve Bank of Chicago (the Seventh District of the Federal Reserve). The city and its surrounding metropolitan area are home to the second largest labor pool in the United States with approximately 4.25 million workers. In addition, the state of Illinois is home to 66 Fortune 1000 companies, including those in Chicago.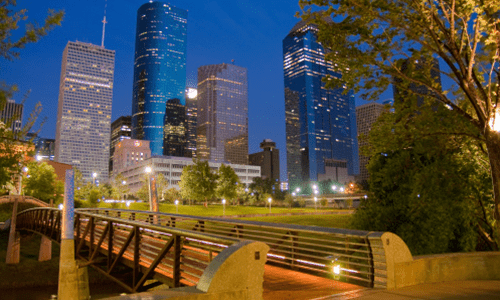 Houston, TX
Houston is recognized worldwide for its energy industry, particularly for oil and natural gas, as well as for biomedical research and aeronautics. Renewable energy sources, wind and solar, are also growing economic bases in Houston. The ship channel is also a large part of Houston's economic base. Because of these strengths, Houston is designated as a global city by the Globalization and World Cities Study Group and Network. The Houston area is the top U.S. market for exports, surpassing New York City, according to data released by the U.S. Department of Commerce's International Trade Administration. Petroleum products, chemicals, and oil and gas extraction equipment accounted for approximately two-thirds of the metropolitan area's exports last year. The top three destinations for exports were Mexico, Canada, and Brazil.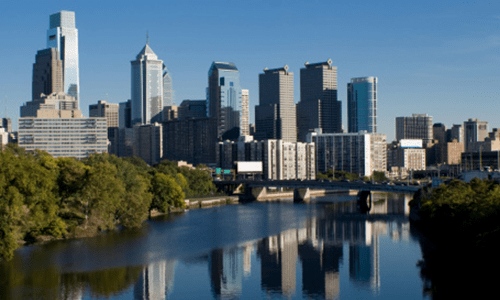 Philadelphia, PA
Philadelphia is the center of economic activity in Pennsylvania. According to the Bureau of Economic Analysis, the Philadelphia area is the seventh-largest metropolitan economy in the United States. Philadelphia ranks ninth among world cities and fourth in the nation. The city is also the nation's fourth-largest consumer media market. The city is home to the Philadelphia Stock Exchange and several Fortune 500 companies. Philadelphia's economic sectors include information technology, manufacturing, oil refining, food processing, health care and biotechnology, tourism and financial services. Philadelphia has shifted to an information technology and service-based economy. Financial activities account for the largest sector of the metro economy, and it is one of the largest health education and research centers in the United States.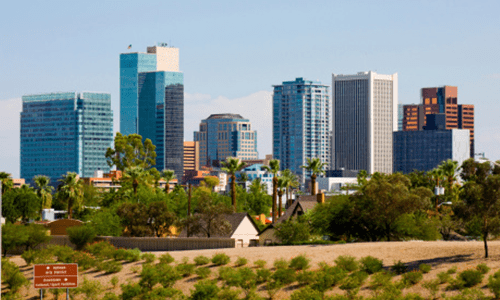 Phoenix, AZ
Phoenix is currently home to four Fortune 500 companies: electronics corporation Avnet, mining company Freeport-McMoRan, retailer PetSmart and waste hauler Republic Services. Honeywell's Aerospace division is headquartered in Phoenix, and the valley hosts many of their avionics and mechanical facilities. Intel has one of their largest sites in the area, the second largest Intel location in the country. American Express hosts their financial transactions, customer information, and their entire website in Phoenix. The city is also home to: the headquarters of U-HAUL International, a rental and moving supply company; Best Western, the world's largest family of hotels; Apollo Group, parent of the University of Phoenix; and utility company Pinnacle West. Choice Hotels International has its IT division and operations support center in the North Phoenix area. US Airways, now merged with American Airlines has a strong presence in Phoenix, with the corporate headquarters located in the city prior to the merger. US Air/American Airlines is the largest carrier at Sky Harbor International Airport in Phoenix. Mesa Air Group, a regional airline group, is headquartered in Phoenix.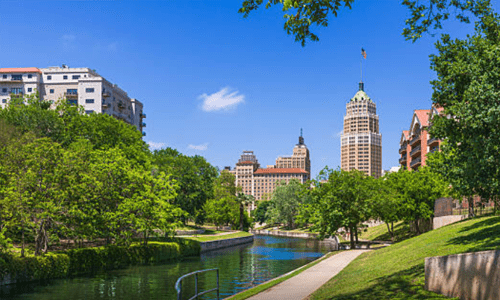 San Antonio, TX
San Antonio has a diversified economy, ranking 4th among Texas metropolitan areas and 38th in the United States. San Antonio's economy is focused primarily within military, health care, government civil service, financial services, oil and gas and tourism sectors. Within the past twenty years, San Antonio has become a significant location for American-based call centers and has added a significant manufacturing sector centered around automobiles. San Antonio is home to six Fortune 500 companies: Valero Energy Corp, Tesoro Corp, USAA, Clear Channel Communications, NuStar Energy and CST Brands, Inc. H-E-B, the 19th largest private company in the United States is also headquartered in San Antonio. Other companies headquartered in San Antonio are: Bill Miller Bar-B-Q Enterprises, Carenet Healthcare Services, Eye Care Centers of America, Frost Bank, Harte-Hanks, Kinetic Concepts, NewTek, Rackspace, Taco Cabana and Whataburger. Other large companies that operate regional headquarters in the city include: Nationwide Mutual Insurance Company, Kohl's, Allstate, Chase Bank, Philips, Wells Fargo, Toyota, Medtronic, Sysco, Caterpillar Inc., AT&T, West Corporation, Citigroup, Boeing, QVC, and Lockheed Martin.
San Diego, CA
The largest sectors of San Diego's economy are defense/military, tourism, international trade, and research/manufacturing, respectively. The economy of San Diego is influenced by its deepwater port, which includes the only major submarine and shipbuilding yards on the West Coast. Several major national defense contractors were started and are headquartered in San Diego, including General Atomics, Cubic, and NASSCO. San Diego hosts the largest naval fleet in the world: it is home to 53 ships, over 120 tenant commands, and more than 35,000 sailors, soldiers, Department of Defense civilian employees and contractors. About 5 percent of all civilian jobs in the county are military-related, and 15,000 businesses in San Diego County rely on Department of Defense contracts.