United States of America
The United States is a developed country and has the world's largest national economy, with an estimated GDP in 2013 of $16.7 trillion – 23% of global nominal GDP and 19% at purchasing-power parity. The economy is fuelled by an abundance of natural resources and the world's highest worker productivity, with per capita GDP being the world's sixth-highest. While the U.S. economy is considered post-industrial, it continues to be one of the world's largest manufacturers. The U.S. has the highest mean and second-highest median household income in the OECD as well as the highest average wage, though it has the fourth most unequal income distribution among OECD nations with roughly 16% of the population living in poverty. The country accounts for 39% of global military spending, being the world's foremost economic and military power, a prominent political and cultural force, and a leader in scientific research and technological innovation.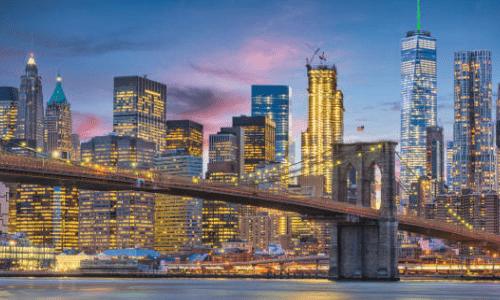 New York, NY
New York is a global hub of international business and commerce and is one of three "command centers" for the world economy (along with London and Tokyo). The city is a major center for banking and finance, retailing, world trade, transportation, tourism, real estate, new media as well as traditional media, advertising, legal services, accountancy, insurance, theatre, fashion, and the arts in the United States. New York City has been ranked first among 120 cities across the globe in attracting capital, business, and tourists. Many major corporations are headquartered in New York City, including 45 Fortune 500 companies. New York is also unique among American cities for its large number of foreign corporations. One out of ten private sector jobs in the city is with a foreign company.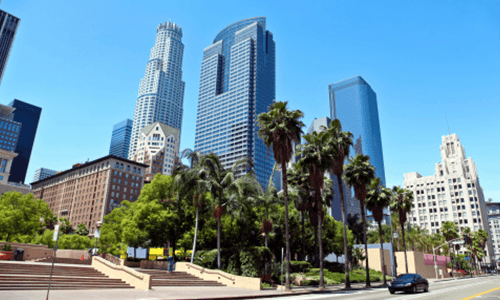 Los Angeles, CA
The economy of Los Angeles is driven by international trade, entertainment (television, motion pictures, video games, recorded music), aerospace, technology, petroleum, fashion, apparel, and tourism. Los Angeles is also the largest manufacturing center in the western United States. The contiguous ports of Los Angeles and Long Beach together comprise the fifth-busiest port in the world and the most significant port in the Western Hemisphere and is vital to trade within the Pacific Rim. Other significant industries include media production, finance, telecommunications, law, healthcare, and transportation. The city is home to six Fortune 500 companies. They are energy company Occidental Petroleum, healthcare provider Health Net, metals distributor Reliance Steel & Aluminium, engineering firm AECOM, real estate group CBRE Group and builder Tutor Perini.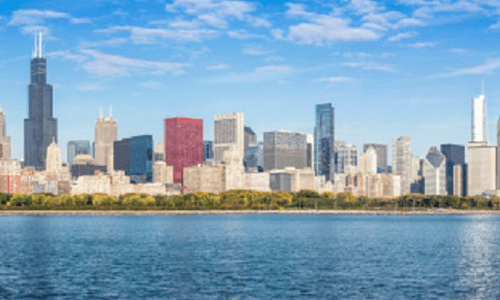 Chicago, IL
Chicago has the third largest gross metropolitan product in the United States. The city has also been rated as having the most balanced economy in the United States, due to its high level of diversification. Chicago is a major world financial center, with the second largest central business district in the United States. The city is the headquarters of the Federal Reserve Bank of Chicago (the Seventh District of the Federal Reserve). The city and its surrounding metropolitan area are home to the second largest labor pool in the United States with approximately 4.25 million workers. In addition, the state of Illinois is home to 66 Fortune 1000 companies, including those in Chicago.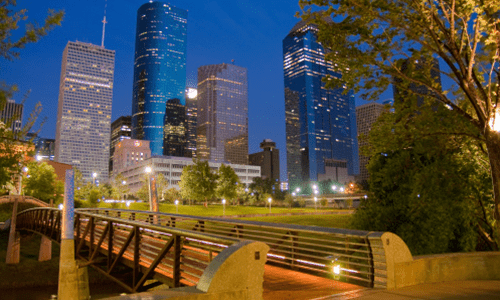 Houston, TX
Houston is recognized worldwide for its energy industry, particularly for oil and natural gas, as well as for biomedical research and aeronautics. Renewable energy sources, wind and solar, are also growing economic bases in Houston. The ship channel is also a large part of Houston's economic base. Because of these strengths, Houston is designated as a global city by the Globalization and World Cities Study Group and Network. The Houston area is the top U.S. market for exports, surpassing New York City, according to data released by the U.S. Department of Commerce's International Trade Administration. Petroleum products, chemicals, and oil and gas extraction equipment accounted for approximately two-thirds of the metropolitan area's exports last year. The top three destinations for exports were Mexico, Canada, and Brazil.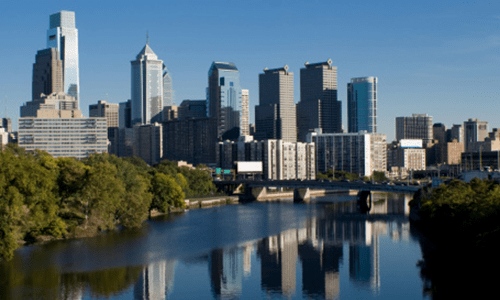 Philadelphia, PA
Philadelphia is the center of economic activity in Pennsylvania. According to the Bureau of Economic Analysis, the Philadelphia area is the seventh-largest metropolitan economy in the United States. Philadelphia ranks ninth among world cities and fourth in the nation. The city is also the nation's fourth-largest consumer media market. The city is home to the Philadelphia Stock Exchange and several Fortune 500 companies. Philadelphia's economic sectors include information technology, manufacturing, oil refining, food processing, health care and biotechnology, tourism and financial services. Philadelphia has shifted to an information technology and service-based economy. Financial activities account for the largest sector of the metro economy, and it is one of the largest health education and research centers in the United States.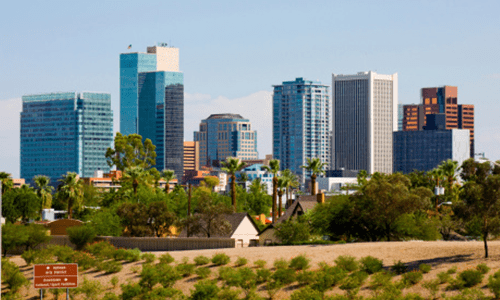 Phoenix, AZ
Phoenix is currently home to four Fortune 500 companies: electronics corporation Avnet, mining company Freeport-McMoRan, retailer PetSmart and waste hauler Republic Services. Honeywell's Aerospace division is headquartered in Phoenix, and the valley hosts many of their avionics and mechanical facilities. Intel has one of their largest sites in the area, the second largest Intel location in the country. American Express hosts their financial transactions, customer information, and their entire website in Phoenix. The city is also home to: the headquarters of U-HAUL International, a rental and moving supply company; Best Western, the world's largest family of hotels; Apollo Group, parent of the University of Phoenix; and utility company Pinnacle West. Choice Hotels International has its IT division and operations support center in the North Phoenix area. US Airways, now merged with American Airlines has a strong presence in Phoenix, with the corporate headquarters located in the city prior to the merger. US Air/American Airlines is the largest carrier at Sky Harbor International Airport in Phoenix. Mesa Air Group, a regional airline group, is headquartered in Phoenix.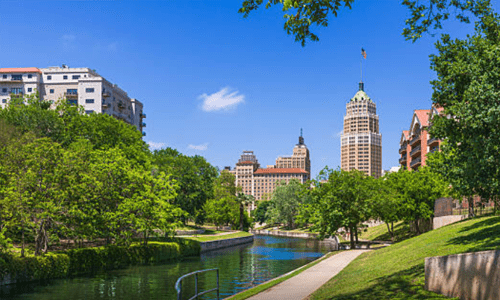 San Antonio, TX
San Antonio has a diversified economy, ranking 4th among Texas metropolitan areas and 38th in the United States. San Antonio's economy is focused primarily within military, health care, government civil service, financial services, oil and gas and tourism sectors. Within the past twenty years, San Antonio has become a significant location for American-based call centers and has added a significant manufacturing sector centered around automobiles. San Antonio is home to six Fortune 500 companies: Valero Energy Corp, Tesoro Corp, USAA, Clear Channel Communications, NuStar Energy and CST Brands, Inc. H-E-B, the 19th largest private company in the United States is also headquartered in San Antonio. Other companies headquartered in San Antonio are: Bill Miller Bar-B-Q Enterprises, Carenet Healthcare Services, Eye Care Centers of America, Frost Bank, Harte-Hanks, Kinetic Concepts, NewTek, Rackspace, Taco Cabana and Whataburger. Other large companies that operate regional headquarters in the city include: Nationwide Mutual Insurance Company, Kohl's, Allstate, Chase Bank, Philips, Wells Fargo, Toyota, Medtronic, Sysco, Caterpillar Inc., AT&T, West Corporation, Citigroup, Boeing, QVC, and Lockheed Martin.
San Diego, CA
The largest sectors of San Diego's economy are defense/military, tourism, international trade, and research/manufacturing, respectively. The economy of San Diego is influenced by its deepwater port, which includes the only major submarine and shipbuilding yards on the West Coast. Several major national defense contractors were started and are headquartered in San Diego, including General Atomics, Cubic, and NASSCO. San Diego hosts the largest naval fleet in the world: it is home to 53 ships, over 120 tenant commands, and more than 35,000 sailors, soldiers, Department of Defense civilian employees and contractors. About 5 percent of all civilian jobs in the county are military-related, and 15,000 businesses in San Diego County rely on Department of Defense contracts.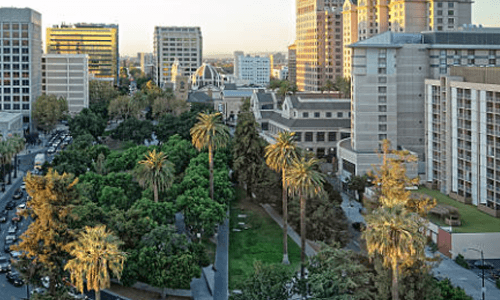 San Jose, CA
The large concentration of high-technology engineering, computer, and microprocessor companies around San Jose has led the area to be known as Silicon Valley. As the largest city in the valley, San Jose has billed itself "the capital of Silicon Valley." Area schools such as the University of California, Berkeley, University of California, Santa Cruz, San Jose State University, San Francisco State University, California State University, East Bay, Santa Clara University, and Stanford University pump thousands of engineering and computer science graduates into the local economy every year. San Jose lists many companies with 1,000 employees or more, including the headquarters of Adobe, Altera, Brocade Communications Systems, Cadence Design Systems, Cisco Systems, eBay, Lee's Sandwiches, Sanmina-SCI, and Xilinx, as well as major facilities for Becton Dickinson, Ericsson, Hewlett-Packard, Hitachi, IBM, Kaiser Permanente, KLA Tencor and Qualcomm. The North American headquarters of Samsung are located in San Jose.Other large companies based in San Jose include Altera, Atmel, CEVA, Cypress Semiconductor, Echelon, Integrated Device Technology, Micrel, Netgear, Novellus Systems, Oclaro, Online Trading Academy, Quantum, SunPower, Supermicro, Tessera Technologies, TiVo, Ultratech, and VeriFone. Sizable government employers include the city government, Santa Clara County, and San Jose State University. Acer's United States division has its offices in San Jose. Prior to its closing, Netcom had its headquarters in San Jose.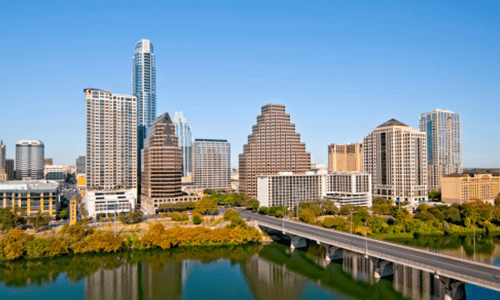 Austin, TX
Austin is considered to be a major center for high tech. Thousands of graduates each year from the engineering and computer science programs at the University of Texas at Austin provide a steady source of employees that help to fuel Austin's technology and defense industry sectors. The region's rapid growth has led Forbes to rank the Austin metropolitan area number one among all big cities for jobs. Austin's largest employers include the Austin Independent School District, the City of Austin, Dell, the U.S. Federal Government, Freescale Semiconductor (spun off from Motorola in 2004), IBM, St. David's Healthcare Partnership, Seton Family of Hospitals, the State of Texas, the Texas State University, and the University of Texas at Austin. Other high-tech companies with operations in Austin include 3M, Amazon, Apple, Hewlett-Packard, Google, Qualcomm, Inc., AMD, Applied Materials, Cirrus Logic, ARM Holdings, Cisco Systems, Electronic Arts, Flextronics, Facebook, eBay/PayPal, Bioware, Blizzard Entertainment, Hoover's, Intel Corporation, National Instruments, Rackspace, RetailMeNot, Rooster Teeth, Spansion, Buffalo Technology, Silicon Laboratories, Xerox, Oracle, Hostgator, Samsung Group, HomeAway, and United Devices.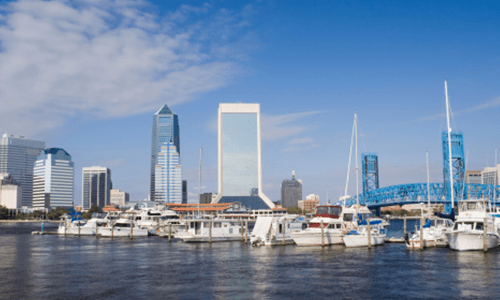 Jacksonville, FL
Jacksonville's location on the St. Johns River and the Atlantic Ocean proved providential in the growth of the city and its industry. Jacksonville has the largest deepwater port in the South (as well as the second-largest port on the U.S. East coast) and a leading port in the U.S. for automobile imports, as well as the leading transportation and distribution hub in the state. However, the strength of the city's economy lies in its broad diversification. Jacksonville is home to many prominent corporations and organizations, including the headquarters of four Fortune 500 companies: CSX Corporation, Fidelity National Financial, Fidelity National Information Services and BI-LO (United States) including it's subsidiary Winn-Dixie Stores, Inc. In addition to CSX, the Florida East Coast Railway as well as Swisher International Group and the large short line railroad holding company RailAmerica are also based in Jacksonville.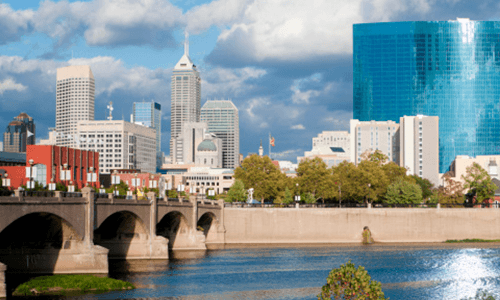 Indianapolis, IN
The largest industry sectors by employment in Indianapolis are manufacturing, health care and social services, and retail trade. Compared to Indiana as a whole, the Indianapolis metropolitan area has a lower proportion of manufacturing jobs and a higher concentration of jobs in wholesale trade; administrative, support, and waste management; professional, scientific, and technical services; and transportation and warehousing. Many of Indiana's largest and most recognized companies are headquartered in Indianapolis, including pharmaceutical manufacturer Eli Lilly and Company; wireless distribution and logistics provider Brightpoint; health insurance provider Wellpoint; retailers Marsh Supermarkets, Finish Line, Republic Airways Holdings and REIT Simon Property Group. The U.S. headquarters of Roche Diagnostics, Conseco, First Internet Bank of Indiana, Dow AgroSciences, Emmis Communications, Steak 'n Shake, and Allison Transmission are also located in Indianapolis. Other major Indianapolis area employers include Indiana University Health, Sallie Mae, Cook Group, Rolls-Royce, Delta Faucet Company, Ice Miller, Raytheon, Carrier and General Motors.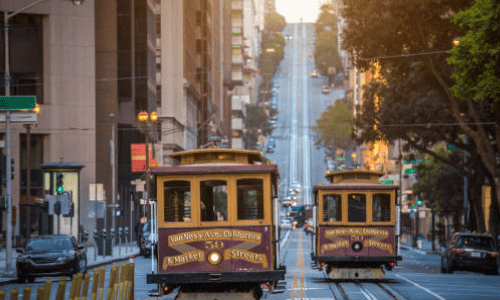 San Francisco, CA
Tourism, the city's largest private-sector employer, is the backbone of the San Francisco economy. Its frequent portrayal in music, film, and popular culture has made the city and its landmarks recognizable worldwide. Small businesses with fewer than 10 employees and self-employed firms make up 85% of city establishments as lately, it has been particularly popular with entrepreneurs establishing "start-up" companies. Many large financial institutions, multinational banks and venture capital firms are based in or have regional headquarters in the city. With over 30 international financial institutions, seven Fortune 500 companies, and a large support infrastructure of professional services – including law, public relations, architecture and design. San Francisco's economy has increasingly become tied to San Jose and Silicon Valley, its neighbors to the south, sharing the need for highly educated workers with specialized skills. San Francisco has been positioning itself as a biotechnology and biomedical hub and research center. The Mission Bay neighborhood, site of a second campus of UCSF, fosters a budding industry and serves as headquarters of the California Institute for Regenerative Medicine, the public agency funding stem cell research programs state-wide.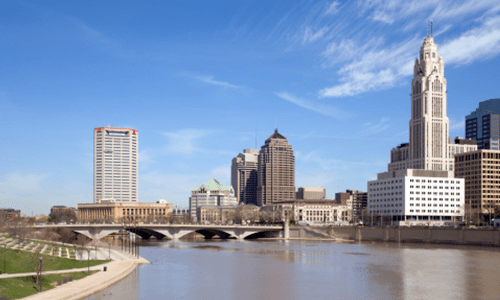 Columbus, OH
Columbus has a generally strong and diverse economy based on education, insurance, banking, fashion, defense, aviation, food, logistics, steel, energy, medical research, health care, hospitality, retail, and technology. the city had four corporations named to the U.S. Fortune 500 list including Nationwide Mutual Insurance Company, American Electric Power, L Brands, and Big Lots with Cardinal Health located in suburban Dublin. Other major employers in the area include numerous schools and hospitals, hi-tech research and development including the Battelle Memorial Institute, information/library companies such as OCLC and Chemical Abstracts, financial institutions such as JP Morgan Chase and Huntington Bancshares, as well as Owens Corning and Wendy's. Major foreign corporations operating or with divisions in the city include Germany-based Siemens and Roxane Laboratories, Finland-based Vaisala, Japan-based Techneglas, Inc., Tomasco Mulciber Inc., A Y Manufacturing, as well as Switzerland-based ABB Group and Mettler Toledo.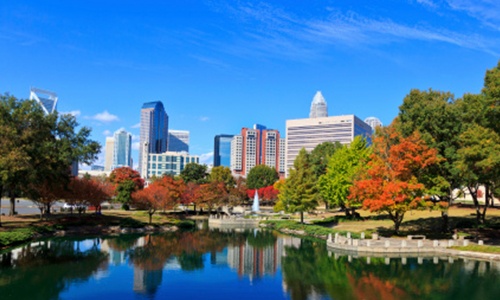 Charlotte, NC
Charlotte has become a major U.S. financial center and is now the second largest banking center in the United States (after New York). The nation's second largest financial institution by assets, Bank of America, calls the city home. Charlotte has 10 Fortune 500 companies listed in order of their rank: Wells Fargo, Bank of America, Lowe's, Nucor (steel producer), Duke Energy, Sonic Automotive, Family Dollar, Goodrich Corporation, SPX Corporation, Domtar, Chiquita Brands International. Other major companies headquartered or with corporate operations in Metro Charlotte include: Extended Stay Hotels, Babcock and Wilcox, RSC Brands, TIAA-CREF, Time Warner Cable, Fox Sports 1, ESPNU, Continental Tire the Americas, LLC., Muzak, Belk, Harris Teeter, Meineke Car Care Center, Lance, Inc, Carolina Foods Inc, Bojangles', Carlisle Companies, National Gypsum, Electrolux, LendingTree, Compass Group USA, Food Lion, and Coca-Cola Bottling Co. Consolidated U.S. Airways regional carrier CCAir is headquartered in Charlotte. Charlotte is also a major center in the U.S. motorsports industry, housing multiple offices of NASCAR as well as the NASCAR Hall of Fame. Major energy players in Charlotte include AREVA, Babcock and Wilcox, Duke Energy, Electric Power Research Institute, Fluor, Metso Power, Piedmont Natural Gas, Siemens Energy, Shaw Group, Toshiba, URS Corp., and Westinghouse. The University of North Carolina at Charlotte has a reputation in energy education and research and its Energy Production and Infrastructure Center (EPIC) trains energy engineers and conducts research.
Detroit, MI
The city of Detroit has made efforts to lure the region's growth companies downtown with advantages such as a wireless Internet zone, business tax incentives, entertainment, the Detroit International Riverfront, and residential high-rises. Compuware completed its world headquarters in downtown Detroit. OnStar, Blue Cross Blue Shield, and HP Enterprise Services have located at the Renaissance Center. Price Waterhouse Coopers Plaza offices are adjacent to Ford Field, and Ernst & Young completed its office building at One Kennedy Square. Some Fortune 500 companies headquartered in Detroit include General Motors, auto parts maker American Axle & Manufacturing, and DTE Energy. Other major industries include advertising, law, finance, biomedical research, health care, and computer software. The law firm of Miller, Canfield, Paddock & Stone, one of the largest in the U.S., has offices in both Detroit and Windsor. Wayne State University and medical service providers are major employers in the city.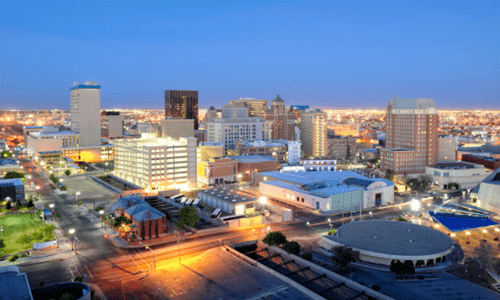 El Paso, TX
El Paso has a diversified economy focused primarily within international trade, military, government civil service, oil and gas, health care, tourism and service sectors. Over the past 15 years the city has become a significant location for American-based call centers. El Paso is home to one Fortune 500 company in Western Refining, which is listed on the New York Stock Exchange. This makes the city one of only six Texas metro areas to have at least one Fortune 500 company call it home. The city has three other publicly traded companies in Helen of Troy Limited, a NASDAQ-listed company that manufactures personal health care products under many labels, such as OXO, Dr. Scholl's, Vidal Sassoon, Pert Plus, Brut and Sunbeam, among others. The third publicly traded company is El Paso Electric listed on the New York Stock Exchange, a public utility engaging in the generation, transmission, and distribution of electricity in west Texas and southern New Mexico. The fourth publicly traded company is Western Refining Logistics also traded in the New York Stock Exchange. It is a Western Refining subsidiary which owns, operates, develops, and acquires terminals, storage tanks, pipelines, and other logistics assets. More than 70 Fortune 500 companies have offices in El Paso, including AT&T, ADP, Boeing, Delphi, dish network, Eureka, Hoover, Raytheon, State Farm and USAA. Hispanic Business Magazine included 28 El Paso companies in its recently released list of the 500 largest Hispanic owned businesses in the United States. El Paso's 28 companies are second only to Miami's 57. The list of largest Hispanic owned businesses include companies like Fred Loya Insurance, Dos Lunas Spirits, Dynatec Labs, Spira Footwear and El Taco Tote. El Paso was home to El Paso Corporation formerly known as El Paso Natural Gas Company.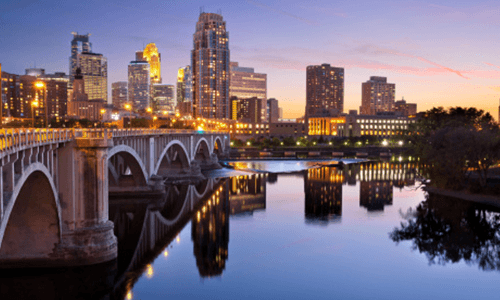 Memphis, TN
Memphis is the home of three Fortune 500 companies: FedEx, AutoZone, and International Paper. Other major corporations based in Memphis include Allenberg Cotton, American Residential Services, Baker, Donelson, Bearman, Caldwell & Berkowitz, Cargill Cotton, City Gear, First Horizon National Corporation, Evergreen Packaging, Fred's, GTx, Guardsmark, Lenny's Sub Shop, Perkins Restaurant and Bakery, ServiceMaster, Thomas & Betts, True Temper Sports, Varsity Brands, and Verso Paper. Corporations with major operations based in Memphis include Carrier, Merck & Co., Medtronic, Sharp Manufacturing, Smith & Nephew, and Technicolor Home Entertainment Services. The Federal Reserve Bank of St. Louis also has a branch in Memphis. The entertainment and film industries have discovered Memphis in recent years. Several major motion pictures, most of which were recruited and assisted by the Memphis & Shelby County Film and Television Commission, have been filmed in Memphis.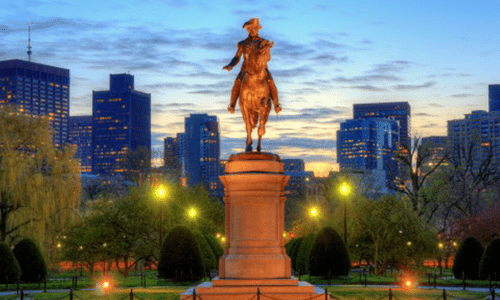 Boston, MA
A global city, Boston is placed among the top 30 most economically powerful cities in the world. The Greater Boston metropolitan area has the sixth-largest economy in the country and 12th-largest in the world. Boston's colleges and universities have a significant effect on the regional economy, with students contributing to the city's economy. The area's schools are major employers and attract industries to the city and surrounding region. The city is home to a number of technology companies and is a hub for biotechnology, with the Milken Institute rating Boston as the top life sciences cluster in the country. Boston receives the highest absolute amount of annual funding from the National Institutes of Health of all cities in the United States. The city is also considered highly innovative for a variety of reasons that include the presence of academia, access to venture capital, and the presence of many high-tech companies. Tourism comprises a large part of Boston's economy, with 21.2 million domestic and international visitors each year. Because of Boston's status as a state capital and the regional home of federal agencies, law and government are another major component of the city's economy. The city is a major seaport along the United States' East Coast and the oldest continuously operated industrial and fishing port in the Western Hemisphere. Other important industries are financial services, especially mutual funds and insurance. Boston-based Fidelity Investments helped popularize the mutual fund and has made Boston one of the top financial cities in the United States. The city is home to the headquarters of Santander Bank, and Boston is a center for venture capital firms. State Street Corporation, which specializes in asset management and custody services, is based in the city. Boston is a printing and publishing center – Houghton Mifflin is headquartered within the city, along with Bedford-St. Martin's Press and Beacon Press. Pearson PLC publishing units also employ several hundred people in Boston. The city is home to three major convention centers – the Hynes Convention Center in the Back Bay, and the Seaport World Trade Center and Boston Convention and Exhibition Center on the South Boston waterfront.