Switzerland
Switzerland has a stable, prosperous and high-tech economy. It is ranked as the wealthiest country in the world in per capita terms (with "wealth" being defined to include both financial and non-financial assets), while the Credit Suisse Global Wealth Report showed that Switzerland was the country with the highest average wealth per adult. It has the world's nineteenth largest economy by nominal GDP and the thirty-sixth largest by purchasing power parity. It is the twentieth largest exporter, despite its size. Switzerland has the highest European rating in the Index of Economic Freedom, while also providing large coverage through public services. The nominal per capita GDP is higher than those of the larger Western and Central European economies and Japan. If adjusted for purchasing power parity, Switzerland ranks 8th in the world in terms of GDP per capita, according to the World Bank and IMF.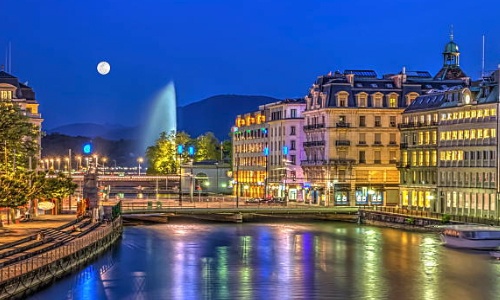 Geneva, Switzerland
Geneva's economy is mainly services oriented. The city has an important and old finance sector, which is specialized in private banking (managing assets of about 1 trillion USD) and financing of international trade. Geneva hosts the international headquarters of companies like JT International (JTI), Mediterranean Shipping Company, Vitol, Gunvor, Merck Serono, SITA, Société Générale de Surveillance, ST Microelectronics and Weatherford International. Many other multinational companies like Caterpillar, DuPont, and Cargill have their international headquarters in the city; Geneva LakeTake Two Interactive, Electronic Arts, INVISTA, Procter & Gamble and Oracle Corporation have their European headquarters in the city. Hewlett Packard has its Europe, Africa, and Middle East headquarters in Meyrin, near Geneva. PrivatAir has its headquarters in Meyrin, near Geneva.
There is a long tradition of watchmaking (Baume et Mercier, Charriol, Chopard, Franck Muller, Patek Philippe, Gallet, Jaeger-LeCoultre, Rolex, Universal Genève, Raymond Weil, Omega, Vacheron Constantin, Frédérique Constant, etc.). Two major international producers of flavours and fragrances, Firmenich and Givaudan, have their headquarters and main production facilities in Geneva. The private sector is organized in different Union of employers, including the Fédération des Entreprises Romandes Genève (FER Genève) and the Fédération des métiers du bâtiment (FMB). Geneva is ranked as the fourth most expensive city in the world. Geneva moved up four places from eighth place the previous year. Geneva is ranked behind Tokyo, Osaka, and Moscow at first, second, and third respectively. Geneva also beat Hong Kong, which came in at fifth place.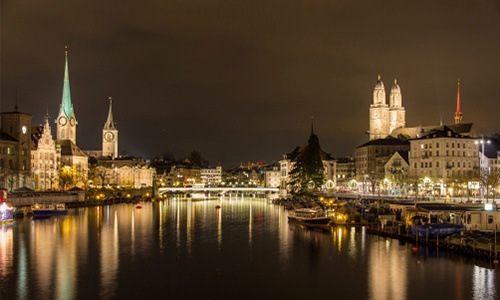 Zürich, Switzerland
Zürich is a leading financial center and global city. The Greater Zürich Area is Switzerland's economic centre and home to a vast number of international companies. By far the most important sector in the economy of Zürich is the service industry, which employs nearly four-fifths of workers. Other important industries include light industry, machine and textile industries and tourism. Most Swiss banks have their headquarters in Zürich and there are numerous foreign banks in the Greater Zürich Area. Located in Zürich, the Swiss Stock Exchange was established in 1877 and is nowadays the fourth most prominent stock exchange in the world. In addition Zürich is the world's largest gold trading centre. Ten of the country's 50 largest companies have their head offices in Zürich, among them ABB, UBS, Credit Suisse, Swiss Re and Zürich Financial Services. The high quality of life has been cited as a reason for economic growth in Zürich. The consulting firm Mercer has for many years ranked Zürich as a city with the highest quality of life in the world. In particular, Zürich received high scores for work, housing, leisure, education and safety. Local planning authorities ensure clear separation between urban and recreational areas and there are many protected nature reserves. Other cities in the country, Bern and Geneva, were also listed among the top ten. Zurich LakeZürich is also ranked the sixth most expensive city in the world. The city ranked behind Hong Kong and ahead of Copenhagen. It is the third most expensive city in Europe and second most expensive city in Switzerland after Geneva.
Zürich benefits from the high level of investment in education that is typical of Switzerland in general and provides skilled labour at all levels. The city is home to two major universities, thus enabling access to graduates and high technology research. Professional training incorporates a mix of practical work experience and academic study while, in general, emphasis is placed on obtaining a good level of general education and language ability. As a result the city is home to many multilingual people and employees generally demonstrate a high degree of motivation and a low level of absenteeism. Such characteristics are reflected in the high level of productivity the region enjoys and account for the opening of offices and research centres in the city by large corporations.