Team Accountability – Workshop 4 (Behaviors and ROE)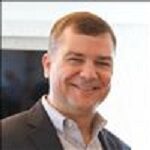 The Appleton Greene Corporate Training Program (CTP) for Team Accountability is provided by Mr. Teschner MBA BA Certified Learning Provider (CLP). Program Specifications: Monthly cost USD$2,500.00; Monthly Workshops 6 hours; Monthly Support 4 hours; Program Duration 12 months; Program orders subject to ongoing availability.
If you would like to view the Client Information Hub (CIH) for this program, please Click Here
Learning Provider Profile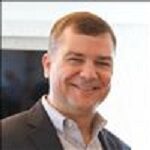 Mr. Teschner is a transformational Leadership Coach and Trainer and Founder & CEO of VMax Group. VMax Group is a St Louis-based Leadership Development company specializing in teaching accountable leadership and high-performing teamwork to businesses across the globe. VMax Group has centered much of its signature training around the proper practice of Accountability. Real Accountability—positive, forward-focused Accountability centered around the process of taking Absolute Ownership for the outcomes the team achieves—is something Mr. Teschner and his team lived during their collective time as member of high-performance military teams. Now they've made it their mission to teach what they know to those who need to learn it.
---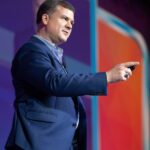 A decorated graduate of the U.S. Air Force Academy, Air University, and the National War College, Mr. Teschner is also both a Distinguished Graduate and former F-15 Instructor at the USAF Weapons School – the Air Force version of "TOP GUN". It was there that he honed his craft of teaching accountable leadership to the top practitioners in the world. Additionally, Mr. Teschner was privileged to command an operational F-22 "Raptor" squadron, flying America's most advanced air supremacy platform. Mr. Teschner was ultimately honored to be promoted to the rank of full Colonel but retired early as a result of a battle with colon-rectal cancer. Mr. Teschner has over 20 years of hands-on leadership experience in High-Performance, High-Reliability Organizations and brings all of that experience with him wherever he speaks, teaches or coaches.
---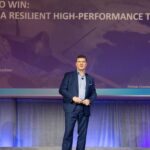 Mr. Teschner has a special way of connecting with his audiences, blending high-impact stories of fighter aviation and personal humility to achieve the intended outcome. In addition, his story of his personal fight with cancer serves as the launch pad for talks about humility, growth, motivation, and constant improvement. Mr. Teschner is the author of the #1 bestselling book, Debrief to Win: How High-Performing Leaders Practice Accountable Leadership, and released his newest bestselling book Aiming Higher: A Journey Through Military Aviation Leadership, a book co-authored with 4 other former Air Force pilots, in May of 2022. His next book, Building Resilience, is due out in the Spring of 2023.
---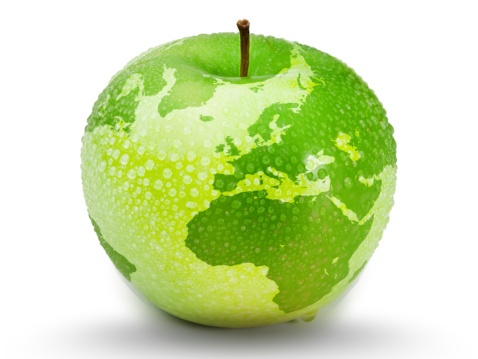 MOST Analysis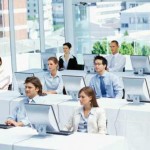 Mission Statement
This is the introduction to behavioral norms centered around the 6 DTW core values. Outcome: the team understands how to adopt the DTW core values. Tools: ZoneFive. Desired Learning Objectives: We understand the 6 Debrief to Win Core Values. We understand the power of Ritual in building Psychological Safety. We understand how to apply the 6 Core Values in Debriefs. We understand how to measure and track behaviors in teams.
---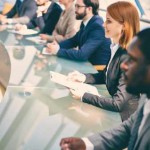 Objectives
01. Understanding Failure: departmental SWOT analysis; strategy research & development. Time Allocated: 1 Month
02. Embracing Behavioral Norms: departmental SWOT analysis; strategy research & development. Time Allocated: 1 Month
03. Setting Behavioral Norms: departmental SWOT analysis; strategy research & development. Time Allocated: 1 Month
04. Living the Behavioral Norms: departmental SWOT analysis; strategy research & development. Time Allocated: 1 Month
05. Debrief to Win Core Values: departmental SWOT analysis; strategy research & development. Time Allocated: 1 Month
06. Measuring Behaviors: departmental SWOT analysis; strategy research & development. Time Allocated: 1 Month
---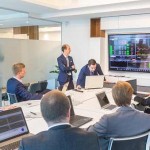 Strategies
01. Understanding Failure: Each individual department head to undertake departmental SWOT analysis; strategy research & development.
02. Embracing Behavioral Norms: Each individual department head to undertake departmental SWOT analysis; strategy research & development.
03. Setting Behavioral Norms: Each individual department head to undertake departmental SWOT analysis; strategy research & development.
04. Living the Behavioral Norms: Each individual department head to undertake departmental SWOT analysis; strategy research & development.
05. Debrief to Win Core Values: Each individual department head to undertake departmental SWOT analysis; strategy research & development.
06. Measuring Behaviors: Each individual department head to undertake departmental SWOT analysis; strategy research & development.
---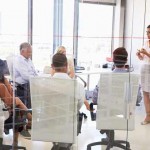 Tasks
01. Create a task on your calendar, to be completed within the next month, to analyze Understanding Failure.
02. Create a task on your calendar, to be completed within the next month, to analyze Embracing Behavioral Norms.
03. Create a task on your calendar, to be completed within the next month, to analyze Setting Behavioral Norms.
04. Create a task on your calendar, to be completed within the next month, to analyze Living the Behavioral Norms.
05. Create a task on your calendar, to be completed within the next month, to analyze Debrief to Win Core Values.
06. Create a task on your calendar, to be completed within the next month, to analyze Measuring Behaviors.
---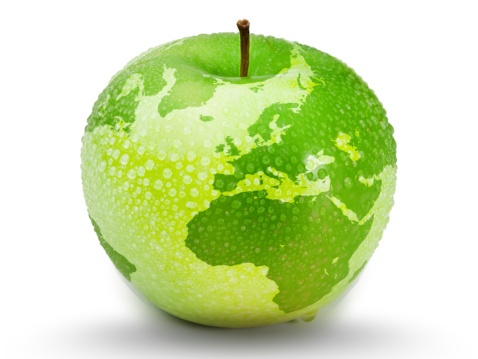 Introduction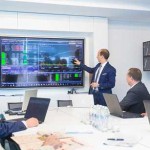 Why Are Core Values Important? (And How To Get Your Team Excited About Them)
Sure, all organizational leaders recognize the significance of core values as the guiding light that unites a team with a shared sense of purpose in order to achieve common goals. However, defining values is one thing. The process of deeply ingraining them into the culture in order to drive desired business outcomes is substantially different.
Simply described, organizational culture is the aggregate effect of how team members think and behave, their shared values, and how they respond to internal and external stimuli. A firm culture, and its accompanying set of guiding principles (core values), are either deliberately formed and cultivated from the start, or grow spontaneously over time as a result of the beliefs and experiences of those on the team.
Leaders and managers must rely on the organization's values to drive performance, especially during times of change. The values of an organization should serve as the foundation for why the company exists, how behavioral norms are formed, and how decisions are made to attain goals and meet the vision. They must be genuine and somewhat detailed in order to connect with the team.
This is true for both organizations and people's personal life. In fact, 63 percent of consumers say they want to buy products and services from firms whose mission aligns with their values and beliefs. They will even go out of their way to avoid organizations that do not share their values, demonstrating that a company's principles have both internal and exterior ramifications.
---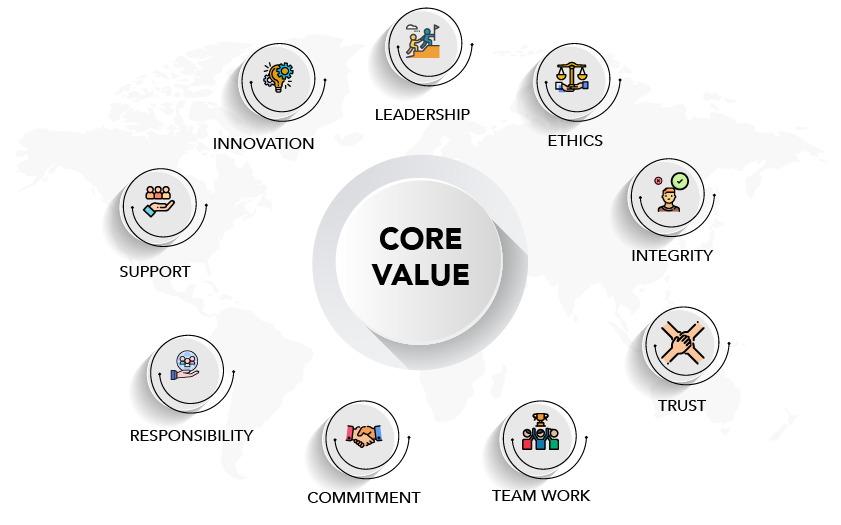 ---
Why Are Core Values Important?
It takes considerably more than a basic list of guiding principles for an organization's core values to truly matter. They should ideally explain how you and your team members (1) work, (2) behave, and (3) interact on a daily basis. They should be backed up by accountability measures and easily integrated into performance management systems.
Steve Grau is the founder and CEO of Royal Ambulance, which was just named one of the 2021 Best Small and Medium Companies to Work For by Glassdoor. It was not an easy task.
"Your values and mission are what ultimately drive your team's performance," he stated. "When your core values are truly ingrained in your way of doing business, every decision will be made with those values in mind. This helps align every decision with your brand and what it hopes to accomplish. It creates accountability to yourself and others – and customers will see that in every interaction you have with them."
Furthermore, proper alignment of values with strategy, mission, and goals has a direct and measurable impact on scalability and profit. In fact, one study discovered that brands with a strong sense of purpose gained in value by 175% over a 12-year period, much exceeding the comparable 86 percent median growth rate.
Isn't that fantastic? However, never underestimate the difficulty of values-based leadership and decision making when it comes to people decisions, customer decisions, and even revenue-generating activities.
Creating Strong Values
It is simple to generate a list of generic corporate-sounding values, such as "customer service" or "environmental effect." But, all too frequently, the ambiguity of these statements renders them basically useless to the organization and its members.
Consider what you value in your own life. If one of your basic beliefs is to prioritize your family, you won't just mention "family" and leave it at that. You'll be particular and intentional in putting that value into action, whether it's through doing housework or scheduling monthly daddy-daughter dates. Values are meaningless unless they are linked to measurable actions and behaviors.
Specificity is also important in focusing on strong, practical values for your company. It's one thing to argue that customer service is a fundamental value. It's one thing to state, as Royal Ambulance does, that you'll relieve a medical patient's concern by giving customized attention and sensitive treatment.
The specifications direct actions and efforts that are deliberate in their support of the organization's objective.
---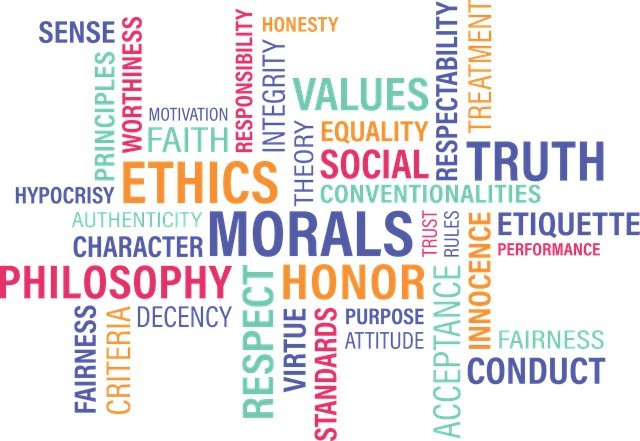 ---
How to Get Your Team to Support Your Values
As previously said, core values should serve as the backbone of your corporate culture; but, for this to occur, the entire team (or, more realistically, the majority) must connect with them. One of the most important responsibilities of a leader is to set the tone for making stated principles a part of everyday life in the organization. Both on and off the battlefield, to put it mildly.
In meetings and interactions, reminding team members of key principles is a good place to start. However, living by the key values will make these reminders much more powerful. And in a high-performing team, this obligation is shared by everyone, not just the leaders.
Recognizing positive examples of employees who have displayed the principles is one of the most effective methods to push your team to live them. Rewarding desired behavior usually results in more of it. Sharing publicly how team members have put core values into action can inspire the rest of your staff to do the same, which is why rewards and recognition programs must be based on much more than subject matter expertise and goal attainment.
---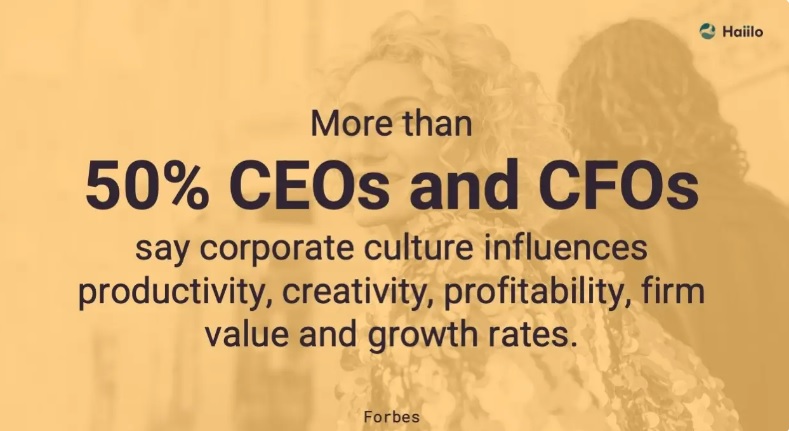 ---
The Component of Talent
Of course, ensuring buy-in from your team begins with hiring the proper people in the first place. Buy-in starts with personnel acquisition and onboarding. In my experience, hiring and promoting based solely on "performance" – but those who do not connect with the culture – never works out, costing important time, energy, emotion, and resources.
While people' attitudes and views may change over time, your company's basic values should remain strong and consistent. They should reflect concepts that will stand the test of time, even if the market changes dramatically. By staying loyal to your fundamental beliefs and enlisting the support of your whole team, you will establish a powerful presence in your industry, manage change more successfully, and possibly even crush your competitors.
Make Your Values Meaningful
Consider the following set of corporate values: Respect. Communication. Excellence and integrity. Don't they sound fairly good? Strong, succinct, and meaningful. Perhaps they are similar to your own company's values, which you spent so much time creating, debating, and amending. If this is the case, you should be concerned. These are Enron's corporate values, as stated in the company's annual report for 2000. And, as history has demonstrated, they are not meaningful; they are meaningless.
Although Enron is an extreme example, it is far from the only firm with a hollow set of ideals. Most values statements are dull, toothless, or simply deceptive. And, far from being innocuous, as some CEOs believe, they are frequently quite harmful. Empty values declarations foster cynicism and disillusionment among employees, alienate customers, and damage executive confidence.
---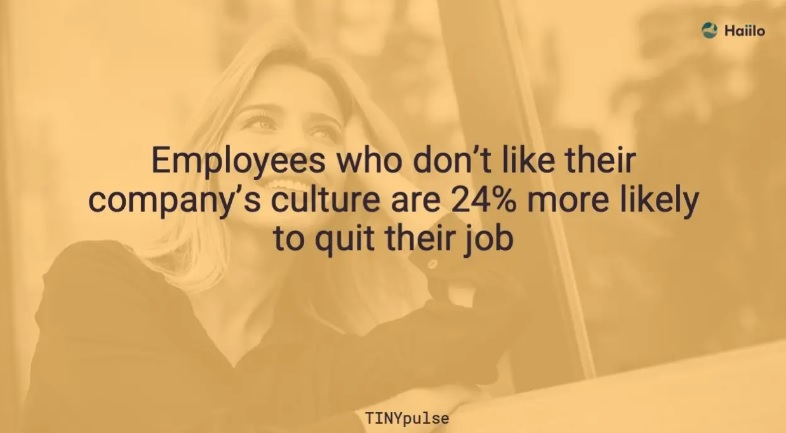 ---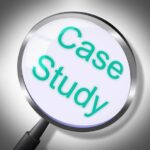 Case Study
Do you want proof? Here's what happened at a recent financial services industry management conference. The CEO began by emphasizing the importance of a new set of corporate values—teamwork, quality, and innovation—at the company. He then played a sophisticated video for the audience, which included dozens of top executives from around the world, that highlighted each word with stock footage of world-class sports, swelling music, and photos of employees waving awkwardly at the camera. The whole thing reeked of dishonesty. When the CEO happily asked the crowd whether they wanted to watch it again, he was welcomed with a resounding "No!" It was brutally obvious that his credibility had been shattered.
---
Given the danger, why do CEOs invest so much time and effort in drafting values statements in the first place? Because they believe they are obligated to. At least, that's how they've felt since Jim Collins and Jerry Porras released Built to Last in 1994. The book argued that many of the best organizations followed a set of principles known as core values, prompting managers to go to off-site meetings to conjure up some core values of their own. The values craze infiltrated corporate America like chicken pox through a kindergarten class. Today, 80% of the Fortune 100 openly proclaim their values—values that all too frequently represent little more than a drive to be trendy or, worse, politically correct.
Value debasement is a travesty, not only because the accompanying cynicism poisons the cultural well, but also because it squanders a golden opportunity. Values can distinguish a company from its competitors by establishing its identity and acting as a rallying point for personnel. But developing strong values and sticking to them takes genuine bravery. Indeed, an organization adopting a values campaign must first accept that values, when properly practiced, cause pain. Some employees are made to feel like outcasts. They limit an organization's strategic and operational independence and constrain its people's behavior. They expose executives to harsh criticism for even minor infractions. And they necessitate constant care.
If you are unwilling to bear the suffering that real values entail, don't bother creating a values statement. You'll be OK without one. However, if you have the strength to persevere, you might gain some valuable lessons from the few organizations that have adopted genuine corporate values. These companies all followed four key imperatives in defining and implementing their values, whether they sprang directly from the vision and character of its founders or were established later through formal processes.
Recognize the Different Types of Values
Too often, executives confuse other values for core values. Employees are perplexed by the resulting jumble, and management appears out of touch.
Companies should therefore develop some basic definitions to guarantee that people understand what they're talking about and what they're attempting to achieve. It's useful to categorize values into four groups.
The deeply embedded beliefs that influence all of a company's operations are known as core values, and they serve as the cultural cornerstones of the organization. Collins and Porras define core values as inherent and sacred; they must never be compromised for convenience or short-term economic advantage. Core principles frequently reflect the founders' values—for example, Hewlett-famed Packard's "HP Way" is an example. They are the source of a company's uniqueness, and they must be protected at all costs.
Aspirational values are those that a firm requires in order to prosper in the future but does not already have. For example, a corporation may need to create a new value to support a new strategy or to fulfill the needs of a changing market or industry. For example, the CEO who stated his company's core value was a sense of urgency was replacing an aspirational value for a basic one.
Aspirational values must be properly handled to avoid diluting the basic principles. One company emphasized dedication and hard effort; its employees were renowned to work late into the evenings and on weekends. The executive team felt compelled at one time to include "work-life balance" as an aspirational objective, but they finally decided against it because doing so might confuse employees about what was most important to the organization.
Permission-to-play values merely reflect the bare minimum of social and behavioral standards expected of any employee. They don't differ much amongst companies, especially those in the same region or industry, which means they never really help identify a company from its competition.
When a particular CEO insisted that integrity was a key value of his organization, he mixed core values with permission-to-play values. "Because we refuse to recruit persons who misrepresent themselves on their résumés or provide misleading information regarding previous employment experience," he explained. While his claim was undeniably correct, most firms had practices that were comparable. Unless his organization is ready to take extremely stringent measures to demonstrate that it has a higher standard of integrity than most companies, integrity should be considered a permission-to-play value rather than a core value.
Accidental values emerge spontaneously and take root throughout time without being promoted by leadership. They frequently represent the similar interests or characteristics of the personnel of the organization. Accidental values can be beneficial to a firm, such as when they foster an inclusive environment. They can, however, be negative factors that preclude fresh prospects. Managers must always distinguish between fundamental values and incidental values, as confusion in this area can be fatal.
---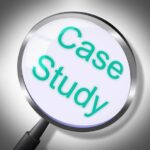 Case Study
Sak Elliot Lucca, a fashion garment brand, first struggled to identify its incidental values from its essential principles. Located in San Francisco's edgy South of Market district, its early employees were single adults who partied on weeknights and wore a disproportionate quantity of black clothes; as a result, the company was unwittingly imbued with these employees' values—trendy, youthful, and stylish.
However, as the company evolved, executives realized two things: there would be no way to fully staff the company if only young, hip, "Sak-looking" employees were hired. And elderly, married workers who could make significant contributions may be neglected unwittingly. As a result, the company worked hard to ensure that employees understood that recruiting just trendy people had nothing to do with Sak's basic principles of trust (being honest and credible), action (making independent decisions), and ownership (treating the company as if one were a founder). Even "unhip" candidates should be considered if they embrace the company's basic principles. The Sak is now a very varied company that has expanded its product portfolio to appeal to a far larger consumer.
---
The Five Characteristics of a Cohesive Team
b>The Ultimate Competitive Advantage is Cohesive Teams
Because it is so powerful and rare, teamwork is the ultimate sustained competitive advantage. Organizational health is driven by cohesive teams. They work together. They are creative. They deliver. They follow through. Customers are wowed by them. They outperform opponents while being more enjoyable to ride!
Creating a Cohesive Team
Creating a team climate that encourages positive emotional experiences allows a team to collaborate and perform better. To leverage their collective skills and focus their individual efforts, high-performance teams rely on a shared goal, vision, and values. They define roles, responsibilities, and anticipated behaviors, as well as a framework for decision-making and conflict resolution. Most significantly, they commit to creating a trusting workplace.
The Five Characteristics of a Cohesive Team
Patrick Lencioni, a pioneer of the organizational health movement, created a model based on his New York Times best-selling book The Five Dysfunctions of a Team called the Five Behaviors of a Cohesive Team (TM). Building Trust, Mastering Conflict, Achieving Commitment, Embracing Accountability, and Focusing on Results are all behaviors in his widely used paradigm.
---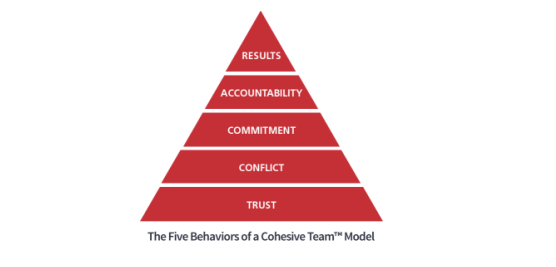 ---
1. Building Trust
Trust is the basis of a cohesive team. A truly integrated team cannot exist without authentic and vulnerable trust. To be truly candid with one another, team members must feel safe. They must be unafraid to say things like "I was wrong," "I made a mistake," "I need help," "I'm not sure," "You're better than I am at that," and "I'm sorry" when the situation calls for it; otherwise, they will waste time and energy thinking about what to say and wondering about the true intentions of their peers. "The key ingredient to building trust is not time. It is courage." – Patrick Lencioni
2. Mastering Conflict
When there is trust, team members can participate in constructive conflict with one another. Only team members who trust one another will feel safe engaging in unvarnished, passionate debate about team-important problems and decisions. Teams that have mastered conflict are able to draw on the abilities of all team members, bring all ideas to the table, and weigh all perspectives and viewpoints when making decisions.
3. Achieving Commitment
When team members can express their thoughts and debate ideas, they are more likely to buy-in with genuine support and attain true commitment rather than simply nodding assent and moving on. People will be more willing to accept a choice if they know their colleagues have no qualms about disagreeing with one another and have heard every available opinion and perspective.
4. Embracing Accountability
Team members that work well together hold one another accountable. They put themselves in the uncomfortable position of telling someone what he or she needs to hear. They communicate openly and honestly with one another. They remind one another when they fail to meet agreed-upon performance goals. They trust and respect one another, which allows them to overcome the most difficult challenge of forming a team in which people hold one another accountable – overcoming the reasonable reluctance of individuals to provide critical feedback to one another.
5. Focusing on Results
The only way to ensure that a team stays focused on collective results is for team members to hold one another accountable for what they need to do. True cohesive teams are obsessive about the overall organizational results. They are intolerant of activities and behaviors that benefit individuals but do not benefit the common good. As a result, team members are willing to make compromises in order to drive their teams' collective results.
How to Use Teamwork to Gain the Ultimate Competitive Advantage
Bringing everyone's personalities and preferences together to establish a cohesive, effective team requires effort, but the result can be enormous—for individuals, teams, and organizations.
The goal of Lencioni's associated evaluations and tailored seminars is to assist people in forming truly cohesive and productive teams that generate outcomes. They concentrate on current teams that are putting the model into action. Participants not only acquire an understanding of the model and how the team is currently functioning (based on the evaluation), but they also gain real ideas for where the team should focus its work moving forward.
---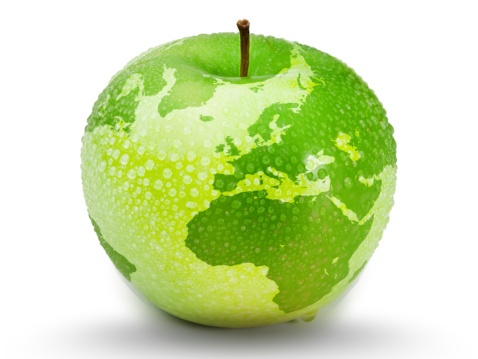 Executive Summary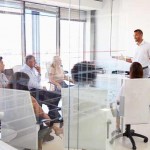 Chapter 1: Understanding Failure
How Can Organizations Learn from Failures?
Failure is a typical occurrence in business as well as in everyday life. Nobody sets out to fail, but knowing that failure will happen allows organizations to lessen the consequences and learn valuable lessons. Failure, in fact, can provide learning opportunities and serve to drive organizational progress.
In fact, research shows that organizations learn more efficiently from mistakes than from victories. The challenge is how organizations may learn from their failures and use them to improve future results and performance.
Learning from failures, as Professor Amy Edmondson argues, necessitates contextual awareness. The significance of a failure can be influenced by factors such as industry, job function, and organizational culture. For example, in R&D, large failure rates are not only expected, but can also be beneficial because they might indicate what does not work and, thus, what to do next to succeed.
Identifying smaller failures before it is too late can also help to avoid major ones later. For example, rigorously testing new products to identify faults and weak areas can assist businesses in identifying issues prior to product launch. Failure earlier in the process gives organizations more time to address problems and avoid undesirable results such as damaged client relationships or unfavorable brand image.
Understanding failure necessitates a thorough inquiry process. Only by determining the nature of the failure can organizations decide how to respond. Because the causes of failure may be multiple and located in the actions/processes of more than one department, it is critical to investigate beyond the location of the failure and get to the bottom of what happened.
However, in order to properly handle a failure, it must first be detected. People may not always speak up when a failure occurs, which can be detrimental to failure management. One reason for this could be a lack of psychological security in the workplace. Leaders can encourage staff to speak out right away by communicating the significance of transparency and emphasizing that it is never about assigning blame, but rather about improving collective accountability, learning, and organizational improvement. This can assist to reassure employees that their colleagues will not criticize them or blame them for acknowledging failure.
Aside from studying failures when they occur, there are great chances to learn from the mistakes of others, including earlier failures in the company as well as relevant ones that may have occurred in other organizations and industries. This can be tackled by encouraging openness and sharing about failures. Some suggestions include including failure discussions in mentoring programs and having executives be open about their past failures. In either case, by having experienced leaders share tales about their failures and, more importantly, what they learned from them, employees can learn from the mistakes of others without making the same mistakes themselves.
Finally, these are just a few of the proactive steps leaders and organizations can take to better understand mistakes and transform them into opportunities to improve performance.
---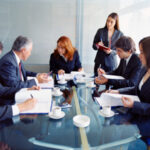 Chapter 2: Embracing Behavioral Norms
'Social norms' regulate how we behave in both personal and professional circumstances.
Personal conventions include saying 'please' and 'thank you,' looking the other person in the eyes when speaking to them, and not interrupting them when they speak. We learn these conventions at a young age and tend to follow them unconsciously throughout our lives.
While these norms apply in professional situations, they are not the only ones that must be followed. In fact, for teams to function well, particular behaviors must be agreed upon so that team members understand what is required of them and what they may anticipate from one another.
They also aid in decision making and issue solving.
But how do teams decide on these guidelines? And how can they incorporate these team behaviors into their day-to-day work so that they become second nature?
In this course manual, we'll go into team norms in further depth, discuss the relationship between team behaviors and team performance, and present instances of workplace team standards.
What Exactly Are Team Norms?
Team norms are defined as"A set of agreements about how [team] members will work with each other and how the group will work overall. These agreed-upon behaviors allow the team to increase its collective [team] performance through healthy debate and clarity of purpose and roles" by the Harvard Business Review.
Team norms are guidelines established by the team for how team members will interact, communicate, and behave, such as during meetings.
They result in more effective decision making, clear expectations for how all team members interact and perform in the team, and better onboarding of new team members.
Team norms are crucial because they clearly define the expected behaviors for all members of a team, preventing conflicts and misunderstandings.
The Relationship Between Team Behaviors And Group Performance
Van den Bossche investigated how teams create shared beliefs in a collaborative learning setting in a 2006 study and discovered that team learning increases a team's perceived performance.
This was reinforced by research by van Emmerik et al, which found that team learning behavior was positively related to team efficacy.
In essence, agreeing on a set of team behaviors or "norms" establishes healthy limits for team relationships, and explicitly outlining these anticipated behaviors can benefit the entire team.
However, properly defined norms increase performance in more than just in-person teams. Team norms are also important for virtual or hybrid teams.
Why?
Because it can take longer to create confidence when everyone works remotely.
Overall project performance, team happiness, effectiveness, and team cohesion all improve when trust is high.
---