Leading IT Transformation – Workshop 12 (Vendor Evaluation)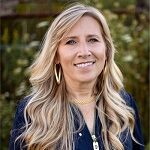 The Appleton Greene Corporate Training Program (CTP) for Leading IT Transformation is provided by Ms. Drabenstadt MBA BBA Certified Learning Provider (CLP). Program Specifications: Monthly cost USD$2,500.00; Monthly Workshops 6 hours; Monthly Support 4 hours; Program Duration 24 months; Program orders subject to ongoing availability.
If you would like to view the Client Information Hub (CIH) for this program, please Click Here
Learning Provider Profile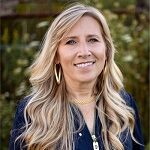 Ms. Drabenstadt is a Certified Learning Provider (CLP) at Appleton Greene and she has experience in Information Technology, Information Governance, Compliance and Audit. She has achieved an MBA, and BBA. She has industry experience within the following sectors: Technology; Insurance and Financial Services. She has had commercial experience within the following countries: United States of America, Canada, Australia, India, Trinidad, and Jamaica. Her program will initially be available in the following cities: Madison WI; Minneapolis MN; Chicago IL; Atlanta GA and Denver CO. Her personal achievements include: Developed Trusted IT-Business Relationship; Delivered Increased Business Value/Time; Decreased IT Costs; Re-tooled IT Staff; Increased IT Employee Morale. Her service skills incorporate: IT transformation leadership; process improvement; change management; program management and information governance.
---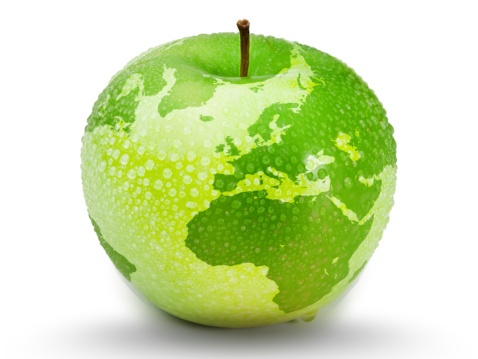 MOST Analysis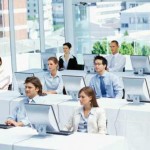 Mission Statement
Vendor evaluation is one aspect of the sourcing strategy itself. Vendor evaluation is done to ensure that a good portfolio of suppliers is available for use in the transformation program. Vendor evaluation can also be applied to current suppliers in order to monitor and measure their performance. It is essential for decreasing costs, minimizing risk as well as for the continuous improvement of the process. Vendor audits must be undertaken from time to time in an organization as there is always a need for quality control in the technology market. Vendors are required to deliver the same quality of products and services as agreed in the contract. Continuous vendor evaluations ensure that they comply with these quality standards. Particularly in the case of a new project or a new procurement, vendor evaluation is absolutely essential. It helps in determining whether a prospective vendor will be able to meet the organizational standards and the specific requirements of the digital transformation project undertaken. The goal is to choose a low-risk vendor that offers the best-in-class products or services. There are many important factors to consider when choosing a vendor for a particular project. Apart from the quality of product or service, there may also be legal risks involved such as regulatory compliance requirements or cybersecurity risks. Proper vendor assessment help in mitigating these and similar risks reducing the liabilities on the organization. Vendor evaluation can be done on many different criteria. If the vendor evaluation is being done for a new product, competitive selection can be done by comparing the features and services offered by different vendors and choosing the one that best suits the project requirements. Vendor evaluation can also be done by separately scoring individual vendors on different factors, such as price, features, reliability in delivery, and so on, and then comparing the scores to choose the highest scoring vendor.
---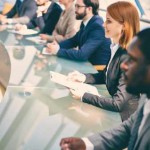 Objectives
01. Collect Vendor Data: departmental SWOT analysis; strategy research & development. Time Allocated: 1 Month
02. Price & Cost Analysis: departmental SWOT analysis; strategy research & development. Time Allocated: 1 Month
03. Managing Vendor Risk: departmental SWOT analysis; strategy research & development. Time Allocated: 1 Month
04. Vendor Communication: departmental SWOT analysis; strategy research & development. Time Allocated: 1 Month
05. Vendor Relationship: departmental SWOT analysis; strategy research & development. Time Allocated: 1 Month
06. Vendor Culture: departmental SWOT analysis; strategy research & development. Time Allocated: 1 Month
07. Vendor Stability: departmental SWOT analysis; strategy research & development. 1 Month
08. Vendor Viability: departmental SWOT analysis; strategy research & development. Time Allocated: 1 Month
09. Vendor Quality: departmental SWOT analysis; strategy research & development. Time Allocated: 1 Month
10. Vendor Performance: departmental SWOT analysis; strategy research & development. Time Allocated: 1 Month
11. Classify Multiple Vendors: departmental SWOT analysis; strategy research & development. Time Allocated: 1 Month
12. Vendor Audit: departmental SWOT analysis; strategy research & development. Time Allocated: 1 Month
---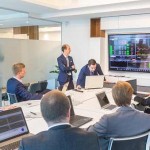 Strategies
01. Collect Vendor Data: Each individual department head to undertake departmental SWOT analysis; strategy research & development.
02. Price & Cost Analysis: Each individual department head to undertake departmental SWOT analysis; strategy research & development.
03. Managing Vendor Risk: Each individual department head to undertake departmental SWOT analysis; strategy research & development.
04. Vendor Communication: Each individual department head to undertake departmental SWOT analysis; strategy research & development.
05. Vendor Relationship: Each individual department head to undertake departmental SWOT analysis; strategy research & development.
06. Vendor Culture: Each individual department head to undertake departmental SWOT analysis; strategy research & development.
07. Vendor Stability: Each individual department head to undertake departmental SWOT analysis; strategy research & development.
08. Vendor Viability: Each individual department head to undertake departmental SWOT analysis; strategy research & development.
09. Vendor Quality: Each individual department head to undertake departmental SWOT analysis; strategy research & development.
10. Vendor Performance: Each individual department head to undertake departmental SWOT analysis; strategy research & development.
11. Classify Multiple Vendors: Each individual department head to undertake departmental SWOT analysis; strategy research & development.
12. Vendor Audit: Each individual department head to undertake departmental SWOT analysis; strategy research & development.
---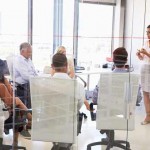 Tasks
01. Create a task on your calendar, to be completed within the next month, to analyze Collect Vendor Data.
02. Create a task on your calendar, to be completed within the next month, to analyze Price & Cost Analysis.
03. Create a task on your calendar, to be completed within the next month, to analyze Managing Vendor Risk.
04. Create a task on your calendar, to be completed within the next month, to analyze Vendor Communication.
05. Create a task on your calendar, to be completed within the next month, to analyze Vendor Relationship.
06. Create a task on your calendar, to be completed within the next month, to analyze Vendor Culture.
07. Create a task on your calendar, to be completed within the next month, to analyze Vendor Stability.
08. Create a task on your calendar, to be completed within the next month, to analyze Vendor Viability.
09. Create a task on your calendar, to be completed within the next month, to analyze Vendor Quality.
10. Create a task on your calendar, to be completed within the next month, to analyze Vendor Performance.
11. Create a task on your calendar, to be completed within the next month, to analyze Classify Multiple Vendors.
12. Create a task on your calendar, to be completed within the next month, to analyze Vendor Audit.
---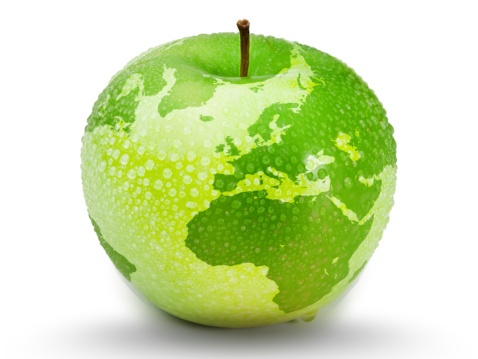 Introduction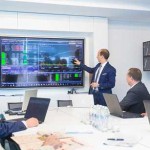 Vendor Evaluation: The What, How, and Why
Organizations perform vendor assessments to screen potential suppliers and assess their interactions with current ones. One of the most crucial choices a business must make to be competitive is how to evaluate its vendors, especially in these times of rapid market change.
Putting a Vendor Evaluation System in Place
Vendor performance evaluation should not only be a process used for assessing new vendors; it should also be a regular component of your company's procurement activity. Using categories and rankings within those categories, a good supplier assessment system will frequently review suppliers to identify strong and weak supply areas. Evaluations assist in identifying which suppliers should be given priority as well as in identifying potential danger areas, even for businesses with a restricted number of suppliers they can use. The system's ultimate objective is to monitor vendor performance consistency in a way that is integrated into the purchasing process.
Clear KPIs and measurements aimed at company priorities, as well as red flag measures to highlight when a supplier doesn't meet criteria, should be included in vendor evaluation. Every time a supplier is used, the procurer should rate them, and there should be a deadline for when they should submit their ratings. The individual or group classifying vendors should also routinely check the input. When procurers evaluate supplier performance, adopting a numerical assessment system may be simpler because companies may be quickly ranked using the final results.
These rankings and metrics ought to be external as well. It's critical to come to an understanding on them with your vendors so that they are aware of them and can offer input. Clarifying expectations for them and motivating improvements can both be accomplished by incorporating a system of recognition and reward for progress. Using agreed-upon KPIs and measurements inconsistently, failing to provide suppliers with regular feedback on their performance, neglecting supplier input when discussing and choosing measures, and conflating metrics and KPIs are all common faults in vendor assessment systems.
What is Supplier Evaluation?
Supplier evaluation in procurement refers to a formal review of suppliers to analyze their performance in relation to various criteria and determine whether they satisfy organizational needs. The goal is to build a portfolio of useable suppliers that is best-in-class and low-risk.
A pre-qualification step in the purchase process, supplier evaluation is a constant process for procurement departments.
According to Hald and Ellegaard (2011), supplier evaluation is "the process of quantifying the efficiency and effectiveness of supplier action."
So, to put it simply, evaluating a supplier is determining whether or not they are a suitable fit for your company. In addition, it evaluates the performance of your present supplier base to identify areas for cost-cutting, risk-reduction, and ongoing improvement. A transparent and equitable alignment of objectives, data, and analysis with suppliers is the first step in an efficient supplier assessment process.
---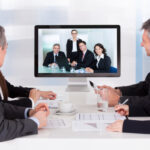 The Importance of Vendor Evaluation
Utilizing few resources as effectively as possible is the aim of every procurement organization. To secure the best contracts in terms of quality, pricing, flexibility, and reliability, it is therefore vital to evaluate suppliers.
Although the supplier evaluation process can be difficult, the rewards of locating low-risk suppliers of high-quality products and services as well as mutually beneficial, long-term business relationships outweigh the challenges.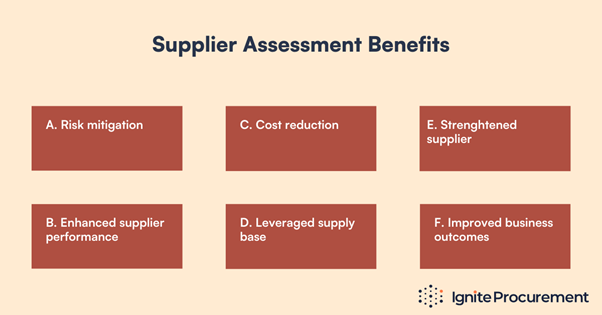 Some of the other benefits of supplier evaluation include:
• Risk mitigation: You may reduce the legal, contractual, and security risks connected to using technology outside of your business by properly vetting vendors.
• Enhanced supplier performance: The effectiveness of the procurement process as a whole is directly correlated with improved supplier performance. The supplier evaluation and appraisal criteria account for 57.1% of the performance of the procurement process (Murigi 2014). This is so that suppliers are encouraged to continually enhance their operations by increasing productivity and being more creative. However, when businesses base their decisions on supplier performance goals, they observe amazing results.
• Cost reduction: Any firm should consider supplier evaluation because it has a direct impact on the price and quality of purchased goods. Additionally, a small increase in price and quality brought on by supplier choice has important advantages for businesses.
• Leveraged supply base: Evaluation of supplier performance aids in standardization, which produces better outcomes for enterprises. It also enables businesses to plan their objectives and courses of action in accordance with the capacities and performance levels of their suppliers.
A quality criterion is a useful tool for evaluating suppliers since it encourages them to continuously enhance their processes by increasing productivity and becoming more creative. The performance of a purchasing organization's suppliers is crucial to its success. It's crucial that both the supplier and the customer agree on what constitutes satisfactory quality.
• Strengthened supplier relationships: Effective supplier management promotes loyalty, cooperation, and communication, which provides the groundwork for long-lasting, mutually beneficial working relationships.
• Improved business outcomes: By working with reputable suppliers, you'll be able to offer products and services that are of higher quality and more affordably priced. As a result, you will be able to better service your clients and increase both sales and client loyalty.
---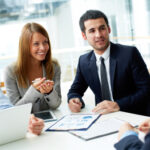 Supplier Evaluation Process
The first step in the supplier evaluation process is to assess your business' demands and create a list of specifications so that the appropriate vendors may be contacted or discussed. The suppliers are then evaluated using a selection criterion, which includes selecting how to assign a score to each source based on these factors.
A market analysis is done to determine a predetermined number of suppliers who will take part in the request for a quotation, or RFQ, procedure before possible suppliers are evaluated. Making an initial list of bids after gathering a small number of suppliers is an alternative to the second phase. The suppliers on this list all meet the criteria. The suppliers on the list are then given a request for information (RFI) to learn more about them. The purpose of the RFI is to see whether the company is interested and to gather enough data to make a preliminary assessment.
All of the company's stakeholders are involved in the evaluation of the suppliers when the bids or RFIs are received. Companies are ultimately chosen as suppliers depending on the outcomes and negotiations.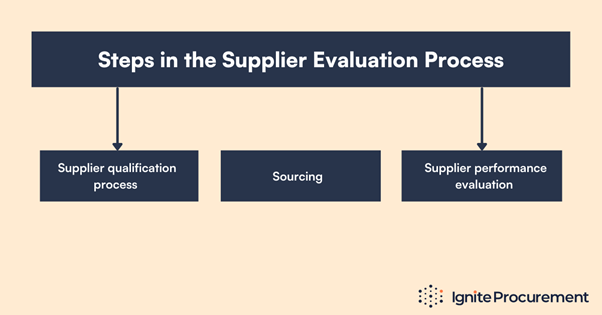 The majority of procurement specialists will concur that there is no one optimal method for evaluating providers. Companies employ a variety of strategies to determine what is effective and what is not. Regardless of strategy, the evaluation process's ultimate objective is to minimize risks and increase total value for the procurement organization.
It's vital to note that supplier selection does not eliminate the requirement for supplier evaluation. In reality, it is imperative to monitor the supplier's progress after an association is created. Companies can identify which suppliers are performing the best and where there is room for development by ranking them according to various indicators.
Supplier Evaluation Criteria
A multi-criteria problem, supplier assessment incorporates both qualitative and quantitative elements. Because of this, creating general selection criteria and using them in any circumstance is insufficient.
Having said that, the criteria for evaluating suppliers should be in line with the goals, mission, and vision of your organization. It should also take into account aspects like corporate social responsibility, communication, and cultural commitments in addition to aspects like quality, cost, and financial integrity.
Reviewing the standards that are most important to your business is another step in the evaluation of vendors and suppliers. Data security, for instance, is of highest importance to a healthcare organization, and they must also take into account many compliance rules; as a result, these criteria take precedence over other considerations.
However, businesses frequently face contradictory tangible and intangible elements where it is challenging to decide.
For this reason, the supplier selection process must engage all pertinent company stakeholders, including procurement, engineering, logistics, production, etc. The stakeholders must agree on the selection criteria. By doing this, it is ensured that each is given the appropriate amount of weight based on their relative relevance, corporate priorities, and strategy.
---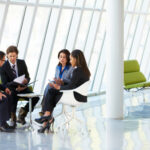 12 Criteria to Evaluate Suppliers
The performance of an organization's procurement department is correlated with its capacity to develop proper supplier evaluation criteria.
Murigi (2014) estimated that the supplier evaluation and appraisal criteria account for 57.1% of the performance of the procurement process.
The most frequently utilized criteria are typically those that relate to the delivery of materials, quality, pricing, financial situation, communication, and technology. However, depending on the method, there may be numerous additional factors that are more crucial than those described above. As a result, compiling a single, exclusive list is difficult.
Here are a few of the different factors that a company could consider when assessing potential suppliers: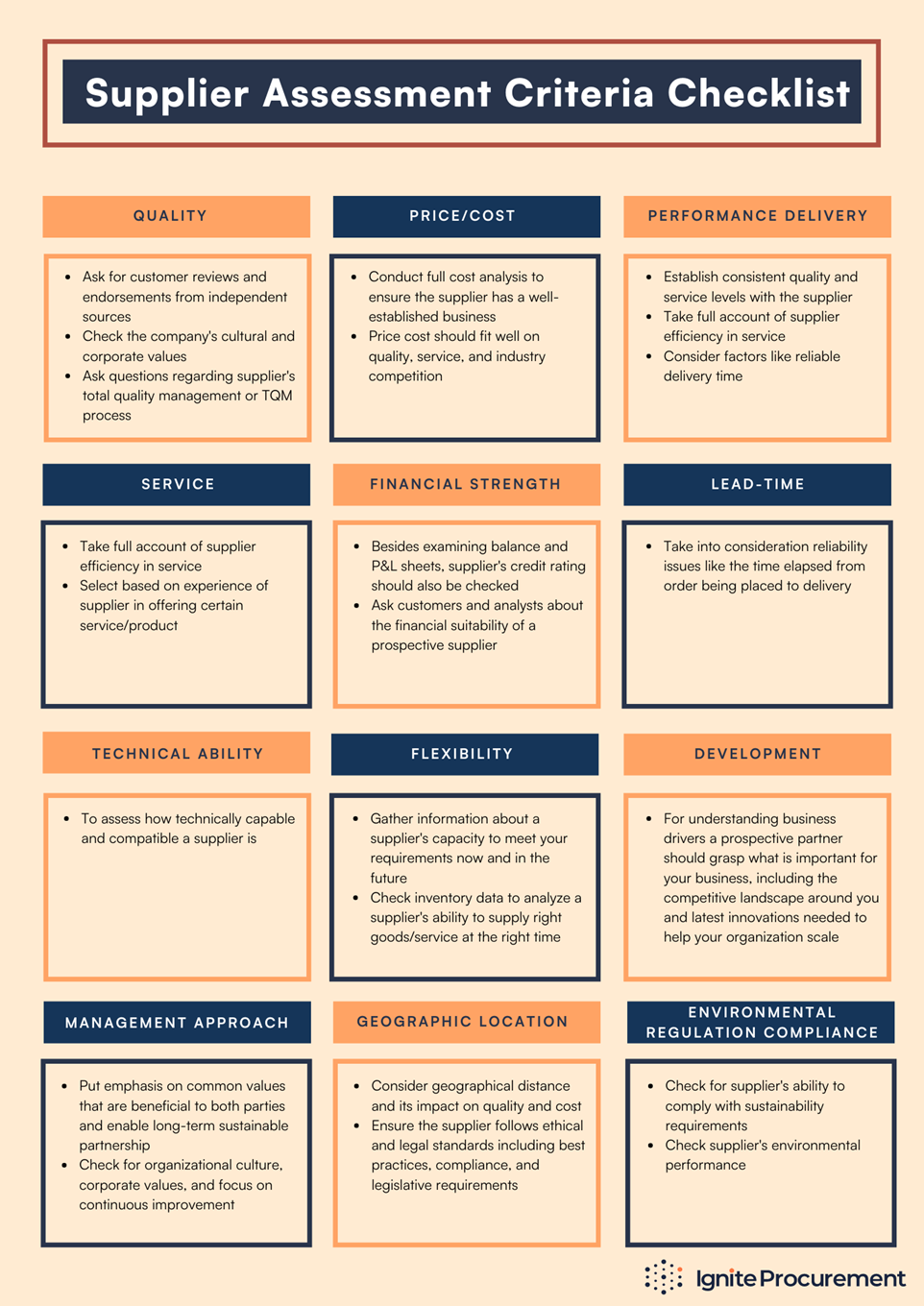 1. Quality: Quality is a difficult notion to describe. The description supplied by IBM is the one that best describes the supplier evaluation process: "The extent to which customer requirements are met determines quality.
When both the provider and the client agree on standards and these requirements are accomplished, we talk about a quality product or service." Thorough departmental, supplier, and customer consultation is necessary for quality management. Following the determination of the necessary quality levels, the entire manufacturing process must be set up to ensure that the quality level is attained and maintained in a manageable manner.
To do this, quality management relies on four interrelated processes: standard-setting, assessment, control, and assurance. The extent to which the procedures are followed to satisfy the requirements listed in national and international standards is determined by an external assessment. The ISO-9000/9001 standards are one illustration of such a standard.
2. Price/Cost: Here, the expectations relate to overall cost rather than material unit pricing, as well as present and future cost requirements, cost reduction, and ongoing development (including any acquisition, inventory, or disposal costs).
3. Performance Delivery: the assurance that the proper product will be delivered in the proper quantity and at the proper time. It entails assessing the procedures for accepting client orders, planning the production of the goods or services required to meet those orders, and then estimating the time necessary to deliver the goods or services in accordance with the client's expectations.
4. Service: It takes into account aspects like responding quickly, resolving complaints, and following directions. It is quite challenging to develop service criteria because of all these variables.
A supplier's service is typically evaluated using subjective evaluations. To do this, feedback must be gathered regarding the level of assistance, supplier attitude, speed of assistance requests, support staff qualifications, etc.
For rating supplier service performance, the majority of businesses use a pretty straightforward scale with descriptions, such as excellent, acceptable, and poor.
5. Financial Strength: It entails assessing the financial standing of a potential provider. In plain English, it refers to determining if a supplier can make resource investments, pay its vendors and employees, and continue to fulfill its debt and financial responsibilities. These elements are crucial in figuring out whether the supply will be interrupted or not.
6. Lead-Time: This is a reliability issue and means the elapsed time from the order being placed to delivery.
7. Technical Ability: This criterion determines how technically advanced a supplier is and whether they will be able to follow the development based on that ability.
8. Flexibility: It's an adaptability criterion that defines the ability of a supplier to adjust volumes and delivery times as per the client's needs.
9. Development: It takes into account factors like innovation and improvement that are needed to improve products and reduce costs.
10. Management Approach: This factor is especially crucial for a business wanting to establish lasting connections with its suppliers. These connections are typically made with vendors who supply crucial commodities in large quantities, or those in the critical quadrant. The parties involved must talk about and agree upon their goals and KPIs in order to lay the groundwork for such a relationship. If these connections are made properly, they can open the door to cooperative efforts to develop new products and cut costs.
11. Geographic Location: The proximity criterion is crucial since greater distances can occasionally result in other transportation-, logistics-, and currency-related variations that limit flexibility.
12. Environmental Regulation Compliance: This criterion, which takes into account a supplier's capacity to adhere to sustainability standards, is quickly turning into a prerequisite for supply chain alliances.
---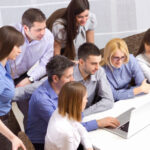 Identifying the Key Supplier Evaluation Criteria
It was recommended that businesses group their selection criteria into the following categories:
Mandatory – As the name implies, a supplier must meet certain requirements in order to be included on the bid list.
Preferred – A provider may still submit a proposal even if they are unable to achieve these requirements. However, the selection of suppliers will be based on these factors.
Leading – Attempt to keep these to a minimum. These problems will actually distinguish providers and set the great ones apart from the average ones. The supplier selection procedure should place the most emphasis on these considerations.
5 Tips for Successful Supplier Evaluation
1. To properly carry out their duties, procurement managers must develop scoring criteria that will guide them in evaluating and selecting the suppliers they should work with and keeping them on the list of authorized vendors.
The provider might be chosen based on a variety of factors. These standards, however, occasionally conflict. For instance, pricing and quality frequently do not coincide. As a result, it becomes vital to assign weights to the criteria in order to identify which supplier can offer the best trade-off among all the chosen criteria. It is recommended to select fewer critical criteria rather than a lengthy list, as each will have less of an impact on the final score individually.
2. Certain factors are difficult to evaluate since they can only be qualitatively measured (and not quantitative). These standards are more individualized and subjective. For instance, whereas the cost may be quantified, the quality of the good or service is a qualitative criterion. Direct measurements are impossible. The cost of returning the product, the cost of the services provided after the sale, and other factors should be considered in that situation.
3. For businesses, managing tens of thousands of suppliers across numerous departments is a major burden. By building and maintaining a central database of all the suppliers, it can be successfully overcome. Here, a supplier management tool like Ignite Procurement can help you centralize and auto-populate your supplier data.
4. Choose the person who will be in charge of the evaluation. Usually, a member of the procurement team performs this position, although hiring an analyst for complicated or expensive cases is a good idea. As an alternative, a consultant can assist with some of the laborious parts of the process, such as research, creating the request for proposal (RFP), and doing a financial analysis—some of which may not be available within the company.
5. Setting a deadline is also essential; without one, it may be challenging to complete the hiring and selection processes.
A Quick Supplier Evaluation Checklist
A continual process of supplier evaluation makes sure that your customers and interests remain at the forefront. The steps listed below can be checked off as you proceed through the procedure to make sure you evaluate your suppliers using best practices: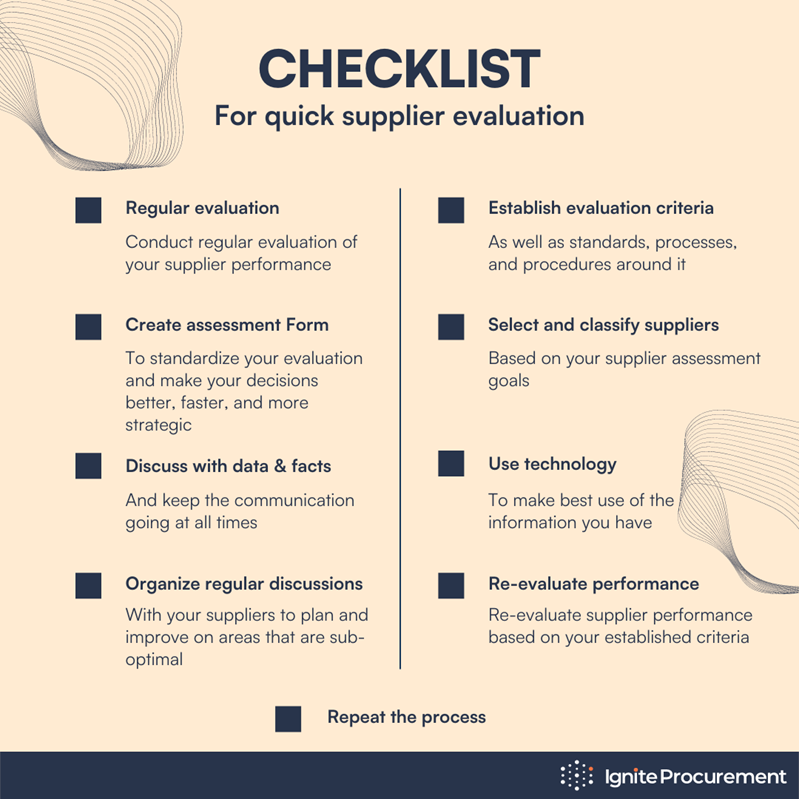 • Conduct regular evaluations of your supplier's performance.
• Establish supplier evaluation criteria as well as standards, processes, and procedures around it.
• Create a supplier assessment form to standardize your evaluation and make your decisions better, faster, and more strategic.
• Select and classify your suppliers based on your supplier assessment goals.
• Make use of your data and bring facts to your supplier discussions. Also, keep the communication going at all times, especially with your strategic suppliers.
• Use technology to make the best use of the information you have.
• Organize regular conversations with your suppliers to plan and improve on sub-optimal areas.
• Re-evaluate supplier performance based on your established criteria.
• Repeat the process.
---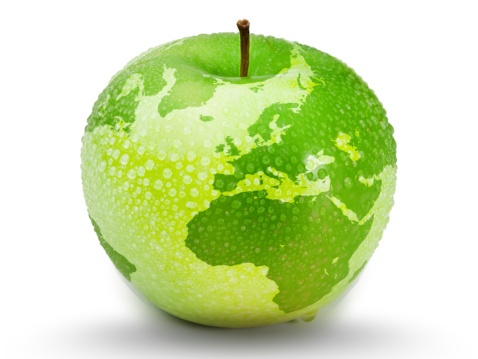 Executive Summary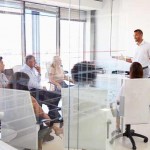 Chapter 1: Collect Supplier Data
What is vendor data? Vendor data is any information related to a specific vendor and or vendor process, from researching and sourcing, to onboarding and payment. All information on the vendors your company has onboarded and used is considered vendor data. This includes vendor contracts, contact details and location, purchasing terms, and legal documentation. It comprises gathering all of the details about a vendor that are needed to onboard them, do business with them, and measure performance and related spending.
But usually, vendor data management goes beyond the surface level: at first glance, these look like a list of trivial details…but all it takes is one misspelling, or one incorrect number, location or other seemingly inconspicuous oversight to create a big delay, and that vendor won't be paid anytime soon, and anyone relying on that work might experience a slowdown.
Ongoing business operations require access to information on vendors for all manner of processes: For example finance managers – the people actually releasing the money to vendors – need to ensure everything is as it should be; other stakeholders have a part to play involving compliance, procurement and analyzing vendor performance. And if there's even one hitch or incorrect detail during these processes, things can go very wrong.
Amazingly, it really doesn't need to be that way. Vendor data management solutions should help you automate the entire process, collecting related data to provide you with data-driven reports and dashboards.
It's time you made the move, and start reaping the rewards for managing your data correctly.
The Benefits of Better Vendor Data Management
Your company's business decisions should be based on your vendor data's insights, allowing you to make high-level decisions from an effective, automated vendor data management system.
With correctly managed vendor data, you'll be able to gain visibility and insight into how much your business is spending across suppliers, contracts and timeframes…all of which can help you make further important (and data-driven) business decisions in the future.
You'll save time, effort and budget by collecting and maintaining a centralized vendor database, reducing manual, repetitive work – as well as invaluable working time.
Team members will move away from a siloed mentality, and be able to easily access more up to date, workable information; vendor relationships and compliance will be far more easily manageable, thanks to higher-level, data-driven decisions.
---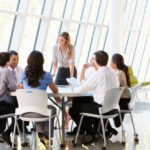 Chapter 2: Price & Cost Analysis
When businesses can find cost-effective suppliers to meet all of their inventory needs, they can begin creating long-term partnerships to benefit both parties.
Vendor analysis is a criterion in which a company judges a supplier based on their overall production value and efficiency. Businesses can also utilize a cost analysis that provides data on an item's total cost to determine if its manufacturer price is sensible.
By using these elements as a gauge, businesses can choose new suppliers or consolidate their existing vendors to prioritize those providing the best overall service. Running this analysis periodically ensures that the supplier is still meeting the company's product fulfillment needs.
Data collected from the vendor cost analysis allows management to determine which manufacturers offer the best product services and costs that promote their bottom line.
Cost Analysis vs. Price Analysis
While often used interchangeably, cost and price analyses are two very different processes.
Price Analysis
The price analysis is the less complicated strategy of the two, solely focusing on the market prices of similar products. The main goal of this method is to determine whether a vendor's set price for an item is reasonable.
Price analysis for an item can be conducted quite easily by-
• Researching e-commerce sites to find an average online retail price.
• Contacting multiple manufacturers to discuss how they set their prices.
• Asking competitors within the market what they normally pay for a product.
Taking these simple measures can help a company decide whether they should begin a business venture with a supplier or find a seller with better prices.
Cost Analysis
On the other hand, cost analysis considers a good's overall value through direct and indirect costs. This strategy is more complex as it seeks to break down the value into a comprehensive format. Companies perform cost analyses when manufacturers are unable to provide a direct item cost or are producing a unique product that is not yet offered on the market.
To conduct a cost analysis, businesses must first examine the direct costs of an item, such as:
• Labor wages
• Materials
• Fringe benefits
• Travel
All of these elements are expenses necessary to produce and sell a product, directly affecting its profit margin.
Then, the company must consider the indirect costs, including:
• Advertising/Marketing
• Legal fees
• Repairs
• External labor wages
• Communication
• Insurance
• Taxes
• Depreciation
• Overhead costs
By combining all of the inventory costs associated with an item, businesses can determine if a good's price tag is reasonable based on its related expenses.
---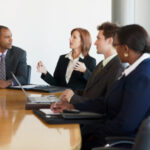 Chapter 3: Managing Vendor Risk
Strategic alliances with IT vendors aid businesses in achieving their goals at a lower cost. However, there is a lot of pressure on businesses to make sure that their vendors maintain continuous compliance with internal rules and numerous growing regulations due to the complexity of vendor networks, increased customer expectations, and a rapidly changing regulatory environment.
The outsourcing of compliance responsibilities is not a part of outsourcing company operations to a vendor. In order to comprehend vendor relationships, reduce vendor risks, avoid compliance fines, damages, and expensive investigations, it is the responsibility of corporations to do rigorous vendor due diligence and monitoring.
Businesses that rely significantly on vendors but don't have enough visibility into their vendor networks run a high risk of being exposed. For organizations to remain sustainable and to comply with regulations, it is crucial to recognize and manage vendor risks. Strong vendor risk management (VRM) programs assist businesses in preventing inherent risks rather than just responding to unfavorable circumstances and accidents after they happen.
The majority of VRM projects are conventional at many organizations. Only when choosing a vendor or signing a vendor contract is the focus on minimizing vendor risk. Continuous vendor monitoring, which enables businesses to be well-prepared for unforeseen events, is necessary for VRM to be genuinely effective. Having said that, it might be difficult to create and implement an effective VRM program since many different aspects must be taken into account, such as the extent of the vendor connection, dependence on the vendor, the vendor's location, and financial stability. Technology can assist here by greatly automating and streamlining vendor risk evaluations.
The Importance of a Vendor Risk Assessment
Many businesses are trying to cut the fat and concentrate on their core competencies in light of the present economic scenario. Businesses are outsourcing crucial tasks, from manufacturing to accountancy, to outside contractors or suppliers in order to realign their priorities. This method is efficient since it may essentially save costs, improve performance, free up important resources like time, and streamline how a business operates.
However, while this method may eliminate some laborious or time-consuming tasks and allow the company to focus on what it does best, it also exposes businesses to a number of hazards due to the conduct of these third-party contractors. This is particularly true for large organizations that work with numerous vendors or suppliers.
Larger businesses are by nature more complicated, and keeping track of numerous vendor and supplier relationships increases the volatility that needs to be monitored. It can be challenging to pinpoint possible hazards since various departments may use a number of channels to communicate with vendors. There is frequently minimal accountability for the management of these partnerships and the associated risks.
---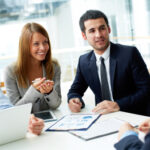 Chapter 4: Vendor Communication
Despite being essential to the success of the supply chain, communication is unexpectedly one of the areas that needs the most work once the evaluation process has started.
Many procurement specialists agree it is particularly challenging to work with personnel from other departments. Additionally, communication might become much more difficult when it comes to talking to people outside the company, such as suppliers.
The Importance Of effectively Communicating with vendors
It all comes down to the reality that better processes can be achieved by bringing in more innovative ideas through effective communication between stakeholders and external providers. It makes sense that a process will be much better managed if people from different stages of the process are able to offer recommendations for improvements based on actual knowledge. The procurement department's ability to affect the entire purchase process is reduced if communication is.
Steps To Improving Communications For Supply Chain Success
There are certain things that procurement experts need to think about if we're going to address this communication problem in supply chains:
• Prioritise stakeholders/suppliers. Evaluate the value of your stakeholders to the organization as well as their level of support. Suppliers, take into account the effect a supply interruption might have on your company and how strategically minded they are.
• Regularly meet with stakeholders and suppliers. You can identify and address their problems and worries as they arise by meeting with them frequently (every week, for example). Don't be afraid to keep them updated frequently, even if it's just with a brief summary email. It's crucial to frequently evaluate how your relationships with suppliers may be made better on both ends, and to both give and receive constructive criticism from them.
• Always offer options. Create a list of possibilities and the supporting evidence for each after negotiations. By providing the stakeholders some power and avoiding taking control away from them, you can give them a sense of prestige.
Use The Right Communication Tool
When it comes to the actual communication strategy, you should evaluate which approach best fits the circumstances and will produce the best outcomes for supply chain performance. In addition, the following fundamental guidelines should be taken into account while communicating with stakeholders and suppliers:
• Be clear. This may seem like a simple, obvious notion, but it's crucial to make sure the proposal's "story" is communicated so that stakeholders are aware of and enthusiastic about what you are suggesting. Focus on the advantages the project will bring about as well as how they will be realized in a succinct headline that sums up the proposal.
• Tailor it. Don't merely concentrate on general costs and benefits while communicating the project's main advantages. Take into account the stakeholders you are addressing and modify it to demonstrate how you will answer each of their specific problems.
• Be personal and pragmatic. With stakeholders, it's frequently more advantageous to call them or pay them a quick visit rather than send less direct communication, such emails. When attempting to implement change, a personable and practical approach will produce faster and better results.
It is crucial to communicate with both internal and external stakeholders and suppliers. It is feasible to improve communication and guarantee the success of the supply chain by taking the appropriate actions and making the necessary adjustments.
---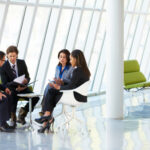 Chapter 5: Vendor Relationship
It is essential to effectively manage vendor/supplier relationships during any IT vendor evaluation process. It's critical to build positive connections with your company's main IT providers to ensure dependable supply, uncover competitive pricing, and comprehend new trends that could have an impact on your operation. Even while many companies have adopted a supplier relationship management strategy in recent years, many still lack the knowledge and expertise to fully utilize the collaboration and goodwill of their suppliers.
Understanding Supplier Relationship Management
Understanding what supplier relationship management really entails can help you build thoughtful partnerships with suppliers rather than haphazard ones. In order to maximize a supplier's value to the business, supplier relationship management generally entails taking a strategic approach to planning and managing a business' contacts with a supplier. Finding chances for collaboration with important suppliers to add value and reduce the risk of supply chain failure, which could have detrimental effects on your company, is frequently a part of this process.
Invest in Appropriate Software
Although there are specialized software programs for managing supplier relationships, smaller organizations might not need these. However, think about spending money on supply chain or inventory management software that includes a supplier relationship management feature. It is likely to be far easier to use specialized supplier relationship management systems than to create unique tools or processes to track supplier commitments and monitor supplier performance. This is especially true for firms that are expanding; when you work with more suppliers, it gets more difficult to manually track each one.
Walk the Talk with vendors
In an ideal world, both supplier and customer relationships would be managed by you. A capable provider should be acting similarly. Two crucial ways that wholesale clients can show suppliers they are good clients are by communicating effectively and paying your invoice on time. Suppliers frequently have to balance a variety of conflicting consumer needs. Giving your suppliers as much advance time as you can reduces the amount of stress on their business. Since your suppliers depend on payments to maintain a healthy cash flow, just like your company, they frequently struggle with non-payment or late payment. Creating a really collaborative supplier relationship is extremely impossible if your suppliers frequently have to take time away from their busy schedules to pursue outstanding bills.
Partner with Fewer Suppliers
Working with many suppliers has a number of benefits, including reducing risk, boosting capacity, and expanding exposure to a wider range of goods. Managing connections with too many suppliers, though, can deplete your company's important resources and energy. While adding more suppliers initially improves reliability and value, eventually the added expenses associated with administration and relationship management outweigh the benefits.
Agree on Performance Measures
For supplier relationship management to be successful, performance requirements must be made explicit. Although creating performance standards may require some debate, it is crucial to have them in place so that all sides can agree on an impartial standard. Any performance requirements should be precise and quantifiable to make it simple to evaluate supplier performance.
The B2B version of customer relationship management is frequently used to describe supplier relationship management. We'll define this key management idea and outline how supplier relationship management may be implemented and enhanced to maximize corporate performance.
---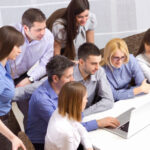 Chapter 6: Vendor Culture
Along with their effectiveness, capacity, quality, and pricing, suppliers should also be evaluated for their ability to collaborate with you. It is a crucial step in evaluating suppliers, especially when picking an appropriate IT vendor.
But what exactly do we mean when we talk about "culture," and why is it so important when there is only work to be done?
Since culture is centered on a company's attitudes and beliefs, a good cultural fit between you and the agency of your choice will have a number of advantages. These advantages will include the agency going above and beyond to satisfy you as their client, even if they've been let down elsewhere in the process by a longer supply chain; their responsiveness when you or your own clients change your mind and adjustments need to be made right away; their comprehension of your business, your product, and how that needs to be captured on screen; and their attitude toward listening to your exact requirements in order to create a superior final product.
Unsurprisingly, a bad cultural match might have the opposite impact, which can increase the cost to your company. This is why it's crucial that you choose your IT software agency carefully and make sure you're working with the best possible provider.
When looking for suitable IT vendors, it might be wise to enquire about their company values (if they are not already listed on their website), their best clients and why, whether they would like to have you as a client, and whether they have any prior experience working with clients with different cultural backgrounds.
Since teams function best when they mirror one another, it makes sense that when you choose a supplier, you should treat them as though they were a member of your own team. It doesn't matter if departmental cultures differ significantly from one another; the overall culture should be the same to produce better work and/or goods.
After all, culture is what characterizes a group of people for who they have been and who they are today. Your company's structure is shaped by your business suppliers in all of their roles, therefore harmony and balance are essential.
Firms cannot function without suppliers, and all businesses depend on them in some way. The message is the same whether it's a three-month IT project or a three-year contract to create and update your custom website: a good cultural fit can only ever result in rewarding, effective, and productive business relationships. Often, the foundations for good supplier relationships have been established even before a contract has been signed.
---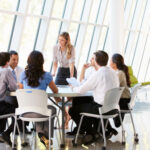 Chapter 7: Vendor Stability
We are all aware of how important financial stability is to the survival of your company. You most likely keep a close check on the revenue, profitability, and cash flow of your business. Are you paying enough attention to the stability of your vendors given how crucial funds are to your business? The following three points will explain why you should routinely assess your vendors' financial standing.
1. It signals longevity. Losing a vendor or supply can be disastrous. Even if you have redundancies in place, a major supplier going out of business can have an impact on your entire supply chain. A company's financial performance is a leading predictor of whether its business operations will continue or end. Finding this information is also not difficult. Utilizing the Financial Stress Scores (FSS), Supplier Evaluation Risk (SER), and Viability Rating, Dun & Bradstreet constantly assesses and rates businesses.
2. It indicates business alignment. Maintaining the success of your business is one of your primary priorities. You want suppliers who are equally committed to that objective and who make it as simple as possible to conduct business successfully and maintain client satisfaction. If your suppliers are committed to the success and expansion of their own business, this is also a sign that they will care just as much about your success.
3. And last, but definitely not least, it impacts your bottom line. Financial stability gives your suppliers several opportunities. They can more quickly obtain new tools and technology and can better bargain for supply rates and exclusive material deals. Higher quality and more efficient production are frequently the results of new equipment. Your bottom line improves for the better virtually always when those factors come together.
---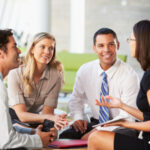 Chapter 8: Vendor Viability
It's safe to conclude that the majority of organizations can only function and accomplish their goals by relying on a wide array of goods and services from outside sources.
Naturally, some of those goods and services will be more important to the company's success than others.
Nobody likes to arrive at work one day to discover that operations have been disrupted due to a crucial supplier's inability to provide, or worse, their inability to deliver moving forward.
Forewarned is forearmed. It is so much better to be warned that something horrible might happen before it actually does than to learn about it after the fact.
While "something bad" might refer to a variety of scenarios ranging from the improbable to a foregone conclusion, this course manual will concentrate on issues that might compromise a crucial supplier's viability or ability to endure.
Assessing supplier viability is a significant risk-reduction strategy. Its goal is to assess the possibility that a crucial supplier won't be able to fulfill its contractual obligations for accurate and timely supply as well as warranty fulfillment.
We will go over the following topics in this course manual:
1. The dimensions of supplier viability
2. The importance of supplier viability
3. Situations that can affect supplier viability
4. Supplier viability warning signs
5. When to assess supplier viability
6. How to assess supplier viability
7. Guidance for financial viability assessments
8. Considerations for mitigating supplier viability risk
What Is a Supplier Capability Assessment?
An official process that assesses a potential or present supplier's actual manufacturing capabilities for a specific product or over the course of a contract is known as a supplier capacity assessment.
You may use lean thinking to improve the procurement process by using these checks. They make it possible to approach quality in a source-specific manner. You might identify weak points and come to the conclusion that a specific organization impedes your development toward milestones. However, these evaluations also make it possible to collaborate with suppliers to find solutions to issues before they go out of control.
How Does Your Supplier Relationship Affect These Audits?
Supply chain professionals should be aware that the specifics between the parties involved will influence their reasons for organizing in-person examinations. For instance, people visit the sites of potential suppliers to learn more about them and to talk about their company goals. In-person visits give a sense of urgency when evaluating a supplier with known performance concerns.
Whatever your particular justifications may be for visiting suppliers, keep in mind that productive partnerships depend on such trips. It is simple to communicate via emails, pictures, and video chats, but these tools do not replace the requirement to physically visit a supplier's premises and see its operations.
Which Benefits Can You Expect From Regular and Ongoing Assessments?
Supplier capability evaluations demand time and monetary commitments. However, they provide you with a number of benefits. These consist of:
• recognizing issues before they have an impact on your supply chain
• Choosing more wisely when it comes to purchasing
• assisting suppliers in waste reduction
• having greater assurance regarding contract renewals
• demonstrating to partners your desire to see them succeed
• putting in place metrics that show your expectations
• confirming that suppliers adhere to regulatory requirements
• Getting guarantees from businesses that they can meet your current needs
Assessing your suppliers throughout the whole partnership fosters trust amongst all parties involved. Suppliers will likely experience worry if they are unsure if they can meet your needs successfully, which could lead them to act resentfully towards your business.
How Should You Begin Performing These Supplier Checks?
There are specialized businesses that can assist you in formally evaluating your supply partners. Representatives from those companies are knowledgeable about best practices for various industries, and they arrange on-site visits to suppliers' facilities to gain a thorough understanding of how things operate there.
You'll receive a capacity assessment report with recommendations on how to use the audit