Global Supply Chain Development – Workshop 10 (Greener Global Supply Chains)

The Appleton Greene Corporate Training Program (CTP) for Global Supply Chain Development is provided by Mr. Buck BS Certified Learning Provider (CLP). Program Specifications: Monthly cost USD$2,500.00; Monthly Workshops 6 hours; Monthly Support 4 hours; Program Duration 12 months; Program orders subject to ongoing availability.
If you would like to view the Client Information Hub (CIH) for this program, please Click Here
Learning Provider Profile

Mr Buck is an approved Senior Consultant at Appleton Greene and he has experience in management, production and globalization. He has achieved a Bachelor of Applied Science IET/MET in Concentration in Operations Management. He has industry experience within the following sectors: Biotechnology; Manufacturing; Aerospace; Logistics and Technology. He has had commercial experience within the following countries: China; United Kingdom; Ireland and United States of America, or more specifically within the following cities: Shanghai; London; Cork; Minneapolis MN and Chicago IL. His personal achievements include: founded a corporation in 1991 and sold it in 2018 for $400m; entrepreneur of the year Ernst & Young 1998; entrepreneur of the year Ernst & Young 2004; built global manufacturing infrastructure and lead acquisition of 16 companies. His service skills incorporate: strategic planning; leadership development; supply chain; executive mentoring and merger & acquisition.
---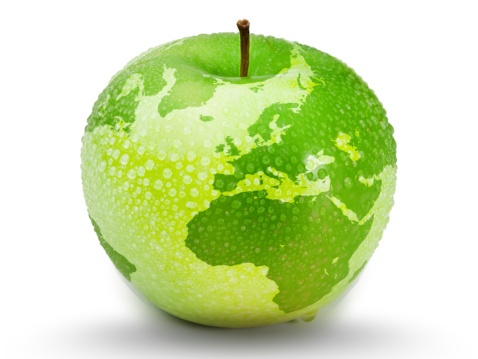 MOST Analysis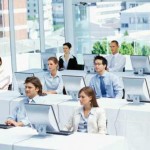 Mission Statement
Integrating green practices into supply chains is critical in minimizing the environmental impact of the industry and promoting business integrity. The acceleration in online shopping has impacted the dynamics and sustainability of many businesses' supply chains, particularly as customers are increasingly focusing on environmental factors such as waste, resource use and embedded carbon. Between plastic packaging, carbon emissions and returns headed straight for landfill, the environmental implications of this new way of consuming is a major problem. The pressure is therefore mounting for businesses to implement greener supply chains and address these environmental concerns. If the increased consumer focus on eCommerce continues, there will be ever-greater scrutiny placed upon the carbon footprint of businesses that sell online. Given that the majority of emissions are generated through the supply chain, businesses would be well-served by placing a greater focus in this area. As well as the obvious reputational boost for greener businesses in the eyes of today's increasingly environmentally-conscious consumer, investing in greener practices can indeed have a tangible impact on an organization's bottom line.
---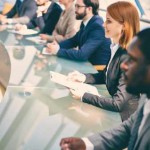 Objectives
01. Reverse Logistics: departmental SWOT analysis; strategy research & development. Time Allocated: 1 Month
02. Ethical Sourcing; departmental SWOT analysis; strategy research & development. Time Allocated: 1 Month
03. Green Logistics; departmental SWOT analysis; strategy research & development. Time Allocated: 1 Month
04. Packaging and Waste; departmental SWOT analysis; strategy research & development. Time Allocated: 1 Month
05. Green Manufacturing and Remanufacturing; departmental SWOT analysis; strategy research & development. Time Allocated: 1 Month
06. Eco-design of Products; departmental SWOT analysis; strategy research & development. Time Allocated: 1 Month
07. Renewable Energy: departmental SWOT analysis; strategy research & development. 1 Month
08. Coordinate with Partners: departmental SWOT analysis; strategy research & development. Time Allocated: 1 Month
09. Consolidate Shipments: departmental SWOT analysis; strategy research & development. Time Allocated: 1 Month
10. Empty Miles: departmental SWOT analysis; strategy research & development. Time Allocated: 1 Month
11. Just-in-Time: departmental SWOT analysis; strategy research & development. Time Allocated: 1 Month
12. Start Now: departmental SWOT analysis; strategy research & development. Time Allocated: 1 Month
---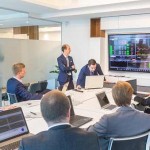 Strategies
01. Reverse Logistics: Each individual department head to undertake departmental SWOT analysis; strategy research & development.
02. Ethical Sourcing: Each individual department head to undertake departmental SWOT analysis; strategy research & development.
03. Green Logistics: Each individual department head to undertake departmental SWOT analysis; strategy research & development.
04. Packaging and Waste: Each individual department head to undertake departmental SWOT analysis; strategy research & development.
05. Green Manufacturing and Remanufacturing: Each individual department head to undertake departmental SWOT analysis; strategy research & development.
06. Eco-design of Products: Each individual department head to undertake departmental SWOT analysis; strategy research & development.
07. Renewable Energy: Each individual department head to undertake departmental SWOT analysis; strategy research & development.
08. Coordinate with Partners: Each individual department head to undertake departmental SWOT analysis; strategy research & development.
09. Consolidate Shipments: Each individual department head to undertake departmental SWOT analysis; strategy research & development.
10. Empty Miles: Each individual department head to undertake departmental SWOT analysis; strategy research & development.
11. Just-inTime: Each individual department head to undertake departmental SWOT analysis; strategy research & development.
12. Start Now: Each individual department head to undertake departmental SWOT analysis; strategy research & development.
---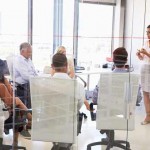 Tasks
01. Create a task on your calendar, to be completed within the next month, to analyze Reverse Logistics.
02. Create a task on your calendar, to be completed within the next month, to analyze Ethical Sourcing.
03. Create a task on your calendar, to be completed within the next month, to analyze Green Logistics.
04. Create a task on your calendar, to be completed within the next month, to analyze Packaging and Waste.
05. Create a task on your calendar, to be completed within the next month, to analyze Green Manufacturing and Remanufacturing.
06. Create a task on your calendar, to be completed within the next month, to analyze Eco-design of Products.
07. Create a task on your calendar, to be completed within the next month, to analyze Renewable Energy.
08. Create a task on your calendar, to be completed within the next month, to analyze Coordinate with Partners.
09. Create a task on your calendar, to be completed within the next month, to analyze Consolidate Sipments.
10. Create a task on your calendar, to be completed within the next month, to analyze Empty Miles.
11. Create a task on your calendar, to be completed within the next month, to analyze Just-in-Time.
12. Create a task on your calendar, to be completed within the next month, to analyze Start Now.
---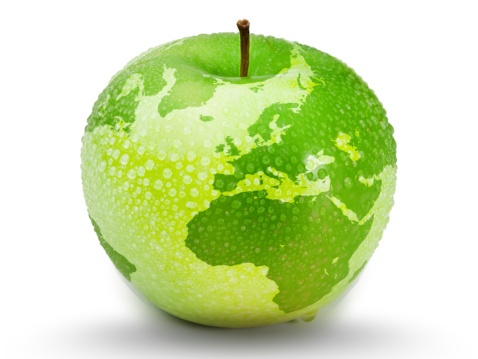 Introduction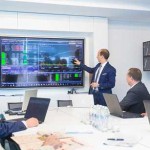 Environmental issues have been expanding and spreading quicker than forest fires from country to region, region to global level territory in recent decades, which is a major contributor to climate change and global warming. Furthermore, natural resource scarcity and air and water pollution have a negative impact on fauna and flora, as well as human health, resulting in diseases such as ischaemic heart disease, lung cancer, chronic obstructive pulmonary disease, stroke, Dracunculiasis, Cholera, Hepatitis, Typhoid fever, and Norovirus. The green supply chain idea is used to reduce environmental deterioration and pollution of air, water, and waste by incorporating green practises into company operations.
Although the underlying premise of the green concept is undeniably to improve environmental sustainability, businesses often use the green concept to "kill two adversaries with one bullet." Because a green supply chain can reduce pollution and production costs while also spurring economic growth, creating a competitive advantage in terms of higher customer satisfaction, a positive image and reputation, and allowing companies to export their products to countries that are environmentally friendly. Corporate social responsibility, green manufacturing, waste reduction, recycling, and remanufacturing sustainable/environmental friendly supply chain, green supply chain, and so on are all examples of green ideas that are expanding with new innovations and techniques to protect environmental sustainability.
The idea of incorporating sustainable environmental processes within the traditional supply chain is referred to as a sustainable or green supply chain. Processes like as supplier selection and material procurement, product design, product production and assembly, distribution, and end-of-life management are all examples of this. Rather than reducing the negative impact of business and supply chain activities, a green supply chain adds value and/or creates value throughout the entire chain. Green supply chains undeniably reduce air, water, and waste pollution, but green operations also improve enterprises' performance in terms of less waste manufacturing, reuse and recycling of products, cost savings, asset efficiency, positive image development, and increased customer satisfaction. As an example, Figure 1 depicts a green supply chain for a child's crib manufacturer.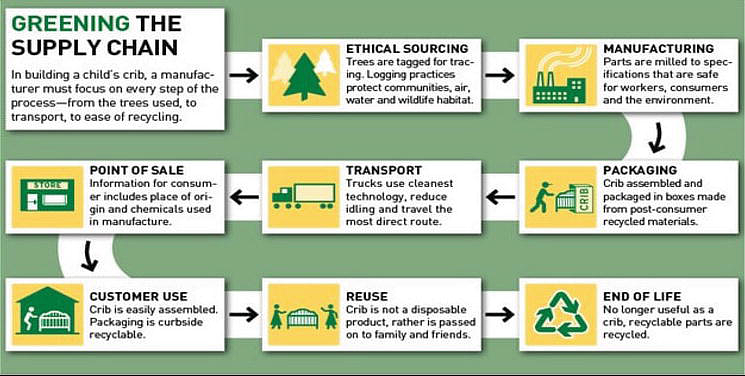 Green practices in supply chain management
Companies increase their productivity and environmental growth by using several green practises in their company and supply chain activities. The following are some well-known green practises:
3.1 Green material sourcing
Green sourcing refers to the acquisition of materials and components that have enviable ecofriendly properties such as reusability, recyclability, and the absence of toxic or dangerous compounds. Procurement experts have been driven to evaluate their existing sourcing, purchasing strategy, and impact on environmental sustainability as environmental concerns have grown. Recycling and remanufacturing play a role in environmentally conscious shopping. Green sourcing, according to Min and Galle, promotes waste reduction by enhancing recycling, remanufacturing, and other supply chain activities. Carter and Rogers conducted a study to see how green sourcing affects a company's environmental and financial success.
They came to the conclusion that by successfully implementing a green purchasing strategy, product costs are reduced, and firms' environmental and financial performance improves, as well as their market reputation. According to Zailani et al., environmentally conscious purchasing has a positive impact on a company's operational and environmental performance. Design operation management, supply chain management, environmental authentication, ecology, and external environmental management were the five primary features of green purchasing identified by Yang et al. They confirmed that green purchasing boosted the overall performance of the companies. Green purchasing in the supply chain and corporate operations is a proven method for reducing waste, air pollution, and water pollution.
3.2 Green marketing
Green marketing, a broad range of marketing activities (e.g., planning, production, process, price, promotion, and after-sale service) aimed to highlight the goal of an organisation to lessen the detrimental consequences of their products, is directed towards all corporations and consumers. Green marketing encourages people to buy things that are good for the environment. It includes activities that can satisfy human aspirations while having the least amount of harmful impact on the environment's beauty. Green marketing also improves a company's competitiveness, financial and environmental performance, as well as its reputation and image.
3.3 Green management
Green management practises (GMP) provide a company with additional sources of data that can help them achieve their economic and environmental goals. Adoption of green management methods benefits a company's image, efficiency, environmental compliance, cost savings, societal commitment, and carbon emissions reduction, among other things.
3.4 Green distribution and warehousing
Green distribution and warehousing may decrease waste and play a major part in energy conservation. The value addition of green products in warehousing can considerably improve overall performance and improve company image. Green distribution aids businesses in achieving greater financial and environmental results.
3.5 Green manufacturing
Green manufacturing techniques aim to implement socially and ecologically responsible practises in order to reduce the negative consequences of manufacturing while also increasing business profitability. Production processes are more efficient when green techniques are used. This approach entails the use of green resources, which can help businesses gain a competitive advantage by lowering product costs and improving product quality. Both the lean and green manufacturing industries strive to reduce waste and increase the efficiency of manufacturing operations. The advantages of green manufacturing, according to Baines et al., are that green practises in production processes mitigate the negative effects of manufacturing processes on environmental sustainability, and green manufacturing improves a company's operational, environmental, and financial performance.
3.6 Ecological design
According to Luthra et al., the use of ecological design in supply chain management can control 80 percent of environmental consequences from product and process related issues. Many ideas, such as using cleaner technology processes, green raw materials, and components, are incorporated into ecological design. Green product design decreases a product's environmental impact over its lifetime. Furthermore, green product design encourages reuse, recycling, and remanufacturing, which not only helps businesses improve their environmental performance but also allows them to save money.
3.7 Green transportation and reverse logistics
Green transportation and reverse logistics practises give businesses the chance to improve their image while lowering costs. Logistics costs can be reduced by improving the efficiency of transportation systems, and customer relationships can be improved to increase profitability. The activity of reverse logistics (reusing, recycling, and remanufacturing), which can produce products that can be used again for clients, is one of the logistics activities combined with rehabilitation. Green logistics enables businesses to reduce their environmental impact while improving quality and lowering costs.
3.8 Renewable energy and biofuels
Without a doubt, global logistical and supply chain operations rely heavily on energy and fossil fuels, which are the primary contributors to climate change, global warming, and pollution due to increased carbon and greenhouse gas emissions. In order to achieve sustainable environmental and economic growth, supply chain operations must use renewable energy and biofuels. Logistics-related activities, according to Anable et al., use more energy to complete their tasks. Renewable energy and biofuels boost business performance while also lowering carbon emissions. Furthermore, fossil fuels are more costly than biofuels and renewable energy sources. Government regulations, together with customer knowledge, put pressure on businesses to adopt biofuels and environmentally friendly energy in their supply chains. Bioenergy reduces carbon emissions while simultaneously improving the profitability of businesses through improved image and reputation.
The most significant aspect for enterprises to integrate green practises in their supply chain operations is cost minimization. The utilisation of reused, recycled, and remanufactured items would help to reduce the prices of packaging, components, and materials if green supply chain activities were implemented. Green practises, according to Khan et al., provide opportunities to capture new markets and export to environmentally friendly countries, whereas polluted firms are unable to export their products to environmentally friendly countries such as the United States, Germany, the United Kingdom, and Poland. Green supply chain management strategies have undeniably been a tool for businesses to reduce product costs, increase profitability, and expand market share. Firms, on the other hand, use green techniques in their corporate activities to improve social performance. Improvement in people's quality of life without sacrificing environmental beauty is referred to as social performance. Furthermore, social performance encompasses the promotion of a company's image as well as the enhancement of environmental sustainability and the reduction of environmental dangers.
Firms can improve their operational performance by implementing GSCM methods, such as enhancing product quality and improving delivery service. Green supply chain management initiatives also assist organisations in improving their environmental performance by reducing carbon emissions, eliminating waste from the end-to-end supply chain, and promoting reuse, recycling, and remanufacturing through effective and strong collaboration with suppliers. Integrating an environmental management system (EMS) into a company's production plan will help the company improve its environmental performance.
---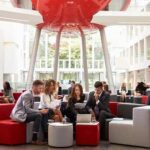 Supply chains are turning to green solutions for the future
Carriers are investing in greener delivery solutions as a result of growing environmental concerns and pressure from the public and regulators…
Climate change has become such a persistent threat to our society and economy that corporations are scrambling to find ways to assist in the greening effort. As shippers set sustainability objectives, Scope 3 emissions, which are the result of indirect emissions that occur throughout a company's value chain, have gotten a lot of attention. The extended supply chain is frequently the largest source of emissions while also being the most difficult to address.
A recent 2020 report from CPD explored the state of environmental risks in supply chains and what approaches businesses are taking to mitigate them. It found that just "37 per cent of suppliers are taking action and engaging with their own suppliers, down from 39 per cent in 2019."
More than 1,000 companies are now trying to cut scope 3 emissions, according to CDP, and 94% of organisations with science-based objectives give specifics on how they plan to do so.
FedEx declared that by 2040, it would have converted its entire parcel pickup and delivery operation to "zero-emission electric vehicles." FedEx CEO Fred Smith attributed the decision to the growing economic viability of sustainable solutions as well as concerns about carbon pollution.
"Our customers are increasingly focused on this issue. They want to do business with transportation providers that are environmentally responsible," Smith said. "But we also — as a commercial enterprise — have to produce for our shareowners."
DPD group has announced its intention to provide zero- and low-emission delivery options to 225 of Europe's major cities. By 2025, DPD group will have reduced its last-mile carbon footprint in the cities targeted by 89 percent and pollutants by 80 percent, compared to 2020. CO2 emissions per parcel have decreased by -14 percent since 2013, and by 2025, they will have decreased by -30 percent.
Carriers across the supply chain are investing in green technologies and numerous approaches to help cut emissions and promote sustainability, from the ocean to the air, the road, and the rail.
Ocean travel
The International Maritime Organization's sulphur restrictions, known as IMO 2020, went into effect last year, limiting sulphur emissions from ships to 0.5 percent mass by mass, down from 3.5 percent previously.
Rodolphe Saadé, Chairman and Chief Executive Officer of the CMA CGM Group, a global leader in shipping and logistics, announced earlier this year that six LNG (liquefied natural gas) powered containerships would be dedicated to the US market as part of the Group's ongoing efforts to improve air quality and accelerate the shipping industry's energy transition.
The carrier's statistics on LNG are positive: 99 percent less sulphur dioxide, 91 percent less particulate matter, 92 percent less nitrogen oxide, and 20 percent less CO2 than traditional fuels, according to the carrier.
Aviation emissions
Aviation emissions are a substantial contributor to climate change, and using sustainable aviation fuels is one approach to reduce them.
The owner of British Airways has become the first European airline group to pledge to using sustainable jet fuel on 10% of its flights by 2030. IAG said that it will purchase a million tonnes of sustainable aviation fuel every year, allowing it to reduce yearly carbon emissions by two million tonnes by the end of the decade.
In addition, the firm declared that it is the first airline group in the world to extend its net-zero commitment to its supply chain.
Route optimization
The process of establishing the most cost-effective route is known as route optimization, and it may be extremely advantageous to trucking and delivery companies. It can assist in giving accurate ETAs and increasing customer satisfaction. Drivers spend less time travelling on well-planned routes, which saves fuel costs and wear and strain on cars while also increasing time on-site and the number of stops a driver may make in a day. Route optimization can also assist reduce operational costs.
The trucking sector recognises that the supply chain is shifting toward a more sustainable future, which means diesel vehicle alternatives will become available. The most talked-about alternatives are battery-electric vehicles, fuel-cell electric vehicles, and vehicles that run on renewable fuels.
Battery-powered rail
For the first time in the UK, long-distance trains might run on battery power, according to Hitachi Rail. Great Western Railway services between London Paddington and Penzance, Cornwall, might be powered by a mix of batteries, electricity, and fuel, according to the firm. Using battery power at the route's non-electrified stations will save more than 20% on fuel, improve air quality, and lower noise levels.
Testing is planned to begin in 2022, with Hitachi Rail hoping to build a fully electric intercity train by the late 2040s.
---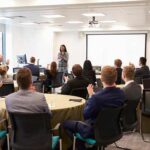 Green supply chains are key to a more sustainable planet
Green practises must be integrated into supply chains to reduce the industry's environmental effect and promote corporate integrity…
Customers are increasingly concerned about environmental aspects such as waste, resource use, and embedded carbon, therefore the acceleration of online shopping over lockdown has had an impact on the dynamics and sustainability of many organisations' supply chains.
The environmental consequences of this new style of consuming are a huge problem, thanks to plastic packaging, carbon emissions, and returns that end up in landfills. As a result, corporations are under increasing pressure to build more sustainable supply chains and address these environmental issues.
The environmental cost of online purchasing
According to data from the IMRG Capgemini Online Retail Index, UK online sales increased by 36.6 percent in 2020 compared to 2019, the biggest increase since 2007. However, the enforced rise of eCommerce has had a severe influence on the environment.
Due to an increase in delivery vans last year, the number of vehicles on UK roads surpassed 40 million for the first time, resulting in an increase in carbon emissions. Not to mention the growing use of cardboard and other packing materials, much of which is non-recyclable and destined for the landfill.
Surprisingly, despite the easing of limitations, the eCommerce boom appears to be here to stay, at least according to first public perception. According to research, buyers have received an average of two extra deliveries per month since March 2020, and more than half of the public now expects to order online at the same volume even until the high street reopens in earnest.
The benefits of a greener supply chain
If the rising consumer focus on eCommerce continues, the carbon footprint of enterprises that sell online will be scrutinised much more. Given that the supply chain generates the bulk of emissions, firms might benefit from a stronger emphasis on this area.
Investing in greener practises can have a concrete influence on an organization's bottom line, in addition to the obvious reputational boost for greener enterprises in the eyes of today's increasingly environmentally sensitive consumer. Investing in zero-emission vehicles, for example, is likely to save businesses money in the long term because electric vehicles have lower whole-life expenses. Furthermore, data shows that 85 percent of people prefer to buy from businesses that have a good reputation for sustainability.
---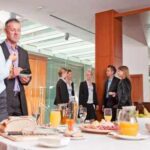 Building a supply chain that is efficient and environmentally sustainable
Greener corporate practises will only become more important as the UK moves closer to its 2050 goal of net zero emissions. As a result, it is critical that firms examine their supply chains now in order to avert potentially major financial and reputational harm in the future. But what are the first actions that firms may take to create a more environmentally friendly supply chain?
Build internal support
Having the necessary foundations in place, which entails first developing the business case for action, is critical to ensuring that greener supply chain initiatives are adopted long-term. This aids in the development of internal support for greener business practises, the assessment of any potential hazards, and the identification of the places where the supply chain has to be made more environmentally friendly.
Be accountable for all emissions throughout the supply chain
Businesses must be more mindful of all pollutants generated across their supply chain. While reporting on Scope 1 and Scope 2 emissions is required by law, there is currently no legal duty to report on all indirect emissions created across the supply chain, known as Scope 3 emissions.
When you consider that Scope 3 emissions can account for the bulk of a company's carbon footprint, it's evident that any company aiming for net-zero emissions can't possibly fulfil their goals without them.
Organizations that pay more attention to their overall carbon footprint, including Scope 3 emissions, can only be viewed as beneficial, resulting in societal environmental advantages.
Establish a supplier code of conduct
Businesses aiming to implement truly sustainable operations should, whenever possible, engage with suppliers who share their values and ambitions. One of the most successful methods for organisations to involve suppliers in their sustainability initiatives is to establish and communicate expectations through a supplier code of conduct.
Identify inefficiencies in your logistics network
Businesses should also examine their logistics network to see if there are any inefficiencies that may be addressed. Companies should assess their present fleet size, vehicle makeup, and geographic spread, as well as the locations of their distribution centres, to identify any inefficiencies or squandered resources.
Supporting businesses in their sustainability journey
Supply chain sustainability is becoming more widely recognised as an important aspect of overall organisational sustainability. According to HSBC, 31% of firms throughout the world plan to make sustainability-related improvements to their supply chains, and seven of the top ten global FMCG companies have carbon emission reduction goals that include assisting suppliers in becoming "green." The decisions that corporations make in the coming months may have a significant impact on the lives of millions of people in the years ahead.
SCALA has committed to assisting businesses in their sustainability efforts by requiring that all projects completed in 2021 contain a full assessment of how all activity across the supply chain will influence the environment. This keeps environmentally friendly habits front of mind at all times, and we can all work together to make the world a greener place.
---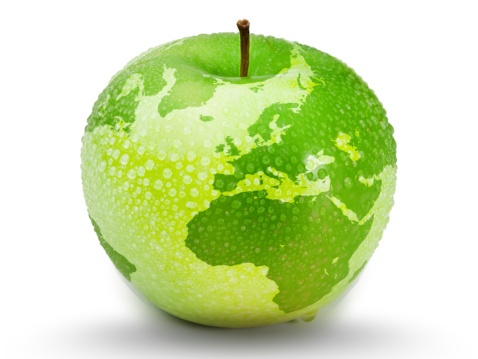 Executive Summary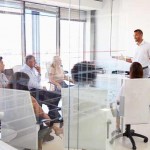 Chapter 1: Reverse Logistics
What Is Reverse Logistics?
Reverse logistics is a form of supply chain management in which goods are returned from customers to vendors or producers. Reverse logistics is required for activities such as returns and recycling after a client receives a product.
Reverse logistics begins with the end user and works its way backwards through the supply chain to the distributor or from the distributor to the manufacturer. Reverse logistics can also refer to operations in which the end user is responsible for the product's final disposal, such as recycling, refurbishment, or resale.

When Is Reverse Logistics Used?
When items travel from their final destination back through the supply chain to the seller and maybe back to the suppliers, organisations use reverse logistics. The purpose is to either recover or dispose of the product's value. Returns are worth about a trillion dollars worldwide each year, and they've become more common as ecommerce has grown.
Reverse logistics aims to recoup value while also ensuring repeat business. In-store purchases are returned less than 10% of the time, whereas internet purchases are returned at least 30% of the time. Reverse logistics is used by smart businesses to increase client loyalty and repeat business while reducing return losses.
Reverse Logistics vs. Traditional Logistics
Product flow in the traditional sense begins with suppliers and ends with a manufacturer or distributor. The goods are then distributed to retailers and customers. Reverse logistics management begins with the consumer and moves backwards through the supply chain, returning products to any point along the way.
Supply networks that are well-designed are adaptable to changes and can handle certain reverse logistics. This reverse procedure might return products to the original supplier or one step back in the chain. They can even resell or discount returned items through their usual sales or discount channels (like liquidators).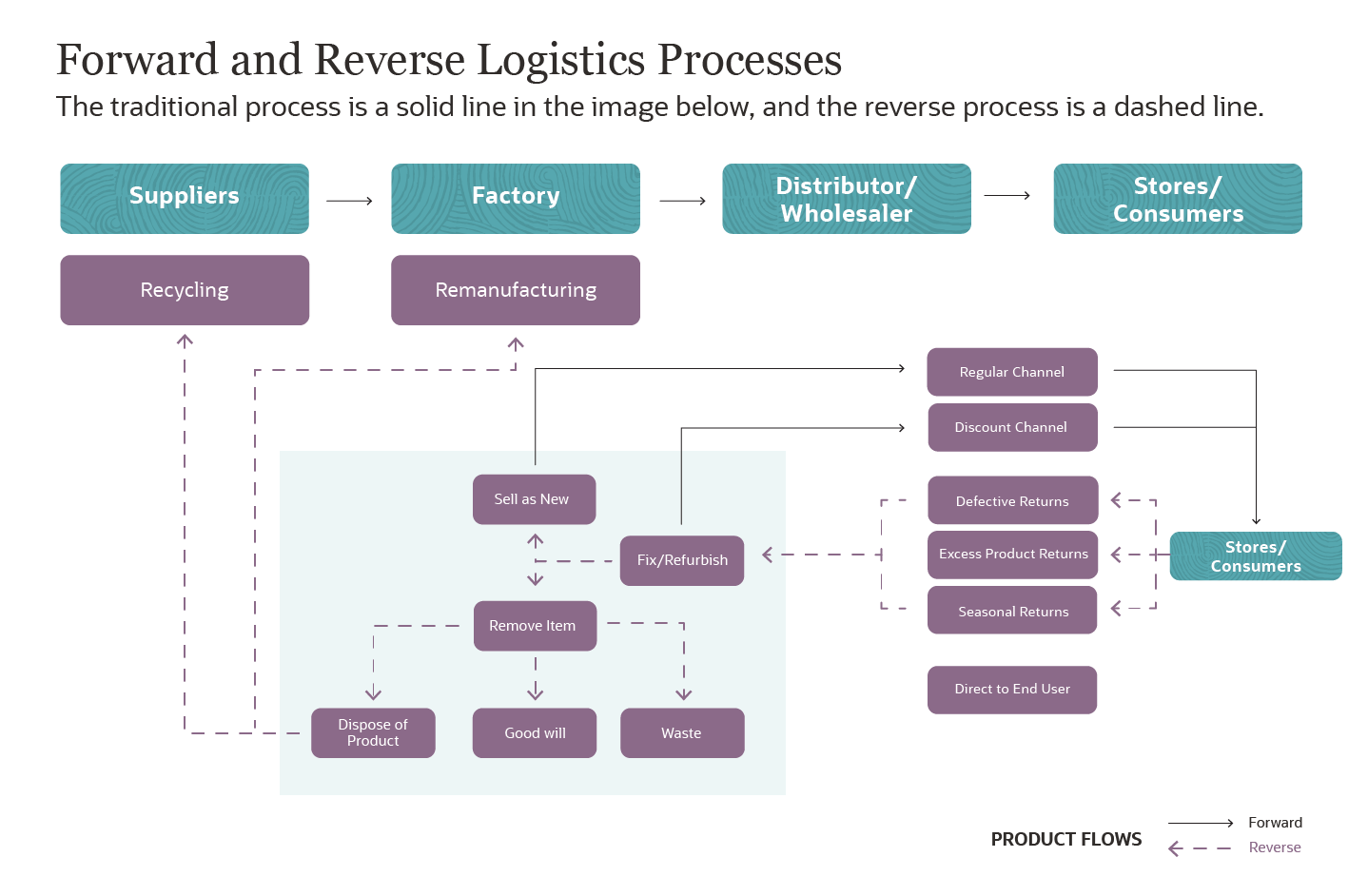 How Reverse Logistics Works
Reverse logistics involves moving items at least one step backward from the supply chain's typical terminus. Various plans and controls may be used in this procedure. Some businesses would rather outsource this work.
Reverse Logistics Process
Managing returns and purchasing surplus goods and materials are all part of the reverse logistics process. The procedure is also in charge of dealing with any leases or renovations. Reverse logistics differs by industry, and there are several financial incentives for bettering reverse logistics management.
In the beverage business, for example, the reverse logistics process makes use of empty tap containers. Companies that make beverages seek to reclaim the value of their containers by reusing them. This necessitates transportation planning, shipping load management, and container cleaning.
Reverse logistics is used in the building sector to transport and recycle salvaged materials to new locations. As the building industry embraces more sustainable waste-reduction measures, reverse logistics offers a cost-cutting opportunity.
Reverse logistics is in charge of returning packing materials and pallets in the food business. Rejected food shipments must also be dealt with by businesses. Rejections can cause logistical problems owing to delays, which can lead to food spoilage and tampering concerns. To overcome these logistical issues, the Reverse Logistics Association is implementing secure, quick, and reliable login (SQRL) codes on packaging.
5 Steps to Good Reverse Logistics
1. Process the Return
When a customer indicates that they want to return a product, the return process begins. This stage should entail obtaining return authorisation and determining the condition of the merchandise. Return shipments are scheduled, reimbursements are approved, and faulty goods are replaced as part of this process.
2. Deal with Returns
Examine a returned product when it arrives at your location or at a centralised processing centre to establish its return category. (Note: If reverse logistics has been streamlined, you should already know where the product should go before it arrives.) Sort items into one of the following categories: repair, resell as new, resell as a return, recycle, scrap, or refurbish.
3. Keep Returns Moving
Sending repairable products to the repair department can help you reduce your everyday trash.
4. Repair
Move the returned item/equipment to the repair area after evaluating it and determining whether it can be fixed. If it's not possible, sell any parts that can be sold.
5. Recycle
Any parts or items that you are unable to repair, reuse, or resale should be given to the recycling centre in your area.
---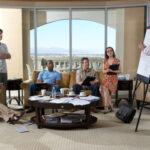 Chapter 2: Ethical Sourcing
The Importance of Ethical Sourcing
Consumers are becoming increasingly concerned about the manufacturing of the things they use. Human trafficking and the use of child labour are two supply chain concerns that procurement executives must be aware of. Furthermore, many customers have become more concerned about environmental sustainability. An in-depth look at ethical sourcing concerns and risk mitigation measures may be found below.
Dimensions of Ethical Sourcing
• Environmental issues include biological perseverance, energy conservation, pollution laws, carbon/water footprint reduction, and global warming.
• Social: local communities, diversity, and acceptable working conditions
• Financial stability, energy demands, and cost-cutting
Social Responsibility and the Supply Chain
Consumers are becoming more interested about how items are made. Brands that were unaware of labour or environmental issues at first- and second-tier vendors may become embroiled. Many businesses have found themselves dealing with persistent controversies long after a problem has been resolved, despite their best efforts. When it comes to ethical sourcing, companies must take proactive steps to ensure that their supply chains are free of risks such as:
• Human Trafficking and Forced Labor: Every country, including the United States, has modern slavery and child labour. International agreements have been established to combat labour abuses, and supply chain managers play a key role in this. Visibility into a vendor's sourcing activities helps ensure a company that its partners are adhering to its own standards.
• Environmental Damage: While the mining and energy sectors are most closely identified with concerns about conservation, pollution, and sustainable growth, every supply chain has an environmental imprint. A company's manufacturing process may rely on nonrenewable resources or utilise dangerous chemicals. Companies must be aware of their environmental effect and take appropriate steps to mitigate hazards.
• Corruption: Bribery, money laundering, and other financial crimes can help corrupt politicians, drug traffickers, and terrorists profit themselves. To avoid entanglements with high-risk persons, it's vital to know who owns a corporation.
---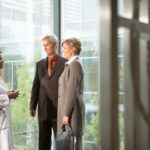 How to Evaluate Suppliers
When it comes to evaluating, onboarding, and monitoring vendors, procurement and compliance officers frequently collaborate. This method was compelled by a slew of rules and regulations. When it comes to identifying unethical suppliers, firms need reliable business data, but where can they find it?
Online compliance tools are a quick and easy way to check business data from reputable sources like Dun & Bradstreet and the US government. These systems have grown in sophistication, relying on analytics to determine the dangers that a company faces. Companies located in countries or industries where unethical actions are prevalent can be marked for investigation.
Analysts in procurement and compliance can also look into important actors to find politically exposed persons (PEPs), or personnel with ties to government officials. While most PEPs act within the law, risk mitigation techniques may still be necessary to avoid the appearance of collaboration.
When analysing suppliers, there are additional sources of information that can be used. Performing a news search on a corporation may disclose previous conflicts. Databases of business information, such as Hoovers, frequently reveal parent/subsidiary links that aren't always obvious.
Regulating the Supply Chain
Many agencies and organisations assist in the development and enforcement of supply chain rules and regulations, including:
• US Department of Labor: The US Department of Labor administers and enforces the Fair Labor Standards Act.
• Customs and Border Protection of the United States: Attempts to prevent the importation of commodities made with forced labour.
• The Environmental Protection Agency (EPA) is in charge of overseeing industrial waste rules in the United States.
• International Labour Organization (United Nations agency): Assists countries all around the world in developing policies to end worker exploitation.
Many major corporations have pledged to collaborate with governments and non-governmental groups to create socially responsible supply chains.
---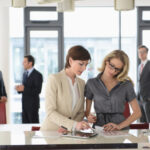 Chapter 3: Efficient Transport
Greenness and Logistics
The majority of sustainable transportation considerations are focused on people, putting freight difficulties to the sidelines. Logistics is at the heart of modern transportation systems, implying a level of order and control over freight movements that could only be achieved with modern technology. It has emerged as one of the most significant advancements in the transportation sector. Greenness has become a catchphrase for a variety of environmental issues, and it is generally regarded positively. It is used to imply environmental compatibility, and hence, like logistics, it is regarded as advantageous. When combined together, the two words describe a system of transportation and distribution that is both ecologically benign and efficient.

Production planning, materials management, and physical distribution are only a few of the dimensions covered by this loosely defined phrase (shown below). It provides the way for a wide range of ecologically friendly supply chain solutions to be implemented. As a result, many stakeholders may employ a variety of solutions, all dubbed "green logistics." One company may concentrate on product packaging, while another may concentrate on alternative fuel cars; both are engaged in green logistics.
However, a closer examination of the concept and its applications reveals numerous paradoxes and contradictions, implying that its use may be more challenging than initially anticipated. Despite the fact that there has been much dispute about what exactly green logistics comprises, the transportation industry has developed extremely focused and specialised interests in the subject. Green logistics solutions are assumed to be effective if transportation costs are lowered and assets such as cars, terminals, and distribution facilities are better utilised.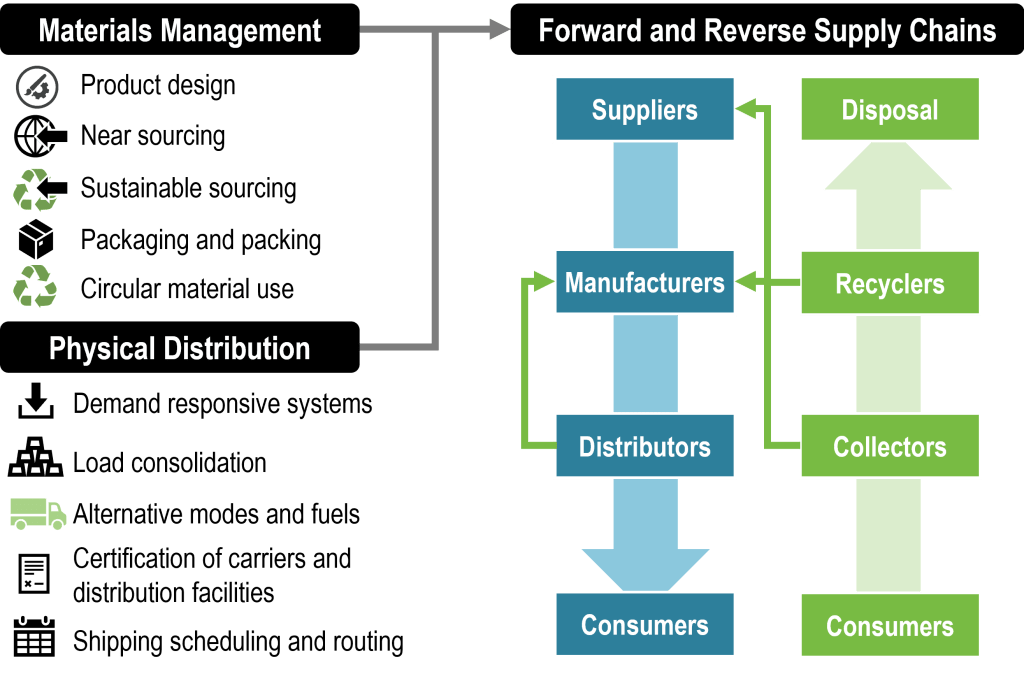 Green has become a buzzword in the transportation business, as it has in many other fields of human endeavour. It arose from a growing awareness of environmental issues and negative externalities that began in the 1950s, when the rapid rise of trucks had a severe influence on urban neighbourhoods. Truck size, emissions, and noise became public concerns, prompting the first regulation addressing pollutant and noise emissions, as well as road access restrictions. In a more recent context, well-publicized topics including sustainability, energy, waste disposal, and climate change have aided in the establishment of green logistics as a systematic subject of investigation and mitigation.
Environmental principles like material flows and the carbon cycle (seen below) found their way into supply chain management. Environmental sustainability was established as a goal for worldwide action in the World Commission on Environment and Development Report (1987), providing green problems a considerable boost in political and economic arenas. Through its modes, infrastructures, and flows, the transportation industry has been identified as a key contributor to environmental challenges. The growing field of logistics was considered as a way for the transportation industry to become more ecologically conscious. However, environmental concerns and transportation sustainability issues are still mostly focused on passenger travel.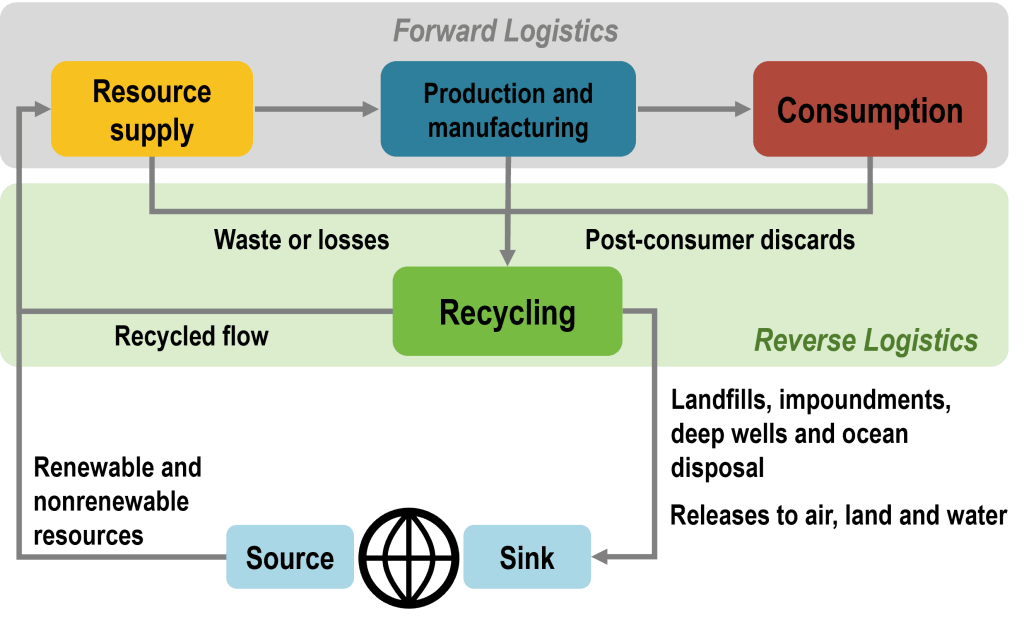 The logistics industry's interest in the environment was particularly evident in terms of seizing new business opportunities. While traditional logistics aims to organize forward distribution, or the transportation, warehousing, packaging, and inventory management from the producer to the consumer, environmental concerns opened up markets for recycling and disposal, resulting in the birth of a new sub-sector known as reverse logistics. This reverse distribution, as mentioned in the preceding Course Manual, entails the transportation of waste and the transfer of utilized materials. Even though the phrase "reverse logistics" is extensively used, alternative terms such as "reverse distribution," "reverse-flow logistics," and even "green logistics" have been employed.
The circular economy (shown below) is a more recent framework that incorporates logistics into reuse, remanufacturing, recycling, and trash disposal in a feedback loop. It's becoming a popular method that takes into account the entire scope of logistics, including the greening of both forward and reverse supply chains.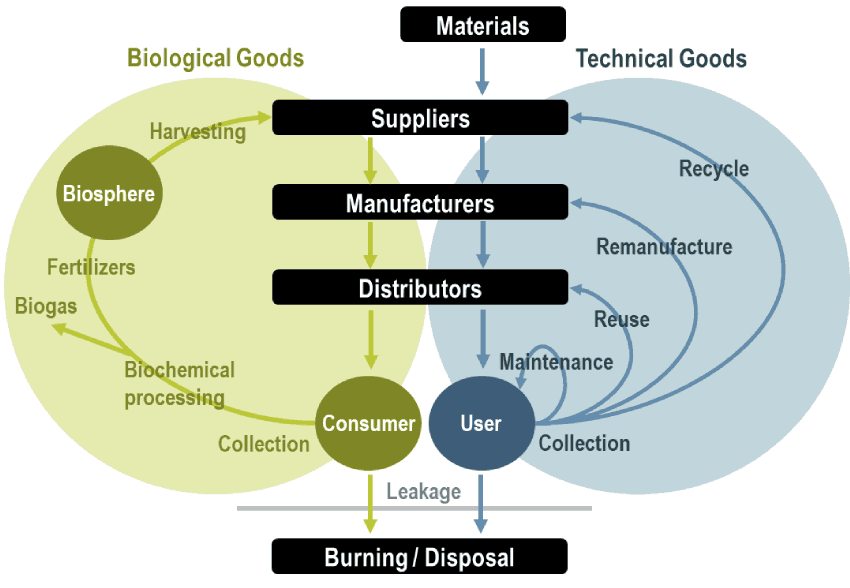 ---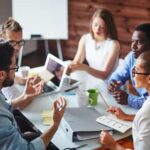 Chapter 4: Packaging and Waste
How sustainability is influencing product design
Consumers are increasingly seeking more sustainable products and businesses, offering those who have made this transition a competitive advantage…
A buyer's purchasing decision is influenced by a variety of factors. Cost, convenience, and verified product or service evaluations are some of the primary aspects that customers have traditionally considered when purchasing a new product or service – but this has evolved in recent years.
Consumers are increasingly expecting safer, more ecologically friendly goods as part of the evolution of the purchase experience. Because of the shifting consumer demand, businesses are rethinking how they plan, create, and manufacture their products and services, with sustainability as a top priority. However, designing a sustainable product can be difficult, and businesses must evaluate the entire supply chain to ensure that their product is not only environmentally responsible but also meets consumer needs.
Our mindsets are changing
The first step toward becoming a leading sustainable organization is to recognize the need to begin operating more sustainably. Consumers are more aware than ever of the arguments in favor of modifying behavior and habits to be more sustainable on both a micro and macro level as a result of climate change and what is happening to our world. Customers are willing to pay more for sustainably produced items, according to a recent survey, indicating that sustainable products are in increasing demand and consumers are willing to prioritize them. People have been demonstrated to be happier when they use green items, improving their appreciation of the product.
As customer attitudes change, businesses are under growing pressure to change their operations to be more environmentally friendly. For many businesses in practically every industry, sustainability is becoming a critical component of their operations. At the start of this decade, high-profile brands have been declaring their carbon-neutral intentions at an unprecedented rate. Microsoft, for example, has pledged to be carbon zero by 2030, taking their sustainability initiatives to the next level.
What the supply chain can do
To develop sustainability solutions for specific industries, many frameworks and coalitions are evolving. Organizations like the Sustainable Apparel Coalition and the Sustainable Packaging Coalition, for example, have established standardized value chain measuring tools to assist businesses in assessing their social and environmental effect. Organizations may correct defects and inefficiencies in their processes, improve their sustainability performance, and maintain a level of environmental transparency by employing this measurement, bringing them one step closer to meeting their carbon dioxide emissions and waste reduction targets.
Then there's a product's lifecycle evaluation, which includes everything from raw material use to end-of-life scenarios and potential waste-design alternatives. Is there a method to make the product componentized, such that if it can't be recycled or refurbished in its entirety, it can be dismantled and used to build other goods?
Finding creative methods to be sustainable without passing higher prices on to customers is one thing; finding inventive ways to be sustainable without passing higher prices on to consumers is another – and this is where the real problem in product design lies. When creating supply chain sustainability strategies, there are two ways to solve cost difficulties.
The first is to include circular economy into everyday behaviors, such as direct product invention. We've already seen this with companies adding recycled materials into their products, and it's becoming more popular in the textile and footwear industries.
The second way is for businesses to create new product and service models. IKEA, for example, is considering experimenting with furniture rentals and leasing, which would utilize fewer materials and resources. Organizations can introduce creative 'greener' solutions in their firm by adapting existing services that benefit both the company and the consumer.
What to expect going forward
New entrants are already bringing exciting ideas to the market and forcing incumbent companies to modify their goods, but many companies still have a long way to go. Over 70% of Fortune 500 business emissions are anticipated to come through their value chain, rather than the direct energy they use.
Small and large businesses alike must cultivate a corporate culture that prioritizes sustainability. In today's market, establishing clear targets that every department and employee can work toward, as well as altering operations to become more sustainable, are crucial to meeting shifting buyer needs and allowing businesses to reap the many benefits of sustainable business practices.
Sustainable innovation and company strategy will, in the end, benefit both customers and enterprises. Regardless of the short-term challenges that firms may experience, consumers, employees, and stakeholders will be affected in the long run.
---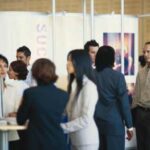 Chapter 5: Green Manufacturing and Remanufacturing
Understanding the benefits of green manufacturing
Someone will almost certainly raise the well-known argument that the costs of implementing green logistics outweigh the benefits in any debate about sustainability. To be sure, this is the widely held belief about sustainable production methods: Processes that lessen environmental impact cannot possibly be more cost-effective, given the expenses required.
However, such a viewpoint is short-sighted, as evidenced by the growing popularity of sustainable product procurement. Many companies have realized that assuming techniques that have yielded savings in the past will continue to do so in the future is myopic. Failure to produce environmentally friendly items is not only frowned upon in today's consumer product industry, but energy costs have also altered significantly. Fossil fuels are becoming increasingly expensive, while solar and wind power are becoming more accessible.
The devil's in the details
Taking a long-term view is critical when developing a green manufacturing strategy, but thinking too broadly might be dangerous. The finer points of putting in place sustainable practices must be carefully considered.
Tatsuo Enami, Gigaphoton Executive Officer and General Manager, said in a post for Solid State Technology that it's critical for businesses to consider how their sustainability activities might help them save money. Having the correct partnerships — as well as a suitable amount of visibility – is crucial, according to him.
"High-volume manufacturers must work with vendors and suppliers that will help enable their overall cost and green manufacturing goals. Tracking and managing total operational costs is critical for sustaining a cost-effective, high-volume manufacturing (HVM) environment," Enami wrote.
It will be impossible to manage the myriad elements required in green manufacturing, such as managing heat, gas, and electricity use across the operation, without a thorough awareness of the practices of significant sourcing partners and a shared commitment to sustainability across suppliers, Enami remarked.
Sustainable and lean
It's also critical for businesses to grasp the underlying principles that enable green logistics and cost reductions to coexist. Shawn Kitchell, Madico Window Films Senior Vice President of Operations, explored the connection between sustainability and lean manufacturing in a piece for Environmental Leader.
• Avoiding overproduction: According to Kitchell, creating the smallest number of items required to meet demand – a core tenet of the "lean" movement – can reduce energy and raw material use.
• Transportation management: Keeping shipments to a minimum reduces both fuel expenses and carbon emissions.
• Using fewer materials: Avoiding over-processing saves money and helps the environment.
Combining sustainable production with an agile, cost-conscious company model requires keeping these ideas in mind.
What does remanufactured mean?
Remanufacturing is an industrial process for rebuilding and recovering a previously sold, worn, or non-functional object. The piece can be returned to a 'like-new' or 'better-than-new' condition by disassembling, cleaning, repairing, and replacing worn out and obsolete components, and will be just as reliable as the original product. In the concept of a circular economy, remanufacturing is critical.
As corporations look for a method to tackle the present climate issue, remanufacturing technology is becoming more popular, as it allows them to decrease waste and pollution. Remanufacturing is not only ecologically friendly, but it also fosters a circular economy by allowing things to be reused rather than discarded. As a result, remanufacturing technology contributes significantly to economic development and is emerging as a new source of economic growth.
What can be Remanufactured?
There are no simple guidelines for what can be remanufactured. However, there are several characteristics of an object that make remanufacturing easier. A corporation will typically choose remanufacturing for complex, long-lasting, and high-value objects and parts. A product is also more likely to be remanufactured if it employs or is made of long-lasting technology and is constructed of precious or high-quality materials. It must also have a long-lasting core that can be reused and repurposed, as the core is the most important aspect of an object when it comes to remanufacturing. The core is often returned to service after being remanufactured in most cases. It's also crucial that the original equipment can be disassembled and broken down into its individual parts.
Advantages
• Maintains high performance standards
• Prevents parts from becoming obsolete
• It is environmentally friendly and helps to reduce CO2 emissions greatly
• Energy efficient – When compared to the production of new parts, remanufacturing uses 80 percent less energy
• Conserves precious raw materials
• Sustainable, extending the life of existing petrol and diesel vehicles
---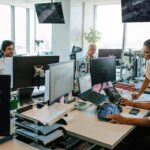 Chapter 6: Eco-design of products
Eco-design is a set of manufacturing techniques that allows a product or service's environmental effect to be reduced during its full life cycle. It is the circular economy's only weapon for limiting waste and conserving resources before the manufacturing stage. A product, a service, or an event can all benefit from eco-design. You will learn: – Why all organizations will adopt eco-design one day – The numerous areas where it may be applied – How to build an eco-responsible product in this Course Manual. You will have learned everything you need to know about the concepts and uses of eco-design in everyday life by the end of your reading.
Why do eco-design products?
The fundamental purpose of an eco-design strategy is to lessen a product's or service's environmental impact. It also provides for the stimulation of research and the promotion of innovation. It is, after all, a matter of implementing the idea of achieving more with less while maintaining product performance. Meeting new consumer expectations is another major difficulty. In addition, new environmental restrictions have been enacted. Eric Mugnier of the consultancy company EY testified as follows: "I think that today, eco-innovation is not just "a good thing to do" but has become a necessity. We have seen an impact on the younger generation at Saint Gobain. Clearly in terms of motivation, talent attraction or even talent retention. Focusing on eco-innovation has clearly made a difference for many researchers at Saint Gobain and for many people who have joined the company in recent years. So we have no choice but to continue. But how to continue successfully? You have to make eco-innovation visible to your customers. So that's clearly the next step for us: how do we make it more visible and easier to understand for our customers, whoever they are?"
What is the purpose of eco-design products?
The deployment of the following points is crucial to the development of an eco-design approach:
• Developing products while considering environmental and economic concerns.
• Create optimum product or service versions to choose the one with the least negative impact.
• Examine life cycles in order to include them into the circular economy as much as possible.
• Reduce and optimize manufacturing costs.
• Bring a global perspective and a firm structure that is conducive to long-term growth.
• To obtain environmental certification for its initiatives in order to market them.
Official definitions
There is no universally accepted concept of eco-design today. The three official definitions from the most major organizations in this sector will be presented.
The AFNOR definition
The AFNOR's (Association française de normalization) definition, which dates from 2004, is the simplest but nonetheless fairly broad: "Eco-design consists in integrating the environment from the design of a product or service, and during all the stages of its life cycle."
The definition of the NF X 30-264 standard
The 2013 NF X 30-264 Environmental Management standard provides a little more precise and up-to-date explanation: "Systematic integration of environmental aspects from the design and development of products (goods and services, systems) with the objective of reducing negative environmental impacts throughout their life cycle for equivalent or better service. This approach from the beginning of a design process aims to find the best balance between environmental, social, technical and economic requirements in the design and development of products. "
ADEME's definition
According to the ADEME (Agence de l'environnement et de la Maîtrise de l'énergie): "It is a preventive and innovative approach that reduces the negative impacts of the product, service or building on the environment throughout its life cycle (LCA), while maintaining its qualities of use. " A video from the Eco-design and Life Cycle Management Cluster explains their definition.
---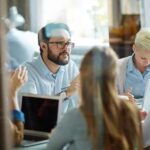 Chapter 7: Renewable Energy
Using renewable energy to drive supply chain innovation
New technologies, such as developments in renewable energy resources, are presenting potential opportunities for supply chain improvements.
Worth the investment
Renewable energy resources, sometimes known as "renewables," are naturally replenishing fuel sources that may be used to replace coal, oil, natural gas, and nuclear power with clean, safe, and reliable energy that emits little or no carbon. Renewable energy sources, unlike nuclear power and fossil fuels (coal, oil, and natural gas), deliver clean, safe, and reliable power with low or no carbon emissions.
Renewables are an appealing choice for the supply chain because of a number of possible benefits:
• Avoid risks of fossil fuel price fluctuations and regulatory changes
• Attract customers, partners, and employees interested in corporate responsibility
• Drive corporate growth by keeping pace with competitors
Switching to renewables, either selectively or throughout the supply chain, can help lower long-term costs, provide pricing stability, mitigate future regulatory risk, boost brand value, generate new income, and promote staff engagement.
With renewable energy becoming more accessible and inexpensive than ever before, now is the time to analyse your supply chain for methods to transition to renewables like solar, wind, biomass, geothermal, and hydro power so you can start experiencing the advantages right away.
Recent developments and outlook
Renewable energy now accounts for 13% of all electricity generated in the United States, up from 8% in 2007. In 2015, renewables accounted for 90% of the growth in electricity generation. By 2040, zero-emission energy sources are predicted to account for 60% of installed capacity.
The acceptance and advancement of renewables has been boosted by overcoming old hurdles.
Renewable energy is currently more economical and accessible than it has ever been. The cost of the technology has come down. Access to new finance instruments has improved, and capital needs have decreased. In some places of the United States, favorable regulation has created incentives for selling excess supply back to the grid.
The United Nations Conference on Climate Change (COP21), which saw 195 countries approve the world's first universal, legally binding global climate agreement on greenhouse gas emissions, demonstrates the growing significance of policy in determining renewable energy growth.
Many businesses are assessing and revising energy management plans, of which renewables are often a fundamental component, in reaction to evolving public perception. The American Business Act on Climate Pledge has been signed by 154 companies in support of robust climate action. Through the RE100 program, 81 companies have pledged to pursue 100 percent renewable energy.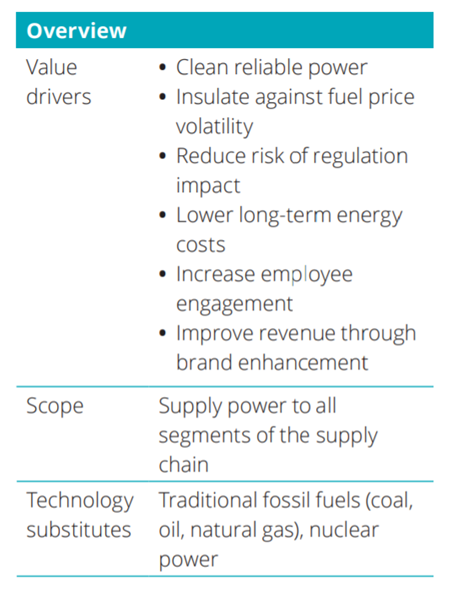 Driving value in the supply chain
Renewable energy offers cost and risk benefits across the supply chain when it is viewed as a strategic asset rather than a tactical expense.
Furthermore, renewables can provide secondary, intangible benefits such as improving company culture and employee engagement, advancing your sustainability agenda and assisting in the achievement of sustainability goals, strengthening corporate reputation, and driving corporate growth by keeping up with competitors and signaling to customers that you are a leader in environmental stewardship.
The bottom line
Renewable energy can be leveraged throughout the supply chain to lower long-term costs, reduce risk, generate new revenue, boost brand value, and boost employee engagement. Companies should re-evaluate their energy procurement strategy as technologies and laws advance to take advantage of these benefits.
---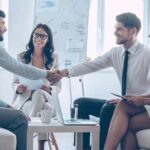 Chapter 8: Coordinate with partners
This Course Manual attempts to discover efficient Green Supply Chain Integration (GSCI) strategies that can help organizations in developing and developed countries enhance their operational, environmental, and financial performance at the same time (eg China, USA and the UK).
Overview
In recent years, many companies in both developed and developing countries have taken steps to implement green supply chain management in order to increase efficiency and reduce environmental impacts. Many companies have acknowledged the necessity to collaborate or integrate with their supply chain partners to undertake environmental management in order to become greener. More than 120 companies, including British Telecom Group, Vospre Thornycroft Group Plc, Kraft Foods, IKEA, Levi Strauss and Co., and others, have signed up for the Greenhouse Gas Protocol Initiative, which allows companies to track carbon emissions throughout their product life cycle and supply chains.
There is a scarcity of knowledge in the management literature about how companies can effectively coordinate environmental management across their supply chains, and, more importantly, how companies can achieve desirable environmental performance across a supply chain without jeopardizing their operational performance. Even though several recent research articles suggest that environmental collaboration (collaboration in environmental management with suppliers and customers) can improve both operational and environmental performance, the concept's effectiveness has yet to be properly validated and appreciated.
The concept of environmental collaboration is elevated in this research to a novel concept known as Green Supply Chain Integration (GSCI), which is a more strategic and integrative approach to achieving green supply chain performance. The focus of the research is to discover effective Green Supply Chain Integration techniques that can help businesses in both developing and developed countries enhance their operational and environmental performance (USA, China, Thailand and UK). It highlights the synergistic effects of numerous Green Supply Chain Integration methods and elements such as regulation, competitive prioritization, and supply chain structure, all of which can help or hinder such initiatives.
This research is significant since most supply chains are globally fragmented, but every company must achieve exceptional operational and environmental performance at the same time. The research is timely because, while the necessity to successfully coordinate environmental practises in a global supply chain has been recognized, there's still a dearth of understanding about how to make breakthroughs in operational and environmental performance.
---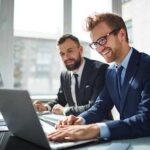 Chapter 9: Consolidate Shipments
Companies interested in greening their supply chains rapidly recognize that carbon and energy waste is an expenditure, and that reducing this expense not only saves the environment but also brings in truckloads of cash. This worksheet shows how shipment consolidation, a strong logistics method that merges two or more small shipments into a single load that can be despatched on the same truck, may help reduce carbon and energy waste.
In recent decades, significant environmental challenges have emerged as a result of dramatic developments in technology capabilities and a push toward internationally networked production and distribution operations, requiring the close and rapid attention of both practitioners and academia.
Furthermore, businesses should make every effort to become smarter in their resource use in their operations, as customers are wanting more in terms of sustainability. The environmental damage that comes with economic expansion necessitates immediate response from all market participants, including regulators, company operators, and consumers.
''If current predictions of population growth prove accurate and patterns of human activity on the planet remain unchanged, science and technology may not be able to prevent either irreversible degradation of the environment or continued poverty for much of the world,'' reports The Royal Society of London and US National Academy of Sciences (1992). As a result, greening the supply chain has become a significant corporate challenge. Green Supply Chain Management (GSCM) is defined as "integrating environmental thinking into supply chain management, including product design, material sourcing and selection, manufacturing processes, final product delivery of the final product to the consumers as well as end-of-life management of the product after its useful life'' (Srivastava,2007).
The intelligent use of logistics systems has a lot to offer in terms of greening the supply chain through various efficient distribution and transportation tactics, especially when it comes to freight movement. These environmental tactics, which include purchasing, inbound logistics, manufacturing, outbound logistics, marketing, after-sales support and product returns, recycling, remanufacturing, and centralized distribution, all rely on the efficient use of materials in production and freight flow.
Transportation is regarded as the most significant source of environmental dangers in logistics systems. Not only do transportation vehicles emit hazardous substances, but they also produce noise pollution. Carbon dioxide (CO2), for example, is the most common greenhouse gas emitted in the United States, accounting for 85 percent of the climate change potential of all human-produced emissions. CO2 has a significant role in greenhouse gas emissions, accounting for 96% of all transportation-related emissions (EPA, 2006). As a result, the transportation sector is the primary source of CO2 emissions in the United States. Truck emissions climbed from 42 percent in 1995 to 49 percent in 2006, and show no indications of diminishing (RITA,2008).
---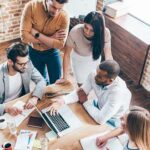 Chapter 10: Empty Miles
Climate change is a huge risk to businesses all over the world, and it's vital that companies do all they can to halt its devastating effects. Many of the world's most carbon-intensive sectors are now making changes to go green, and the logistics industry is one of them.
Whilst a great number of logistics processes are currently detrimental in terms of climate change, there are steps that can be taken to offset carbon emissions and improve sustainability. One of the key areas which logistics companies should be focusing on is 'Empty miles'. Let's take a closer look at what this term really means, and how removing dead miles might benefit businesses, consumers and the planet as a whole.
What are empty miles?
Dead or empty miles are terms used to refer to any travel that is undertaken unnecessarily, as part of logistics processes. The vast majority of supply chains include some dead miles. These miles are often the result of problems with infrastructure, inefficient routes or a lack of planning in delivery options. Not only are dead miles bad for the environment, they are also costly and time-consuming. All businesses should be on the lookout for ways to remove dead miles from their logistics processes, in order to save time, money and emissions.
Consumer expectations are rising, making it increasingly challenging for companies to provide urgent and same-day delivery solutions without contributing to dead mileage. However, something logistics companies should adopt (if they haven't already) is to optimize delivery routes and encourage multi-pickup and drop-offs, rather than direct routes.
This is something that the food delivery space struggles with, especially because food has to be delivered as an express service – almost always contributing to dead miles on the return journey. This highlights the need for further innovation in the industry to find a solution that is perfect for both supplier and the consumer. In the meantime, however, removing dead miles is a task that has to be undertaken with some compromises.
It's clear that removing dead miles is often a complex task, not least because the miles tend to be a result of numerous factors. Businesses that offer consumers a range of time slots for delivery, for instance, may well find their vans and lorries fall victim to dead miles regularly.
In cases like these, the company has made a decision to offer its consumers the choice of many different time slots for their convenience. Removing dead miles might sometimes mean limiting consumers' choices, and losing some amount of edge over the competition. However, as consumers become increasingly aware of the impact of climate change, the influence that environmental factors have on purchasing decisions is on the rise.
Companies should highlight the steps that are being taken to remove dead miles, and get consumers on board with their new focus on sustainability. Look to retailers such as Ocado for inspiration. The online supermarket gives consumers the opportunity to book a 'green' delivery slot, when their vans will already be in the area. This helps to reduce dead miles, and gives consumers the opportunity to back the company's sustainability improvements.
Why should we consider empty miles?
Dead miles are expensive, inefficient and bad for the environment. So, removing them is a no brainer. Companies looking to grow over the coming months and years need to put sustainability at the top of the agenda. Not only is 'going green' crucial for the planet as a whole, it's also set to become a huge concern for consumers. Customers really do care about the carbon footprint of the brands they buy, and this concern is growing over time.
Younger generations, such as millennials, are particularly interested in the environmental impact of brands. The Cone Communications CSR Study found that "68% of millennials bought a product with a social or environmental benefit in the past 12 months," and "88% will be more loyal to a company that supports social or environmental issues."
It's not just for the benefit of customers, however. Removing dead miles is important for business as well. Reducing dead mileage can have a positive impact on warehouse or storage efficiency by enabling better optimisation of storage space. This allows warehouses to sell more storage whilst reducing the cost for the customer. More so, it enables storage facilities to better plan inbound and outbound freight for all-round increased efficiency. Better planning improves the turnaround of goods, consequently helping to boost that all-important customer service.
Any sustainable transport or logistics business needs to make eliminating dead miles one of its key objectives. The carbon footprint of dead miles is unnecessary, and usually completely avoidable with the help of a few changes. Businesses should carefully consider the journeys that their staff take, and adapt routes to enhance efficiency wherever possible. By doing so, companies can save huge amounts of time and money, whilst simultaneously reducing their environmental impact.
Ultimately, in today's climate, it's clear that brands can no longer afford to overlook going green – so it's time to think seriously about eliminating those dead miles.
---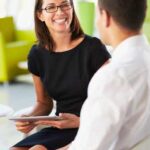 Chapter 11: Just-in-Time
Florida and Davison (2001) propose a "three zero manufacturing paradigm," in which manufacturing managers strive for zero inventory, zero defects, and zero environmental waste and emissions all at the same time. Intuitively, a mix of JIT, Total Quality Management (TQM), and green supply chain management approaches could have a positive impact on this paradigm. Both JIT and TQM have been extensively investigated and proven to increase organizational performance by focusing on the elimination of all waste from all processes, the requirements of a customer focus, and the production of high-quality goods and services that perfectly satisfy consumer requirements.
A just-in-time supply chain moves material to the production process just before it's needed. The strategy lowers the need for excessive amounts of materials to be stored in a warehouse, and it works best when each action is carefully coordinated with the next.
Learn more about this supply chain strategy and how to use it in your company.
What Is a Just-in-Time Supply Chain?
By refining the timeliness of ordering materials, the just-in-time supply chain strives to eliminate timing delays and costs. The idea is to have no more — and no fewer — resources on hand than you require at the time. This simplifies operations, lowers storage costs, and forces a company to understand its supply chain thoroughly.
• Acronym: JIT
Any anomalous surges in customer demand are compensated by safety stock in supply chain strategies other than JIT. Safety stocks also protect against production failures, quality concerns, and other unforeseen issues of this nature. In JIT, on the other hand, the company tries to synchronize its activities to the point where additional safety supplies aren't required.
How Does a Just-in-Time Supply Chain Work?
Any well-designed supply chain aims to deliver exactly what your consumers want, when they want it. In an ideal world, a company can achieve this while spending as little money as feasible. Some supply chain professionals utilize JIT as one way to do this.
JIT supply chains can also be used for a variety of other corporate operations. Human resources and accounting departments can use JIT to make the most efficient use of time and resources for the tasks at hand.
While many people who work in supply chains and finance find JIT appealing, it is challenging to put into reality. To have an optimal supply chain, a company must provide its consumers with exactly what they want, when they want it, and for as little money as feasible. Customers could be inside or external to the company.
In either case, understanding the demand of those clients is one of the most critical components of JIT. Communication is the key to comprehending that requirement. Direct communication is possible, as is the use of tools like enterprise resource planning (ERP) and materials resource planning (MRP).
After you've figured out what your customers want, the next stage is to build a solid relationship with a provider. You can count on this vendor to deliver exactly what you need, when you need it. Because most suppliers can't distribute supplies right away, a successful JIT supply chain relies on a company knowing just how early they need to acquire things in order for them to arrive at the exact moment they're needed.
While the premise of understanding customer demand and supplier connections is straightforward, perfecting these understandings in real-life scenarios is significantly more difficult.
---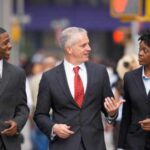 Chapter 12: Start Now
Opportunities to Start now, and planning for the future
Fundamental shifts in consumer behavior, supply chains, and market routes threw corporations off balance during the COVID-19 crisis. Responding to this event highlighted the necessity for leaders to expedite the implementation of agile working practices and value chain transformation in order to help navigate future environmental instability.
The ability to reduce waste and pollution is becoming a more essential criterion for prospective purchasers. Making progress strengthens your brand's favorable image and gives employees a sense of accomplishment. Mandatory modifications are unavoidable for many firms. Begin by determining which prospects are worthy of immediate investment and which should be postponed. Focus first on the prospects you have control over, then reach out to others upstream and downstream in your supply chain.
In January 2011, Munich Re, one of the leading global reinsurers, said: "The high number of weather-related natural catastrophes and record temperatures both globally and in different regions of the world provide further indications of advancing climate change."
The reinsurer claims that 2010 saw the second-highest number of natural disasters since 1980, with total economic costs of US$130 billion. It appears that the moment has come to transition from green awareness to green action.
BearingPoint conducted its first green supply chain survey in 2008. (in collaboration with ESCP-EAP and Supply Chain magazine). Environmental activities made by European businesses were mostly motivated by the need to comply with environmental legislation, according to the study.
"There is no way around sustainable logistics in the future. We are deciding today what kind of world we and our children will live in 30 years from now."
Frank Appel, CEO of Deutsche Post DHL Group
Meeting consumer demands
Consumers are steering the drive toward greener supply chains, according to Lucy Tammam, founder and director of sustainable couture company Tammam. "Sustainability has gone mainstream," she says. "The real power shift is coming from consumers who are steadily becoming more conscious about buying ethically."
Customers will "find out" companies that are simply "greenwashing," that is, leveraging the strength of an environmental message as a marketing tool without making any meaningful commitment.
As a result, firms are under pressure to examine their supply chains and communicate with suppliers about sustainable practises. Fortunately, there are professionals who can assist and firms that have already taken a more environmentally friendly path.
---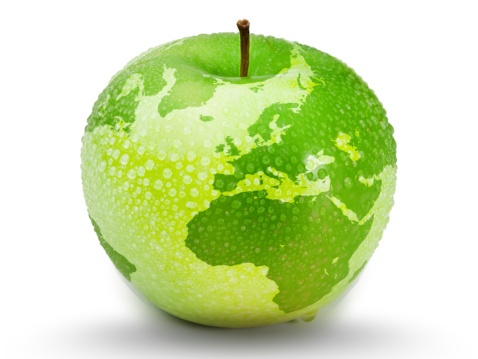 Curriculum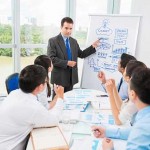 Global Supply Chain Development – Workshop 1 – Greener Global Supply Chains
Reverse Logistics
Ethical Sourcing
Efficient Transport
Packaging and Waste
Green Manufacturing and Remanufacturing
Eco-design of Products
Renewable Energy
Coordinate with Partners
Consolidate Shipments
Empty Miles
Just-in-Time
Start Now
---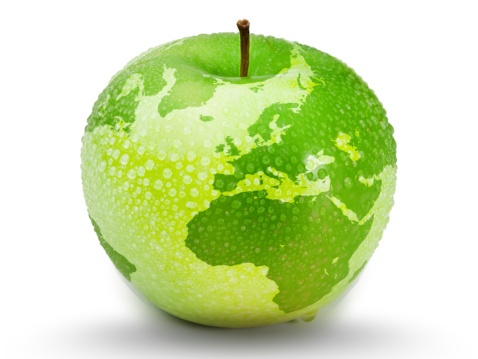 Distance Learning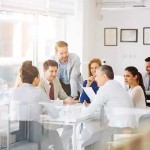 Introduction
Welcome to Appleton Greene and thank you for enrolling on the Global Supply Chain Development corporate training program. You will be learning through our unique facilitation via distance-learning method, which will enable you to practically implement everything that you learn academically. The methods and materials used in your program have been designed and developed to ensure that you derive the maximum benefits and enjoyment possible. We hope that you find the program challenging and fun to do. However, if you have never been a distance-learner before, you may be experiencing some trepidation at the task before you. So we will get you started by giving you some basic information and guidance on how you can make the best use of the modules, how you should manage the materials and what you should be doing as you work through them. This guide is designed to point you in the right direction and help you to become an effective distance-learner. Take a few hours or so to study this guide and your guide to tutorial support for students, while making notes, before you start to study in earnest.
Study environment
You will need to locate a quiet and private place to study, preferably a room where you can easily be isolated from external disturbances or distractions. Make sure the room is well-lit and incorporates a relaxed, pleasant feel. If you can spoil yourself within your study environment, you will have much more of a chance to ensure that you are always in the right frame of mind when you do devote time to study. For example, a nice fire, the ability to play soft soothing background music, soft but effective lighting, perhaps a nice view if possible and a good size desk with a comfortable chair. Make sure that your family know when you are studying and understand your study rules. Your study environment is very important. The ideal situation, if at all possible, is to have a separate study, which can be devoted to you. If this is not possible then you will need to pay a lot more attention to developing and managing your study schedule, because it will affect other people as well as yourself. The better your study environment, the more productive you will be.
Study tools & rules
Try and make sure that your study tools are sufficient and in good working order. You will need to have access to a computer, scanner and printer, with access to the internet. You will need a very comfortable chair, which supports your lower back, and you will need a good filing system. It can be very frustrating if you are spending valuable study time trying to fix study tools that are unreliable, or unsuitable for the task. Make sure that your study tools are up to date. You will also need to consider some study rules. Some of these rules will apply to you and will be intended to help you to be more disciplined about when and how you study. This distance-learning guide will help you and after you have read it you can put some thought into what your study rules should be. You will also need to negotiate some study rules for your family, friends or anyone who lives with you. They too will need to be disciplined in order to ensure that they can support you while you study. It is important to ensure that your family and friends are an integral part of your study team. Having their support and encouragement can prove to be a crucial contribution to your successful completion of the program. Involve them in as much as you can.
Successful distance-learning
Distance-learners are freed from the necessity of attending regular classes or workshops, since they can study in their own way, at their own pace and for their own purposes. But unlike traditional internal training courses, it is the student's responsibility, with a distance-learning program, to ensure that they manage their own study contribution. This requires strong self-discipline and self-motivation skills and there must be a clear will to succeed. Those students who are used to managing themselves, are good at managing others and who enjoy working in isolation, are more likely to be good distance-learners. It is also important to be aware of the main reasons why you are studying and of the main objectives that you are hoping to achieve as a result. You will need to remind yourself of these objectives at times when you need to motivate yourself. Never lose sight of your long-term goals and your short-term objectives. There is nobody available here to pamper you, or to look after you, or to spoon-feed you with information, so you will need to find ways to encourage and appreciate yourself while you are studying. Make sure that you chart your study progress, so that you can be sure of your achievements and re-evaluate your goals and objectives regularly.
Self-assessment
Appleton Greene training programs are in all cases post-graduate programs. Consequently, you should already have obtained a business-related degree and be an experienced learner. You should therefore already be aware of your study strengths and weaknesses. For example, which time of the day are you at your most productive? Are you a lark or an owl? What study methods do you respond to the most? Are you a consistent learner? How do you discipline yourself? How do you ensure that you enjoy yourself while studying? It is important to understand yourself as a learner and so some self-assessment early on will be necessary if you are to apply yourself correctly. Perform a SWOT analysis on yourself as a student. List your internal strengths and weaknesses as a student and your external opportunities and threats. This will help you later on when you are creating a study plan. You can then incorporate features within your study plan that can ensure that you are playing to your strengths, while compensating for your weaknesses. You can also ensure that you make the most of your opportunities, while avoiding the potential threats to your success.
Accepting responsibility as a student
Training programs invariably require a significant investment, both in terms of what they cost and in the time that you need to contribute to study and the responsibility for successful completion of training programs rests entirely with the student. This is never more apparent than when a student is learning via distance-learning. Accepting responsibility as a student is an important step towards ensuring that you can successfully complete your training program. It is easy to instantly blame other people or factors when things go wrong. But the fact of the matter is that if a failure is your failure, then you have the power to do something about it, it is entirely in your own hands. If it is always someone else's failure, then you are powerless to do anything about it. All students study in entirely different ways, this is because we are all individuals and what is right for one student, is not necessarily right for another. In order to succeed, you will have to accept personal responsibility for finding a way to plan, implement and manage a personal study plan that works for you. If you do not succeed, you only have yourself to blame.
Planning
By far the most critical contribution to stress, is the feeling of not being in control. In the absence of planning we tend to be reactive and can stumble from pillar to post in the hope that things will turn out fine in the end. Invariably they don't! In order to be in control, we need to have firm ideas about how and when we want to do things. We also need to consider as many possible eventualities as we can, so that we are prepared for them when they happen. Prescriptive Change, is far easier to manage and control, than Emergent Change. The same is true with distance-learning. It is much easier and much more enjoyable, if you feel that you are in control and that things are going to plan. Even when things do go wrong, you are prepared for them and can act accordingly without any unnecessary stress. It is important therefore that you do take time to plan your studies properly.
Management
Once you have developed a clear study plan, it is of equal importance to ensure that you manage the implementation of it. Most of us usually enjoy planning, but it is usually during implementation when things go wrong. Targets are not met and we do not understand why. Sometimes we do not even know if targets are being met. It is not enough for us to conclude that the study plan just failed. If it is failing, you will need to understand what you can do about it. Similarly if your study plan is succeeding, it is still important to understand why, so that you can improve upon your success. You therefore need to have guidelines for self-assessment so that you can be consistent with performance improvement throughout the program. If you manage things correctly, then your performance should constantly improve throughout the program.
Study objectives & tasks
The first place to start is developing your program objectives. These should feature your reasons for undertaking the training program in order of priority. Keep them succinct and to the point in order to avoid confusion. Do not just write the first things that come into your head because they are likely to be too similar to each other. Make a list of possible departmental headings, such as: Customer Service; E-business; Finance; Globalization; Human Resources; Technology; Legal; Management; Marketing and Production. Then brainstorm for ideas by listing as many things that you want to achieve under each heading and later re-arrange these things in order of priority. Finally, select the top item from each department heading and choose these as your program objectives. Try and restrict yourself to five because it will enable you to focus clearly. It is likely that the other things that you listed will be achieved if each of the top objectives are achieved. If this does not prove to be the case, then simply work through the process again.
Study forecast
As a guide, the Appleton Greene Global Supply Chain Development corporate training program should take 12-18 months to complete, depending upon your availability and current commitments. The reason why there is such a variance in time estimates is because every student is an individual, with differing productivity levels and different commitments. These differentiations are then exaggerated by the fact that this is a distance-learning program, which incorporates the practical integration of academic theory as an as a part of the training program. Consequently all of the project studies are real, which means that important decisions and compromises need to be made. You will want to get things right and will need to be patient with your expectations in order to ensure that they are. We would always recommend that you are prudent with your own task and time forecasts, but you still need to develop them and have a clear indication of what are realistic expectations in your case. With reference to your time planning: consider the time that you can realistically dedicate towards study with the program every week; calculate how long it should take you to complete the program, using the guidelines featured here; then break the program down into logical modules and allocate a suitable proportion of time to each of them, these will be your milestones; you can create a time plan by using a spreadsheet on your computer, or a personal organizer such as MS Outlook, you could also use a financial forecasting software; break your time forecasts down into manageable chunks of time, the more specific you can be, the more productive and accurate your time management will be; finally, use formulas where possible to do your time calculations for you, because this will help later on when your forecasts need to change in line with actual performance. With reference to your task planning: refer to your list of tasks that need to be undertaken in order to achieve your program objectives; with reference to your time plan, calculate when each task should be implemented; remember that you are not estimating when your objectives will be achieved, but when you will need to focus upon implementing the corresponding tasks; you also need to ensure that each task is implemented in conjunction with the associated training modules which are relevant; then break each single task down into a list of specific to do's, say approximately ten to do's for each task and enter these into your study plan; once again you could use MS Outlook to incorporate both your time and task planning and this could constitute your study plan; you could also use a project management software like MS Project. You should now have a clear and realistic forecast detailing when you can expect to be able to do something about undertaking the tasks to achieve your program objectives.
Performance management
It is one thing to develop your study forecast, it is quite another to monitor your progress. Ultimately it is less important whether you achieve your original study forecast and more important that you update it so that it constantly remains realistic in line with your performance. As you begin to work through the program, you will begin to have more of an idea about your own personal performance and productivity levels as a distance-learner. Once you have completed your first study module, you should re-evaluate your study forecast for both time and tasks, so that they reflect your actual performance level achieved. In order to achieve this you must first time yourself while training by using an alarm clock. Set the alarm for hourly intervals and make a note of how far you have come within that time. You can then make a note of your actual performance on your study plan and then compare your performance against your forecast. Then consider the reasons that have contributed towards your performance level, whether they are positive or negative and make a considered adjustment to your future forecasts as a result. Given time, you should start achieving your forecasts regularly.
With reference to time management: time yourself while you are studying and make a note of the actual time taken in your study plan; consider your successes with time-efficiency and the reasons for the success in each case and take this into consideration when reviewing future time planning; consider your failures with time-efficiency and the reasons for the failures in each case and take this into consideration when reviewing future time planning; re-evaluate your study forecast in relation to time planning for the remainder of your training program to ensure that you continue to be realistic about your time expectations. You need to be consistent with your time management, otherwise you will never complete your studies. This will either be because you are not contributing enough time to your studies, or you will become less efficient with the time that you do allocate to your studies. Remember, if you are not in control of your studies, they can just become yet another cause of stress for you.
With reference to your task management: time yourself while you are studying and make a note of the actual tasks that you have undertaken in your study plan; consider your successes with task-efficiency and the reasons for the success in each case; take this into consideration when reviewing future task planning; consider your failures with task-efficiency and the reasons for the failures in each case and take this into consideration when reviewing future task planning; re-evaluate your study forecast in relation to task planning for the remainder of your training program to ensure that you continue to be realistic about your task expectations. You need to be consistent with your task management, otherwise you will never know whether you are achieving your program objectives or not.
Keeping in touch
You will have access to qualified and experienced professors and tutors who are responsible for providing tutorial support for your particular training program. So don't be shy about letting them know how you are getting on. We keep electronic records of all tutorial support emails so that professors and tutors can review previous correspondence before considering an individual response. It also means that there is a record of all communications between you and your professors and tutors and this helps to avoid any unnecessary duplication, misunderstanding, or misinterpretation. If you have a problem relating to the program, share it with them via email. It is likely that they have come across the same problem before and are usually able to make helpful suggestions and steer you in the right direction. To learn more about when and how to use tutorial support, please refer to the Tutorial Support section of this student information guide. This will help you to ensure that you are making the most of tutorial support that is available to you and will ultimately contribute towards your success and enjoyment with your training program.
Work colleagues and family
You should certainly discuss your program study progress with your colleagues, friends and your family. Appleton Greene training programs are very practical. They require you to seek information from other people, to plan, develop and implement processes with other people and to achieve feedback from other people in relation to viability and productivity. You will therefore have plenty of opportunities to test your ideas and enlist the views of others. People tend to be sympathetic towards distance-learners, so don't bottle it all up in yourself. Get out there and share it! It is also likely that your family and colleagues are going to benefit from your labors with the program, so they are likely to be much more interested in being involved than you might think. Be bold about delegating work to those who might benefit themselves. This is a great way to achieve understanding and commitment from people who you may later rely upon for process implementation. Share your experiences with your friends and family.
Making it relevant
The key to successful learning is to make it relevant to your own individual circumstances. At all times you should be trying to make bridges between the content of the program and your own situation. Whether you achieve this through quiet reflection or through interactive discussion with your colleagues, client partners or your family, remember that it is the most important and rewarding aspect of translating your studies into real self-improvement. You should be clear about how you want the program to benefit you. This involves setting clear study objectives in relation to the content of the course in terms of understanding, concepts, completing research or reviewing activities and relating the content of the modules to your own situation. Your objectives may understandably change as you work through the program, in which case you should enter the revised objectives on your study plan so that you have a permanent reminder of what you are trying to achieve, when and why.
Distance-learning check-list
Prepare your study environment, your study tools and rules.
Undertake detailed self-assessment in terms of your ability as a learner.
Create a format for your study plan.
Consider your study objectives and tasks.
Create a study forecast.
Assess your study performance.
Re-evaluate your study forecast.
Be consistent when managing your study plan.
Use your Appleton Greene Certified Learning Provider (CLP) for tutorial support.
Make sure you keep in touch with those around you.

---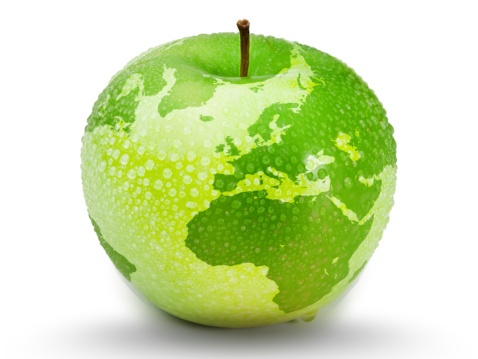 Tutorial Support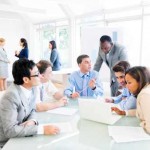 Programs
Appleton Greene uses standard and bespoke corporate training programs as vessels to transfer business process improvement knowledge into the heart of our clients' organizations. Each individual program focuses upon the implementation of a specific business process, which enables clients to easily quantify their return on investment. There are hundreds of established Appleton Greene corporate training products now available to clients within customer services, e-business, finance, globalization, human resources, information technology, legal, management, marketing and production. It does not matter whether a client's employees are located within one office, or an unlimited number of international offices, we can still bring them together to learn and implement specific business processes collectively. Our approach to global localization enables us to provide clients with a truly international service with that all important personal touch. Appleton Greene corporate training programs can be provided virtually or locally and they are all unique in that they individually focus upon a specific business function. They are implemented over a sustainable period of time and professional support is consistently provided by qualified learning providers and specialist consultants.
---
Support available
You will have a designated Certified Learning Provider (CLP) and an Accredited Consultant and we encourage you to communicate with them as much as possible. In all cases tutorial support is provided online because we can then keep a record of all communications to ensure that tutorial support remains consistent. You would also be forwarding your work to the tutorial support unit for evaluation and assessment. You will receive individual feedback on all of the work that you undertake on a one-to-one basis, together with specific recommendations for anything that may need to be changed in order to achieve a pass with merit or a pass with distinction and you then have as many opportunities as you may need to re-submit project studies until they meet with the required standard. Consequently the only reason that you should really fail (CLP) is if you do not do the work. It makes no difference to us whether a student takes 12 months or 18 months to complete the program, what matters is that in all cases the same quality standard will have been achieved.
---
Support Process
Please forward all of your future emails to the designated (CLP) Tutorial Support Unit email address that has been provided and please do not duplicate or copy your emails to other AGC email accounts as this will just cause unnecessary administration. Please note that emails are always answered as quickly as possible but you will need to allow a period of up to 20 business days for responses to general tutorial support emails during busy periods, because emails are answered strictly within the order in which they are received. You will also need to allow a period of up to 30 business days for the evaluation and assessment of project studies. This does not include weekends or public holidays. Please therefore kindly allow for this within your time planning. All communications are managed online via email because it enables tutorial service support managers to review other communications which have been received before responding and it ensures that there is a copy of all communications retained on file for future reference. All communications will be stored within your personal (CLP) study file here at Appleton Greene throughout your designated study period. If you need any assistance or clarification at any time, please do not hesitate to contact us by forwarding an email and remember that we are here to help. If you have any questions, please list and number your questions succinctly and you can then be sure of receiving specific answers to each and every query.
---
Time Management
It takes approximately 1 Year to complete the Global Supply Chain Development corporate training program, incorporating 12 x 6-hour monthly workshops. Each student will also need to contribute approximately 4 hours per week over 1 Year of their personal time. Students can study from home or work at their own pace and are responsible for managing their own study plan. There are no formal examinations and students are evaluated and assessed based upon their project study submissions, together with the quality of their internal analysis and supporting documents. They can contribute more time towards study when they have the time to do so and can contribute less time when they are busy. All students tend to be in full time employment while studying and the Global Supply Chain Development program is purposely designed to accommodate this, so there is plenty of flexibility in terms of time management. It makes no difference to us at Appleton Greene, whether individuals take 12-18 months to complete this program. What matters is that in all cases the same standard of quality will have been achieved with the standard and bespoke programs that have been developed.
---
Distance Learning Guide
The distance learning guide should be your first port of call when starting your training program. It will help you when you are planning how and when to study, how to create the right environment and how to establish the right frame of mind. If you can lay the foundations properly during the planning stage, then it will contribute to your enjoyment and productivity while training later. The guide helps to change your lifestyle in order to accommodate time for study and to cultivate good study habits. It helps you to chart your progress so that you can measure your performance and achieve your goals. It explains the tools that you will need for study and how to make them work. It also explains how to translate academic theory into practical reality. Spend some time now working through your distance learning guide and make sure that you have firm foundations in place so that you can make the most of your distance learning program. There is no requirement for you to attend training workshops or classes at Appleton Greene offices. The entire program is undertaken online, program course manuals and project studies are administered via the Appleton Greene web site and via email, so you are able to study at your own pace and in the comfort of your own home or office as long as you have a computer and access to the internet.
---
How To Study
The how to study guide provides students with a clear understanding of the Appleton Greene facilitation via distance learning training methods and enables students to obtain a clear overview of the training program content. It enables students to understand the step-by-step training methods used by Appleton Greene and how course manuals are integrated with project studies. It explains the research and development that is required and the need to provide evidence and references to support your statements. It also enables students to understand precisely what will be required of them in order to achieve a pass with merit and a pass with distinction for individual project studies and provides useful guidance on how to be innovative and creative when developing your Unique Program Proposition (UPP).
---
Tutorial Support
Tutorial support for the Appleton Greene Global Supply Chain Development corporate training program is provided online either through the Appleton Greene Client Support Portal (CSP), or via email. All tutorial support requests are facilitated by a designated Program Administration Manager (PAM). They are responsible for deciding which professor or tutor is the most appropriate option relating to the support required and then the tutorial support request is forwarded onto them. Once the professor or tutor has completed the tutorial support request and answered any questions that have been asked, this communication is then returned to the student via email by the designated Program Administration Manager (PAM). This enables all tutorial support, between students, professors and tutors, to be facilitated by the designated Program Administration Manager (PAM) efficiently and securely through the email account. You will therefore need to allow a period of up to 20 business days for responses to general support queries and up to 30 business days for the evaluation and assessment of project studies, because all tutorial support requests are answered strictly within the order in which they are received. This does not include weekends or public holidays. Consequently you need to put some thought into the management of your tutorial support procedure in order to ensure that your study plan is feasible and to obtain the maximum possible benefit from tutorial support during your period of study. Please retain copies of your tutorial support emails for future reference. Please ensure that ALL of your tutorial support emails are set out using the format as suggested within your guide to tutorial support. Your tutorial support emails need to be referenced clearly to the specific part of the course manual or project study which you are working on at any given time. You also need to list and number any questions that you would like to ask, up to a maximum of five questions within each tutorial support email. Remember the more specific you can be with your questions the more specific your answers will be too and this will help you to avoid any unnecessary misunderstanding, misinterpretation, or duplication. The guide to tutorial support is intended to help you to understand how and when to use support in order to ensure that you get the most out of your training program. Appleton Greene training programs are designed to enable you to do things for yourself. They provide you with a structure or a framework and we use tutorial support to facilitate students while they practically implement what they learn. In other words, we are enabling students to do things for themselves. The benefits of distance learning via facilitation are considerable and are much more sustainable in the long-term than traditional short-term knowledge sharing programs. Consequently you should learn how and when to use tutorial support so that you can maximize the benefits from your learning experience with Appleton Greene. This guide describes the purpose of each training function and how to use them and how to use tutorial support in relation to each aspect of the training program. It also provides useful tips and guidance with regard to best practice.
---
Tutorial Support Tips
Students are often unsure about how and when to use tutorial support with Appleton Greene. This Tip List will help you to understand more about how to achieve the most from using tutorial support. Refer to it regularly to ensure that you are continuing to use the service properly. Tutorial support is critical to the success of your training experience, but it is important to understand when and how to use it in order to maximize the benefit that you receive. It is no coincidence that those students who succeed are those that learn how to be positive, proactive and productive when using tutorial support.
Be positive and friendly with your tutorial support emails
Remember that if you forward an email to the tutorial support unit, you are dealing with real people. "Do unto others as you would expect others to do unto you". If you are positive, complimentary and generally friendly in your emails, you will generate a similar response in return. This will be more enjoyable, productive and rewarding for you in the long-term.
Think about the impression that you want to create
Every time that you communicate, you create an impression, which can be either positive or negative, so put some thought into the impression that you want to create. Remember that copies of all tutorial support emails are stored electronically and tutors will always refer to prior correspondence before responding to any current emails. Over a period of time, a general opinion will be arrived at in relation to your character, attitude and ability. Try to manage your own frustrations, mood swings and temperament professionally, without involving the tutorial support team. Demonstrating frustration or a lack of patience is a weakness and will be interpreted as such. The good thing about communicating in writing, is that you will have the time to consider your content carefully, you can review it and proof-read it before sending your email to Appleton Greene and this should help you to communicate more professionally, consistently and to avoid any unnecessary knee-jerk reactions to individual situations as and when they may arise. Please also remember that the CLP Tutorial Support Unit will not just be responsible for evaluating and assessing the quality of your work, they will also be responsible for providing recommendations to other learning providers and to client contacts within the Appleton Greene global client network, so do be in control of your own emotions and try to create a good impression.
Remember that quality is preferred to quantity
Please remember that when you send an email to the tutorial support team, you are not using Twitter or Text Messaging. Try not to forward an email every time that you have a thought. This will not prove to be productive either for you or for the tutorial support team. Take time to prepare your communications properly, as if you were writing a professional letter to a business colleague and make a list of queries that you are likely to have and then incorporate them within one email, say once every month, so that the tutorial support team can understand more about context, application and your methodology for study. Get yourself into a consistent routine with your tutorial support requests and use the tutorial support template provided with ALL of your emails. The (CLP) Tutorial Support Unit will not spoon-feed you with information. They need to be able to evaluate and assess your tutorial support requests carefully and professionally.
Be specific about your questions in order to receive specific answers
Try not to write essays by thinking as you are writing tutorial support emails. The tutorial support unit can be unclear about what in fact you are asking, or what you are looking to achieve. Be specific about asking questions that you want answers to. Number your questions. You will then receive specific answers to each and every question. This is the main purpose of tutorial support via email.
Keep a record of your tutorial support emails
It is important that you keep a record of all tutorial support emails that are forwarded to you. You can then refer to them when necessary and it avoids any unnecessary duplication, misunderstanding, or misinterpretation.
---
Individual training workshops or telephone support
Please be advised that Appleton Greene does not provide separate or individual tutorial support meetings, workshops, or provide telephone support for individual students. Appleton Greene is an equal opportunities learning and service provider and we are therefore understandably bound to treat all students equally. We cannot therefore broker special financial or study arrangements with individual students regardless of the circumstances. All tutorial support is provided online and this enables Appleton Greene to keep a record of all communications between students, professors and tutors on file for future reference, in accordance with our quality management procedure and your terms and conditions of enrolment. All tutorial support is provided online via email because it enables us to have time to consider support content carefully, it ensures that you receive a considered and detailed response to your queries. You can number questions that you would like to ask, which relate to things that you do not understand or where clarification may be required. You can then be sure of receiving specific answers to each individual query. You will also then have a record of these communications and of all tutorial support, which has been provided to you. This makes tutorial support administration more productive by avoiding any unnecessary duplication, misunderstanding, or misinterpretation.
---
Tutorial Support Email Format
You should use this tutorial support format if you need to request clarification or assistance while studying with your training program. Please note that ALL of your tutorial support request emails should use the same format. You should therefore set up a standard email template, which you can then use as and when you need to. Emails that are forwarded to Appleton Greene, which do not use the following format, may be rejected and returned to you by the (CLP) Program Administration Manager. A detailed response will then be forwarded to you via email usually within 20 business days of receipt for general support queries and 30 business days for the evaluation and assessment of project studies. This does not include weekends or public holidays. Your tutorial support request, together with the corresponding TSU reply, will then be saved and stored within your electronic TSU file at Appleton Greene for future reference.
Subject line of your email
Please insert: Appleton Greene (CLP) Tutorial Support Request: (Your Full Name) (Date), within the subject line of your email.
Main body of your email
Please insert:
1. Appleton Greene Certified Learning Provider (CLP) Tutorial Support Request
2. Your Full Name
3. Date of TS request
4. Preferred email address
5. Backup email address
6. Course manual page name or number (reference)
7. Project study page name or number (reference)
Subject of enquiry
Please insert a maximum of 50 words (please be succinct)
Briefly outline the subject matter of your inquiry, or what your questions relate to.
Question 1
Maximum of 50 words (please be succinct)
Maximum of 50 words (please be succinct)
Question 3
Maximum of 50 words (please be succinct)
Question 4
Maximum of 50 words (please be succinct)
Question 5
Maximum of 50 words (please be succinct)
Please note that a maximum of 5 questions is permitted with each individual tutorial support request email.
---
Procedure
* List the questions that you want to ask first, then re-arrange them in order of priority. Make sure that you reference them, where necessary, to the course manuals or project studies.
* Make sure that you are specific about your questions and number them. Try to plan the content within your emails to make sure that it is relevant.
* Make sure that your tutorial support emails are set out correctly, using the Tutorial Support Email Format provided here.
* Save a copy of your email and incorporate the date sent after the subject title. Keep your tutorial support emails within the same file and in date order for easy reference.
* Allow up to 20 business days for a response to general tutorial support emails and up to 30 business days for the evaluation and assessment of project studies, because detailed individual responses will be made in all cases and tutorial support emails are answered strictly within the order in which they are received.
* Emails can and do get lost. So if you have not received a reply within the appropriate time, forward another copy or a reminder to the tutorial support unit to be sure that it has been received but do not forward reminders unless the appropriate time has elapsed.
* When you receive a reply, save it immediately featuring the date of receipt after the subject heading for easy reference. In most cases the tutorial support unit replies to your questions individually, so you will have a record of the questions that you asked as well as the answers offered. With project studies however, separate emails are usually forwarded by the tutorial support unit, so do keep a record of your own original emails as well.
* Remember to be positive and friendly in your emails. You are dealing with real people who will respond to the same things that you respond to.
* Try not to repeat questions that have already been asked in previous emails. If this happens the tutorial support unit will probably just refer you to the appropriate answers that have already been provided within previous emails.
* If you lose your tutorial support email records you can write to Appleton Greene to receive a copy of your tutorial support file, but a separate administration charge may be levied for this service.
---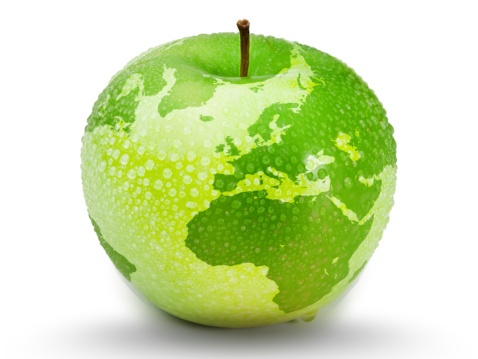 How To Study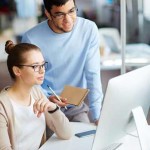 Your Certified Learning Provider (CLP) and Accredited Consultant can help you to plan a task list for getting started so that you can be clear about your direction and your priorities in relation to your training program. It is also a good way to introduce yourself to the tutorial support team.
Planning your study environment
Your study conditions are of great importance and will have a direct effect on how much you enjoy your training program. Consider how much space you will have, whether it is comfortable and private and whether you are likely to be disturbed. The study tools and facilities at your disposal are also important to the success of your distance-learning experience. Your tutorial support unit can help with useful tips and guidance, regardless of your starting position. It is important to get this right before you start working on your training program.
Planning your program objectives
It is important that you have a clear list of study objectives, in order of priority, before you start working on your training program. Your tutorial support unit can offer assistance here to ensure that your study objectives have been afforded due consideration and priority.
Planning how and when to study
Distance-learners are freed from the necessity of attending regular classes, since they can study in their own way, at their own pace and for their own purposes. This approach is designed to let you study efficiently away from the traditional classroom environment. It is important however, that you plan how and when to study, so that you are making the most of your natural attributes, strengths and opportunities. Your tutorial support unit can offer assistance and useful tips to ensure that you are playing to your strengths.
Planning your study tasks
You should have a clear understanding of the study tasks that you should be undertaking and the priority associated with each task. These tasks should also be integrated with your program objectives. The distance learning guide and the guide to tutorial support for students should help you here, but if you need any clarification or assistance, please contact your tutorial support unit.
Planning your time
You will need to allocate specific times during your calendar when you intend to study if you are to have a realistic chance of completing your program on time. You are responsible for planning and managing your own study time, so it is important that you are successful with this. Your tutorial support unit can help you with this if your time plan is not working.
Keeping in touch
Consistency is the key here. If you communicate too frequently in short bursts, or too infrequently with no pattern, then your management ability with your studies will be questioned, both by you and by your tutorial support unit. It is obvious when a student is in control and when one is not and this will depend how able you are at sticking with your study plan. Inconsistency invariably leads to in-completion.
Charting your progress
Your tutorial support team can help you to chart your own study progress. Refer to your distance learning guide for further details.
Making it work
To succeed, all that you will need to do is apply yourself to undertaking your training program and interpreting it correctly. Success or failure lies in your hands and your hands alone, so be sure that you have a strategy for making it work. Your Certified Learning Provider (CLP) and Accredited Consultant can guide you through the process of program planning, development and implementation.
Reading methods
Interpretation is often unique to the individual but it can be improved and even quantified by implementing consistent interpretation methods. Interpretation can be affected by outside interference such as family members, TV, or the Internet, or simply by other thoughts which are demanding priority in our minds. One thing that can improve our productivity is using recognized reading methods. This helps us to focus and to be more structured when reading information for reasons of importance, rather than relaxation.
Speed reading
When reading through course manuals for the first time, subconsciously set your reading speed to be just fast enough that you cannot dwell on individual words or tables. With practice, you should be able to read an A4 sheet of paper in one minute. You will not achieve much in the way of a detailed understanding, but your brain will retain a useful overview. This overview will be important later on and will enable you to keep individual issues in perspective with a more generic picture because speed reading appeals to the memory part of the brain. Do not worry about what you do or do not remember at this stage.
Content reading
Once you have speed read everything, you can then start work in earnest. You now need to read a particular section of your course manual thoroughly, by making detailed notes while you read. This process is called Content Reading and it will help to consolidate your understanding and interpretation of the information that has been provided.
Making structured notes on the course manuals
When you are content reading, you should be making detailed notes, which are both structured and informative. Make these notes in a MS Word document on your computer, because you can then amend and update these as and when you deem it to be necessary. List your notes under three headings: 1. Interpretation – 2. Questions – 3. Tasks. The purpose of the 1st section is to clarify your interpretation by writing it down. The purpose of the 2nd section is to list any questions that the issue raises for you. The purpose of the 3rd section is to list any tasks that you should undertake as a result. Anyone who has graduated with a business-related degree should already be familiar with this process.
Organizing structured notes separately
You should then transfer your notes to a separate study notebook, preferably one that enables easy referencing, such as a MS Word Document, a MS Excel Spreadsheet, a MS Access Database, or a personal organizer on your cell phone. Transferring your notes allows you to have the opportunity of cross-checking and verifying them, which assists considerably with understanding and interpretation. You will also find that the better you are at doing this, the more chance you will have of ensuring that you achieve your study objectives.
Question your understanding
Do challenge your understanding. Explain things to yourself in your own words by writing things down.
Clarifying your understanding
If you are at all unsure, forward an email to your tutorial support unit and they will help to clarify your understanding.
Question your interpretation
Do challenge your interpretation. Qualify your interpretation by writing it down.
Clarifying your interpretation
If you are at all unsure, forward an email to your tutorial support unit and they will help to clarify your interpretation.
---
Qualification Requirements
The student will need to successfully complete the project study and all of the exercises relating to the Global Supply Chain Development corporate training program, achieving a pass with merit or distinction in each case, in order to qualify as an Accredited Global Supply Chain Development Specialist (AGSCDS). All monthly workshops need to be tried and tested within your company. These project studies can be completed in your own time and at your own pace and in the comfort of your own home or office. There are no formal examinations, assessment is based upon the successful completion of the project studies. They are called project studies because, unlike case studies, these projects are not theoretical, they incorporate real program processes that need to be properly researched and developed. The project studies assist us in measuring your understanding and interpretation of the training program and enable us to assess qualification merits. All of the project studies are based entirely upon the content within the training program and they enable you to integrate what you have learnt into your corporate training practice.
Global Supply Chain Development – Grading Contribution
Project Study – Grading Contribution
Customer Service – 10%
E-business – 05%
Finance – 10%
Globalization – 10%
Human Resources – 10%
Information Technology – 10%
Legal – 05%
Management – 10%
Marketing – 10%
Production – 10%
Education – 05%
Logistics – 05%
TOTAL GRADING – 100%
Qualification grades
A mark of 90% = Pass with Distinction.
A mark of 75% = Pass with Merit.
A mark of less than 75% = Fail.
If you fail to achieve a mark of 75% with a project study, you will receive detailed feedback from the Certified Learning Provider (CLP) and/or Accredited Consultant, together with a list of tasks which you will need to complete, in order to ensure that your project study meets with the minimum quality standard that is required by Appleton Greene. You can then re-submit your project study for further evaluation and assessment. Indeed you can re-submit as many drafts of your project studies as you need to, until such a time as they eventually meet with the required standard by Appleton Greene, so you need not worry about this, it is all part of the learning process.
When marking project studies, Appleton Greene is looking for sufficient evidence of the following:
Pass with merit
A satisfactory level of program understanding
A satisfactory level of program interpretation
A satisfactory level of project study content presentation
A satisfactory level of Unique Program Proposition (UPP) quality
A satisfactory level of the practical integration of academic theory
Pass with distinction
An exceptional level of program understanding
An exceptional level of program interpretation
An exceptional level of project study content presentation
An exceptional level of Unique Program Proposition (UPP) quality
An exceptional level of the practical integration of academic theory
---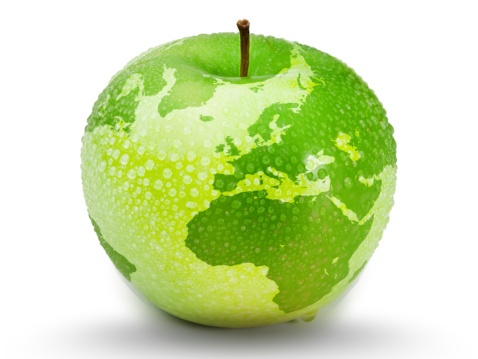 Preliminary Analysis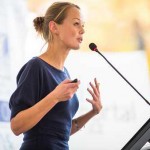 Policy Research Working Paper
"Greening Global Value Chains by Bernard Sinclair-Desgagné, The World Bank Sustainable Development Network Office of the Chief Economist September 2013:
1. Introduction
Environmental regulation has a relatively long history. In his pathbreaking book on technological innovation in the Middle-Ages, for instance, Gimpel (1975) tells of a Royal decree of 1307 forbidding the use of sea coal in the London area. This type of coal was extracted just below the surface of some seashore areas in Durham and Northumberland counties and was abundant in those days. Its energetic performance was rather poor by modern standards; its smoke smelled badly and entailed significant health hazards. However, substitutes to sea coal, namely charcoal or higher-quality coal coming from Scotland, were rather expensive. A special enforcement agency had therefore to be created, in order "to find out all individuals burning sea coal in the city or its surroundings, to impose large fines on them right away, and to destroy their ovens in case of repeated offense." Meanwhile, on the other side of the Channel, the French Parliament ruled on 7th September, 1366, that slaughter houses and tanneries be located on the Seine River downstream of Paris. Brewers were among the most vocal supporters of this decree, for slaughter houses and tanneries strongly degraded water, their main input. Each year then, about 250,000 animals were killed in Paris; tanning and butchering accounted for hundreds of tonnes of hazardous organic waste being thrown in the river. The new rule was thus well received by the population in general, although it affected negatively the production of slaughter houses and tanneries (which were crucial to virtually all urban economies in those days) by sensibly raising their transportation costs.
These stories illustrate three major points about environmental regulation. First, historically, the ability of governments to enforce environmental regulation on polluters was not an issue. Second, polluters' costs to comply with a ruler's decree could largely be ignored (within reasonable bounds, of course). Third, the willingness of targeted firms to move ahead in limiting pollution was not expected nor required.
Clearly, these features do not match the present economic setting. All over the world, employment, development and competitiveness have now become imperatives for any responsible government, so the ability of firms to preserve environmental resources while still prospering and creating jobs can hardly be overlooked. In addition, the globalization of business is now putting several polluting activities out of reach of regulators, so in order to deal with environmental problems effectively governments must refrain from coercion and share the task of managing environmental resources with business firms.
Taking stock of this landscape, economists and business scholars started three decades ago to investigate how environmental concerns could shape business strategy and be taken care of across business units. Their contributions are summarized and appraised in Reinhardt (2000), Gabel and Sinclair-Desgagné (2000), Sinclair-Desgagné (2005), and Johnstone (2007), among others. Current research is now increasingly focusing on global value chains (GVCs), as these largely make up the basic context in which most firms operate nowadays.
Making a global value chain greener raises specific challenges. Who are the participants in such a chain, how do they interact with each other, and how do they respectively and collectively affect the environment? What incentives should be set across the chain in order to foster collective environmental performance while maintaining individual competitiveness? How can the chain's members coordinate their actions effectively? This note's objectives are to briefly cover state-of-theart knowledge on these questions, and to point out certain relevant considerations that have received little weight so far. In accordance with the Green Growth Knowledge Platform's intended outlook, special attention will be given to how public policies and business strategies can support each other in meeting those challenges, particularly in developing countries.
2. Getting the right picture
Like any practical goal, the greening of GVCs first relies on information. This section will accordingly consider the generic components of a GVC, the milieu in which its activities take place, and the extent of environmental data each entity should have or generate.
• Who is involved?…
Building on Klassen and Vachon (2012), Abbey and Guide (2012) and the DCED (2012) document, Figure 1 provides a broad framework to con