Supercharged Performance – Workshop 1 (Situation Review)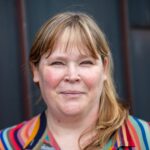 The Appleton Greene Corporate Training Program (CTP) for Supercharged Performance is provided by Mrs. Stock Certified Learning Provider (CLP). Program Specifications: Monthly cost USD$2,500.00; Monthly Workshops 6 hours; Monthly Support 4 hours; Program Duration 24 months; Program orders subject to ongoing availability.
If you would like to view the Client Information Hub (CIH) for this program, please Click Here
Learning Provider Profile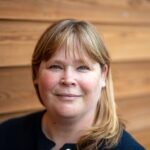 Mrs Stock is a Certified Learning Provider (CLP) at Appleton Greene, and she has experience in Leadership, Management, Human Resources, Business Analysis, lifelong learning and development of expertise.
She has achieved an BSc, Post Graduate Diploma and Post Graduate Certificate. She has industry experience within the following sectors: Education, Government, and Construction. She has had commercial experience within the United Kingdom. Her program will initially be available in the following cities: London, United Kingdom; New York, USA; Milan, Italy; Amsterdam, Netherlands; Birmingham, UK. Her personal achievements include: Doubled business turnover; transformed a paper-based organisation to be almost entirely paper free and fully data led; Implementing quality assurance, and a culture of excellence; Improved staff skills and motivation whilst managing costs.
Her service skills incorporate: transformation leadership; process improvement; change management; executive coaching.
---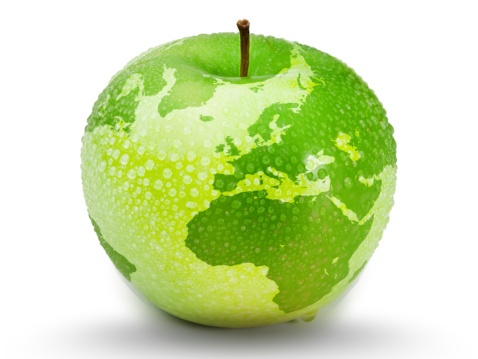 MOST Analysis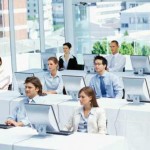 Mission Statement
A great plan requires two things – a detailed understanding of the current situation and a clear sense of direction for the future. In simple terms, in order to get from A to B we need to first know what both A and B look like. For this first session, we are starting with A, before moving onto defining the direction of travel in Workshop 2 next month.
If Team Performance Transformation appeals as a process to be applied to your organisation, then you will be well aware that not everything is running as perfectly as you would like. This is completely normal, especially in an organisation with ambitious standards and aspirations for the future. This first workshop is therefore designed to help you really dig into the data to start to uncover both the areas where there is the biggest gap between actual and desired performance, and to start to uncover the patterns and root causes of these gaps. We start with the data in order to remove a lot of emotion from this evaluation, this workshop is not about assigning blame, merely about understanding so that action can be taken.
This transformation will be multi-faceted, exploring angles which can be overlooked in other transformation processes, so we will be exploring the data from the organisation's customer reviews, financial performance, comparative performance, staff satisfaction, staff performance, KPI achievement, and business culture as a methodology for grading and benchmarking team performance against key business objectives, both internally and against the competition. The root cause analysis will look at people, processes, technology, systems, management, product, quality assurance, and culture as a methodology for creating understanding.
This is an important exercise for creating a universal understanding of the current business situation and context. Information can easily get trapped in silos, and processes which work brilliantly in one department or for one level of management cause issues in other parts of the business. By exploring the impact of processes and technology on productivity and work satisfaction across departments we can understand which business performance questions it is not possible to answer with the existing data infrastructure. And in even the best run businesses, there is always room for improvement, and external forces which can interrupt the best laid plans, forcing a course correction.
This workshop will require the involvement of the business owners and senior management team, to both be presenting data showing the current situation in key areas but to also to have data presented to them from other parts of the organisation. This will start the conversation for Workshop 2 about the direction of travel, and the possible constraints which may impact progress. This senior level analysis and interpretation will be invaluable but is not the only valid perspective. This will be partly facilitated through the completion of both a SWOT and PESTLE analysis which will allow for the contemplation of both internal and external performance factors and constraints. It is not possible to evaluate business performance without considering the external perspective and the impact of wider social and political events.
---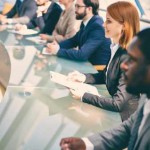 Objectives
1. To understand the key performance indicators that are being measured, to establish whether they appropriately demonstrate both sub optimal and excellent team performance.
2. To be able to interrogate those indicators to generate a fully rounded evaluation of current performance.
3. To establish whether those indicators are conveying insightful information and if not, how they can be improved, or others introduced where appropriate.
4. To understand the key strengths, weaknesses, opportunities and threats faced by the each of the departments as well as the organisation, using the SWOT analysis model.
5. To gain further insight of the external factors affecting the organisation, by utilising the PESTLE model (Political, Economic, Social, Technological, Legal and Environmental factors) to analyse how they are impacting current business performance and direction.
6. To then apply the Human Relations Theory to their context, gaining insight into how employee attitudes, interpersonal relationships, group dynamics and leadership styles are affecting organisational effectiveness.
7. To further apply Systems Theory to their context, to understand how smaller systems interact together to create a greater, more complex system and how that further advances the organisation.
8. To understand and be able to apply the Quantitative Management approach to their context, to help identify how decision making can be more informed and efficient.
9. To be able to identify questions which cannot be answered satisfactorily from the indicators and data that are already in place.
10. To develop a plan to complete the necessary data collection to fully define current performance levels of the individual departments and the business.
11. To establish a broad agreement between the Senior Leadership and the Transformation Project Team about the current situation and the key constraints impacting progress.
---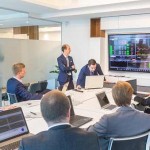 Strategies
1. To fully understand the range of indicators that are currently in place and the relevance of the information they produce, the attendees will be exploring their own and other's data to identify how well they demonstrate acceptable performance and sub optimal performance.
2. For meaningful performance transformation to take place, the attendees need to further establish the practical exploration of that data, to analyse how it is collected, how objective it is and the information it is presenting, so to fully understand the current performance of the organisation.
3. There is a possibility that certain aspects of performance are not being measured adequately, so the attendees will need to examine and identify those areas where the data either does not exist or cannot answer questions satisfactorily, to then plan how that these indicators can be developed.
4. Small groups will then be formed to create SWOT analyses for the different departments, which they can share with the other groups. These will then be used to help create a SWOT analysis for the whole organisation.
5. External and environmental factors will play a huge part in the current performance of the different teams, so practical small group exercises will be set up to compile the PESTLE analysis for each of the departments.
6. A training of Human Relations Theory and how it relates to business will be delivered, to gain insight into how employee attitudes, interpersonal relationships, group dynamics and leadership styles are affecting organisational effectiveness, highlighting areas where they could be improved.
7. To further gain an understanding of how the smaller systems interact together to create a greater, more complex system, together with the relationships that can be formed from that, there will be a workshop teaching Systems Theory, practically how it relates to business practice.
8. Organisations are constantly striving to make more informed and insightful decisions, promoting efficiency in the decision-making process. Workshops teaching and demonstrating how Quantitative Management can be improved within the business practice will be held to improve this area.
9. Small group exercises will be set up to practically explore and analyse the data to understand the questions that cannot be answered from it. From these exercises, a strategy can then be built to establish how the date to answer these questions can be satisfactorily obtained.
10. SMART targets will be set, again in small group exercises for the next workshop to ensure this strategy is being followed and that this new data can be presented.
11. There will be a facilitated discussion for the while group following the presentation of existing data and completion of the SWOT and PESTLE analysis, to reach a consensus and agreement of the current situation.
---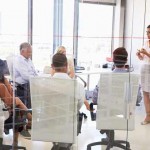 Tasks
1. Each attendee will be required to gather data to bring to the workshop, showing current levels of performance for the organisation's customer reviews, financial performance, comparative performance, staff satisfaction, staff performance, KPI achievement, and business culture. They will each present this data to the other attendees.
2. The attendees will evaluate the data against people, processes, technology, systems, management, product, quality assurance, and culture to begin to understand root causes and interconnectivities.
3. Small group exercises to examine and identify in each of the areas of people, processes, technology, systems, management, product, quality assurance, and culture, questions that cannot be answered by the data provided and determine how that missing data could be mined.
4. Complete departmental SWOT analysis in small group exercises, for presenting and creating a companywide SWOT analysis.
5. Complete an organisation PESTLE analysis in practical small group exercises.
6. Attendees to undertake background reading to gain a good understanding of Human Relations Theory, so they are prepared for a discussion of how that learning can currently be applied to the organisation.
7. Attendees to undertake background reading to gain a good understanding of Systems Theory, so they are prepared for a discussion of how that learning can currently be applied to the organisation.
8. Attendees to undertake background reading to gain a good understanding of Quantitative Management, so they are prepared for a discussion of how that learning can currently be applied to the organisation.
9. Small group exercise to analyse the data against the key criteria to identify which questions cannot be answered by the currently available data. Identify if it is possible to collect the required data with existing systems.
10. Small group exercises to develop a plan to collect the identifies required data by the next workshop, setting SMART targets to ensure goal is achieved.
11. A recording of agreed current situation by all parties and identify the areas needs further exploration.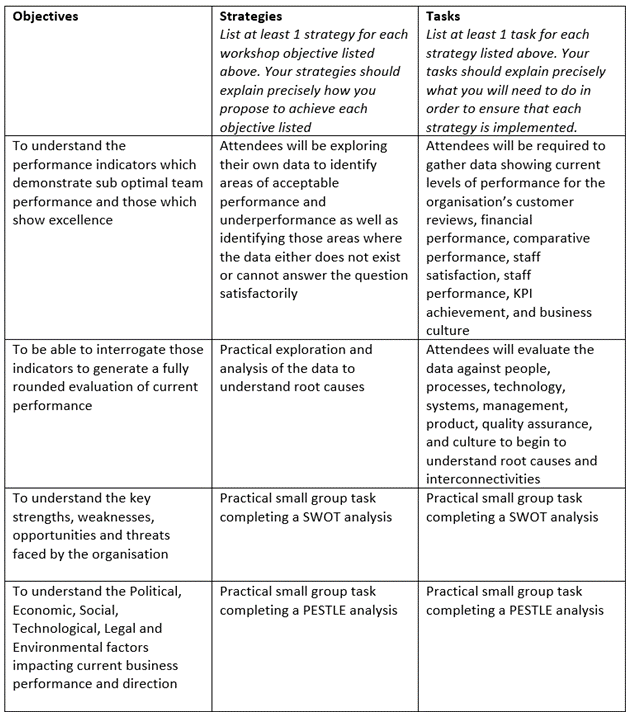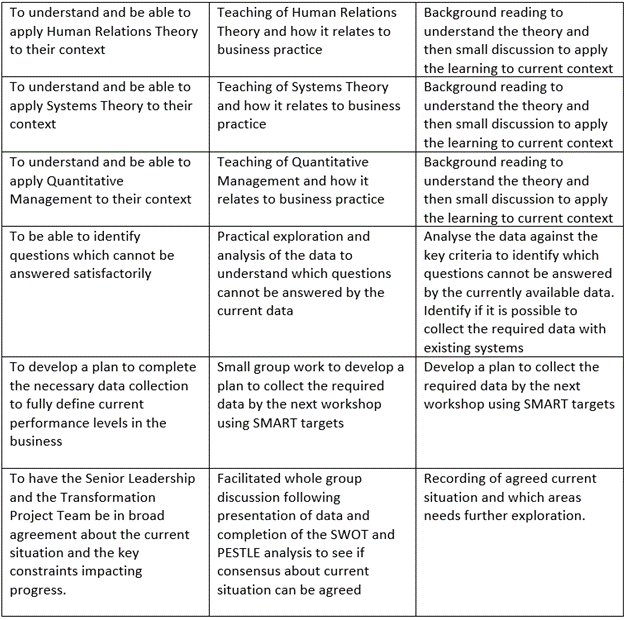 ---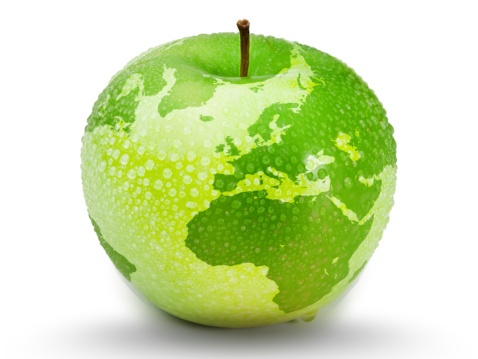 Introduction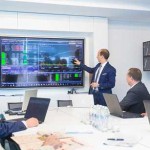 Planning Phase
The defining and launching the Planning Phase for the Team Performance Transformation Program – Workshop 1 is an essential process because it sets up the prerequisites that will drive the entire process. This phase consists of four steps, which need to be considered before this workshop take place. These are:
1. Understanding the "why"
2. Senior Management Commitment
3. Agreed Budget Commitment
4. The Identification of the Core Project Team
Understanding the "Why"
This first workshop is focused on discovering how the business is performing against both internal and external benchmarks and expectations. However, before this, the leadership team must start from a position of understanding and agreeing why radical change is required, and why business performance needs supercharging at this point. This leads to two key questions:
What is driving the thinking that we need the Team Performance Transformation Program?
Before we begin such an important and potentially transformative project as this, we need to have a good answer to the question of – Why? In such a busy world, and with so many other things to do the people involved with the organisation need to understand why this is the right plan and why they should make the Team Performance Transformation a major priority, devoting the time, focus, and commitment necessary to succeed.
What is driving the desire to want to make that change now?
Every stakeholder is challenged with too many tasks for the time they have available. The only way to manage these is to prioritise those tasks. For that priority to be set, the understanding of why the Team Performance Transformation program should be given a priority must be absolutely clear in the mind of all the leadership team.
Efficient teams are essential to the success of any business and this program is designed to increase the performance of those teams.
Within this, we must also understand the Key Business Objectives. Why does the organisation exist? What is it trying to achieve? What are the key values that underpin how it goes about doing business? These are often codified in Mission or Vision Statements, but there is often also a further unwritten set of objectives and values which needs to be unpicked and agreed upon. This helps us to understand what is truly important to the organisation as this will inform not just the focus of the transformation but also how the transformation process will be best undertaken in order to meet cultural and value needs. There is always more than one way to achieve lasting and effective change.
Sadly, there are many examples of once successful businesses that failed to transform their operations quickly enough to meet the needs of a changing world. Competitiveness is not a given, and those that fail to transform may lose their market share or even fail to exist. The need to change is governed by both internal and external factors including rapidly advancing technological opportunities which can be used to both improve how the business runs but also to create customer delight.
Well run businesses with a quality reputation have been shown to have higher trust, respect and profitability than those who don't. They also have the ability to attract talent and investment not available to others. In a world where over 80% of mergers and acquisitions fail to generate sufficient return on investment high quality organic growth generated from internal transformation is the best value for money.
Even the best run companies have inefficiencies, and areas which don't perform as well as they could do. They have crevices or departments which have not been evaluated for long periods of time, and aged decisions which are still unquestionably being followed. These add overhead, stress and complexity. All businesses benefit from periodic wide scale evaluation and investigations to inform operational changes. These can help to reduce operational or technology maintenance costs, explore the reasons for sub-optimal business growth or declining revenues, meet ever increasing customer expectations, and adapt to changing political climates.
Transformational success depends on certain things, the right timing, and integrated approach, the bandwidth to create effective change, and the right capabilities within the team for success.
Right Timing: Many organizations focus on ever more iterative change as part of a culture of continuous improvement, until it becomes ever clearer than this approach is no longer working. This is normally seen via weak revenue, customer dissatisfaction or increased competition. Significant change then becomes a priority, and the need for rapid results creates increased stress. Identifying the correct course of action takes time, so better results come from proactively engaging and planning for it before the damage has occurred.
Integrated Approach: By focusing on the 8 elements for effective transformation – people, processes, technology, systems, management, product, quality assurance and culture you have everything in place to create effective change to organizational design. Looking at all parts in the round as a whole ecosystem can be helpful to make big strides and avoid unnecessary work or micromanagement. This helps move away from solutions which feel more like moving the deckchairs on the Titanic to ones which change the course of the organisation and create lasting and effective change.
Bandwidth: The organisation is not going to stop operations during this transformation process. But overwhelmed and rushed executives do not make the best decisions, so properly staffing and resourcing the project team is a must.
The right capabilities: The people who are chosen to lead the transformation team must have the skills and capabilities to do the job well. This may require outsourcing or hiring in the right talent to make things happen in the right way to create success.
While this first session is all about identifying how the business is currently performing, there are several pre-conditions which need to be in place for the Team Performance Transformation process to work.
· Senior Management / Business Owner commitment
There must be a complete commitment from the senior management or the team for any form of transformation to take place. A change programme without the full commitment of time, effort and resources from the organisation's leaders and owners, is likely to jeopardise robust, meaningful and positive change to be adopted by those further down in the organisation. This is a two-year commitment to invest in a process designed to supercharge business performance by equipping key members of the business with the necessary skills and knowledge to want to work differently. For this change to be disseminated through the business as a whole, so that staff are willing to operate in a significantly different manner, the senior management team must be the proponents of this change. To do this will require time, money, enthusiasm and effort from those at the top of the company and cannot be undertaken lightly.
• Pre agreed budget commitment
At this point, the business leaders will have an idea why they felt committing to the Team Performance Transformation process was a good plan. This may be a data led decision, a need prompted by external forces requiring a significant altering of how the organisation operates, or more intuitively, the understanding that the previous iterative changes have reached the end of the road and a more substantial re-imagining is required to unleash the next level of performance. In all cases, we are led to the same conclusions, that investment in not just skills and knowledge is going to be needed to create the level of desired change. At this point it is not possible to put together a detailed budget, but business owners and senior leadership teams do need to pre-agree an amount they are willing to invest in upgrading equipment and systems. This has to be seen as a necessary investment to further the success of the organisation.
· Identify a core project team and create the time and space for them to commit to implementing this change and the necessary decision-making authority
Such a substantial transformation opportunity does not just need investment in equipment and software, but also in making sure the core transformation team have the time and support needed to make a success of this opportunity. To create more efficiency in the project as it unfolds, key people within the project team must be given authority to make decisions. The transformation process will cannot afford to be hampered by a long process of ratification for decisions that are intrinsic to the success of the project. At this stage, leaders will have an idea of the key staff they would like to be involved. Therefore, the authority for clearing their diaries, altering job descriptions, and changing reporting and supervisory responsibilities are a key pre-requisite. This is an area where so many projects falter and can ultimately fail, all because this authority has not been given. If this doesn't happen, the project staff not only struggle to find the time to commit but also find that other daily business tasks are given a higher priority.
There should be an internal Steering Committee that will be the key champions and cheerleaders for the transformation programme within the organisation. The lead of this Steering Committee will be the Central Point of Contact for the Client Company and will have full Decision-Making Authority. This lead will represent key stakeholders and program participants. Each Steering Committee should include an Executive Sponsor, who will be the link between Senior Management and key points of the transformation, mainly the Development, Delivery/Implementation, Management, and Review of the Program.
A key starting point will be to select other members of the Steering Committee to represent various stakeholders who would participate in the transformation or be key beneficiaries. Employee engagement is a critical factor for success and so staff should not just be informed of the transformation that is about to unfold, but this group should also be represented on the Steering Committee. Motivation research shows that people are most committed to those changes they have helped to influence.
In union-organized companies, finding the right union rep to be part of this team will have a significant impact on the potential success of the programme. This Steering Committee of insiders will work with us to Design, Develop, Delivery, Manage, and Review the Program. This team shares responsibility to bring the Team Performance Transformation process into their organization and help us adjust the strategies, content, processes, and delivery methodology to achieve success and exceed your expectations. This is an interactive process. Finally, the Steering Committee should contain at least one senior executive sponsor to make sure this transformation programme meets Leadership objectives and addresses their concerns.
Pro-activity is the key for the Steering Team when managing these key stakeholder and influencer relationships. This will lead to better results than reacting someone gets upset because they weren't advised or consulted when a major decision was made. These relationships have to have a joint vision of the outcome for the transformation, be built on trust, have agreed performance expectations, and determine what information will be shared, created, and exchanged.
The Steering Committee also needs to start selecting either an internal delivery facilitator, or an Appleton Greene Consultant/Facilitator to work closely with the Steering Team and the Learning Provider.
· Understand the "why".
This first workshop is all about finding out how the business is performing against both internal and external benchmarks and expectations. But we need to start from a position of understanding and agreeing why radical change is required, and why business performance needs supercharging at this point. This leads to two key questions:
What is driving the thinking that we need to change?
What is driving the desire to want to change now?
There is a final specific task to be completed prior to the first workshop. Each participant will need to complete a state-of-the-art talent diagnostic. There are several excellent reasons for this:
Firstly, these assessments help us get to know the key participants and their needs in a quick, painless manner leading to improved learning and performance outcomes. Then, we can use the results to support the implementation of the Team Performance Transformation process as much research has shown individual talent is not enough to succeed in today's work environment. How the team as a whole performs is equally critical. Psychometrics reveal team dynamics in an easy to interpret visual format way, enabling a deep understanding of how teams interaction as well as how individual behaviours influence the achievement of team objectives.
We use psychometrics and talent diagnostics from Harrison Assessments and these help both Senior Leadership Teams and individual team members to gain a clear understanding of their own behaviours helping them to become more effective team members and leaders. This also includes understanding stress behaviours and how those impact both individual and team performance as well as helping people understand what can trigger these behaviours. The reports generate understanding of how to improve decision making within teams and whole organisations, improve the makeup of teams, inform succession planning, and assess the potential for cooperation or conflict.
Overall, we find that with these insights, managers can maximize team strengths while developing areas of deficiency in order to maximise performance, and in the context of a transformation project to inform decision making.
NEED BETTER QUALITY IMAGE FOR WORKSHOP 1 – SITUATION REVIEW IMAGE
---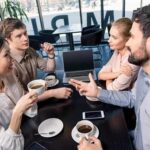 Design & Development Phase
Approach
The Team Performance Transformation process is designed to be unlike any other management or leadership programme out there. By expanding traditional management thinking and combining it to incorporate key themes from business analysis we are equipping general managers who will use IT every day but have little experience in specifying on a large scale the best systems and processes needed for running the business. This course will push teams to understand the real root causes of business underperformance and to implement changes that address these rather than to paper over the symptoms.
This is a very practical undertaking. While there will be lots of teaching of the relevant knowledge gleaned from a variety of academic specialities; management, business analysis, lifelong learning, emotional intelligence, and change management, this is designed to be applied to the workplace context and used to inform new thinking and actions. New skills will be taught and developed, again with the specific intention of improving practice and informing the direction of this performance transformation.
Working with our partners
This training programme is not designed to deliver qualifications, but to push individuals to deliver the very best positive change they can for the business. Success lies in the acquisition of skills and knowledge, but it is much more about how those skill and knowledge are applied to the goal of improving business performance. With that in mind, it is important to recognise that there is always more than one way to get from A to B. Some techniques may not work in some organisations, and it may not be possible in some cases to implement every great idea. Flexibility is key, as is our ability to deliver robust feedback to help broker and support project teams to achieve success.
Data Collection
This first workshop is geared to fully understanding the current levels of business performance. This will require a large quantity of data collection and analysis by the project team. Where this data is not easily accessible or available, innovations will be required in order to achieve success. The project team will need to contemplate the questions they are trying to answer from this data. Just arriving at the first workshop with a compilation of numbers and data is not enough to provide a framework for development.
The project team will have needed to research a Data Dictionary for their business environment. The Data Dictionary will describe and record the existing Data Landscape for their business domain. This is important, to define the boundaries that they have to work within and the raw data materials that they are starting out from. They will be expected to have interrogated the information they have collected, so they have a good understanding of its robustness.
Progressing further they will use formal Data Model modelling techniques to describe the existing information model for their business domain. The model will be developed to include details of key flows around the business. The aim of this process is to develop a formalised understanding of the structure, that will present current opportunities for improvement. The aim is to develop complete and actual (As Is) representation of the information domain and provide opportunities to identify potential improvements in the desired (To Be) model to be developed later.
To develop these models the project team will need to deploy sophisticated research techniques, delving into all aspects of their business domain. They will become familiar with elements of the business that perhaps, they previously would not go anywhere near. They will need to observe business processes and the data that originates from and drives those processes. They will need to talk in depth to business stakeholders and their staff.
Once the process of data analysis is complete, they will need to produce a system architectural plan for the business domain. Documenting where information artifacts are used and for what purpose, and which business processes they are stored or transformed in.
Specific data will need to be collected to cover the 8 key elements of Team Performance, being people, process, technology, systems, management, product, quality assurance and culture. These are combined with the specific areas of focus around customer, reviews, financial performance, comparative performance, staff satisfaction, staff performance, KPI performance and business culture.
System Design
This is not just the design of business processes or requesting particular changes to IT systems. This is about designing the whole way the business goes about doing business. It involves how people will be recruited, trained, performance managed, and directed; the creation of a positive business culture which embodies how people want to work as well as what they are working for; and combining this with the conditions needed for business success.
Fundamentally a business exists to make profit, but how it goes about making profit matters to staff, customers, and wider stakeholders. When we re-design these key business systems it will embody all these factors as well as asking the most important question of all, "what is driving you nuts?" Then making sure the designs solve real life practical problems experienced by staff so they want to be involved in implementing the change successfully because it will make their lives better, remove tedious work arounds and generally free them up to do something more interesting instead – increasing their contribution and productivity.
---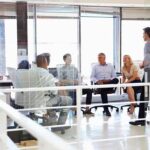 Implementation phase
This workshop will comprise of three different parts. These being a 'get to know you' session, then expectation setting, and more importantly an opportunity to really interrogate the data which has been collected, evaluating how well it is able to answer the key business questions.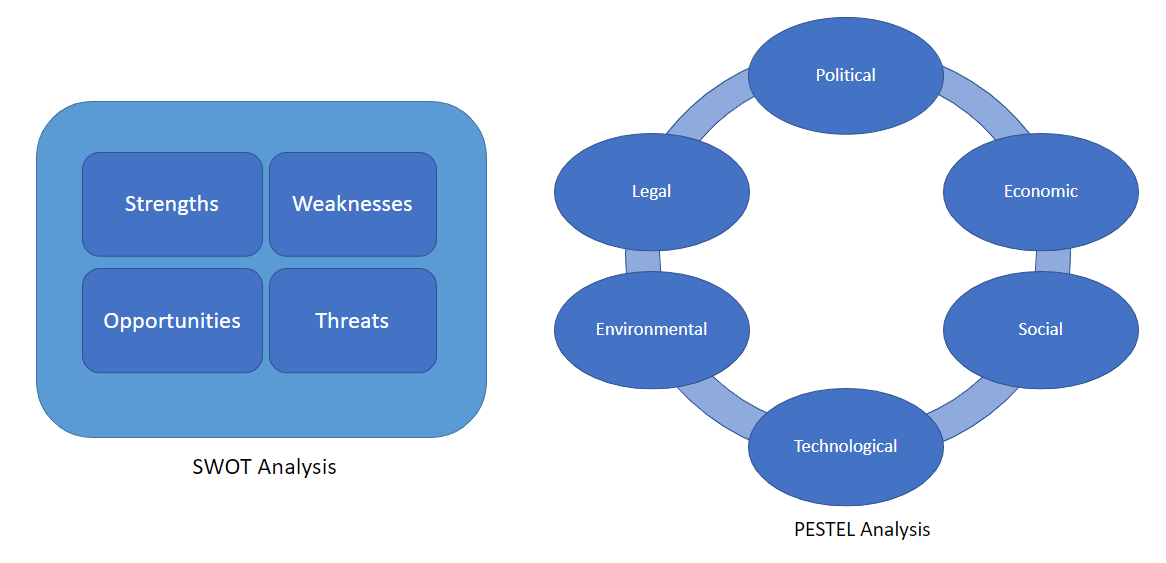 Participants will be conducting both a SWOT and PESTLE analysis to get everyone on the same page, and as a way for us to understand the key issues and context for the organisation. Project team members are likely to have been recruited from different parts of the organisation so may see the position of strengths and weaknesses differently. Both the SWOT and PESTLE will be data informed because decisions will need to be reached by more than just opinion, and benchmarking will be key to this. The candidates will be exploring what is a real strength as opposed to what is a "given" – a level of performance which is neither strength nor weakness but just expected.
An example of this can be seen when a bank claims it delivers great customer service. Is this really a strength or just what all customers would expect? How can the bank demonstrate that its customer service is better than the competition to justify the claim? Understanding the real strengths is important at this stage, to encourage criticality of thought, and the questioning of existing beliefs. One of the core tenets of the Team Performance Transformation process is for accurate problem diagnosis, and this is one of the key techniques for developing this skill.
Agreeing on the opportunities and threats facing the business can help both the project team and senior management to see the bigger picture, rather the just the day to day performance. While the daily performance is incredibly important it needs to be seen in the context of overall market opportunities and how the competition is progressing and possibly innovating. This bigger picture thinking is backed up with the PESTLE analysis where participants will be exploring the impact of the current political situation, the state of the economy, social issues, technological opportunities, environmental considerations, and the legal environment, to understand whether the external environment is helping or hindering the organisation to achieve its goals.
This external environment is never static, and businesses do not operate in a vacuum. Within this exercise, participants will be encouraged to reflect on both staff and customers opinions particularly within the social and environmental sections where external expectations may present excellent business opportunities or serious constraints on action.
This workshop then will set the scene for our future training and working relationship, where we can collectively sow the seeds to for the desired growth for in the future, probing to create understanding and improve aspirations, and working to improve both knowledge and skills. The workshops will be highly interactive learning spaces, building on existing knowledge and skills to raise performance and creating the right environment for participants to leave, equipped with new knowledge and tools that can be enhance their development and can be implemented to move the project forward to the next stage in good time for the next session.
Review
· Knowledge and skills acquisition
Testing of understanding will be built into key learning activities within the workshop sessions to not only ensure the retention of the learning but also how that new knowledge can be applied and refined over time.
· Completion of the necessary work during and between sessions
A true picture of learner understanding comes from their ability to assimilate the learning and apply key concepts and skills to their own practice in a quality manner. Generally, we see that learners who struggle to complete work have either failed to comprehend key areas of knowledge, need further practice to make consolidate new skills before they can apply them to their practice, or either mindset or life has gotten in the way. We need to understand the reasons why a learner has not progressed in the way we expected so that we can offer enhanced support. This is one of the key drivers behind the use of the Harrison Assessment both prior to and during the first workshop. These state of the art diagnostics give us a real insight into participants strengths and personalities – helping to inform how best to support their learning.
· Quality Assurance
Quality assurance includes two principles: "fit for purpose" (the product should be suitable for the intended purpose); and "right first time" (mistakes should be eliminated).
The Leadership Team need to create their definition of excellence and then establish the requirements that each a