Organizational Optimization – Workshop 1 (Optimization Overview)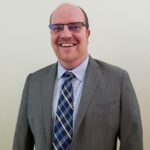 The Appleton Greene Corporate Training Program (CTP) for Organizational Optimization is provided by Mr Shortt Certified Learning Provider (CLP). Program Specifications: Monthly cost USD$2,500.00; Monthly Workshops 6 hours; Monthly Support 4 hours; Program Duration 12 months; Program orders subject to ongoing availability.
If you would like to view the Client Information Hub (CIH) for this program, please Click Here
Learning Provider Profile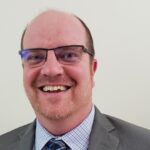 Mr. Shortt is a Certified Learning Provider (CLP) at Appleton Greene and Co (AGC) as well as the owner of an international business education and consultancy company which focuses on individual, personnel and overall business optimization. Mr. Shortt is honored to provide AGC services through a wide array of past business experience that includes such industries as Biotechnology, Healthcare, Government and Utilities. In these industries, Mr. Shortt has held various roles in operations management, product management and design, sales, and workflow optimization.
Historically, Mr. Shortt has worked with many of the Fortune 500 global leaders in diagnostics, information technology products and services, such as McKesson, Roche, and Danaher, and has also served in the US Army as an officer in the Medical Service Corps, where Mr. Shortt provided not only leadership expertise, but also workflow optimization utilizing IT and hardware applications, leveraging such workflows aids as robotics and automation. Mr. Shortt's personal education, which is highlighted by an MBA with an Executive certification, has been structured for him to be able to provide leadership perspective and expertise in how to identify a business' foundational current state in such areas as Financials, Business Strategy, Marketing Strategy, and Personnel Management, and then to leverage that expertise to prioritize and optimize a business' path to success. Mr. Shortt holds various certifications, such as Business Analysis from a managerial perspective, and also possesses a Six-Sigma Black Belt certification. Mr. Shortt's personally-owned business, Ascension Advising Solutions, LLC, which is based in Raleigh, North Carolina, USA, as well as in Tallinn, Estonia in the EU, has provided business training and consultation services for various international companies in Europe, the United Kingdom, South Africa, and recently in China. Mr. Shortt is the author of two books on finding financial success and empowering your business, as well as a business optimization blog. Mr. Shortt is also the primary author and life coach of a self-optimization website dedicated to the long-standing benefits of mindfulness meditation in today's modern world. Mr. Shortt's service skills for AGC notably incorporate: leadership optimization, business strategy and optimization, personnel management, and program education and development.
---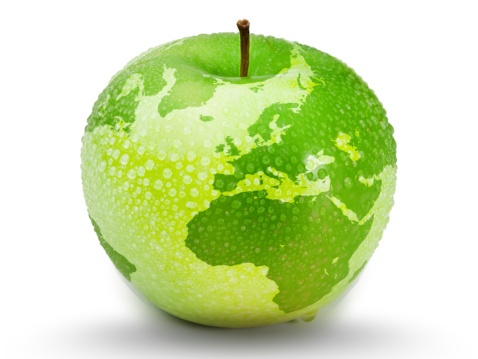 MOST Analysis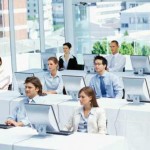 Mission Statement
Any established business consists of the innerworkings of many moving parts. Many inputs contributing to across many threads to provide many outputs. Corporations are generally structured as tiers or layers of operations, all contributing in an upwards fashion to what is considered to be the overall goal(s) of the organization. Business optimization as a system that drives towards a particular outcome, can be constructed to be implemented at a process level within only one particular workflow within one small department, and likewise, can also be applied globally to the organization as a whole. This Business Optimization Program at its core is devised to be pliably overlaid and implemented either microscopically or scaled macroscopically within an organization, based on the perceived needs of the leadership team(s) within a said organization; i.e., this program can be implemented in series or simultaneously throughout departments to optimize processes at the departmental level, or can be zoomed out to be presented to C-Suite executives with a more global perspective concerning the overall needs of the organization as a whole. The Overview of the program will be presented informationally as a means to establish initial awareness to the leadership team(s) and generate internal discussion as to its implementation. The intent of the program is to enable the leadership team to look through an established lens in order to identify areas of improvement, act upon them accordingly, and ultimately increase profits and positively affect return on investment. Further, this program is designed to expand accordingly based on project scope, as well as having an innate capacity to be implemented multiple times within an organization, within and across departments and/or business units.
---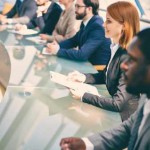 Objectives
01. Baseline Assessment: departmental SWOT analysis; strategy research & development. Time Allocated: 1 Month
02. Understanding Structure: departmental SWOT analysis; strategy research & development. Time Allocated: 1 Month
03. Structural Assessment: departmental SWOT analysis; strategy research & development. Time Allocated: 1 Month
04. Team Structure: departmental SWOT analysis; strategy research & development. Time Allocated: 1 Month
05. Executive Leadership: departmental SWOT analysis; strategy research & development. Time Allocated: 1 Month
06. Resource Optimization: departmental SWOT analysis; strategy research & development. Time Allocated: 1 Month
07. Best Practices: departmental SWOT analysis; strategy research & development. 1 Month
08. Tribe Leads: departmental SWOT analysis; strategy research & development. Time Allocated: 1 Month
09. Skills Assessment: departmental SWOT analysis; strategy research & development. Time Allocated: 1 Month
10. Employee Buy-In: departmental SWOT analysis; strategy research & development. Time Allocated: 1 Month
11. Goal-Setting: departmental SWOT analysis; strategy research & development. Time Allocated: 1 Month
12. Vision Setting: departmental SWOT analysis; strategy research & development. Time Allocated: 1 Month
---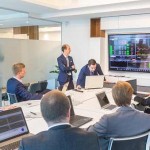 Strategies
01. Baseline Assessment: Each individual department head to undertake departmental SWOT analysis; strategy research & development.
02. Understanding Structure: Each individual department head to undertake departmental SWOT analysis; strategy research & development.
03. Structural Assessment: Each individual department head to undertake departmental SWOT analysis; strategy research & development.
04. Team Structure: Each individual department head to undertake departmental SWOT analysis; strategy research & development.
05. Executive Leadership: Each individual department head to undertake departmental SWOT analysis; strategy research & development.
06. Resource Optimization: Each individual department head to undertake departmental SWOT analysis; strategy research & development.
07. Best Practices: Each individual department head to undertake departmental SWOT analysis; strategy research & development.
08. Tribe Leads: Each individual department head to undertake departmental SWOT analysis; strategy research & development.
09. Skills Assessment: Each individual department head to undertake departmental SWOT analysis; strategy research & development.
10. Employee Buy-In: Each individual department head to undertake departmental SWOT analysis; strategy research & development.
11. Goal-Setting: Each individual department head to undertake departmental SWOT analysis; strategy research & development.
12. Vision Setting: Each individual department head to undertake departmental SWOT analysis; strategy research & development.
---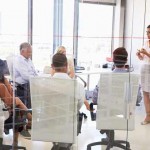 Tasks
01. Create a task on your calendar, to be completed within the next month, to analyze Baseline Assessment.
02. Create a task on your calendar, to be completed within the next month, to analyze Understanding Structure.
03. Create a task on your calendar, to be completed within the next month, to analyze Structural Assessment.
04. Create a task on your calendar, to be completed within the next month, to analyze Team Structure.
05. Create a task on your calendar, to be completed within the next month, to analyze Executive Leadership.
06. Create a task on your calendar, to be completed within the next month, to analyze Resource Optimization.
07. Create a task on your calendar, to be completed within the next month, to analyze Best Practices.
08. Create a task on your calendar, to be completed within the next month, to analyze Tribe Leads.
09. Create a task on your calendar, to be completed within the next month, to analyze Skills Assessment.
10. Create a task on your calendar, to be completed within the next month, to analyze Employee Buy-In.
11. Create a task on your calendar, to be completed within the next month, to analyze Goal-Setting.
12. Create a task on your calendar, to be completed within the next month, to analyze Vision Setting.
---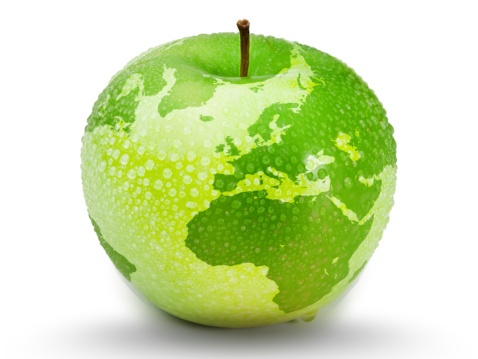 Introduction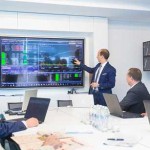 How Can Organizational Structure Be Optimized?
The best techniques for managing and structuring the most effective teams will be covered in this course manual. The knowledge that organizations will eventually need to be restructured is to be considered inevitable, as an organization grows and adapts to market trends and shifts. Clearly, a smaller business in the stages of its infancy operates and is structured much more simplistically than a larger more matured organization.
We'll give you a quick rundown of some considerations for maximizing organizational structure. The objective is to assist in enhancing your organization's efficacy and efficiency, which will lead to improved team performance. Yes, this directly affects the products and/or services you are developing for your target market(s).
One of the initial possibilities that you should consider implementing for your team is a flat organizational structure. A flat organizational structure has a lower hierarchy between managers and workers who work closely with one another. Since this structure invites more direct employee cooperation with less focus on what constitutes a "team," then this more direct interaction tends to improve communication.
In order for product and/or services portfolios to effectively evolve to their optimal state, managers and workers must be able to collaborate. Effective organizational functioning is the result of such group efforts in management, product management and product development.
Setting goals and assessing the effectiveness of efforts will be made easier with the support of clear measurements. These measurements need to indicate what is necessary for the product to succeed.
When certain roles within an organization are no longer contributing productively to the departmental or organizational goals, it may be necessary to modify or even to eliminate them. Since organizations ultimately view employees as an expense, it is of utmost importance to adapt roles and employee placements as needed to maximize productivity per dollars spent.
Organizational structure indicates which area(s) of a company should have ownership of the various tasks within the products and/or services delivery cycle. It then becomes clearer that an effective organizational structure is necessary for achieving and maintaining a successful product and/or service portfolio.
The organizational structure of every corporation is among its most crucial components. It outlines how people form groups, what they do, and how they collaborate. Companies must, however, adapt their organizational structures as they expand in order to work more effectively.
Organizational Structure: What Is It?
Organizational structure is how individuals and teams are coordinated within the company. To achieve organizational goals and objectives, individual effort must be coordinated and managed.
To accomplish the goals of an organization, specific tasks are managed according to an organizational structure. Among the activities are rules, positions, and duties.
Information flows inside a corporation are also governed by organizational structure. For instance, decisions are made at the top-down in centralized structures. However, a decentralized structure distributes decision-making power among the many organizational levels.
What Kinds of Organizational Structures Exist?
So far in this section, we have laid some foundational knowledge about organizational structure. Let's now examine the various kinds of organizational structure along with the seven categories of the organizational system.
Let's discuss them and discover the rationale for their use:
Hierarchical Organizational Structure
A pyramid-shaped organizational structure is a hierarchical organizational chart. When the chain of command is established from the top and moves down, this is the most common organizational structure.
Functional Organizational Structure
The functional structure starts at the top with roles that have the most authority and flows down, much like a hierarchical organization does. The organization of employees depends on their skills and the corresponding goal of the company. Each component functions separately.
---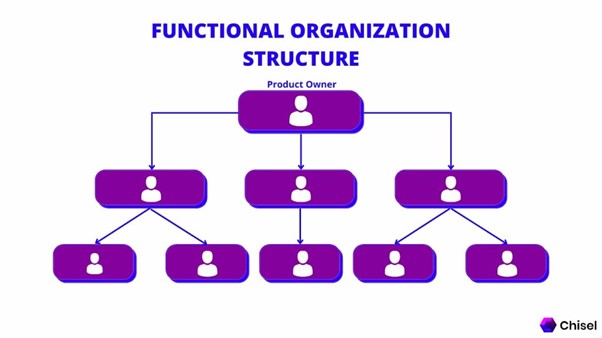 ---
Horizontal Or Flat Organizational Structure
Organizations benefit from a horizontal or flat organizational structure when there are few levels between senior management and staff members. Most new businesses use a horizontal organizational structure until they are big enough to create several departments.
Other businesses continue to use it, though, as it encourages greater staff engagement and less surveillance.
---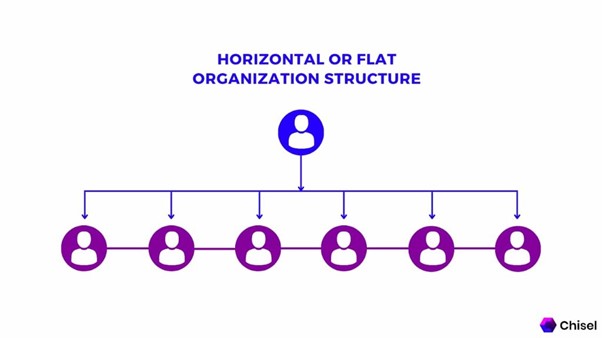 ---
Divisional Organizational Structure
Sectors of an organization are given control over its resources thanks, in part, to the divisional organizational structure. Within the larger companies, this operation may appear to be quite autonomous. The departments of sales, advertising, and information systems will be present in each division and acting according to common goals. This organizational style is advantageous for larger companies because it enables many sectors to make decisions independently.
Organizational Structure In A Matrix
Cross-functional teams assembled for particular projects are represented in a matrix organizational chart, which generally looks like a grid. For instance, an engineer could occasionally have a temporary assignment but be assigned to the engineering department on a standard, daily basis albeit under the supervision of an engineering director (led by a project manager).
The matrix organizational chart includes both roles and reporting.
Organizational Structure Based on Teams
It should be given ample consideration that a team-based organizational structure, such as one that employs the use of Scrum teams, is necessary in many organizational settings.
The traditional hierarchy is intended to be advantageously broken up by taking on this team organizational structure. This design places a strong emphasis on teamwork, problem-solving, and giving people more empowerment within their respective roles.
Network Organizational Structure
Today, very few businesses offer all services within their domain(s) under one roof. This necessary distribution of resources is explained and accommodated by the network organizational structure. This organizational structure can also be used to describe an organizational setting where open communication takes precedence over hierarchy.
What Functions Do Organizational Structures Serve?
• With a thorough understanding of a company's organizational structure, you can more easily comprehend the current objectives and guidelines of your firm. Relationships between authority and duty then become quite evident.
• The organizational structure specifies the organization's communication paths and methods. One of the core benefits can be realized in how a properly chosen and implemented organizational structure greatly eases the process of managing a growing company.
• It encourages the coordination of crucial elements' tasks to make the organization's goals possible.
• It makes it easier for an organization to grow and engage in a variety of activities.
• Employee participation in the organization promotes teamwork and workplace enthusiasm. It promotes initiative and creative thinking.
• Simple and effective policy implementation. also achieving objectives swiftly.
• It eliminates redundant functions and enables the best performance with the least amount of work.
Examples of Organization Structure
Example 1: Many companies divide themselves into departments for finance, advertising, and staffing. Then, a manager is in charge of each of these departments. This manager is under the supervision of a manager who oversees multiple departments.
Example 2: An automobile manufacturer that separates its business into divisions for SUVs, electric vehicles, and sedans is an example of a divisional organization. While each branch has a specific function, they all aim to accomplish the same thing: to close a sale.
Which Organizational Structure Is Ideal For Your Business?
Considerations include personal beliefs, competitiveness, the environment, your company's mission and guiding principles, etc. These factors aid in your decision-making on the most appropriate organizational structure for your company.
New and upcoming enterprises tend to be more adaptable since they are not as constrained by convention and outdated corporate culture characteristics.
Businesses that were founded 50 to 150 years ago are more established in their procedures for a good reason. However, introducing more complex and market-appropriate structures gradually may still be advantageous for even these organizations.
It all boils down to proper management and optimization of the routine activities, brand recognition, employee productivity, and performance. Regardless of the type that is chosen, corporate change always requires a clearly defined organizational structure.
How Can Organizational Structure Be Optimized?
It's crucial to identify the gaps. The gaps can be considered as the difference between what has failed in the past versus what is currently effective. Have those past failures been identified? Have any of those failures been attributed to symptoms of a poor organizational structure? How are your organization's employee costs, productivity, agility, and customer satisfaction stacking up in relation to how your organization is structured?
Taking into account the company's culture, its products and/or services, and how it wishes to interact with customers is one of the greatest ways to optimize an organizational structure.
Analyze Your Team's Expectations and Needs
You can also observe how other businesses organize their teams. Finding what works best for your business is crucial; you shouldn't just imitate another company's example.
It's time to begin restructuring the team once you have a grasp on the action plan. The task of restructuring is challenging since it is likely to upset the established boundaries with your team and colleagues. It's also crucial to have clearly defined goals for the new structure and how it will increase team productivity.
It is best to remember that a reformed team is temporary. Every few months, you should evaluate it again to make sure that it continues to satisfy everyone's needs.
Establish Tribe Leads
There are three Tribe (or Value Creation) leads, where each of them serves a necessary purpose:
• A Product Manager (PM) that manages product or portfolio viability and value
• A User Experience Engineer (UX) that interprets Usability and Human Factors Design
• Engineering that manages resource availability and design feasibility
The aforementioned content indicates that the PM's should make sure that the product portfolio offers clients value. UX designers should ensure a user-friendly design, whereas engineers are concerned with developing a technical solution. Additionally, it means that your tribe will include a product manager, designers, and engineers.
The team members can communicate with each other as much as possible through this approach. They don't have to go through a number of individuals to receive a response from someone else in a different department.
This strategy promotes knowledge sharing between departments, resulting in a more efficient organization. This approach stresses the fact that it is critical that everyone comprehends the product that is being developed.
The next step is to appoint a general product owner, who will be responsible for the product's vision and collaborate with the tribe leads to guarantee distribution. This role can be a product manager, just is generally considered more of a business analyst role.
Here, delivering features is more important than having an in-depth understanding of the product and how to construct it. It is important to distinguish this position from a project manager.
---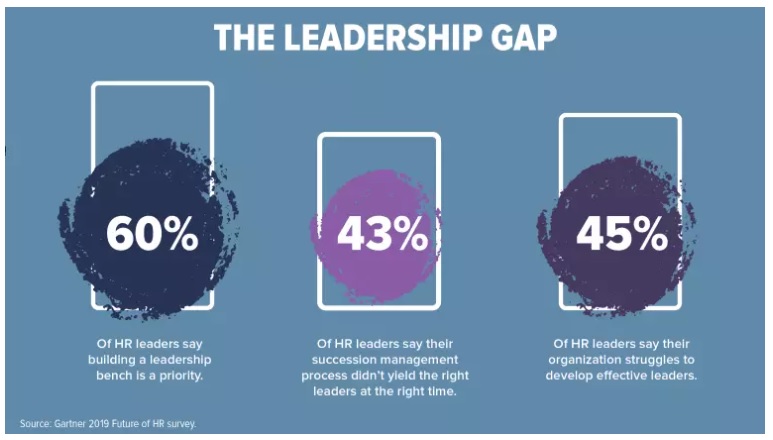 ---
Ensure That Your Team is Skilled Enough to Accomplish the Goal(s)
Either employing workers with the necessary skill set or retraining current employees can ensure that the team has the right set of skills.
The cost of hiring individuals with the necessary skill set tends to be higher. However, having the right skillsets on a project will ensure that you produce a superior product. When your ultimate goal is business expansion, your people resources can be some of your most valuable assets in accomplishing that.
Conversely, training current personnel can be less expensive, but achieving the desired competency levels can take longer as there may be associated learning curves.
Once you have selected the ideal candidates and set them up properly, it is crucial to ensure that you can monitor their progress. By developing a product roadmap and making investments in it, you can monitor the development.
The ultimate objective of this organizational structure is to grant autonomy to individuals at each functional tier and encourage team productivity. At no point during the development of these internal benefits, should the end user (customer) be considered to be of a lesser priority.
Your Users Should Take Center Stage in This Process
Product teams should be set up to represent the objectives and preferred working methods of the organization. Think about these three aspects when structuring your product team:
• One, keep an eye out for those who are deeply concerned about an issue.
• Second, focus on giving them the tools they need to solve it on their own.
• Third, throughout this process, keep your end user in mind.
Sometimes, certain stakeholders have a propensity to feel a bit disconnected from the project. They're may be unsure of their particular endgame and what they will ultimately be responsible for.
The organizational structure of the product team should match the business' goals. It is your duty as a product manager to see to it that this occurs.
The utilization of Objectives and Key Results (OKR's) is one method to empower your team and maintain their attention on the end user. This approach helps to ensure that all stakeholders will remain focused on the project's goals.
Four Key Benefits When OKRs are Strategically Aligned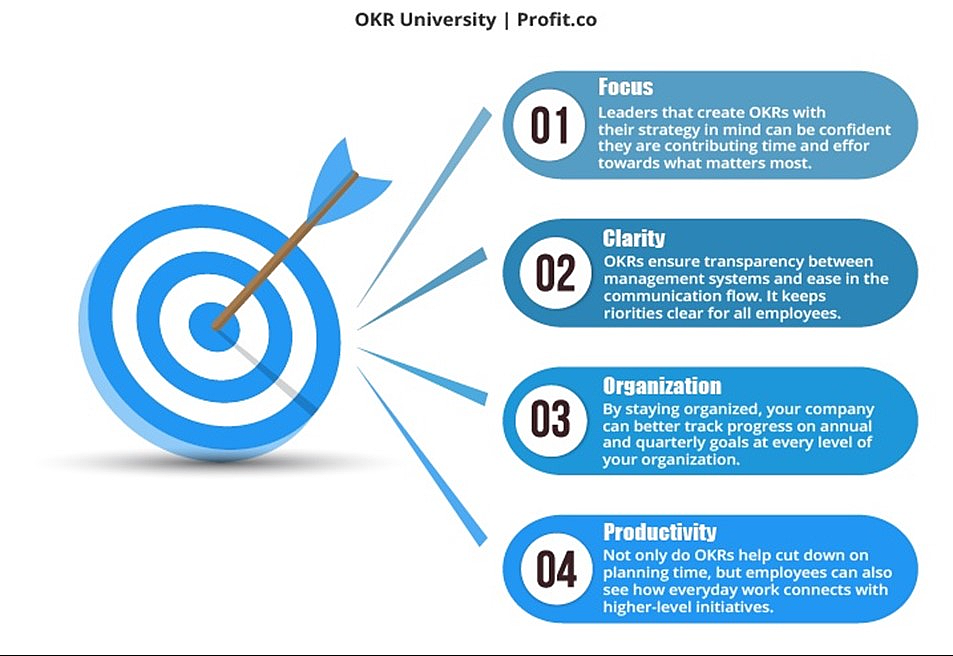 ---
Embrace Your Team's Potential with Mini-Projects
As they advance through the project, this strategy will help them feel a feeling of ownership for the outcome. Personas and user stories are the best tools for maintaining end-user focus. It enables you to comprehend their requirements and how to meet them.
It's acceptable to occasionally need to make changes as you go. It's crucial that you're always learning and refining your process.
It's acceptable to make mistakes occasionally. What matters, though, is understanding your errors and learning how to prevent them in the future.
All businesses, no matter how big or little, may benefit from empowered teams. The secret to success is being able to alter and evolve with your business.
Monitor your Discovery Sessions for Signs of a "Cargo Cult"
Be aware of this phenomenon– This is essentially a mindset that copies an existing, successful approach to a different issue without properly analyzing and understanding the workflow and/or the real outcome. Or in other more layman's terms, it's when we copy an existing project's workflow onto another one without necessarily understanding how it works in the hope of achieving the same results. Obviously, it is a poor approach to designing a solutions-based project with its own unique set of challenges.
You should give ample consideration to understanding your team's motivations, as well as your own. Additionally, you should comprehend how these motivations fit into the organization's overarching goals.
When activities become a bit too repetitive or habitual, it is common to feel less creative. If leadership within the organization is consistently pushing for progress, you can take the necessary precautions to prevent this within your team.
Knowing The Advantages of Optimization
Companies do not implement business process optimization just because it is a trendy term in the business world. Knowing the advantages it offers your company gives you a yardstick for gauging your progress.
Your time and resources are extremely valuable and limited as a business owner or CEO. As a result, it is of utmost importance to learn of real-world success stories where business process optimization has greatly impacted a company's bottom line.
Consider the success of the US-based, e-commerce logistics startup, ShipCalm. Through business process optimization, this company was able to resolve and get beyond many of its more notable problems. When you decide to optimize your processes, your company will get a number of advantages, including the following:
1. Adherence to Regulations
Industry regulations are in place to uphold law and order for the benefit of society as a whole. Businesses that violate the set norms and regulations can ultimately be prohibited from operating within the US market and/or can be subject to strict penalties.
When processes are disorganized, regulatory criteria tends to not be followed consistently. When you streamline your business processes and take regulatory compliance into mandatory consideration, your business will operate more efficiently and greatly minimize and/or hopefully eliminate regulatory shortfalls.
2. Lessening of Risks
When there is an optimal process to accomplish a goal, there is also a suboptimal process. And the risks tend to increase in the presence of a suboptimal workflow.
Some negative outcomes, if they occur, can be more far-reaching than others depending on the nature of your business. Regardless of a risk's severity, it can be avoided by strengthening your procedures and, inherent to those procedures, you are accounting for worst-case scenarios.
At a minimum, as a business owner or executive, it is of utmost importance to ensure the safety of your workers and clients. Through the development of an enhanced technique of operations, business process optimization detects hazards resulting from the execution of your current processes and aids in minimizing or eliminating them.
With standard operating procedures (SOP's) that have been validated and been deemed risk-free or minimal, you can provide your staff with the assurance that their safety is key as they perform their tasks. They will be more able to contribute at their optimal capacity.
3. Simplified Operation
Every business process is most effective if there were no bottlenecks or constraints. A constraint is any input into a process that impedes workflow or throughput, simply by its presence.
Task turnaround times are prolonged by bottlenecks. Finding accommodations or solutions/workarounds for constraints is a major component to streamlining a workflow.
When business procedures are improved, even the most complicated ones can become the simplest. By accommodating and/or eliminating bottlenecks, optimization enables the connection of separate operations into a single, fluid workflow.
Automation is a wonderful example of optimizing business operations especially when it comes to repetitive tasks. Automation of these repetitive tasks can then free up resources for concentrating on optimizing more crucial ones.
By 2024, 69 percent of typical managerial labor will likely be automated, according to Gartner, a company that provides executives and their teams with actionable, unbiased insights. Therefore, suffice it to say, automation is not only a viable optimization option in the present, but will continue to be in the future.
4. Continue to uphold consistency and quality control
Are you hoping to attract more clients and boost your client retention rate? In addition to marketing, perhaps you might focus more on boosting the caliber of your products or services by streamlining your operational procedures.
The value of your product(s) and/or the quality of your service(s) will influence whether or not you retain new or existing clients.
Your ability to consistently provide high-quality products or services provides you with a competitive edge. Your ability to replicate superior quality throughout your portfolio gives your clients confidence. Customers will feel confident to call you whenever they need you because they know they can always count on you to provide the value they are paying for.
You can automate some of your more complex procedures to reduce human error while you improve your business processes for consistency and quality assurance. There are fewer errors when complicated operations can be reduced down to only the most minimal inputs.
5. Better Resource Management
Your resource management procedures should indicate for how long those resources can be maintained. Inefficient processes tend to require that you spend more resources than necessary to complete tasks. Further, the outcomes will not be optimal, which, as a result, necessitates an even greater investment of resources. Ultimately, inefficient operations will be depleting your resources, and more importantly, eating into your profits.
Eliminating redundancy is one approach to stop your processes from consuming all of your resources. For every stage of a process that serves a clear purpose, there should also be a process around it that eliminates waste, whether it is in activities or resources.
Lastly, because every layer of your process is results-driven, business process optimization aids in the creation of efficient processes with clear goals. By eliminating bottlenecks, i.e., constraints, resource utilization tends to be optimized. You get optimal use out of your resources more effectively and maximize their benefits.
---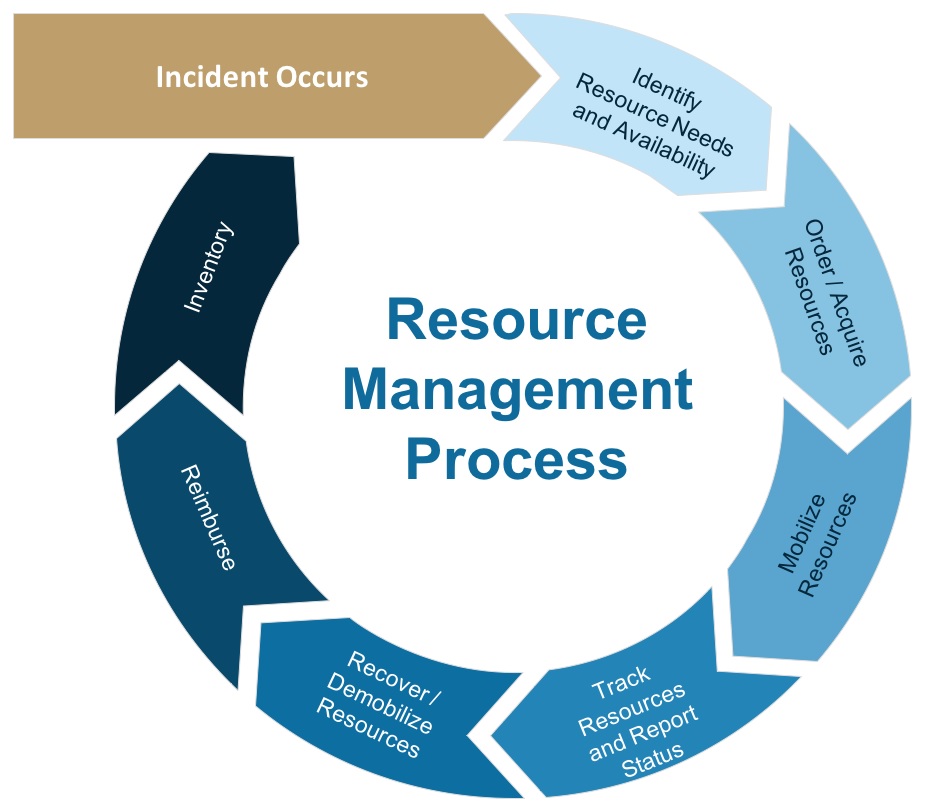 ---
6. Increased Client Satisfaction
The goal of the majority of tasks performed at work should be to please your customers and ultimately, your shareholders.
Customers tend to purchase a given product or service when their requirements are addressed in exchange for the perceived value given.
The "how-to" of gratifying your customers is defined in the implementation and ongoing nature of effective business processes. Achieving customer delight is challenging if your operations are inefficient.
Perhaps some of your current business procedures cause you to fall short of putting a smile on your customers' faces. Not to worry, you can correct that shortcoming by optimizing your business processes.
Where are you and your customers failing to meet one another's expectations right now? What are the complaints of your clients? Examine the procedures that are utilized to accommodate them in those areas of your business and perform research for a more effective way to carry them out.
As you've read here, business process optimization has several advantages. However, is optimization truly necessary for your company? The answer is a resounding, "Yes!" and we will continue to examine that in the upcoming segments of this program.
Conclusion
When it comes down to it, there is no ideal template to set up a product team. However, part of the overall strategy is comprehending your company's objectives and adapting them where necessary to meet those objectives. Reorganizing and restructuring as necessary is beneficial.
Therefore, it may not be judicious to cut costs on the labor involved in reorganizing. In order to realize the full potential of your business, it may be a necessary element of further success.
Making sure that the appropriate individuals are in place to successfully deliver on optimization tasks is also crucial. If your current team seems to already have its redundancies, you may consider reallocation of resources early on. Consider applying their individual value towards other areas of the project.
A reorganization may be necessary if there is limited opportunity for expansion inside your organization, or if interacting with other teams is challenging due to organizational structure.
These are just a few indications that it may be time to reorganize your business. However, being proactive rather than waiting until things drift further out of control is key.
Having a defined framework and maintaining organization are two of the best methods to be productive as a product team. It may be vital to continue to reallocate your team so they may work on many projects at once as your business expands.
---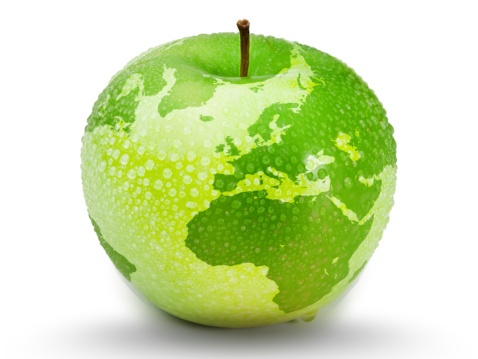 Executive Summary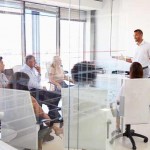 Chapter 1: Baseline Assessment
The Nature of Baseline Assessments and the Different Types
There are four main Baseline applications with several variations for other business applications.
The key areas are:
1. A Comprehensive Organizational Analysis gives firms a way to measure their entire organization objectively and quickly identify their best opportunities for organization optimization programs. Think of it as an "MRI" that swiftly and easily assesses business disciplines. This is a fantastic tool for assessing general management and employee alignment as well as the extent of executive alignment or misalignment. You will assess factors that are important for building high-performing, long-lasting companies, such as competitive advantages, marketing, finance, sales effectiveness, execution, required technologies, building teams, rewards/compensation, values, and credibility.
2. The Sales Baseline for a "deep dive" into topics pertaining to sales and marketing specifically. You'll go over areas where better marketing, sales tools, procedures, work habits, and environments will result in more productive salespeople and more sales.
3. Leadership Development for your present and your up-and-coming leaders. You assess leadership competence (what a leader knows) and leadership character (who a leader is), two crucial competencies. Competence without character can raise moral concerns, result in some of the most recent business-related headlines in American history, and cost shareholders billions of dollars in value. Character without competence may lead to companies that are moral but underwhelming because they are too laid back. or which are missing out on important changes in their business because they are going down the wrong path.
---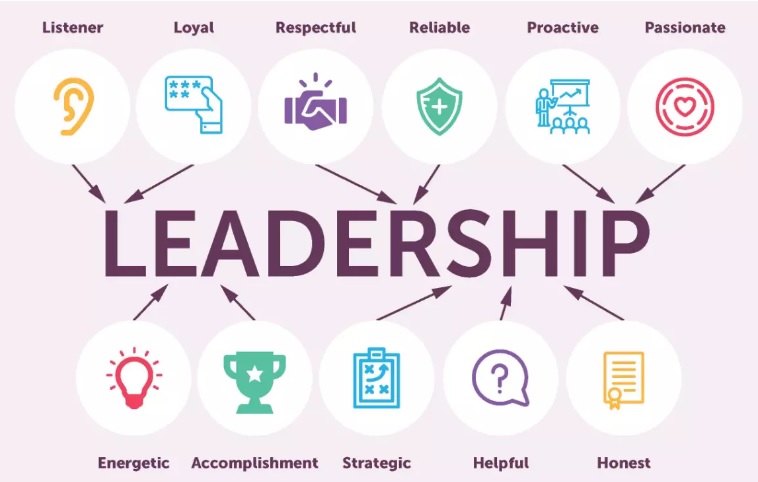 ---
4. A Board Baseline is a board of director's assessment that quickly assesses a board of directors' overall effectiveness from two perspectives:
(1) their capacity for collaboration, and
(2) the extent to which they are in compliance with governance best practices and significant regulations like Sarbanes-Oxley.
Organizations in the governmental, corporate, and nonprofit sectors can benefit greatly from this type of assessment.
In summary, I am sure that you have heard the phrase, "If I only knew then what I know now"? You may get the information you need right away from the Baseline Assessments to keep on top of your business.
From the assessment phase of the larger organizational optimization process:
• You will gain a more focused, motivated, and aligned organization that can address your greatest opportunities and threats after completing the baseline evaluation.
• You will gain clarity regarding the measures required to accomplish your goals within a given time frame
• You will learn to make decisions based on objective data instead of depending solely on educated guesses or gut feelings,
---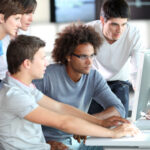 Chapter 2: Understanding Structure
Online communication has grown and improved in the last several years at a never-before-seen rate. Software has expanded the possibilities for business communication beyond email to include creative intranets and social media platforms. The workplace has been significantly impacted and is undergoing transformation as a result of the reduction in traditional communication techniques and the sharp increase in internet communication.
Optimizing communications via emerging technologies can help firms move to a successful new organizational structure as they continue to restructure in order to remain competitive. According to research, businesses can enhance their trust with employees by implementing several organizational communication initiatives.
Leadership must be aware of the benefits and drawbacks of communication technology in order to build internal communication channels that are appropriate for the organization's objectives, strategic goals, and structure. Employers must be aware of and equipped to handle the typical communication difficulties that arise in different organizational systems. For instance, firms can now form virtual teams and offices thanks to communications technology. Members of a virtual team collaborate virtually while working on a job, using tools including email, instant messaging, teleconferencing, videoconferencing, and web-based workspaces. Although virtual teams have many benefits, including less travel expenses and flexibility in personnel and work schedules, they can present difficulties. Managing team logistics and learning new technology can be challenging for virtual teams. The lack of nonverbal cues like body language and intonation makes communication extremely difficult. According to research, firms can overcome these difficulties by providing efficient support and training.
---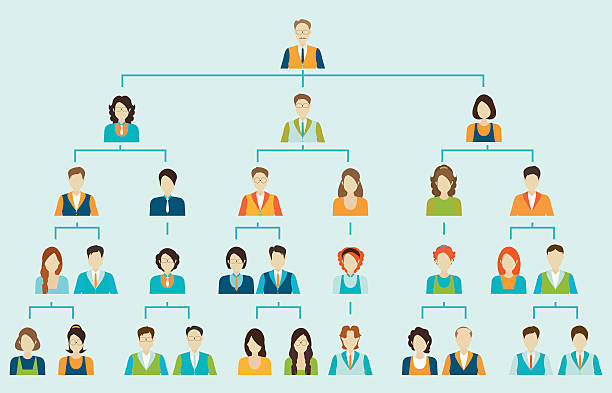 ---
Global Concerns
Organizational structures frequently need to be altered as businesses grow internationally. Before operating offices abroad, a company's executives should make a thorough plan.
When an employer plans to establish a foreign branch, hire foreign personnel, and develop a globalized strategy, many problems come into play. The following are a few of the questions that need to be addressed:
• How do national legal standards and procedures for human resources differ from one another?
• Should a corporation open an HR office in the other country or should HR representatives at the headquarters handle the work?
• Should a company use consultants to handle personnel services and local hiring on the local level?
Employers risk failing if they enter another country without a solid HR strategy in place.
When a company creates an overseas office, HR specialists and other business executives should be able to connect with employees there just as successfully as those nearby. That might be difficult. Face-to-face communication can be replaced by using videoconferencing and a strong intranet.
Employees must be aware of language, cultural, religious, and social distinctions among coworkers and business contacts due to the rapid developments in technology that effect worldwide communication. All staff members should receive cultural literacy training at the company, not just managers and CEOs who travel.
Employers should also be aware that global virtual work is much more complex than local structures due to language limitations, time and distance issues, the lack of face-to-face interaction, and, most importantly, the barriers provided by cultural variations and individual communication styles. These procedures can improve connections between international virtual teams:
• Using video and audio conferencing, online chats, and e-mail in addition to one-on-one communications.
• Publishing team member profiles that describe their backgrounds and responsibilities inside the company.
• Being aware of the level of engagement team members may provide if they are required to meet at unfavorable times across several time zones.
---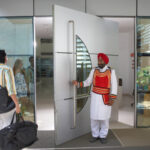 Chapter 3: Structural Assessment
Products for Organizational Assessment
The following are the main outputs from the organizational assessments:
• Organizational Impact Assessment (OIA): Offers details on the readiness of organizational entities and staff to implement the transformation. The OIA will identify the direct and indirect effects of the transformation on the workforce, direct and indirect stakeholders, and the sponsor's mission.
• Organizational Risk Assessment (ORA): This tool gives sponsor executives information on the nature and seriousness of transformation risks and concerns, as well as viable mitigation strategies. An overall organizational impact assessment may include the ORA.
NOTE: Sponsor executives are given the business intelligence to design the organizational change management (OCM) direction by the organizational change strategy generated from the OIA and ORA.
• Optional Deliverable: Workforce Transformation Strategy: Describes the transformation plan and how it will be integrated with the sponsor's technical and deployment teams. It also outlines how the transformation program management team will oversee daily OCM activities and briefings.
• Communications Planning: Systems engineers must be aware that a system science approach entails communications planning and outreach techniques to begin and maintain communications with impacted organizational entities and significant transformation actors (e.g., internal and external stakeholders). The creation of short-term communications and subsequent implementation of the plans are required for communication planning. The SEG article "Effective Communication and Influence" provides additional details on implementing and creating communication strategies and plans.
---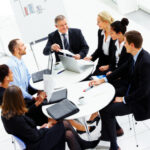 Chapter 4: Team Structure
Team structure is a type of organizational structure where workgroups or teams make up the entire organization. Employee empowerment is essential within this organizational structure since there is no clear chain of management authority running from top to bottom.
Additionally, "team structure" refers to the make-up of a single team or a system of multiple teams. It is fundamental to the teamwork process. Effective leadership, communication, mutual support, and situation monitoring are ensured by a well-structured team.
---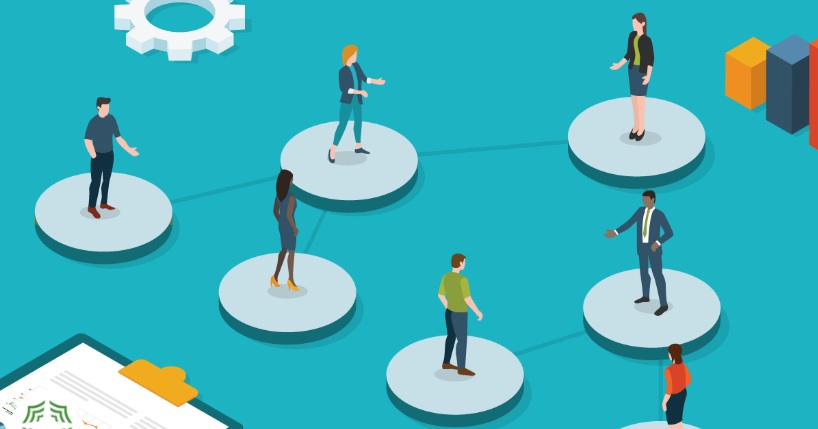 ---
Today, a company's everyday operations are distributed among teams rather than the traditional organizational structures where each business activity was handled by a different department. Teams are adaptable and capable of creating products, striking deals, negotiating pricing, offering services, coordinating projects, etc. There are production teams, marketing teams, sales teams, research and development teams, etc.
Every business uses one of the following six main team structures:
• Problem-Solving Teams: Typically, this kind of team consists of five to twelve people. The group meets once a week to discuss and resolve issues pertaining to the functioning of one particular department.
• Cross-Functional Teams: These teams are known as cross-functional teams when officials from diverse business operations but from the same organizational level work together to complete a shared operation.
• Self-Managed Teams: While problem-solving teams may provide recommendations, they lack the power to put those recommendations into action. Self-managed teams are created to address this issue because they are responsible for putting solutions into action and for the results as well.
• Virtual Teams: The idea of a virtual team makes it easier to manage remote members in the age of internet and mobile technology.
• Matrix Framework: The majority of firms establish their teams using this structure. Basically, it blends functional departmentalization with product departmentalization.
• Bureaucratic Teams: These groups are organized around formally regulated, largely regular tasks. The duties carried out by these teams are extremely specialized, and decision-making occurs along a particular line of command.
---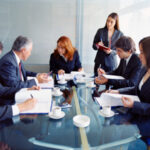 Chapter 5: Executive Leadership
How to Improve Your Executive Presence in Five Key Areas
"I'm a top performer, I'm doing great, and my company is meeting its goals, yet it seems like people think I'm a jerk, and I have no idea why."
This is coming from a rock star executive whose company was producing amazing results for her business while also leaving "dead bodies" and a trail of tears in its wake.
Believe it or not, this is not unusual. You have the combination of excellent work, incredible talent, and amazing people but you still have a struggle with unforeseen consequences or outcomes. However, if the person wants the outcomes to consistently be different, it's not a difficult fix.
Three things can help to determine a leader's leadership style and the culture (team, organizational, or both) they are cultivating:
• Their presence and the way they "show up,";
• The value they place on others;
• And the size of the "container" they hold for them, as well as their desire to be honest with themselves, take responsibility for their actions, and go for what they want.
These are not an insignificant set of characteristics, so let's start with the first one, which has to do with being present and also the application of self-management. The hidden ingredient that determines whether a leader has an influence is called IEP (Intentional Energetic Presence). Whether or not the leader realizes it, it is constantly in motion and having an effect on those in the leader's vicinity. In the majority of cases, the leader's IEP needs to be given consideration when talented individuals are feeling burned out or aren't quite having their usual impact.
---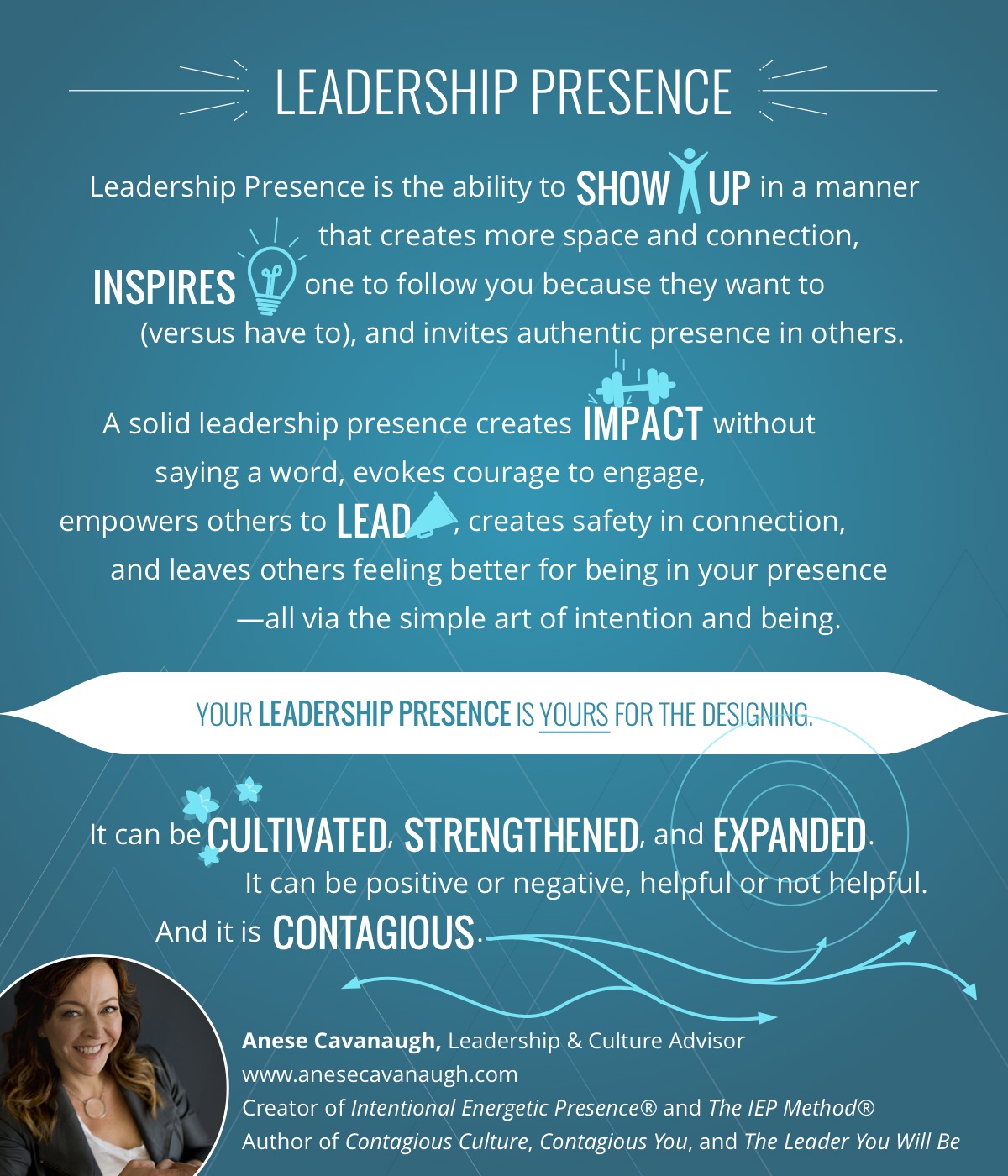 ---
IEP has two components:
• The internal: This is in regards to how you feel, how you feel energetically, how much room and joy you have for yourself
• The external: This is in regards to how you make other people feel, your presence, your ability to have people follow you because they want to, not because they have to.
The internal side of IEP, which serves as the basis for leadership, often feeds the external side of IEP, which is obviously the most visible aspects of leadership. The external will be simpler and more effective as the internal component becomes more robust. This interaction of internal to external is like a skillful dance. This dance is continually occurring through one's level of intention, energy, and self-care as well as through the quality of one's presence with others. This includes how one perceives the individual leader in their physical presence and the atmosphere they create (which is really just their underlying attitude, intention, and energy).
Here are five suggestions for improving your leadership presence so that your IEP serves as both an invitation to others and a source of support for you.
1. Your Physical Presence
How do you present yourself physically? Pay close attention to your tone, posture, breathing, and facial expressions.
2. Your Mental Presence
How fully engaged are you in this conversation, with this person, and even with this article right now? Remain alert.
3. Your Presence Emotionally
How attentive are you to the events taking place in your life? Are you living your life and giving yourself permission to feel and act authentically? Repressed feelings have a habit of surfacing, frequently at the strangest times. Allow yourself some room to feel.
4. The Extent of Your Accountability
Are you experiencing your life or simply existing? Or are you making it happen? Is everything that is not currently going right in your life seen as someone else's fault? Accept responsibility for your role in contributing to subpar outcomes, strained interpersonal connections, and/or simply not receiving what you desire.
5. Your Purpose
How deliberate are you about your influence, the way you want others to perceive you, who you want to be, and the way you want to live your life? Make some resolutions. Also, take note of your intentions for other people. A little bit of self-awareness and deliberation can go a long way.
All of these factors affect one's internal and external presence, which in turn affects one's efficacy and power as a leader and as a person. Finding the areas in which we contribute to our own difficulties or negative influence and presence can be difficult, and even painful at times. However, taking the responsibility to address these areas can also be wonderfully freeing since we have the power to change these outcomes as we lead ourselves.
---