Operational Excellence – Workshop 1 (Program Charter)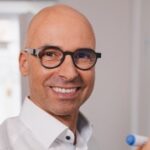 The Appleton Greene Corporate Training Program (CTP) for Operational Excellence is provided by Mr. Muenzing Certified Learning Provider (CLP). Program Specifications: Monthly cost USD$2,500.00; Monthly Workshops 6 hours; Monthly Support 4 hours; Program Duration 12 months; Program orders subject to ongoing availability.
If you would like to view the Client Information Hub (CIH) for this program, please Click Here
Learning Provider Profile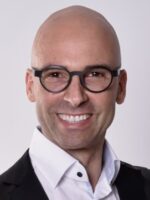 Meet Mr. Muenzing: Visionary Leader in Lean Transformation and Turnaround Management
Mr. Muenzing is a distinguished authority in lean transformation and turnaround management, amassing three decades of executive and advisory roles in management consulting. As President of Leanmap, a specialized management consulting boutique, he empowers manufacturing, technology, and service enterprises to elevate performance and gain sustainable competitive advantages through world-class operations.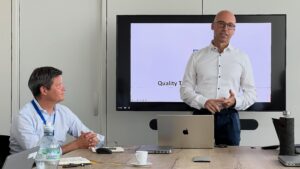 Driven by innovation and systems thinking, he earned a Bachelor's in Electrical Engineering (BSEE) from FHD in Germany. He swiftly excelled in the Telecom industry, pioneering three groundbreaking innovations for base stations that showcased his visionary mindset and exceptional problem-solving skills. Recognizing the need for business acumen, he pursued a Master's in Business Administration (MBA) from NSU in the USA, laying the foundation for his transformative leadership.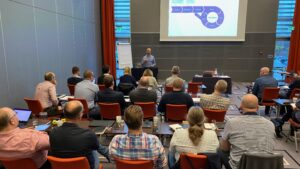 Throughout his illustrious career, he revitalized struggling companies and enhanced successful ones to reach world-class status. With extensive expertise in operations, product development, and business consulting, he offers diverse insights to clients. An accomplished author, he penned "The 20 Keys to World-Class Operations" and "From Chaos to Control." He also shares his knowledge through speaking engagements on innovation, lean transformation, cost reduction, and quality excellence.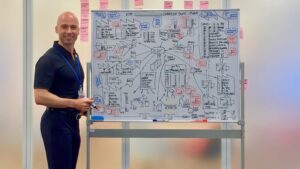 Mr. Muenzing's expertise has been sought by over 150 client-organizations across 40 countries, driving operations toward world-class benchmarks. These transformations yielded financial benefits surpassing $500 million from top-10 programs, with an average return on investment (ROI) of 12x across all initiatives. With a remarkable 96% repeat clientele rate, his enduring impact is evident, leaving a lasting impression on clients. Key engagements include:
1. Leading Automotive Supplier (Sweden):
As an Industrialization Expert, led the Engineering team to enhance time-to-market (TTM), quality and delivery performance to major automotive customers. His systematic improvements in technology readiness and process capability led to a doubling of launch successes at the start of production (SOP) and an astounding 8x reduction in defects per unit (DPU) in just six months.
2. Major Semiconductor Fab (USA):
In the role of Operations Expert, spearheaded a transformation initiative to optimize cost-per-move (CPM) through adaptive maintenance, systematic problem analysis, and disciplined root-cause elimination. Coached 10 Advanced Module Engineering (AME) teams during the transition phase, realizing 326 projects that delivered $118 million cost savings (run rate) in the first year.
3. Pharmaceutical Operation (France):
As Operations Expert, led the factory turnaround with focus on operational efficiency (OEE) to ensure stable patient supply. As a result, doubled efficiency within 12 months, increased throughput 32% without spending capital, cleared backlog, reduced deviations by 25%, and shortened lead time by nearly 50%, while maturating the site towards Operational Excellence.
4. Largest Marine Electronics Company (Mexico):
As the Interim Operations Executive, he orchestrated a Manufacturing Turnaround that doubled throughput to meet customer demand. Through systematic defect reduction, design for manufacturability (DFM), and strict flow management, he achieved a 44% reduction in labor hours, 53% reduction in footprint, 94% reduction in inventory, and 66% reduction in rework in just one year.
5. Leading Flavor and Fragrance Company (Switzerland):
In the capacity of Global Leader for Lean and Operational Excellence, he spearheaded a Lean Transformation Initiative across 20 global flavor-production facilities. His efforts yielded over 400 improvement ventures, adding CHF 36 million to the company's profits in just 3 years, while attaining a competitive edge by elevating both quality and delivery standards..
6. Largest Appliance Factory (China):
As the Integration Manager, he successfully merged two large assembly plants in Guangdong into one. Through streamlining material flow, balancing workload, and right-sizing manning, he reduced shortages and late deliveries by 50%, lowered on-hand inventories from 46 to 18 days, and added $20 million annual manufacturing capacity to meet forecasted demand.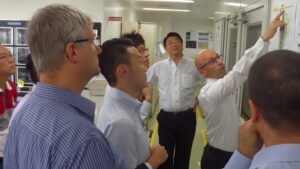 Mr. Muenzing exemplifies impactful leadership through visionary expertise, driving lasting transformations by fostering world-class quality, speed, and efficiency. His consistent record of sustainable bottom-line growth and unwavering commitment to continuous improvement mark him as a global driving force behind corporate success. For anyone seeking to navigate their way to operational excellence, Mr. Muenzing is the expert to turn to. With his visionary leadership, profound expertise, and exceptional ability to create lasting improvements, he continues to shape the future of organizations across the globe.
---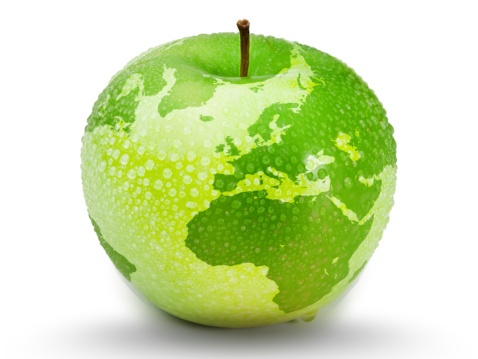 MOST Analysis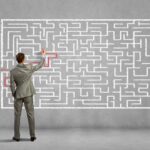 Mission Statement
Unlock the OpEx Potential
Prepare for a transformative journey toward operational excellence. As with any improvement program, establishing a clear structure is essential to overcoming challenges and effectively capitalizing on opportunities. Without a clearly defined program charter, initiatives can easily lose direction, encounter scope creep and resource cannibalization, lead to misunderstandings, and ultimately fail to achieve their objectives. Recognizing the significance of a solid program charter establishes the foundation for a successful program launch and marks the beginning of our journey.
In this inaugural training module, you will gain valuable insights and practical strategies to drive your organization towards operational excellence. Discover the driving force behind pursuing excellence, craft a compelling vision statement, and develop a persuasive business case to secure the necessary support and resources. Build a dynamic core team, establish a precise target timeline, and foster a stimulating environment that encourages collaboration and innovation. Learn effective strategies to overcome barriers and implement an efficient control system to track progress and sustain achievements, while paving the way for performance breakthroughs and a culture of continuous improvement.
Upon completion of this inaugural training, you will emerge with a clear understanding of the critical role a charter plays in program success. Armed with the tools and techniques acquired during the workshop, you will confidently create and present a well-crafted program charter to key stakeholders, ensuring alignment and support from the start. By establishing a solid foundation, the program is better equipped to avoid potential pitfalls, mitigate risks, and maintain focus on delivering successful outcomes. Ultimately, the training empowers participants like you to become more effective leaders who can drive initiatives forward, foster collaboration, and inspire teams to achieve extraordinary results.
---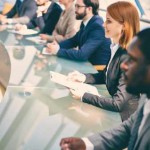 Objectives
01. Driving Force: Identify key reasons for the program, creating purpose and commitment.
02. Vision Statement: Outline desired future state, providing direction for the program.
03. Anticipated Gains: Forecast program benefits and align with organizational objectives.
04. Required Resources: Identify necessary resources, including people, capital, information.
05. Business Case: Justify the program based on its financial, operational, strategic benefits.
06. Core Team: Build team for driving progress, monitoring milestones, addressing challenges.
07. Target Timeline: Define program milestones for tracking progress and accountability.
08. Basic Skills: Provide initial training with focus on teams, techniques, and closing knowledge gaps.
09. Stimulus Plan: Implement incentives that motivate people to act, fostering positive environment.
10. Change Story: Engage people with compelling narrative, communicate benefits, inspire participation.
11. Barrier Removal: Identify and overcome obstacles hindering progress, proactively mitigate challenges.
12. Control System: Establish the management infrastructure to seamlessly plan and execute the program.
---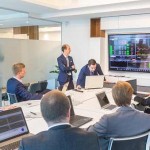 Strategies
01. Driving Force: The first step involves identifying and emphasizing the key reasons behind the OpEx program. It focuses on creating a strong sense of purpose and commitment among stakeholders to drive the desired change.
02. Vision Statement: A vision statement outlines the desired future state that the OpEx program aims to achieve. It provides a clear direction and serves as a guiding principle for decision-making and goal-setting throughout the implementation phase.
03. Anticipated Gains: Identify the benefits from the OpEx program, such as cost reduction, operational efficiency, customer satisfaction, market expansion, or quality boost to foster enthusiasm and support among stakeholders for active participation.
04. Required Resources: Assess and secure necessary resources, including finances, technology, and personnel to successfully implement the OpEx program and ensure fully impact.
05. Business Case: The business case articulates the rationale and benefits of the OpEx program from a financial, operational, and strategic perspective. It highlights the expected value-add and helps justify the allocation of resources and support for the program.
06. Core Team: Executing the OpEx program requires a dedicated team of individuals with relevant expertise and authority – the program sponsor, manager, controller, specialists, influencers – who collaborate closely to drive progress and address challenges.
07. Target Timeline: Developing a well-defined timeline with specific milestones and deadlines is essential for tracking progress and maintaining accountability. The target timeline provides a reference for implementing the OpEx program.
08. Basic Skills: Providing initial training to ensure people have the knowledge and skills to fully participate. It focuses on teams, tools, and techniques to identify existing capabilities and also the gaps to be closed during the OpEx program.
09. Stimulus Plan: A stimulus plan involves designing and implementing incentives, rewards, or recognition mechanisms to encourage people to act. It aims to foster a positive environment that reinforces desired behaviors and outcomes in pursuit of OpEx.
10. Change Story: Crafting a compelling narrative around the OpEx mission helps engage stakeholders and create a shared view of the need for change. It communicates the benefits, inspiring individuals to embrace and actively participate in the process.
11. Barrier Removal: Identifying and overcoming potential obstacles that may hinder progress is vital for successful implementation. It involves proactively mitigating challenges associated with resources, processes, capabilities, and mindsets to ensure progress.
12. Control System: By setting up a management infrastructure, the team gains the capacity to flawlessly strategize, execute, monitor, and control program activities, fostering the fulfillment of the mission and the attainment of the intended impact.
---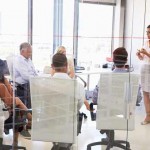 Tasks
01. Create a task on your calendar to complete within 30 days the Driving Force.
02. Create a task on your calendar to complete within 30 days the Vision Statement.
03. Create a task on your calendar to complete within 30 days the Anticipated Gains.
04. Create a task on your calendar to complete within 30 days the Required Resources.
05. Create a task on your calendar to complete within 30 days the Business Case.
06. Create a task on your calendar to complete within 30 days the Core Team.
07. Create a task on your calendar to complete within 30 days the Target Timeline.
08. Create a task on your calendar to complete within 30 days the Basic Skills.
09. Create a task on your calendar to complete within 30 days the Stimulus Plan.
10. Create a task on your calendar to complete within 30 days the Change Story.
11. Create a task on your calendar to complete within 30 days the Barrier Removal.
12. Create a task on your calendar to complete within 30 days the Control System.
The OpEx program operates on a structured schedule with monthly modules to achieve operational excellence. These modules are divided into four sprints: (1) Preparation and study of the material, (2) Development of new capabilities in the workshop, (3) Implementation of the new capabilities and findings, (4) Review of effectiveness and documentation of results in the project study. This regular rhythm facilitates efficient planning and has been remarkably successful in maintaining progress. The 12 tasks refer to the implementation and documentation of the 12 elements by each participant in their respective areas of responsibility.
---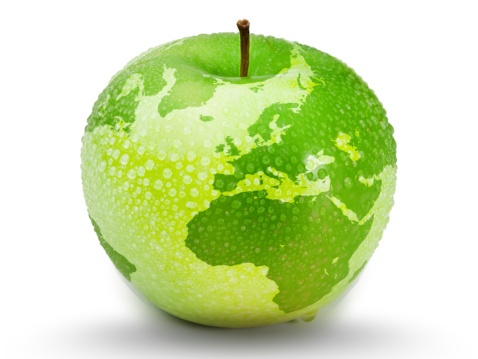 Introduction

The OpEx program operates on a structured schedule with monthly modules to deliver operational excellence. These modules are further segmented into four sprints: Preparation, Development, Implementation, Review. In the upcoming sections, we will discuss the roles of each sprint in delivering the project study about the "Program Charter".
Preparation
Prior to the Workshop: Define Participants and Mission
To ensure a successful launch of the OpEx program, we will need to define the initial mission, invite key participants from various departments, assess the current state, clarify the purpose and scope, identify guiding values and principles, and craft a clear mission statement with breakthrough objectives. By addressing these aspects, we lay a strong foundation for our journey towards operational excellence.
1. Invite Participants:
When planning an OpEx program, invite functional heads from various departments to ensure a comprehensive approach. Key participants include the heads of Commercial, Manufacturing, Service, Engineering, Logistics, Finance, Maintenance and Facilities, Human Resources, Information Technology, Quality Assurance, and General Management. Their involvement ensures alignment with commercial objectives, optimization of manufacturing processes, improvement of service delivery, innovation in engineering, efficiency in logistics operations, financial goal alignment, maintenance and facility optimization, employee engagement, information availability, quality control, and strategic guidance. By including these participants, the OpEx program benefits from their expertise, insights, and organizational influence, leading to a holistic implementation of operational excellence initiatives.
2. Assess the Current State:
Before crafting a mission statement, define what works and what does not. Conduct a SWOT analysis to evaluate the operation's strengths, weaknesses, opportunities, and threats. Identify areas where the operation excels and areas that need improvement. Consider potential challenges arising from new technologies, market needs, competition, or unresolved issues. This analysis helps pinpoint areas for enhancement and challenges to address.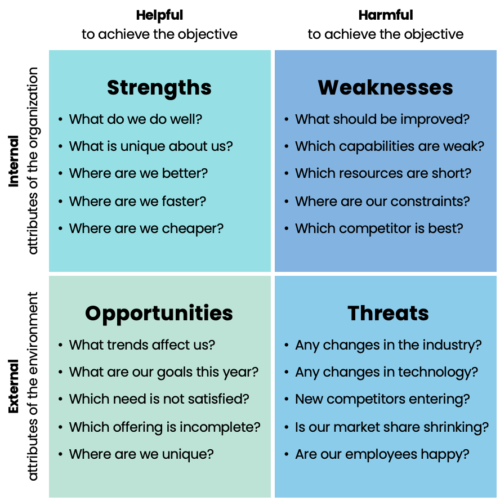 3. Define Purpose and Scope:
Clarify the specific goals the OpEx program aims to achieve, such as improving efficiency, quality, or customer satisfaction. Establish key performance indicators (KPIs) to measure program success, such as cycle time reduction or defect rate improvement. Define the purpose and scope with a focus on the desired outcomes and measurable results.
4. Identify Guiding Values and Principles:
Identify core values held by the organization, such as integrity, accountability, or innovation, along with principles that guide the program, such as continuous improvement, data-driven decision making, or customer focus. Ensure alignment between the OpEx program and the organization's culture and values. Emphasize the importance of transparency, ethics, and the principles driving decision-making.
5. Craft the Mission and Breakthrough Objectives:
Based on the current state assessment, purpose and scope, and guiding values and principles, develop a clear and concise OpEx mission statement. Capture the essence of the program's purpose, objectives, and values in a single sentence. Support the mission statement with facts and figures to provide a solid foundation. For example, "To optimize operational processes and drive continuous improvement, delivering exceptional value to customers and stakeholders."
Conclusion:
The "Program Charter" workshop marks the beginning of our pursuit of operational excellence. Through meticulous preparation, including defining our mission, inviting key participants, assessing the current state, clarifying purpose and scope, and identifying guiding values, we set ourselves up for success. This workshop sets the stage for collaboration, aligning efforts, and driving a culture of continuous improvement. Together, we will optimize processes, enhance customer satisfaction, and achieve exceptional results in our journey towards operational excellence.
---
Development
During the Workshop: Define the Framework
Effective change management is essential to successful operational excellence initiatives. We will now explore how the ADKAR model to create Awareness, Desire, Knowledge, Ability, Reinforcement. This proven change management framework supports leaders in facilitating a smooth transition, from current to future state. By including examples at each step of the ADKAR process, we can address key questions participants have and ensure their active engagement and commitment to the OpEx program.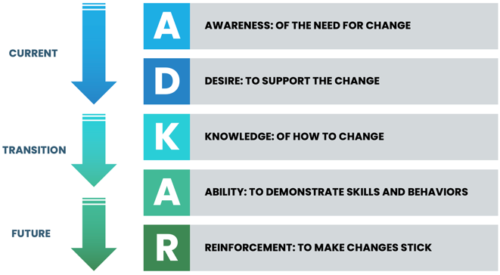 Awareness: Why should I care?
To create awareness, present compelling information about the current state and the challenges that necessitate change. For instance, illustrate how outdated processes are hindering productivity by showcasing data and case studies. Engage participants in open discussions to foster a shared understanding of the change's purpose and benefits, allowing them to see the relevance and urgency of the tr