Market Validation – Workshop 1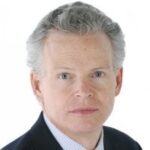 Executive Summary Video
The Appleton Greene Corporate Training Program (CTP) for Market Validation is provided by Mr. Christie MBA BS Certified Learning Provider (CLP). Program Specifications: Monthly cost USD$2,500.00; Monthly Workshops 6 hours; Monthly Support 4 hours; Program Duration 24 months; Program orders subject to ongoing availability.
If you would like to view the Client Information Hub (CIH) for this program, please Click Here
Learning Provider Profile
Mr. Christie, MBA, BSc, is a Certified Learning Provider (CLP) at Appleton Greene. He has experience in marketing, management and human resources. He has achieved a Masters of Business Administration and a BSc in Wildlife Biology. He has industry experience within the following sectors: Life Sciences, Biotechnology, Healthcare, Technology and Telecommunications. His Program is available within the following countries: United States of America, Australia, Canada and the United Kingdom, or more specifically within the following cities: San Francisco CA, Boston MA, Melbourne AU, Toronto ON and London UK. His personal achievements include: Baxter Area Manager-of-the-Year for three consecutive years, doubling revenue in a flat market; restructured Medigas and reduced operating expenses by 25%; became Laidlaw's third-ranked market in North America with 16.5% RONWA; reduced VSM Medtech manufacturing times from 18 months to eight; and quadrupled revenues while increasing profits 12-fold at Pyng Medical Corp. His service skills incorporate: go-to-market strategy, market validation, market assessment, technology commercialization and marketing strategy.
---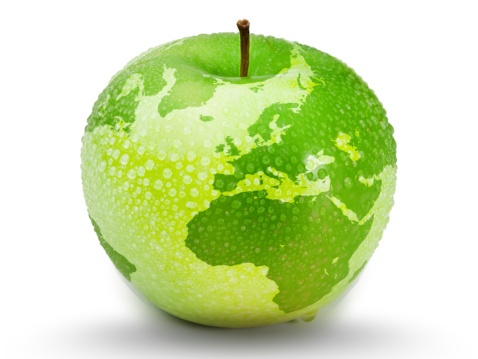 MOST Analysis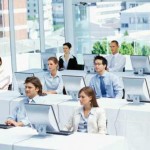 Mission Statement
The mission for the first module of the Market Validation Program (MVP) is to capture the essence of what MVP is all about, as succinctly stated in the following quote from the Program lead facilitator:
"Any business is far more likely to succeed when an idea, good business plan, and a business person are matched with consultants who have proven industry track records."
Participants will learn about MVP's history, current position and future outlook. By the end of our day together, they will appreciate why Market Validation matters and what it means to their business.
MVP favorably impacts an entire business and it especially adds value to sales, marketing and sales/marketing/customer support functions in each business.
The Program is process driven. In each session together, basic concepts are described, examples are provided, and exercises are described. All participants then get the opportunity to work the exercises, which become homework for final review and revision prior to delivery of the next monthly module.
Although sales and marketing is the core function that MVP addresses, our experience is that company's gain the most value from the Program if their executive leadership team participates. In small company's this includes the CEO, 2IC, Founders and any other key senior executives. With large corporations this may not include the CEO, but should include their delegate, and must include the most senior sales and marketing officer. Together, this team will travel the MVP journey toward increased revenue, at lower cost, with shorter sales cycles, and greater profitability.
This module ends when the participants acknowledge the MVP Mission, how it applies to their organization, and accept the following pre-work assignment for the next module:
PRE-DAY TWO – THEME: DEFINING THE BUSINESS OPPORTUNITY
12-page WORKBOOK – completion prior to the next module is mandatory
Review and complete all worksheets to complete the module. You should expect this to take six hours. Consistent with the Mission, this workbook includes a clear identification of you, your company, when the company was founded, how many employees and customers, what industry classification you are in, the back story or brief history of the current opportunity you are pursuing, your goals for participating in the program, the source of your innovation, the extent of market and technology innovation, a brief description of the customer problem you are solving, personas of the people who will use, support and buy your product, what a day in the life of your customer looks like, how this may change with use of your product, your market type and why, a succinct description of your product, your competitors, why your customers will buy your product, and the top three things they most like about your product. If any of these parameters are not yet known, you are expected to hypothesize as best as you are able to do so.
RECOMMENDED READINGS – participants may choose not to read these, or just read online summaries
• The Four Steps to the Epiphany by Steve Blank
• Crossing the Chasm by Geoffrey Moore
• Made to Stick: why some ideas survive and others die by Chip and Dan Heath
ADDITIONAL RESOURCES for START-UPS
If you wish, Google these videos:
• Why Accountants Don't Run Start-Ups – Steven Blank
• Lean Startup Summary
ADDITIONAL RESOURCES: CUSTOMER DEVELOPMENT
• The Customer Development Methodology by Steve Blank (Chapter 2 of The Four Steps to the Epiphany)
---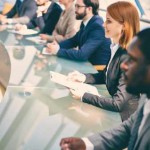 Objectives
In part 1, delivered in month 1 as workshop module 1, our Corporate Program Objectives are to:
1. Introduce all program participants, including Appleton Greene personnel & company representatives
2. Review MVP content, principles, culture and process
3. Discuss learning goals for the day
4. Define "Market Validation"
5. Discuss the four core principles of the MVP
6. Review the three levels of Market Validation
7. Encourage company participants to shift their thinking out of their comfort zone
8. Capture some thought leader principles, including Paul Singh's default state of a startup, Steve Blank's definition of a startup, and Ralph Turfus' thoughts on startups, where "startup" may include any new business initiative in a well-established business
9. Overview of all 24 MVP modules
10. Questions, discussion and active participation with in-class exercises
---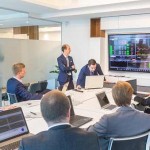 Strategies
1. Each participant should come to the first module with a clearly articulated three-minute summary of who they are, what role they fulfill in their organization, something interesting about them that others do not know, why they are attending MVP, and what they expect to get out of the Program.
2. The facilitator must be prepared to review the first seventeen slides in the MVP Power Point Deck, in a clear and compelling way that engages all participants. If we just wanted the facilitator to read the slides, then we would just circulate them in advance to all participants. We want the facilitator to animate the slides, with passion, conviction and clarity.
3. The learning goals for the day are to ensure participants understand the MVP Mission, the principal goal of which is to literally validate each business opportunity by acquiring customers and generating positive cash flow from those customers, sooner than later. MVP does not address how to raise money. We also want participants to understand the two prerequisite forms of validation – customer discovery and minimum viable product testing, which must happen before customer acquisition. It does not matter what stage of market validation each organization is at; the Program is designed to add value at any stage. We also establish the four principles of MVP, encourage participants to shift their thinking out of their comfort zone, and understand that novel business opportunities are different than business-as-usual sales processes.
4. To define Market Validation we have one seminal slide that does so eloquently. We expand on the content of this slide and then ask each participant to work through where they believe they are at on the Market Validation continuum.
5. Again, there is a slide dedicated to describing the four core principles of MVP: it's a framework not a formula, it focuses on those few things that deliver the most results (the 80:20 rule), these few things need to become best practices, and working with your consultant/mentor, we intend to make these best practices live for you, becoming part of the culture, rhythm and discipline of your business. In other words, it comes down to "Learning by Doing".
6. The review of the three levels of market validation expands on strategy #4.
7. The facilitator reviews the one slide that asks participants to shift out of their comfort zone and then invites each participant to describe what this may look like for them, using the Socratic method.
8. Six slides challenge people's perceptions to help them open up and see how their opportunity may be at risk of failure, hopefully sooner than later, or may be positioned for success, if they embrace and learn from the Market
Validation Program.
9. We provide an overview of the 24 MVP modules, using the Unique Program Proposition and the Client Information Hub.
10. The day ends with an open forum for Q&A, discussion, debate and most importantly, feedback from each company participant and consultant on what they most liked about the day. These comments are captured for sharing prior to the next module. Everyone is then asked to complete a Workshop assessment form, which is reviewed by Appleton Greene personnel with a goal of continuous program improvement.
---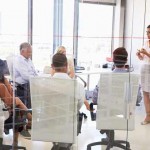 Tasks
1. The participants must come to the module prepared, and the AGC consultant must ensure that they are. The Program administrator must ensure that the pre-work materials are circulated at least four weeks in advance, and that they have received confirmation that these materials have been received and understood and that each participant commits to giving them due thought and consideration.
2. The facilitator must be thoroughly prepared and this requires review of the materials, understanding them, and practicing their delivery repeatedly, until they can virtually do it in their sleep (something that I have had to do when we flew from the west coast to the east coast and started the sessions next day at 4:30 am body time).
3. The learning goals for the day are relatively modest compared to some of the subsequent days, which allows for the participants and consultants to get to know each other, the administrator(s) to work out any technical or logistical kinks, and the entire group to ensure alignment between the Program objectives and individual objectives.
4. The facilitator needs to really understand the Market Validation concept and how to articulate this.
5. The four core principles should be relatively straightforward, but the facilitator may wish to explain them to their children to ensure they can understand them, assuming that they are at seventh grade or higher.
6. Back to point #4, we cannot emphasize enough how important this is.
7. Shifting everyone out of their comfort zone is a two-way street: the facilitator needs to motivate everyone that this is a great thing to do and the participants need to really want to do it. Ask the question: How many psychologists does it take to change a light bulb? Just one, but the light bulb really has to want to change. The same is true for the participants, regardless of how compelling the facilitator may be. They need to concede that their current approach in the market may be improved upon.
8. These six slides draw off a broad and deep knowledge of a few very talented authors. The AGC facilitator needs to look at these books and at least read the summaries, which they should then discuss with their CLP, to ensure they understand the concepts and how best to speak to them. For example, "customer traction is the new intellectual property" according to Paul Singh from 500 Startups. Well, what does that really mean and who gets this at first pass. When you think about it, it makes sense, since customers pay your bills, validate your value propositions, and create distance between you and your competitors. Customers probably could care less if you have an issued patent, as long as your solution solves their problem and enhances their business.
9. The 24-module overview should be fairly straightforward, provided the facilitator is up to speed.
10. This end of day strategy happens quite spontaneously, provided that the day has been well facilitated and the participants have become engaged in the process. It's all about preparation.
---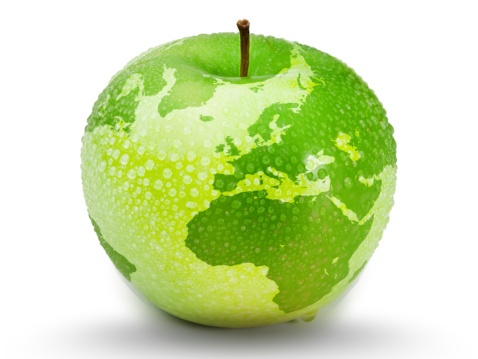 Introduction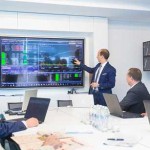 Planning
Appleton Greene and their clients who wish to participate in the Market Validation Program, need to all understand that "participate" is the operative word, this is not a Program that one just attends. Therefore, the AG consultants and contracted clients must plan to properly prepare for and participate in the first module, and all modules that follow each month until the Program is completed in 24 months. This incorporates the following considerations:
1. Scheduling – if it is not in your calendar, then you cannot plan to attend. The class sessions will be locked down, four weeks apart over the two-year period. The preparation time, which at least equals the class time, also needs to be scheduled, at the discretion of each individual participant.
2. Pre-work – there is a clearly defined package of pre-work for each module, although the first module is light on this, since the main requirement for Day One is that:
"Each participant should come to the first module with a clearly articulated three-minute summary of who they are, what role they fulfill in their organization, something interesting about them that others do not know, why they are attending MVP, and what they expect to get out of the Program."
The participants must come to the module prepared, and the AGC consultant must ensure that they are. The Program administrator must ensure that the pre-work materials are circulated at least four weeks in advance, and that they have received confirmation that these materials have been received and understood and that each participant commits to giving them due thought and consideration."
For example, by way of introduction:
"My name is Mr. Christie. I am an experienced life sciences start-up executive who's worked with hundreds of companies over the past decade, at least 60 of them quite intimately. I am also the Appleton Greene Certified Learning Provider who is making this Market Validation Program available to all of you. You likely will not meet another person who has sold heart valves and managed a garbage hauling operation, but that's me, and this is just part of my successful and eclectic career over the past 40+ years. My interest in the Market Validation Program runs deep and wide, with experience initially as a mentor, and then as the chief facilitator over many years, delivering it to companies of many different sizes, at various stages of market readiness, from coast to coast for various different organizations, including start-up accelerators, universities and government agencies. What I have learned is that there is much to learn each time from the Program participants, who constantly enlighten me and provide me new things to ponder. Finally, I have learned that for each hour I spend in class, I spend many hours preparing, reviewing, debriefing, and updating the materials based on customer feedback. Welcome and enjoy!"
3. Post-work: just as the pre-work and attendance at each and every workshop, is crucial, so is the post-work, which in many instances is mostly focused on reviewing the exercises drafted in-class and up-revving them in to the final working draft. This is a discipline that must be developed, calendarized and followed-up by the AG consultant and by the responsible person in each client organization. If they don't do the post-work in a timely and dedicated manner, then they are missing out on much of the value in the Program.
4. Go-to-Market Planning: the compilation of all 24 sets of pre-work, in-class exercises, and post-work, when polished up and finalized, constitutes the core deliverable from the Program – the Go-to-Market Plan. We provide a sample copy of this, circulated around the room, on day one for everyone to see. The go-to-market plan is what the AG consultant must ask for whenever they meet with their client participants to review progress in the Program.
5. Workshop Materials: as the Program CLP, I have ownership for the Master Slide Deck used in the program, and it is big, with talking notes, examples and clearly articulated core concepts – approximately one concept for each module on average for a total of 24. These 24 modules are described in overview during the first workshop. The Program Deck has been revised countless number of times and is always a work-in-progress, since one of the core values for the Program is continuous improvement.
Having addressed the mechanics of operational planning for the Market Validation Program, let's look at strategic planning from the perspective of the participating companies. To qualify for the Program, each company and each participant must have a legitimate interest in learning new concepts, applying them to their department or company, and recognizing business outcomes not otherwise attainable. For example, when start-ups participate, they are most often desperate to learn how to realize revenue, now that they have developed and tested their prototype, product or minimum viable product. They do not know what they do not know, but they do know that once they stop developing and begin marketing, they need serious help, which the AG consultants and the Market Validation Program can provide.
A useful planning framework for an AG consultant to use when working with their clients to determine the interest and applicability of the Program to them, their department and their company, is to review Steve Blank's Customer Development Model, as described succinctly in the first few pages of Chapter Two in The Four Steps to the Epiphany. In his introduction to this chapter, Steve describes the plight of Rob Fordes, Founder and CEO of Design Within Reach, who spent his time listening to customers. However, at the time when furniture dot-coms were "rolling in investor money" the venture capitalists Steve introduced Rob to were simply not interested, because Design Within Reach did not yet have a web site, e-commerce transactions, significant branding activities or other turn of the millennium activities.
Rob's Company was not your typical dot-com startup, who "operated on the James Dean School of Management – live fast and die young…they garnered millions of dollars of investors' capital quickly and just as quickly flamed out." For example, Furniture.com raised over $100 million from first-tier VCs but ultimately failed. Steve asks his readers the question: why did Design Within Reach ultimately succeed, despite the lack of VC interest, while the Furniture.coms of the world became dot-bombs? As a Stanford business professor and successful serial entrepreneur, he wanted to know if others can emulate Rob Fordes' success.
Enter the foundation of The Four Steps to the Epiphany and The Customer Development Model. The Model provides a repeatable tool that can be applied to any business, in any industry, at any stage of revenue generation. It provides a process for discovering markets, locating first customers, validating go-to-market assumptions and growing the business. It solves the 10 problems inherent in the Product Development Model (described by the author in Chapter 1 of his book). The Model's strengths are rooted in its rigor and flexibility.
"The model separates out all the customer-related activities in the early stage of a company into their own processes, designed as four easy-to-understand steps: Customer Discovery, Customer Validation, Customer Creation and Company Building." This process-driven model supports the complimentary Product Development Model and provides the tools for companies to launch new products, or in the case of startups – entire companies, in a way that accelerates time to market, de-risks the venture, and increases the likelihood of success, as defined by profitable early revenues. Each of the four steps in the model has its own clearly defined deliverables, described by the author in subsequent chapters. We reference Steve Blank during the day in Workshop One, repeatedly throughout the Program, and provide a comprehensive overview of the Model and how to apply it.
In planning to get the highest return on investment, on the $60,000, plus the investment of time by up to ten highly-paid marketing executives, it is also useful to look at the Service the Program originally modeled itself to emulate: MIT's Venture Mentoring Service. In the early days of the Program, two of the principals travelled to Boston and attended a week-long seminar designed for people like them. The MIT Founders were famously quoted regarding the essence of their service:
"A fledgling business is far more likely to succeed when an idea, a good business plan, and an entrepreneur are matched with mentors who have proven experience."
What we have learned from years of delivering the Market Validation Program, is that a fledgling business may also be a fledgling opportunity – such as taking an established product and introducing it in to a brand new and different market. For example, a family-owned and operated ten-million dollar a year in revenue, company on the Canadian prairies wanting to enter the US mid-west. Through the course of the Program, they realized that this opportunity was bigger than they were and that their best opportunity to grow was to double-down on their domestic markets, where they may one day dominate. Further, an idea is not just those of start-ups, it could be any opportunity in an established company. Most corporations today recognize that to successfully launch a truly new and different product, they must take an entrepreneurial approach and sidestep their own bureaucracy. A good business plan is the major deliverable from the Program, packaged as their Go-to-Market Plan. Mentorship is provided by the AG consultants and the Certified Learning Provider.
In planning for the MVP journey, participants are invited to step back from day to day sales and marketing operations and consider such concepts as market type, levels of innovation, positioning, value chains, value propositions, return on investment, minimum viable product, market segmentation, market or opportunity size, technology adoption life cycle curve, customer discovery, selling, the sales funnel, corporate pitch, business model canvas, 6-month plans, 1-page plan, the go-to-market plan and half-a-dozen other concepts over the two-year Program period. This should make them feel uncomfortable, because we ask them to step out of their current paradigm and take a fresh look.
Authors such as Steve Blank are referenced, as is Paul Singh from 500 Startups, Ralph Turfus – creator of the original Market Validation Program, and others – including Bill Gates. For the AG consultants, CLP(s) and client participants, our mutual goal is "you, acquiring customers". In other words, customer acquisition is the modus operandi of the Program. It's not about financing through investors. It is about generating a cash-flow positive business model by acquiring customers quickly, cheaply, profitability and in a way that fits with the corporate culture. We like to say, this Program is all about how to make money the good old-fashioned way – by meeting the unmet needs of your customers and getting them to fall in love with you so they will never want to leave or even look at dating your competitors.
A few words from Simon Fraser Universities' iiDevLab biography of the Program founder:
"Ralph Turfus – Investor, Mentor and Chair of Redlen Technologies Ralph Turfus is an accomplished technology entrepreneur who has spent over four decades in the Information and Communication Technology (ICT) sector. He founded Escom Software and during the following 28 years launched 8 start-ups, all self-funded. One such start-up was Class Software which became the leading provider in the world of software for municipal government recreation programs.
As an engineer with an MBA, Ralph's passion is for developing the marketing and sales capabilities of entrepreneurial technologists. He is a highly-regarded speaker on the topic and is a hands-on angel investor and mentor who is active with the founders of numerous next-generation technology companies emerging on Canada's west coast. Ralph has invested in twenty-four technology start-ups and eight venture capital funds. He is currently the Chair of the Board of Redlen Technologies and Navarik Software.
Ralph and his wife are currently funding a Chair at the University of Victoria for Dr. Chris Darimont of the Raincoast Applied Science Conservation Lab. They have been involved in successfully stopping the bear hunt in the Great Bear Rainforest and the province as a whole. They are now focusing on developing an Evidence Based Management (EBM) structure and agreements to optimally manage First Nations resources. They are also funding and helping to manage an initiative called Advancing Innovation in Medicine (AIM) at the Royal Columbian Hospital in partnership with the Royal Columbian Hospital Foundation. AIM's purpose is to (i) enhance patient outcomes, (ii) increase hospital productivity and (iii) advance a culture of innovation leading to retention and acquisition of the best and brightest talent at the hospital.
RECOGNITIONS:
2000 – Canadian Recreation Association Person of the Year
2006 – B.C. Technology Industry Association Person of the Year
2009 – AceTech Fellow – Growth Strategy Program (aka Market Validation Program) – founded and ran it for five years
2013 – Queen's Diamond Jubilee Medal – for Technology Industry contributions
2015 – BC Angel Investor of the Year"
The Turfus quote we most appreciate and share with all Program participants, ends with this:
"_____________________________________________ cures all business ills, so get to that state as fast as possible."
The quote begins with: "Profitable, repeatable and increasing revenue"
Put it all together:
"Profitable, repeatable and increasing revenue cures all business ills, so get to that state as fast as possible."
Ralph Turfus, Creator of the Growth Strategy Program (later renamed the Market Validation Program). As you can see, Ralph practices what he preaches and we invite AG consultants and Program participants to do the same.
---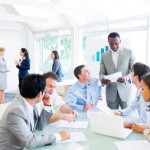 Development
The foundational development model for the market validation program is implied by its name – we ask participants to make hypotheses that they can then validate or not. This continuous process of improvement leads us to customer discovery, minimum viable product testing and ultimately, new revenue generation. These are the three levels of market validation. By going through this process, the company participants develop a project with a clear end point – a profitable company or division. The aim in the development phase is to ensure understanding of all the core concepts, the challenges of addressing the core business differently and the opportunity to use Program concepts to accelerate revenue growth, thereby de-risking the business and getting to profitability faster.
The most advanced concept in this development model is the business model canvas, which we do not address directly until late in the 2-year Program. We do however push the participants during day 1 to think about why they are attending and what they expect to get out of the Program. Their participation is based on a set of assumptions, or hypotheses, that will be tested over the following 23 workshops. They will get their first taste of this during day 1, when mentors, participants, CLPs and others will begin asking questions that may initially make them squirm. Consider the following from Osterwalder and Pigneur's seminal work on Business Model Generation:
"When you are working on a new business idea, you may be confident that you are on the right path. However, each building block of your business model and value proposition represents an area of risk that needs to be tested: customer segments, customer relationships, key resources, key partners, key activities, channels, value propositions, revenues and costs. In order to run good experiments to test our business ideas we need to formulate strong hypotheses that are testable, precise and discrete.
Before you start testing your idea you have to identify the risks within each building block of your business model and value proposition by formulating hypotheses. We define hypotheses as:
• An assumption that your value proposition, business model, or strategy builds on
• All the things that would have to be true for your business idea to work
At the core of identifying hypotheses, you have to ask yourself the question: What would have to be true for our idea to work? You capture each hypothesis by writing phrases that begin with "we believe that…"
For example, we believe that active engagement in the Appleton Greene Market Validation Program will build stronger business leaders, who engage in the MVP processes and principles, thereby improving key business outcomes, including but not limited to: increased revenue, decreased cost of sales, increased gross margins, lower risks, faster time to market, shorter sales cycles, and overall greater profitability. During its first two years of rollout we will test these hypotheses, through a combination of customer discovery, minimum viable product testing, and revenue-generating customer sales, including proper post-sale follow-up to measure value actually delivered.
In product development, including software development, or in customer development, we follow a waterfall model, whereby we clearly state what the design input requirements are, by developing a suite of services that directly addresses these requirements, and then by testing each requirement against the designed solution for that requirement. Although there may be many shades of grey in terms of key success factors and how they are measured, the end-points are actually pretty binary. We either succeeded or failed to meet the customer requirement. At Baxter Corp in the eighties, where I worked as an Area Manager, our quality policy was simply: "To meet our customer's requirements 100% of the time." This sounds simple but in practice it was a huge leadership challenge. In our factories, we implemented various processes and standard operating protocols to ensure that it was virtually impossible to ever produce an undetected bag of intravenous solution, to a six-sigma test of 99.99966%. In sales and marketing, we worked exhaustively to ensure that we truly deeply thoroughly understood our customer requirements and then wrote contracts to exactly that level, no more and no less.
In a start-up situation, whether newco or newdiv, the threshold may be lower, as it usually is for minimum viable product (MVP) testing. For example, the MVP of a medical device is typically about 95% of the finished commercial FDA-cleared product. It is usually referred to as the beta prototype and must be produced in order to accumulate clinical validation data, under strict Ethic Board standards, in compliance with the Helsinki declaration. This is true even on low risk devices, if the regulatory agency requires clinical data. If not and the product may be cleared with only bench and/or animal data, then the beta prototype may be more elemental, perhaps at 90% completion relative to the final product. In consumer products, this threshold may be 80% or even as low as 50% or so, as is the case with some online products, which are intentionally launched in a very minimally viable format, to get early data without great expenditure. However, in any industry, once this MVP is tested and the market is validated, the finished product needs to appeal to a broader audience, not just the relative low bar set by early adopters, who accept incomplete products, because they want to be involved in the product development process. For example, with a medical device, the principal investigator is often a key opinion leader who wishes to publish, enhance their professional reputation, help to get a new and innovative product to market, and see the quality of patient care steadily and perhaps dramatically, improve, which everybody benefits from.
Whether a company participates in the market validation program from a perspective that this is integral to their continuous improvement in sales, marketing and customer acquisition, or because they see the 24-weeks as a sort of project to help them through a challenging market situation, the Program delivers accordingly. In the first module, everyone should get clarity about why they are attending and what they should expect. They should expect to have their fears addressed and questions answered. They should finish the day eager to proceed. If not, they should have the opportunity to leave the program, subject to AG policies regarding this.
To quote Dr. Jeffrey Liker, a University of Michigan professor, from his 2004 book, The Toyota Way:
"In his book Liker calls the Toyota Way "a system designed to provide the tools for people to continually improve their work." According to Liker, the 14 principles of The Toyota Way are organized in four sections: (1) long-term philosophy, (2) the right process will produce the right results, (3) add value to the organization by developing your people, and (4) continuously solving root problems drives organizational learning."
We love this quote and believe it applies to the Market Validation Program principles, which stress that you can never assume anything but that you most assume something and then test it to validate or modify accordingly. Or to put this more succinctly, in the words of W. Edwards Deming, considered by many to be the father of modern total quality management: "Blame the process, not the people."
The process of development in the Market Validation Program begins with the first workshop, works up to the one-page (strategic) plan and concludes with the core Program deliverable, the Go-to-Market Plan. What emerges through this process is that some of the participants are leaders, some have the capacity to become leaders and some are not leaders, period. McKinsey and Company have studied leadership extensively, including interviews with over 500 CEOS and they conclude that only about 11% of companies are well led. In summarizing what needs to happen to enhance leadership development, they graphically illustrate the following key points:
• There is no silver bullet to improve leadership
• 40 key actions are required to increase the chances of success to 80%
• 20 key actions result in just a 30% chance of success
• 50 key actions result in a 99% chance of success
"That said, statistically speaking, four sets of interventions appear to matter most: contextualizing the program based on the organization's position and strategy, ensuring sufficient reach across the organization, designing the program for the transfer of learning, and using system reinforcement to lock in change. This is the first time we have amassed systematic data on the interventions that seem to drive effective leadership-development programs. Interestingly, the priorities identified by our research are to a large extent mirror images of the most common mistakes that businesses make when trying to improve the capabilities of their managers. Collectively, they also help emphasize the central role of technology today in necessitating and enabling strong leadership development."
Although the Market Validation Program does not explicitly claim to develop organizational leadership capability, our experience is that it does, as exemplified by the fact that we address all four program requirements mentioned above by McKinsey: 1) the Program is contextualized based on the participant's position and strategy; 2) by involving ten participants from one company, we should ensure sufficient reach across each organization; 3) the Program was designed, and is constantly enhanced, to ensure the transfer of learning; and 4) we utilize system reinforcement to lock in change. Many Program participants tell us that the Market Validation Program was the single most transformative event in the history of their company!
In summary, the Market Validation Program development in the first workshop introduces all the key concepts that have made the Program such a huge success. It promises to increase sales while reducing costs, thereby improving gross margins and net profits. It reduces risk, accelerates growth and delivers revenues that were not available to participants and their companies prior to participating in the Program. It promises all of this and delivers more, including leadership development – in sales, marketing, and business management.
To quote a famous but unnamed source:
"Taka my seminar. It's a goin' to be really good for you. Good for you, good for your customers, good for everyone. So, donna' delay, taka my seminar."
Or if you prefer, please seriously consider participating in the Market Validation Program. It will make you a better sales and marketing manager and a better business leader. Those close to you will be grateful. If you have any questions, take them up with your AG consultant or contact me directly.
---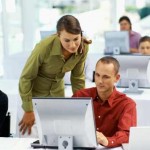 Implementation
Implementation is all about putting the plan in to action, which is exactly what Program participants are asked to do in the four-week interval between each workshop. They are further guided in this process by the exercises that they complete in first-draft form in each workshop, in second draft during the four- week interval, and in third draft in preparation for the next workshop. By the end of the 24 weeks, they will produce at least a fourth draft in the form of their Go-to-Market Plan.
Let's look at an example. Jane Smith comes to the first module with the following introduction:
"Heh everyone, my name is Jane Bitealot, and I am Vice President of Sales at MegaDont. Something that people don't know about me is that I am a collector of dinosaur models, so really how could I work anywhere else? My main interest in attending this Market Validation Program is to validate my assumption that Marketing has their collective head sunk very deep in to the proverbial hole. I hope and trust that what they learn from this Program will help them solve this problem, so that my sales people will be freed to unleash their true selling potential, before another meteor hits the earth."
In coaching Jane, we may gently nudge her to replace the word "attending" with the word "participating" and why this difference is so fundamental to the likely success of MegaDont's investment of time and human resources in the Program. We may also want to nudge her gently in private to rethink what she and her department can get out of the Program, and leave it to the VP Marketing to get the return on his time investment for his department.
We had a priceless comment from one attendee at the end of the last day of the Program:
"If only I had known at the start of the Program how much I'd get out of it by the end of the Program, I would have invested so much more time and energy during the Program."
This same person went on to appear on CBC's Dragon's Den, where they were not funded, and ultimately, his start-up folded. Thankfully, this happened sooner than later, supporting the notion that the next best thing to quick success is fast failure. Perhaps if he had taken the Market Validation Program more seriously, he would have had a better business outcome, as the vast majority of participants will attest to.
To sum up by way of introduction, the key steps in the Program implementation process are:
1. Each participant actively engages in the pre-work, the in-class slide overview, and the post-work to ensure they understand each core concept covered in each workshop.
2. Then, with this conceptual understanding, each participant can turn their mind to the exercise that takes that core concept and encourages them to apply it to their business opportunity.
3. This first draft of the exercise is then reviewed with the peers and mentor at each table or breakout room or Zoom location – whichever is applicable in the current pandemic circumstance.
4. Participants then take their exercises back to their workplace and complete an up-revved version that they polish up and finalize prior to the next workshop.
5. As the workshops continue to unfold, the compilation of these exercises becomes the working draft of their Go-to-Market Plan.
Implementation is also about bringing the plan, whether it is an operating or business plan, strategic plan, one-year or five-year plan, one-page plan or go-to-market plan, to life. We encourage this by inviting all Program participants to, in the words of Steve Blank, get out of the building and talk to customers or prospective customers. Only then will they find out if they are on the road to redemption. As Blank puts it, there are most likely some epiphanies to be had along the way.
Contrast this to what one of our medical device founders told us:
"Oh, we would not want to talk to our prospective customers about this, because that may prove my brilliant invention wrong and then where would we be when we need to pitch to investors?"
He does get points for honesty and this unfortunately speaks loudly to the Founder's Dilemma: too much invested in their invention and product development, with not enough invested in marketing and customer development. To quote Paul Singh, "customer traction is the new intellectual property." Perhaps not surprisingly in retrospect, this same founder also refused to accept that his innovative design would not be accepted by the clinical community we were targeting, who stated unequivocally in many customer discovery interviews, "it's great if it can do that, but it also has to look, feel and perform just like our current devices." The three-part test for patentability is that it must be novel, not obvious to those skilled in the art, and be of commercial utility. This unfortunate situation illustrated a clear lack of commercial utility, which is not to say that the USPTO would not issue a patent, it just would not be worth the paper it was printed on, because clinicians would refuse to use it. Fortunately, through the customer discovery process, we found a doctor who proved out the alpha prototype on animal models, and convinced the founder that the novelty of the design would result in refusal to use it clinically. The design was modified, which ultimately strengthened the company's intellectual property portfolio and the beta prototype is now in clinical testing for pending clearance by various regulatory authorities.
Although we only touch on this in the first workshop, by the middle of the Program, we speak extensively about how to implement the Go-to-Market Plan in a sustainable, repeatable way. This is the only way to create a revenue fly-wheel that will result in a virtuous upward spiral that leverages cash-in to a high return. In other words, without MVP $1 received may only realize $0.05 on their bottom-line net profit. But with more a properly developed Go-to-Market Plan, with well developed hypotheses well thought out and thoroughly tested in the market place, they may be able to triple this to $0.15. this difference between 5% and 15% profitability is dramatic and may be achieved by rigorously pursuing the core concepts of business modeling, whereby each of the nine business model building blocks is reviewed, tested and enhanced. Through such a process, the sales price may be raised, while the cost of goods and the cost of sales is reduced, thereby increasing gross margins. At the same time, operating expenses may be reduced, thereby improving net profits. This is a simple concept known as "positive drop-through". It is one of many skills that can be developed in the Market Validation Program, and implemented in the participants' company, during the business modeling workshops later in the Program. Business modeling is mentioned and briefly introduced in this first workshop.
"Implementation strategy is the process of defining how to bring the strategic plan to life. To execute the objectives outlined in the strategic plan, you must define how you will implement each aspect, from funding and personnel to organization and deliverables." From Smartsheet, Dec 14, 2017. This is one of many templates found on the Internet. We use Vern Harnish's One-Page Plan, also known as OPP, or sometimes, One-Page Strategic Plan, which is actually what it is. My companies find the OPP to be invaluable in the implementation of their plans.
Effective implementation of Program concepts is predicated on these three principles:
1. The active engagement of all participants – anyone not engaged slows the whole group down
2. Inspired leadership by the group facilitator – must be well read, well prepared and well spoken
3. Meritorious mentorship by all the AG consultants – engaged, inspired, passionate and focused
On the third and final point, all participating AG consultants will be provided with a 39-slide overview that outlines their obligations, the course material in a very condensed form, and how to excel as a Program mentor. Our intention is to share this with all AG mentors well in advance of the first workshop, so that they can opt out if they are unable to commit the time, energy and passion to be effective. Ideally, an all-hands AGC Zoom meeting one month prior to the first workshop should be conducted, the 39 slides reviewed and everyone participates in a question and answer discussion.
Please note that the MIT and Acetech models called for two to three mentors per company, which we understand may not be possible in the AG learning format. This is something open for discussion.
To better understand the time commitment required, recall that participants are told to expect to spend at least as much time outside the classroom as they do within. This equals 6+ hours over four weeks, or about 1.5-2.0 hours a week. Not unreasonable, but it needs to be in their calendar. The time commitment for mentors is comparable, but may be more than that for first-timers. My experience was that I spent a lot more time to read the relevant authors, think things through and put them in to the context of the Program materials. Honestly, I struggled with many of the exercises and had little patience for participants who could not do the simple arithmetic to estimate the size of their opportunity. I mean really: $x/unit X y# of units = $Z market or opportunity size, this is not rocket science, but for someone fresh out of industrial design school with no arithmetic aptitude, this is daunting.
For facilitators, the preparation time is much more significant. The Instructors' Guide is a 51-page PDF document. One of our close colleagues and fellow facilitators estimates it has taken him on average 2 – 4 hours of preparation time for each of presenting time, so now we are talking about 12 – 24 hours over a four-week period. If the professional has some experience with some of the concepts, then this may be reduced, but the inverse is also true – if you are unfamiliar with the material, then you have to go to school on it until you are competent to teach it.
Finally, for effective implementation, which is really the translation of the classroom concepts, examples and exercises in to bringing these to life in the workplace, the material must be kept at about a seventh-grade level. This is not an academic program. It is a practical program. It also has to have broad universal appeal, so that a seventh-grader with English as a second language, can tackle the concepts and win. This is not about making anybody feel or look stupid. We have some very bright people who get stuck and need all the help that the mentor, facilitator and Certified Learning Provider can deliver.
As we now know, implementation is the actual day-to-day execution of the plan, in this case the Go-to-Market Plan. After each workshop, participants will need to work on implementation of the current workshop concepts, culminating in Vern Harnish's One Page Plan, which distills the Go-to-Market, strategic and operating plans in to one single actionable page. My clients find this an invaluable tool and we expect that Appleton Greene Market Validation Program participants will also find OPP invaluable. We believe that our track record suggests that this will be the case, since average overall participant scores for the Program, when well implemented, are upwards of 90% (see VIATEC testimonial).
---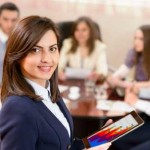 Management
George R. Terry, defines management as a process "consisting of planning, organizing, actuating and controlling, performed to determine and accomplish the objectives by the use of people and resources." Firstly, it considers management as a "process" i.e. a systematic way of doing things.
Said more eloquently, management is the art of getting things done through other people. When I first moved out of a sales executive role and in to a sales management role, our Vice President said to me: "this is a big step for anyone, because for the first time you will be responsible for a team of people and not just yourself." Suddenly I had ten direct reports, a $20 million revenue responsibility and a million- dollar payroll. Fortunately, I also had a supportive general manager, two experienced sales manager peers and a great national marketing manager. We made things happen in my area and won the Area Manager of the Year Award three years out of five, while doubling profitable revenue in a flat market. I didn't know it then, but we managed through by living many of the Market Validation Program principles – listen to your customers, test new products, practice continuous improvement, plan your work and work your plan, to name just a few.
Like many of us in management and leadership roles over the decades, I have learned that my knowledge and skill as a manager is a work-in-progress. My management style is not that of my clients or Program participants. In start-ups, they may not yet have developed any management style at all. But their organization, their investors, and all their stakeholders, cry out for them to not only manage but to lead their companies. We indirectly teach this in the Program, and by the end, they have a Plan, tools with which to implement and manage, and much more knowledge than they had at the beginning. They also have learned the common language that speaks to validate new products in the market, acquiring customers and generating profitable revenue.
In the opening workshop, we deliver a fundamental management challenge to all participants, who are you, what is your role in your organization, why should we care and what do you expect to get out of this Program. If they come across as selfish, short-sighted, inwardly focused or otherwise lacking in basic management skills, then we – the mentors, facilitator and CLP – know we have our work cut out for us. This individual will either leave the Program prematurely, and perhaps their company too, or leave it different than they came in, and we argue this difference will be for the better.
Marketing management is the business we are in throughout the Program, and this includes all aspects of marketing, from lead generation to lead qualifying to sales process and client development, managing the funnel, following up to ensure customer satisfaction, estimating market size, product positioning and so many more concepts that are developed throughout the 24-module workshop. An overview is provided of all 24 modules in the first workshop and participants are invited to comment and question. We hope they will come to the day with an open mind and leave with an expanded open mind. We want them to say WOW am I ever glad my Company signed me up for this, it's going to make me more successful and it is going to do this with each monthly module I attend. I will manage better. When any of us attends a seminar, a talk, a workshop or whatever with speakers, exercises, pre-work and home work, we want to be inspired. It should be an experiential event that at least in some small way changes the course of our lives or at a minimum, our careers. I have been fortunate to participate in many management training programs, all of which contributed to my development as a manager, as a manager of managers, and as someone who can coach managers at all levels at any stage company in any industry. The Market Validation Program provides a wonderful environment for us to do so.
In the Executive-in-Residence Position Description's Ideal Candidate Profile, they state:
"A collaborative and flexible management style with demonstrable experience in goal setting, team building and program/project planning."
This compliments what is expected in the Market Validation Program. To let go of how you have done things and be flexible about adopting a new, different and proven-to-be-better approach; to collaborate with others in the Program, learn from them and impart learning upon them; help participants in goal setting and team building – which the Program itself is for all participants from the same Company; and finally Program planning – applying good planning principles to the Market Validation Program and delivering over the 24 weeks a comprehensive first draft of the Go-to-Market Plan.
In one of my favourite slides, we challenge everyone's perception on the evolution of sales, from a sales superstar performance foundation in the nineties to the marketing management driven trends of today. The current trajectory suggests that sales and marketing tools, systems and methodologies will be virtually 100% of what makes revenues happen in just the next few years, perhaps hastened by the pandemic pivot most companies have had to make. This means that marketing management knowledge, skills and experience will rule the day and those that are stuck in past sales paradigms will rue the day they said no to a comprehensive and effective digital marketing strategy. These are the new maxims of business: get out of the building and connect with prospective customers, create awesome online content and continuously canvas your customers to discover their unmet needs, compile vast volumes of data on absolutely anything and everything to do with your marketplace – even if you do not yet know why this may matter, and continuously innovate to leverage social media, email campaigns and countless other 21st century tools that will be key to your future survival. This new reality is here and it will change before we can even get fully up to speed on what it means to our business. So, hire young, talented people, who you can manage, empower them, and help them thrive in the new revenue producing opportunity you provide to them. And take the Market Validation Program so you can apply the concepts and principles to help make all of this happen.
The core management principle that will be driven in the first workshop is self-management. Participants are expected to use their time management skill, self-discipline, and self-improvement to ensure that they allocate the time, energy and appropriate attitude to get the most out of the Program. It does not matter who is attending – Founders, CEOs and COOs, retirees, high school students, university graduates, post-docs, junior or senior consultants, or experienced corporate educators – all of us are created equal when we enter the Program class room. Everyone is asked to sign a confidentiality agreement, so that what is said in the room stays in the room, and protects the documented Go-to-Market Plans from unauthorized distribution. We also occasionally bring in subject matter experts in specific areas, such as medical device regulatory authorities, who are also expected to manage these confidentiality obligations. Despite these management constraints, the goal is to create a relaxed fun learning environment where everyone is at ease, communicates freely and prospers.
During the first workshop, in the latter part of the day when the facilitator is reviewing the last few modules of the Program, he or she will speak briefly about the Business Model Canvas (BMC). The authors of BMC, Osterwalder and Pigneur, offer a full week course on the Canvas, and we are only able to give it one day. Regardless of the time spent on the Canvas, it has become one of the most powerful management tools available today for describing a new venture – start-up entrepreneurship or corporate entrepreneurship . BMC creation begins with each entrepreneur attending to a large (11X17 or larger) wall chart of their Canvas, and filling in the blanks for each of the nine building blocks. Once this has been done in a way that satisfies everyone in the workshop, each entrepreneur is challenged to assign a probability percentage to each building block, or each key assumption in each block, to determine how much assumption versus fact is at play. The entrepreneur is then invited to present their Canvas to everyone, and at the end of their short (~10 minutes) presentation, the audience is asked to pose any questions and then comment on whether they understand how this entrepreneur will make money, or not. This may lead to further BMC revision by the entrepreneur.
They then take their Canvas home and vet it with colleagues back at their office. By the time they return for the next module, they are expected to up-rev the Canvas. During the subsequent module, there may be an opportunity to run a quantified SWOT analysis, that is much more rigorous and helpful than conventional qualitative SWOT methodology. We review a 12-page example, using the online template provided by the authors.
If we accept the definition of management as a process, whereby a process is a systematic way of getting things done, then the Market Validation Program is a management process.
Please consider one of the slides from the day 1 Workshop: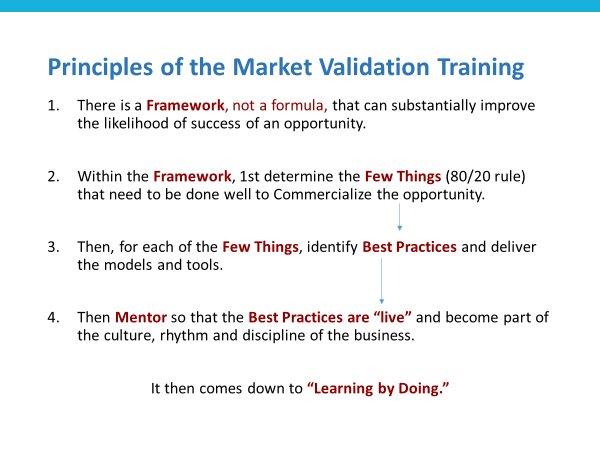 This slide clearly describes a management process, beginning with a framework, or template, applying Pareto's Principle, developing best practices and then incorporating these in to the company culture.
If we view management as an art, as in "the art of getting things done through others", then we may rely only on management skills and not on management processes. However, the world is not that black and white, as we see in the Program when we describe sales processes as distinct from sales skills. Decades ago, selling skills were considered very critical, but today they are much less critical. Today, effective sales management starts with sales process management, including sales funnels, Contact Relationship Management and other processes, critical for revenue generation and the success of the company. If we view management more as a science than an art, then processes are clearly and routinely incorporated. In the Program, we describe the science of customer discovery, where participants learn how to clearly and succinctly define their assumptions, or hypotheses, and then get out of the building to test them through structured conversations with prospective and actual customers. Based on these scientific tests, assumptions or hypotheses are either validated or modified, and then another round of testing occurs. Participants are very much encouraged to systematically follow the scientific method. Although many, or perhaps most, entrepreneurs would not describe themselves as professional managers, they often are professionals. This is especially true in the life sciences industry, where doctors, engineers, accountants and MBAs may well join together to co-found their start-up. These professionals are generally receptive to structured scientific approaches to manage their business – it just has never occurred to them to manage sales and marketing scientifically.
Alternatively, some entrepreneurs may have inherited a family business, or may launch their start-up with family members. This calls for a different management approach. For example, one cannot place corporate demands on a family business, since for example a no nepotism rule may be considered burdensome. Depending on the size of the business, often small to medium size businesses, but sometimes large corporations, the management approach may be paternalistic or professional. Or if the business has been around for a while and the family is so inclined, they may have hired professional managers, which in our opinion is often not a bad thing. Whatever the scenario may be, the Market Validation Program helps. It helps businesses, regardless of their origin, stage, industry, or ownership, manage its sales and marketing function more intelligently and thereby produce better sales results.
Levels of management also vary widely. Some organizations are essentially flat, as is the case with many small start-ups. Medium size companies, optimally with no more than about 200 people, need some sort of hierarchy, but in modern management theory, this is minimized. Perhaps one layer of workers, supervised in groups of ten, with managers based on line-of-business or functional responsibility, and then a chief executive officer. In other words, a four-layer organization with three levels of management – supervisory, managerial and executive. The effectiveness of such an organization, will in our opinion, turn on the management processes routinely deployed and the skills of the managers, individually and collectively. Simple processes may include daily or weekly stand-up meetings, monthly management reviews, quarterly planning sessions and annual reviews with budgeting. More complex processes may include management-by-objectives or comparable outcome or key success factor measurements, at the individual, team and company levels. In sales and marketing management, it needs to include a sales funnel process, a CRM updating protocol, and regular skill improvement standards. In life sciences, there must also be a Quality Management System. For example, medical device companies must meet ISO 13485:2016 and FDA QSR requirements.
Finally on management, companies need to step back and honestly look at where they are at in the evolution of management theory and application. We ask all participants to do this, to take stock of what they have done, what needs to be done, what they may have overlooked, what must be done urgently and what is important but can be done over the months, quarters and years to come. If management teams are not moving forward, then they are sliding backwards, because the world moves forward around them at a blistering pace.
---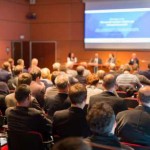 Review
A management review process is a systematic way to check on outcomes relative to objectives and do course corrections as required. In the life sciences industry, companies must do this consistent with their Quality System Manual. For example, for compliance with ISO requirements:
"An important aspect of ISO Certification is the use of fact-based decision making which is the use of figures and evidence to evaluate the outcome of a proposed decision before implementing it. As a Management Review meeting involves making decisions about changes to and the direction of company policies and the Management System, examining appropriate evidence is vital to this process.
The evidence that should be brought to a Management Review includes:
• Minutes of previous Management Review meeting
• Management System documentation
• Internal and External Audit Reports
• Relevant records (including customer feedback, corrective action log etc.)
• Register of Legal and other requirements
• Complaints analysis
• Corrective and preventive actions and close-out of Management Information Reports
• Policies review"
In sales and marketing review processes, as outlined in the Program, this level of rigour is helpful but not mandatory. What we do expect is that each company's sales and marketing executives have clear metrics that they track routinely – ideally each day. For example, how customer complaints are tracked and measured, to meet the Quality System requirements, but also as good management practice. Revenues need to be tracked, as do gross margins, and cost of sales needs to be tracked. The timelier these measures can be reported, the better, although this timeliness requirement shifts with the age and stage of the company. For example, there can be no revenue tracking in a pre-revenue company, but other key metrics, such as per cent design completion must be tracked. When revenue generation commences, tracking may be limited to the announcement of each new sale – its dollar value, gross margin, cost of sales, and length of sales cycles – all important parameters to feed in to the early-stage sales funnel. The sales funnel must be established as soon as prospects emerge and this must be managed through a simple CRM, like Insightly or HubSpot. The funnel and the CRM should be reviewed at least weekly, even in early stages of revenue generation. This is critical because these tools allow the company to develop a rep