Team Accountability Top-Gun Teamwork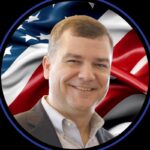 The Appleton Greene Corporate Training Program (CTP) for Team Accountability (Top Gun Teamwork) is provided by Col. Teschner MBA BA Certified Learning Provider (CLP). Program Specifications: Monthly cost USD$2,500.00; Monthly Workshops 6 hours; Monthly Support 4 hours; Program Duration 12 months; Program orders subject to ongoing availability.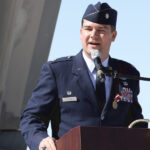 Personal Profile
Col. Teschner is a transformational Leadership Coach and Trainer. He is the founder of a St Louis-based Leadership Development company specializing in teaching accountable leadership and high-performing teamwork to businesses across the globe. The company has centered much of its signature training around the proper practice of Accountability. Real Accountability—positive, forward-focused Accountability centered around the process of taking Absolute Ownership for the outcomes the team achieves—is something Col. Teschner and his team lived during their collective time as member of high-performance military teams. Now they've made it their mission to teach what they know to those who need to learn it.
---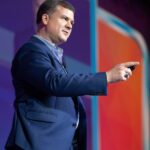 A decorated graduate of the U.S. Air Force Academy, Air University, and the National War College, Col. Teschner is also both a Distinguished Graduate and former F-15 Instructor at the USAF Weapons School – the Air Force version of "TOP GUN". It was there that he honed his craft of teaching accountable leadership to the top practitioners in the world. Additionally, Col. Teschner was privileged to command an operational F-22 "Raptor" squadron, flying America's most advanced air supremacy platform. Col. Teschner was ultimately honored to be promoted to the rank of full Colonel but retired early as a result of a battle with colon-rectal cancer. Col. Teschner has over 20 years of hands-on leadership experience in High-Performance, High-Reliability Organizations and brings all of that experience with him wherever he speaks, teaches or coaches.
---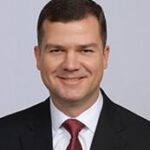 Col. Teschner has a special way of connecting with his audiences, blending high-impact stories of fighter aviation and personal humility to achieve the intended outcome. In addition, his story of his personal fight with cancer serves as the launch pad for talks about humility, growth, motivation, and constant improvement. Col. Teschner is the author of the #1 bestselling book, Debrief to Win: How High-Performing Leaders Practice Accountable Leadership, and released his newest bestselling book Aiming Higher: A Journey Through Military Aviation Leadership, a book co-authored with 4 other former Air Force pilots, in May of 2022. His next book, Building Resilience, is due out in the Spring of 2023.
Col. Teschner is the Author and Certified Learning Provider (CLP) for Appleton Greene's Team Accountability Program, otherwise known as the Top Gun Teamwork Program. To request further information about Col. Teschner MBA BA through Appleton Greene, please Click Here.
---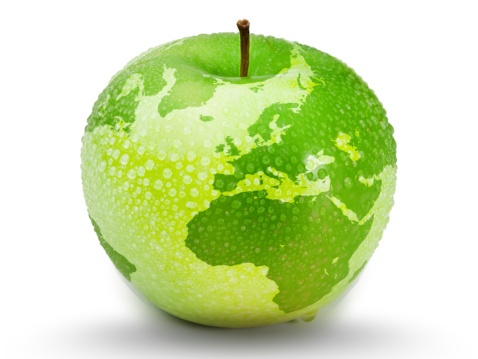 (CLP) Programs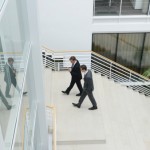 Appleton Greene corporate training programs are all process-driven. They are used as vehicles to implement tangible business processes within clients' organizations, together with training, support and facilitation during the use of these processes. Corporate training programs are therefore implemented over a sustainable period of time, that is to say, between 1 year (incorporating 12 monthly workshops), and 4 years (incorporating 48 monthly workshops). Your program information guide will specify how long each program takes to complete. Each monthly workshop takes 6 hours to implement and can be undertaken either on the client's premises, an Appleton Greene serviced office, or online via the internet. This enables clients to implement each part of their business process, before moving onto the next stage of the program and enables employees to plan their study time around their current work commitments. The result is far greater program benefit, over a more sustainable period of time and a significantly improved return on investment.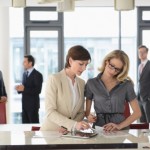 Appleton Greene uses standard and bespoke corporate training programs as vessels to transfer business process improvement knowledge into the heart of our clients' organizations. Each individual program focuses upon the implementation of a specific business process, which enables clients to easily quantify their return on investment. There are hundreds of established Appleton Greene corporate training products now available to clients within customer services, e-business, finance, globalization, human resources, information technology, legal, management, marketing and production. It does not matter whether a client's employees are located within one office, or an unlimited number of international offices, we can still bring them together to learn and implement specific business processes collectively. Our approach to global localization enables us to provide clients with a truly international service with that all important personal touch. Appleton Greene corporate training programs can be provided virtually or locally and they are all unique in that they individually focus upon a specific business function. All (CLP) programs are implemented over a sustainable period of time, usually between 1-4 years, incorporating 12-48 monthly workshops and professional support is consistently provided during this time by qualified learning providers and where appropriate, by Accredited Consultants.
---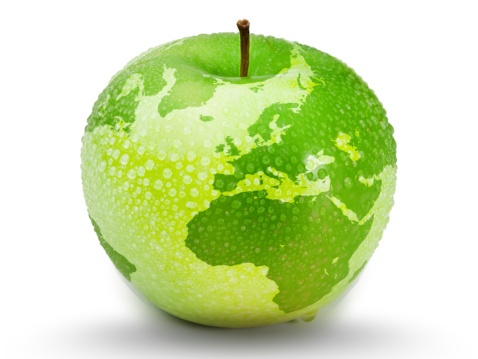 Executive summary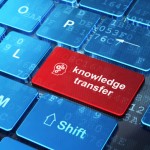 Team Accountability
Most organizations struggle with implementing system-wide accountability. Holding people accountable for their decisions and associated actions is a challenging prospect for anyone, especially those who haven't been trained on how to do so in a team setting. An additional pressure point is the prospect of accountable leadership in a rapidly changing environment, in an age where disruptors are constantly emerging, challenging "the old way" of doing business.
Organizations that thrive in this age of rapid change are those that have built processes and employ methodologies focusing on human interactions. Critically, they've adopted cultures that embrace improvement and value positive, forward-focused accountability in ALL aspects of their operations. Either by design or chance they are following the approach high-performing military teams take to enable success in complex environments the world-over. Learning from these high-performing military teams is a powerful option for any organization that intends to win in the face of constant disruptive changes.
This course takes the very best from the high-performance military team world—a world centered on successfully harnessing the upside of positive, forward-focused accountability to foster team learning, continuous improvement, and enable top performance in a really demanding environment, and usually with a very young and constantly rotating workforce—and translates the core principles into the business world. This course builds on a core that VMax Group has been teaching in business since May of 2018, a core that has led to the rapid expansion of the VMax Group team as a result of constant business growth.
---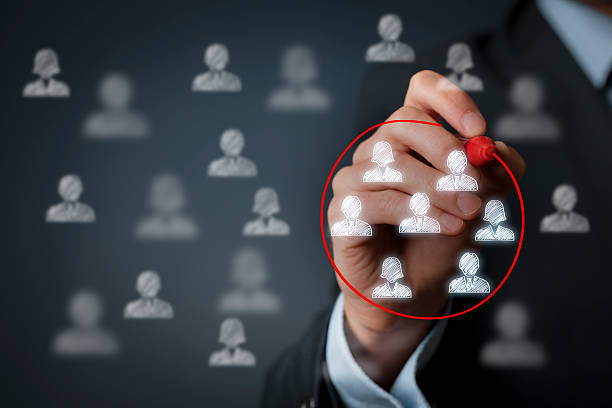 ---
Program participants will gain both clear insights, as well as practical implementation strategies, into how high-performing military teams teach leadership, practice accountability and deal with complexity in a powerful course that gets to the root of both accountable leadership and teamwork. Participants will understand how high-performance military teams organize, prepare for, and execute operations in Volatile, Uncertain, Complex and Ambiguous (VUCA) environments. They will develop a deep understanding of the high-performance team Debrief model, to include an understanding of the cultural requirements necessary for successful implementation. This understanding will lead participants to build Psychological Safety and emphasize Behavioral Standards into their organizational design. The centerpiece of the highperformance team model, The Debrief-Focused Approach, will be utilized as the backbone of the business team lifecycle, enabling course participants to incorporate a positive, forwardfocused approach to teaming, continuous improvement, and team learning into their daily battle rhythms.
The Need for Accountability in Teamwork
Andrew told his co-worker Mina, "Lindsay really irritates me." The two were waiting for lunch as they sat in the commissary with trays of food in front of them.
"She has to flaunt doing her projects and be 'miss perfect,'" Andrew continued. "However, despite doing her job before everyone else, she is constantly checking to see if others have completed their assignments. It seems like she always wants to blame us for something."
"She is unmistakably scheming to get a promotion. We can work in peace if she understands it fast," Mina said. Andrew had an agitated expression on his face as the two started eating their meal, but Mina appeared uninterested.
Andrew sighed, "James on the other hand accomplishes absolutely nothing."
"I'm surprised Christine hasn't spoken to him even though he missed the RFP deadline. What sort of boss is she? I wish she would punish him," retorted Mina, who was now sporting Andrew's agitated expression.
"Are the client files completely updated?" – Andrew asked Mina
She answered, "Not yet. Has the research you were working on been completed?"
Andrew said, bored by the idea of the investigation, "Not yet. It will eventually get done. "
"We finish when we finish," Mina said, getting up with her tray and making her way to the trash can before getting ready to return to her work.
Christine, the team manager, is upset back at the office. Lindsay is the only member of her team that always fulfills deadlines. And now the department director is attacking her, saying that she isn't effectively leading her team. How can she motivate her staff to do their tasks?
Let's start by pointing out the main issue that is hindering this team's productivity: a lack of accountability.
The Issue with This Team Is Accountability
Accountability is defined as "the obligation of an individual or organization to account for its activities, accept responsibility for them, and disclose the results in a transparent manner." by the business dictionary. It's straightforward: to be held accountable to a team, a person must be clear about their plans, carry them out, and notify the team when they are finished.
---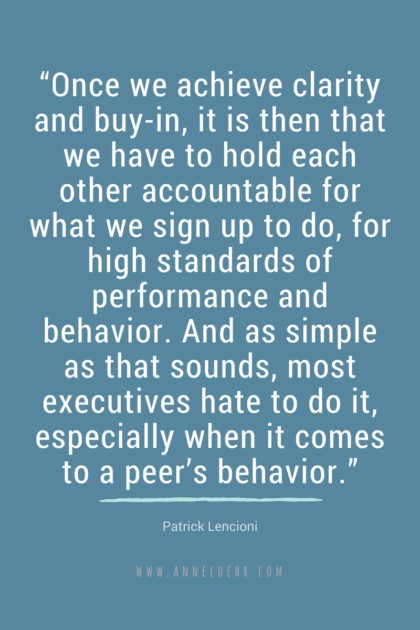 ---
However, accountability must be shared within teams. An individual must hold their co-workers accountable in order for a team to work effectively. This goes beyond simply being accountable for one's own actions. That entails regularly requesting updates on clearly stated goals and being transparent about their own updates. However, it can be challenging to keep people accountable because it can lead to strained relationships.
Patrick Lencioni writes, "Once we achieve clarity and buy-in, it is then that we have to hold each other accountable for what we sign up to do, for high standards of performance and behavior. And as simple as that sounds, most executives hate to do it, especially when it comes to a peer's behavior."
Lindsay is the only member of the team above who holds others and herself accountable. She is undoubtedly experiencing social discomfort.
Accountability In The Workplace: Why Is It Important?
By explicitly stating the company's vision and values, accountability in the workplace is all about creating a common expectation and keeping individuals accountable to it.
Although it might be challenging to execute, accountability in the workplace is the fuel that great firms run on.
In reality, 82 percent of respondents to a Partners in Leadership Workplace Accountability Study claimed they have "little to no" ability to adequately hold people accountable. However, 91 percent of respondents place accountability near the top of their list of priorities for their company's development.
As noted by author Pete Lowe in HRD Connect, "Real accountability happens in the context of a culture that supports trust and genuine teamwork …. Genuine accountability comes with a fresh honesty that acknowledges where things can improve and a humility that tempers actions."
Accountability is therefore important, challenging to establish, but doable. However, it would be helpful to begin with the definition of responsibility in order to comprehend the significance of accountability in the workplace.
What is Accountability?
Many people define accountability in terms of what it isn't: attempting to "catch" employees in the act of breaking the law, reporting coworkers, or establishing stringent regulations that are applied in a punishing manner.
This negative strategy promotes a reactive culture of "management by rules" rather than cultivating a proactive environment of responsibility. Yet there is a better approach.
Establishing and upholding a single expectation among employees at work requires a clear understanding of the mission, values, and objectives of the organization. Employee responsibility refers to making all levels of employees—from hourly part-timers to C-suite executives—responsible for achieving organizational objectives.
While maintaining accountability at work is crucial, it also needs to be tempered with the requirement to grant employees freedom in their responsibilities. To take ownership of their work and pursue greatness, employees must feel empowered to perform their duties. A high-performing organization is produced by fostering this employee accountability culture.
Obstacles to Accountability at Work
It is impossible to overstate the value of responsibility, but establishing it can be challenging. When attempting to create a culture of workplace responsibility, organizations and teams frequently encounter a number of difficulties and roadblocks.
Sometimes, people who don't live up to expectations are the first to lack accountability. Sometimes it simply takes the form of "accepting the undesirable" at the level of the team or business. If left unchecked, these poor organizational practices can diminish responsibility by making roles and duties less clear.
Another offender? Accountability at work deteriorates or disintegrates completely if a company runs on ambiguous priorities or hazy expectations.
In HR Magazine, consultant Karim Bashay highlights the following: "Expectations that aren't communicated can grind progress to a halt. Not only do these implicit expectations result in confusion over tasks, they also cause tension in relationships." Naturally, this may breed mistrust within the company.
Never underestimate how difficult responsibility is and how much consistency and follow-through it demands from both leadership and staff. The difficulties in overcoming the obstacles and challenges are widespread and genuine. But that doesn't imply the effort isn't worthwhile.
Accountability in Business: The Facts
Despite the fact that responsibility is essential to teamwork, businesses in all sectors have accountability issues. See the following statistics:
---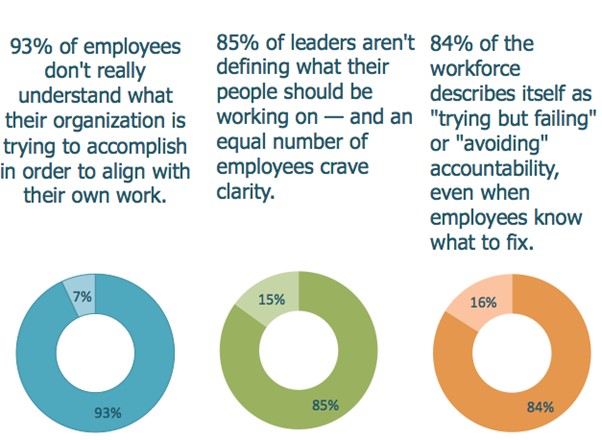 ---
• To align with their own work, 93 percent of employees don't properly comprehend what their company is aiming to achieve
• The majority of managers—85%—don't specify what their staff members should be working on, and the same proportion of workers want for clarity.
• Despite knowing what has to be fixed, 84 percent of the workforce admits to "trying but failing" or "avoiding" accountability.
• 80% of individuals believe that being held accountable is punishing.
---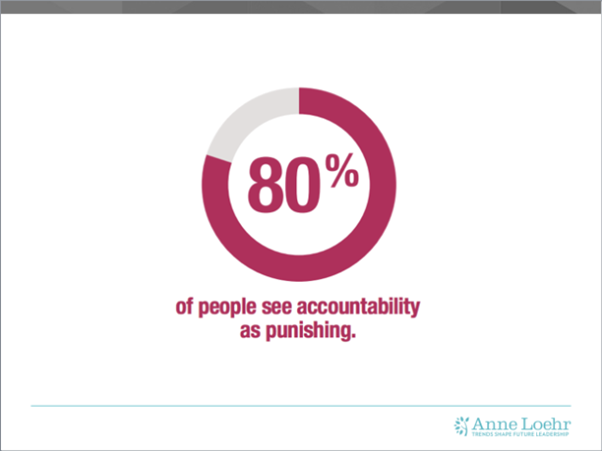 ---
These are hardly negligible sums! Many organizations appear to