Strategic Transformation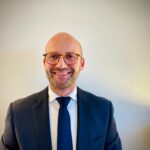 The Appleton Greene Corporate Training Program (CTP) for Strategic Transformation is provided by Mr. Remme Certified Learning Provider (CLP). Program Specifications: Monthly cost USD$2,500.00; Monthly Workshops 6 hours; Monthly Support 4 hours; Program Duration 20 months; Program orders subject to ongoing availability.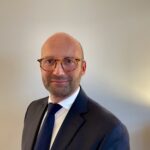 Personal Profile
TO BE ADVISED
To request further information about Mr. Remme through Appleton Greene, please Click Here.
---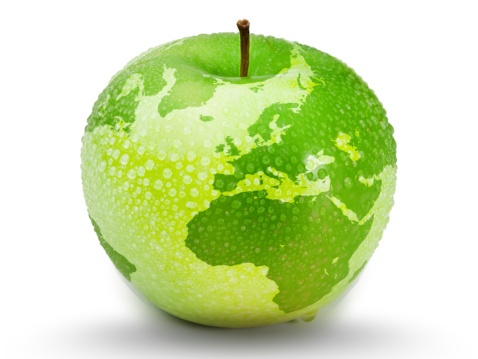 (CLP) Programs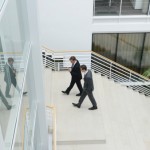 Appleton Greene corporate training programs are all process-driven. They are used as vehicles to implement tangible business processes within clients' organizations, together with training, support and facilitation during the use of these processes. Corporate training programs are therefore implemented over a sustainable period of time, that is to say, between 1 year (incorporating 12 monthly workshops), and 4 years (incorporating 48 monthly workshops). Your program information guide will specify how long each program takes to complete. Each monthly workshop takes 6 hours to implement and can be undertaken either on the client's premises, an Appleton Greene serviced office, or online via the internet. This enables clients to implement each part of their business process, before moving onto the next stage of the program and enables employees to plan their study time around their current work commitments. The result is far greater program benefit, over a more sustainable period of time and a significantly improved return on investment.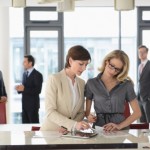 Appleton Greene uses standard and bespoke corporate training programs as vessels to transfer business process improvement knowledge into the heart of our clients' organizations. Each individual program focuses upon the implementation of a specific business process, which enables clients to easily quantify their return on investment. There are hundreds of established Appleton Greene corporate training products now available to clients within customer services, e-business, finance, globalization, human resources, information technology, legal, management, marketing and production. It does not matter whether a client's employees are located within one office, or an unlimited number of international offices, we can still bring them together to learn and implement specific business processes collectively. Our approach to global localization enables us to provide clients with a truly international service with that all important personal touch. Appleton Greene corporate training programs can be provided virtually or locally and they are all unique in that they individually focus upon a specific business function. All (CLP) programs are implemented over a sustainable period of time, usually between 1-4 years, incorporating 12-48 monthly workshops and professional support is consistently provided during this time by qualified learning providers and where appropriate, by Accredited Consultants.
---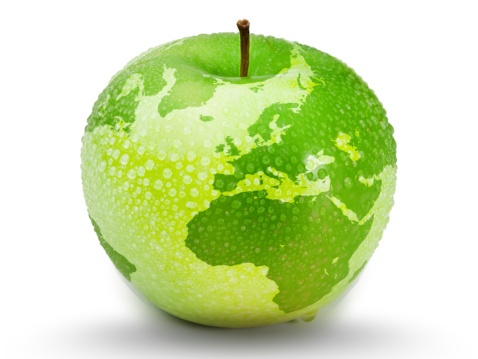 Executive summary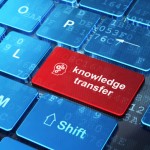 Strategic Transformation
Because it includes changing a company's essential essence, strategic transformation is transformation with a capital "T." From liquid to gas, from lead to gold, from computers to consumer electronics, from advertising to self-driving cars, from retail to cloud computing, from pharmacy retailing to chronic illness treatment, and so on. Strategic transformation, when done well, revitalises a company's growth engine. When a corporation fails to execute, critics pounce and protest that it should have "stuck to its knitting."
A business's main goals and objectives are referred to as strategy. Decisions about strategy have an impact on a company's line of business, who it serves and how it serves them, as well as how it runs internally. Although it is difficult to forecast exactly what will happen when a company changes its strategy, there are a number of frequent good and bad consequences that occur when a company undergoes a strategic transition.
Significance
All administrative choices, from the front line to the boardroom, are guided by organizational strategy. Strategic plans serve as a road map for companies to realise their owners' and top-level executives' great visions in realistic ways. Changing an organization's strategy can have a significant impact on how it functions, affecting everything from organizational structure to employee daily routines.
Changing your strategy might have a lot of advantages. A company's ability to react to changes in the legal environment or the marketplace can be aided by new strategic directions. New strategies can assist a company in becoming more productive or cost-effective, or in entering a new, more profitable industry or market niche. Changes in strategy might also assist a company that has been stagnating, recapture its previous growth rates.
---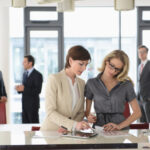 The Diamond Methodology
The strategic transformation program's objective is to enhance or build the strategic planning and execution capabilities at a corporate or business unit level. The program will implement the Diamond Strategic Transformation process covering internal and external analysis, vision development, strategy formulation, strategic planning, and execution.
This program utilizes the "Diamond" methodology, which provides a framework for implementing different training programs for client organizations.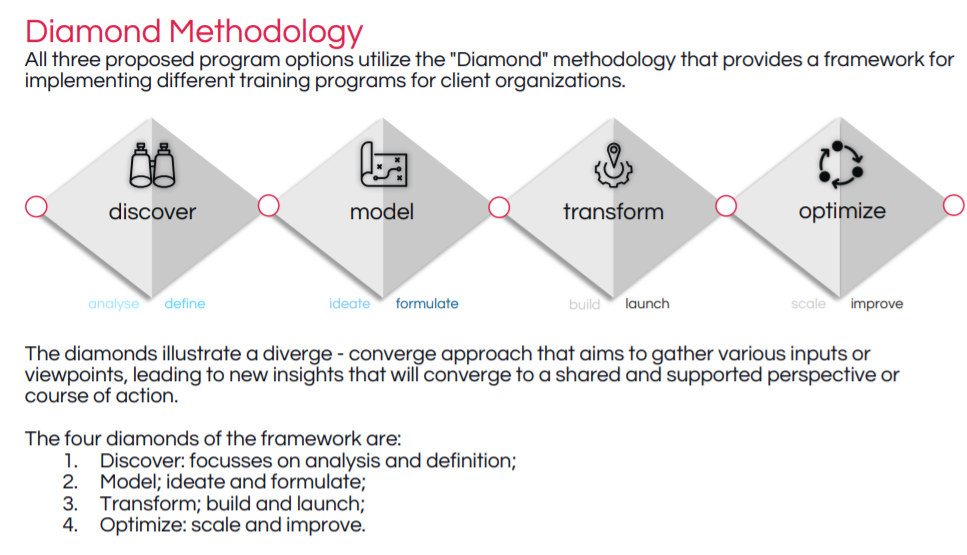 Each phase considers the physical, technological, legal, organizational, environmental, and financial aspects of the subject at hand.
The process is pragmatic but robust, utilizing industry-standard tools and techniques and best practices. The methodology supports traditional development approaches or agile ways of working.
Strategic Transformation is inevitable for businesses that want to thrive and stand the test of time. Companies today have to go through several disruptions and market turbulence quite frequently. In this fast-changing environment, sustainability can only be achieved by adapting and evolving with the consumer, market, and industry demands.
This program aims to help companies, particularly from the Telecommunications, Information Technology, (Managed) Service Providers, Cyber Security and Healthcare industries, to understand what Strategic Transformation is and how it can be achieved through continuous improvement and by challenging the status quo.
Several variables can influence a company's decision to alter or transform. Market competitiveness is constantly evolving and expanding. When customers have more options, their expectations tend to rise. They're always on the lookout for a product or service that offers a bit more value than the competition. Technology is also a major motivating force. Newer, technology-driven enterprises that comprehend the current technology landscape and make the most of it have challenged the legacies of many major, established organizations. Products and services evolve in tandem with technological advancements. Customers want the same high-quality services and tailored experiences that tech-driven businesses provide.
Organizations that may have been established years ago with traditional processes and cultures that were once relevant but not any more often find it hard to cope with the changing demands. To remain in the competition, they must evolve with the changing landscape. That is where Strategic Transformation comes in. Strategic Transformation involves setting new goals for the organization and changing the way the business functions, in order to achieve those goals. It requires identifying processes that are not 100 percent efficient and making radical changes to these processes that gradually transform the way the organization operates. This training program on Strategic Transformation will focus on 20 workshops:
Discover
1. Framework Introduction
2. Scope Definition
3. Environmental Analysis
4. Transformation Vision
5. Transformation Principles
Model
6. Business Model
7. Value Proposition
8. Customer Journey
9. Operating Model
10. Transformation Strategy
11. Initiative Ideation
12. Transformation Roadmap
13. Governance & Metrics
14. Transformation Readiness
Execution
15. Transformation Preparedness
16. Innovation Management
17. Portfolio Management
18. Project Management
Optimize
19. Benefit Management
20. Evaluation & Recommendation
---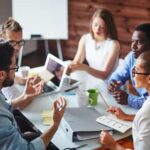 Strategy Factors
Strategic planning got inextricably tied to the concept of time somewhere along the road. If tactical plans are short-term, strategic plans must be long-term, the argument went. Annually, strategic plans were supposed to be modified — or even fully rewritten. The most important aspects were to create three- to five-year goals and then move the organization ahead to attain them. These annual rituals gradually degraded into budget predictions and bonus bludgeons that had nothing to do with why customers bought from the company in the first place.
Organizations devote tremendous time, money and management firepower into designing a strategy. There should be clarity in two areas as a result of this strategy: The first is to bring the business's "table stakes" — conventional customer and staff expectations — up to median. The majority of what most firms accomplish on most days is just meet the basic expectations of consumers or employees. Any customer considering purchasing from your firm does so because of the blocking and tackling.
The attempt to continuously deliver on multiple true competitive advantages is the second factor. These are the characteristics that not only distinguish your company from its competitors, but also that it can cling onto long enough to generate genuine profits. These competitive advantages are what drive clients to choose you over your competitors and buy from you – ideally at a higher price, but even simply getting them to come to you is a victory.
Implementing a strategy entails pushing these two parts as far and as long as possible. You will reap the benefits of a solid strategy the more consistent you are with your employees and customers.
Strategy, however, does not remain static and must adapt. When should you consider changing your plan, is the true question. Four variables typically cause the need to re-evaluate your strategy:
1. Competitors. Customers may fail to notice your advantage if one or more of your competitors has closed the gap on one of your actual competitive advantages. This is, in fact, the whole nature of business. Competitors are always seeking for methods to acquire an advantage, and one way to do so is to take another's competitive advantage away. A company may have been the industry leader in a specific field, and the leadership just does not comprehend why customers will not continue to reward them for their early leadership after competitors catch up. When a new competitor enters the market in a disruptive manner, another competitor can induce a re-evaluation of strategy.
2. Regulators. One of your competitive advantages could be harmed by a dramatic change in the regulatory environment. Regulatory changes frequently have a broad impact on an entire industry. They have the ability to level the playing field so that clients are no longer enticed by your advantages.
3. Technology. The pricing, development, and/or delivery of your product, service, or offering may be impacted by a substantial technological change. Consumer behaviour may alter as a result of technological advances beyond the traditional sector.
4. Socio-environmental. Significant shifts in society's direction, such as activism, can have a significant impact on a company's strategy. Nationalist movements that make previously accepted norms obsolete; eco-activism that affects how things are made or crops are cultivated; and the #MeToo movement, which exposed businesses' secret practises and forced significant changes in their corporate operations.
A solid strategy method is to regularly analyze these four areas of the environment, looking for changes that could effect the organization's strategy. This entails creating trigger metrics to show when those changes may have an influence on your company's strategy. Additionally, it's crucial to assess the organization's current competitive advantages and determine if they're still genuine. If that's the case, keep everyone's attention on executing the strategy consistently. However, if these external changes appear to have an impact on the organization's competitive advantages, it's time to re-evaluate and possibly re-craft the organization's strategy.
As a general rule, strategy should be implemented for as long as possible.
---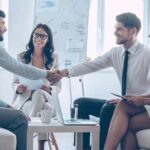 Strategic Transformation in the past and where we are today
Whether you're just starting out as an entrepreneur or have been in business for decades, there's a good chance you've seen a lot of things shift.
The economy has undergone countless changes, each one appearing to be more dramatic than the previous. Offices are no longer recognisable from even a few years ago, thanks to new technology. Because of a new Millennial workforce with different goals than their predecessors, even what motivates employees has changed.
With all of this in mind, it's no surprise that company strategy has had to evolve as well. Businesses are more aware than ever before that attracting and maintaining the best people is critical to their success.
The Age of Industrial Entrepreneurs (Late 1800s). The entrepreneurial spirit grew in the United States, contributing significantly to the advancement of the American corporate system and raising the standard of living. It resulted in an increase in the demand for produced items.
The Production Era (Through the 1920s). The focus was on creating more things in a shorter amount of time, which led to production innovations such as assembly lines. Internal processes received more attention than external impacts in the business world.
The Marketing Era (Since 1950s). Businesses could no longer expect to sell all of their goods due to the Great Depression. They needed to pay more attention to their goods and service markets. The consumer orientation, which is a business philosophy that focuses on identifying unmet consumer wants and requirements before producing products to meet those needs, was created. They wanted to learn about and meet the needs and preferences of various client groups.
The Relationship Era (began in the 1990s). Transaction management refers to businesses that focus on developing and promoting items in the hopes that enough customers would buy them to cover costs and achieve acceptable profits. They discovered value in long-term relationships with consumers, employees, suppliers, and other businesses.
The Social Era (Since 2000s). This epoch can be defined as a shift in how organizations and individuals interact, connect, communicate, share, and exchange information through virtual communities and networks all over the world. Through the internet and social media, it was a new avenue for businesses and customers to communicate and exchange information. Emphasis on relationship management, which is the collection of activities that help customers and other partners form and sustain long-term, mutually beneficial relationships.
There's no doubting that we live in a more digital environment, and businesses have had to adapt their tactics quickly to keep up. It's no longer enough to consider how you present your products and services to potential clients; turning digital has ramifications that include:
• Marketing efforts – most people now view websites on their phone, so having a mobile-friendly site is a must.
• How you communicate with clients and how they communicate with you! Think of all the customer service now taking place on social media, especially Twitter.
• Your internal processes and admin – there are now so many apps that can help you will all aspects of running your business.
In keeping with the concept of 'change,' today's organizations must guarantee that their strategy is adaptable and that they are able to capitalize on new opportunities. This is a hard one because you'll undoubtedly have a very clear vision of where you want your company to go, and deviating from that can put you in danger of losing your footing.
Adaptability and willingness to shift direction can pay off in the long run – just ask Nintendo, The Gap, and PayPal, all of whom began with completely different strategies from the ones that helped them build a name for themselves.
The new competition is collaboration. Networking has never been easier thanks to technological advancements, and this opens up more options to collaborate directly with firms in your sector and those that complement it.
---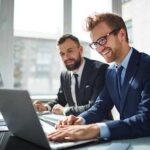 Future Outlook
The role of leadership in fostering conviction and dedication to a long-term strategic transformation is crucial.
Leaders face numerous hurdles during strategic transformations, which typically last two to three years. For starters, a company may develop a lot of ideas, but there may be no consensus on which ones would move the needle on value creation and which ones should be pursued.
Biases are the second issue. Many management teams have a legacy bias when it comes to how they've done things in the past. They may have distributed resources in a particular way in the past and wish to do so again.
The funding of projects is the third aspect of strategic transformation that is extremely difficult. In a performance transformation, the dollars often impact the bottom line rapidly, resulting in a self-funding model. Some of the activities in a strategic transformation may demand a large amount of time or money.
Introducing new products, expanding into new geographies, altering business models, or investing in digital capabilities are all strategic actions that often involve an upfront investment before a company enjoys a financial return. These changes will be made feasible thanks to a finance mechanism embedded into the strategic transformation road map. That's why strategic transformations are frequently combined with performance transformations, resulting in a self-funding transformation.
Leadership skills for a strategic transformation
Leadership is crucial in fostering long-term strategic transformation conviction and commitment. They must gain agreement from the management team on major decisions, which isn't always easy. A corporation in the midst of a change is usually at a fork in the road or doesn't believe it is reaching its full potential. Its executives perceive market upheavals that they need to anticipate. And they're generally bombarded with suggestions for how to proceed.
Leaders can achieve alignment by comparing all potential moves to the generation of value. This gives management a way to prioritize which changes are most likely to move the needle and decide which ones to carry through.
What does it take to keep a change going? First and foremost, management must stick to the recipe and refrain from declaring triumph too soon. Second, it should reinvest in the pipeline by coming up with new ideas. The companies that are most effective in executing transitions are those that reinvest in their pipeline on a regular basis, as we've seen.
Third, in addition to performance, management must pay attention to the health of the organization. This is a crucial aspect that many businesses overlook. Companies that focus on both performance and health outperform those that don't, according to research.
CEOs must take various actions to succeed in strategic transformations. First, they must show a high level of ambition by setting the bar extremely high and pursuing their company's maximum potential.
Second, they must have the backing of their board of directors. Because some strategic transformations can decrease profit margins in the first year, a CEO must have the board's approval before embarking on this journey. Third, you must have the enthusiasm and energy to make multiple large, aggressive movements at the same time.
Another topic concerning strategic transformation that is important to mention is the need of resource reallocation. Resources are notoriously sticky. You must be prepared to reallocate resources because it will be necessary for most strategic reforms to succeed.
---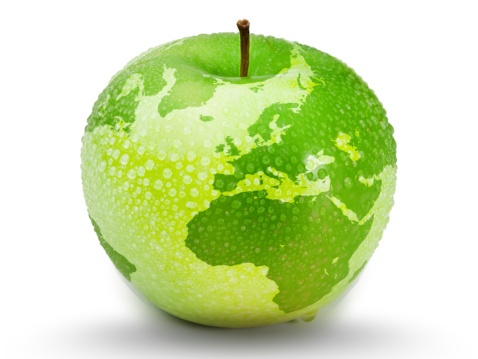 Curriculum
Strategic Transformation – Part 1- Year 1
Part 1 Month 1 Framework Introduction
Part 1 Month 2 Scope Definition
Part 1 Month 3 Environmental Analysis
Part 1 Month 4 Transformation Vision
Part 1 Month 5 Transformation Principles
Part 1 Month 6 Business Model
Part 1 Month 7 Value Proposition
Part 1 Month 8 Customer Journey
Part 1 Month 9 Operating Model
Part 1 Month 10 Transformation Strategy
Part 1 Month 11 Initiative Ideation
Part 1 Month 12 Transformation Roadmap
---
Strategic Transformation – Part 2- Year 2
Part 2 Month 1 Governance & Metrics
Part 2 Month 2 Transformation Readiness
Part 2 Month 3 Transformation Preparedness
Part 2 Month 4 Innovation Management
Part 2 Month 5 Portfolio Management
Part 2 Month 6 Project Management
Part 2 Month 7 Benefit Management
Part 2 Month 8 Evaluation & Recommendation
---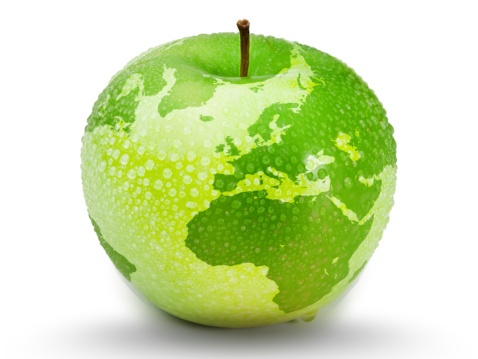 Program Objectives
The following list represents the Key Program Objectives (KPO) for the Appleton Greene Strategic Transformation corporate training program.
Strategic Transformation – Part 1- Year 1
Part 1 Month 1 Framework Introduction – The objective of organizational change management is to enable organization members and other stakeholders to adapt to a sponsor's new vision, mission, and systems, as well as to identify sources of resistance to the changes and minimize resistance to them. Organizations are almost always in a state of change, whether the change is continuous or episodic. Change creates tension and strain in a sponsor's social system that the sponsor must adapt to so that it can evolve. Transformational planning and organizational change is the coordinated management of change activities affecting users, as imposed by new or altered business processes, policies, or procedures and related systems implemented by the sponsor. The objectives are to effectively transfer knowledge and skills that enable users to adopt the sponsor's new vision, mission, and systems and to identify and minimize sources of resistance to the sponsor's changes.
Part 1 Month 2 Scope Definition – What: How to define transformation challenge. Goal: Define clear transformation scope and stakeholders. Why: Establishing a common ground/ understanding of the transformation program scope. Tools: Stakeholder map, Stakeholder tracking sheet, Business recommendation report, Communications plan.
Part 1 Month 3 Environmental Analysis – What: Identify the key external market, competitor and environmental trends and internal factors that can have positive or negative effects for the organization operating within a given market environment. Goal: Gain insight into an organization's operating environment, opportunities and threats and competitive positioning. Why: Combining the analysis of both internal and external strengths and weaknesses allows an organization to identify and assess strategic choices. Tools: External Environment STEEPLE- trend analysis (macro trends), Context canvas, Competitor analysis, Porter 5-Forces (industry trends) Internal Environment Survey (questionnaire & interview), Value chain analysis Combined: Strategic SWOT analysis.
Part 1 Month 4 Transformation Vision – What: Define a compelling vision for the future state of the business and the vision for the transformation that needs to be undertaken. Goal: Define clear transformation scope. Why: Establishing a common ground/ understanding of the transformation program scope. Tools: 5 Bold steps vision canvas Strategy Pyramid/ Strategy map, Vision development, Canvas Cover story vision canvas.
Part 1 Month 5 Transformation Principles – What: Identify and capture the key dimensions and guiding principles most relevant to the transformation program. Examples include Employee, Customer, Product, Process, Finance, Policy, Markets, Legal & Regulatory, Technology, Governance, Sustainability. Goal: Clearly defined principles to help guide the design of the transformation program and future state operating model. Why: 1) Involvement of all key stakeholders from across the program to drive alignment across the principles. 2) Inform how about guiding principles support transformation execution and what the transformation will deliver (end state). Tools: Transformation Guiding Principles.
Part 1 Month 6 Business Model – What: Develop the to-be (SOLL) business model in a straightforward, structured way. Goal: Provide insights about the customers the organization serves, what value propositions it will offer through what channels, and how the company makes money. Why: By digging into the elements of the business model, the organization can recognize and act on areas that can be improved. It also reveals clear paths on which to build your transformation and innovation strategy. Tools: Business model canvas review questionnaire: (front stage, backstage, profit formula), Business model canvas.
Part 1 Month 7 Value Proposition – What: Develop a clear understanding of the customers, including their jobs-to-be-done, pains, and gains, as well as the organization's offer (value proposition) to them. Goal: Close the gap between what customers want and what the organization offers in order to align the transformation strategy. Why: To help ensure that a product or service is positioned around what the customer values and needs are. Tools: Value proposition canvas.
Part 1 Month 8 Customer Journey – What: Mapping the customer journey will provide insights into how customers experience a product or service, as well as how they might be better served or even delighted. Goal: Identify where customers get stuck, where they have great experiences, and why. Identify low hanging fruit that the transformation program can deliver on immediately. Why: to get insight into, track, and discuss how a customer experiences a problem the organization trying to solve. Tools: Customer journey canvas.
Part 1 Month 9 Operating Model – What: Develop a Service Delivery Operating Model on a single-page to suitably represent the current or future state of a business, organization, or function. Develop an organizational impact assessment – to assess the degree of impact across 8 key and proven dimensions. Based on this assessment, the user can then define strategies and tactics to ensure the organizational change is implemented successfully with changes understood, prepared for and risks mitigated effectively. Goal: The target operating model (TOM) is intended to clearly describe the future state aspirational state and structure of the business, process or organization and to understand the impact of the business transformation on each and every affected business unit, function and team. Why: The target operating model (TOM) is intended to allow the organization to focus on the contents and engagement with stakeholders. Tools: Service Delivery Operating Model (TOM), Organizational impact assessment (IST-SOLL).
Part 1 Month 10 Transformation Strategy – What: Development of a transformation strategy, linked with mission, vision and values and translated down to actions and objectives at the various levels and components of the business. Goal: Establishing a clear thread from "mission" down to "personal actions" following the principles of Hoshin Kanri. The development of the transformation business strategy is conducted in a structured way. Why: To ensure that the strategic goals of the transformation program drive the progress and action at every level, thus eliminating the inefficiencies and misdirection that come from inconsistent strategies, goal misalignment and poor communication. Tools: Strategy pyramid, Stakeholder Disposition Map, Strategy Execution, Management Tooling.
Part 1 Month 11 Initiative Ideation – What: The purpose of this tool is to fill up an entire wall with the ideas generated by a team in a short amount of time. Goal: Generate a pipeline of transformation, improvement and innovation ideas and identify significant impact initiatives. Why: Harness the collective (untapped) knowledge of the organization and external parties to identify ideas and bring people into the conversation. Tools: Initiative opportunity wall (WIfI), Initiative matrix, Initiative ranking.
Part 1 Month 12 Transformation Roadmap – What: The transformation roadmap is a visual method for laying out the key initiatives that are required to be delivered as part of a business transformation program. The key initiatives are described in transformation initiative sheets. Goal: Gaining top-down agreement on the major buckets of work that need to be delivered and in what timeframe the business transformation is to deliver on its objectives. Why: To acquire awareness, support and investment in the overarching transformation plan. Tools: Transformation initiative charter, Benefits case, Transformation roadmap.
---
Strategic Transformation – Part 2- Year 2
Part 2 Month 1 Governance & Metrics – What: Develop a governance model that encapsulate the operating cadence of the transformation program and shows how management, controls, processes, functions, disciplines come together routinely to drive performance. Goal: Establish a clear and optimized governed operating rhythm aimed at driving objectives and supporting "strategy to execution" effectively and efficiently. Why: To drive operational excellence and assist leaders design a daily/weekly/monthly/quarterly/yearly operating rhythm that is simple but effective. Tools: Business Metrics Definition, Balanced Scorecard Transformation. Governance Tools: – Operating rhythm – Issue management – Status reporting.
Part 2 Month 2 Transformation Readiness – What: Assess the readiness of a business transformation to be delivered successfully on 6 dimensions: vision clarity & leadership; communications and commitment; transformation capability; project management; culture; stakeholders and progress. Goal: Establish a transformation program baseline that can be compared to subsequent assessments performed during the course of the program execution. Why: To understand how the organization and the program are positioned and when required to make adjustments prior to the commencement of the program and also for making course corrections during the life of the program. Tools: Transformation readiness checklist.
Part 2 Month 3 Transformation Preparedness – What: A questionnaire that can be utilized with staff, suppliers, partners and other stakeholders to understand their preparedness for major business transformation. Goal: The transformation readiness survey helps to formulate a broad view of the perspectives, attitudes and concerns of a wide variety of individuals who will be impacted by a business transformation initiative. Why: To ensure that impacted stakeholders are understood, engaged and have their concerns promptly addressed. The information gathered can be utilized to make any necessary program adjustments (e.g., communications). Tools: Transformation readiness survey.
Part 2 Month 4 Innovation Management – What: The process of generating, capturing, evaluating and prioritizing innovation ideas. Goal: Maximize the return on innovation ideas into business growth and success. Why: To discover new transformation options, new products, reduce costs, and enhance your development process significantly. Tools: Innovation campaigns, Initiative canvas, Experiment canvas, Initiative validation canvas.
Part 2 Month 5 Portfolio Management – What: Develop, execute and manage a balanced portfolio of improvement, renewal, and innovation projects that align to the overall transformation strategy and help resource-allocation and drive actions. Goal: Ensure that the organization selects, initiates, harvests and secures the right initiatives to achieve the transformation goals. Why: To establish and provide clear boundaries that enable comprehension where the organization needs to focused and where not, where to invest, what to eliminate, what to explore and what not. Tools: Project portfolio prioritization, Portfolio map, Resource management plan.
Part 2 Month 6 Project Management – What: Process ensure on time delivery, within budget, and project scope; it unites clients and teams, creates a vision for a successful project, and gets everyone on the same page of what's needed to stay on track for success. Goal: Align projects with the transformation strategy. Why: To ensure strategic alignment, leadership and direction, realistic project planning, quality control, risk management, oversight, orderly processes, improves learning capability. Tools: Resource management plan, Project status report, Project update report, Project issue register, Project risk register.
Part 2 Month 7 Benefit Management – What: process to understand, quantify, and measure the (potential) benefits delivered by the transformation program initiatives. Goal: Provide steering information about how much value/ benefit the transformation initiative delivers versus anticipated. Why: To clarify if the initiative accomplishes its objectives, communicate success, manage expectations, generate ownership. Tools: Benefits case, Transformation Benefits dashboard.
Part 2 Month 8 Evaluation & Recommendation – What: Structured reflection on programs and projects that can be helpful in promoting continuous improvement. Goal: Generate insights to conclude if the projects were able to meet business goals, what went well, and what can be improved. Why: Create environment of transparency and trust, boost team spirit, help organization to learn, develop and continuously improve. Tools: Transformation conclusion survey, Project evaluation, ABCD-tool Retrospective/ post-mortem
---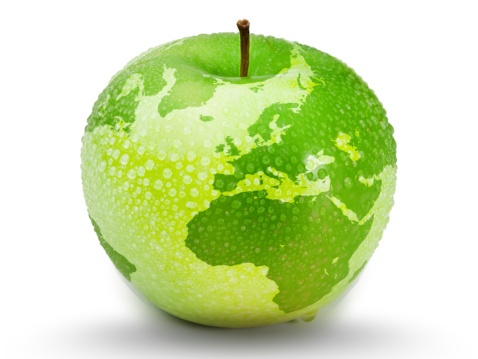 Methodology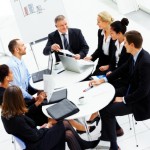 Strategic Transformation
The Diamond Methodology
The strategic transformation program's objective is to enhance or build the strategic planning and execution capabilities at a corporate or business unit level. The program will implement the Diamond Strategic Transformation process covering internal and external analysis, vision development, strategy formulation, strategic planning, and execution.
This program utilizes the "Diamond" methodology, which provides a framework for implementing different training programs for client organizations.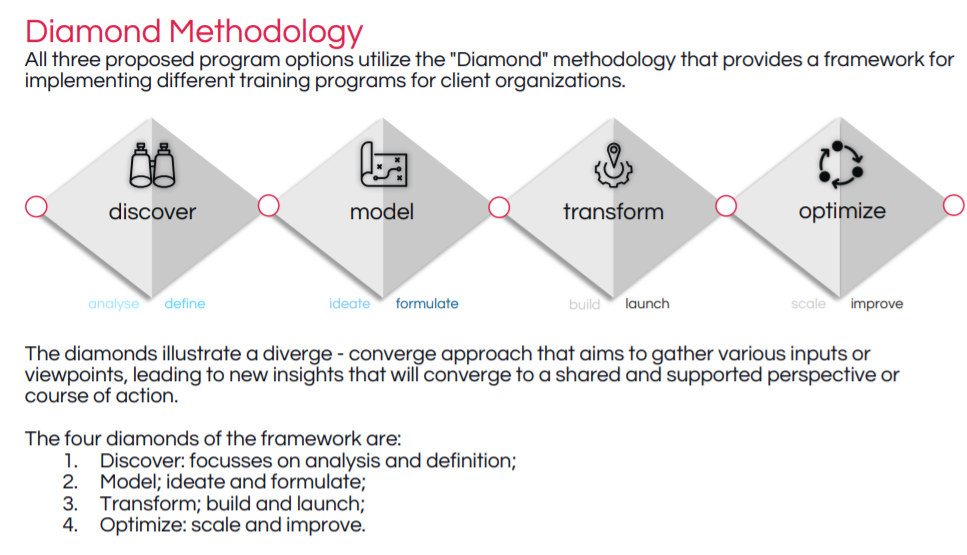 Each phase considers the physical, technological, legal, organizational, environmental, and financial aspects of the subject at hand.
The process is pragmatic but robust, utilizing industry-standard tools and techniques and best practices. The methodology supports traditional development approaches or agile ways of working.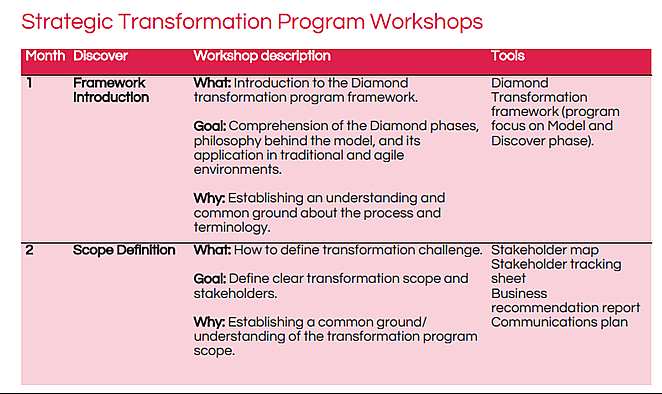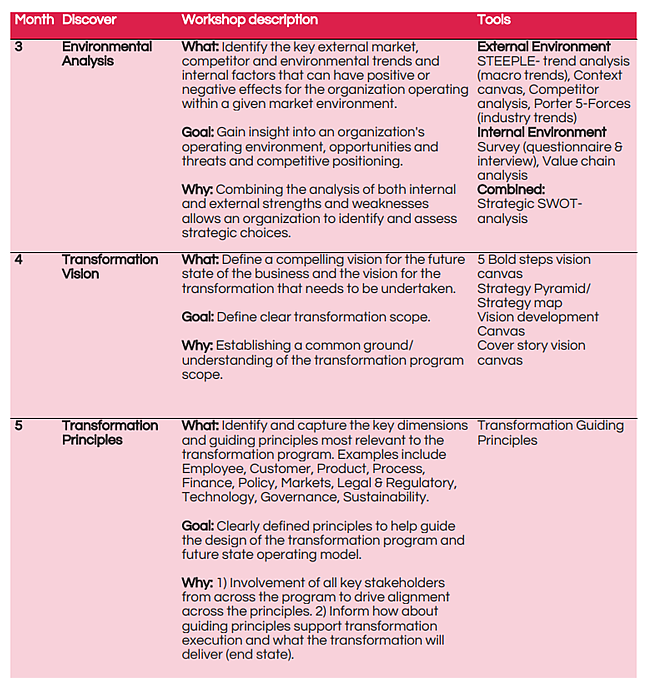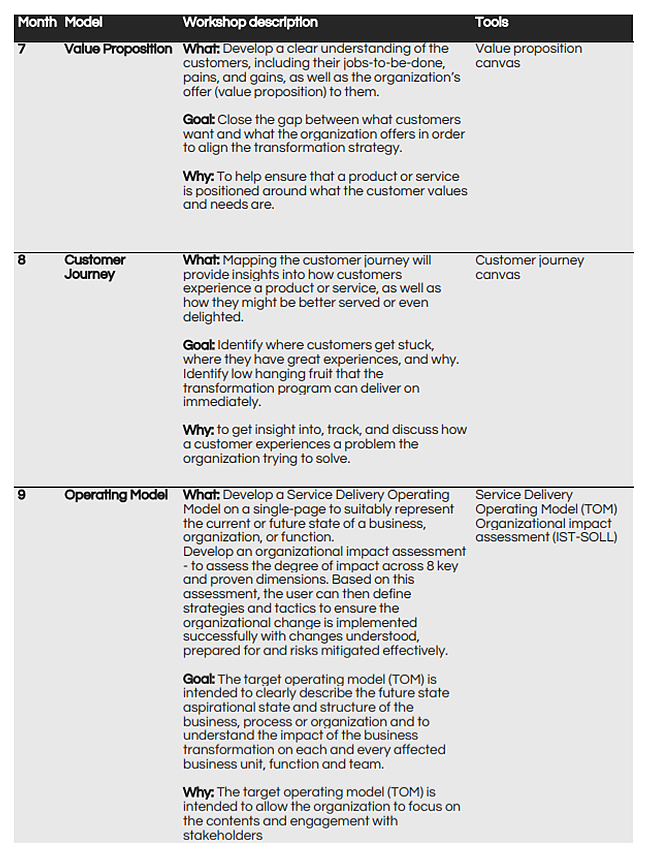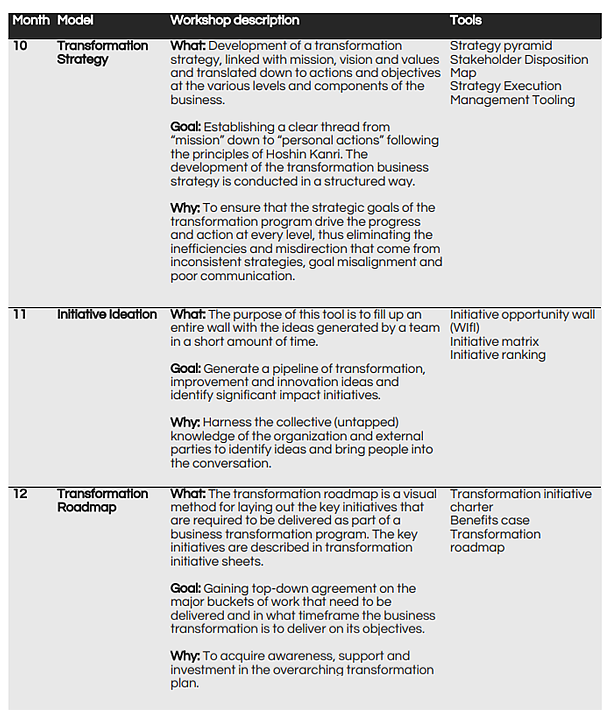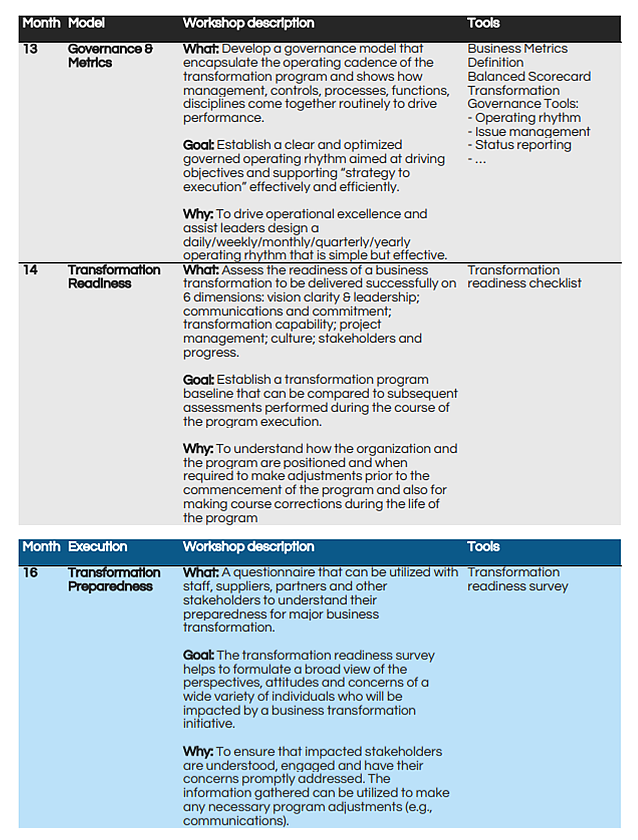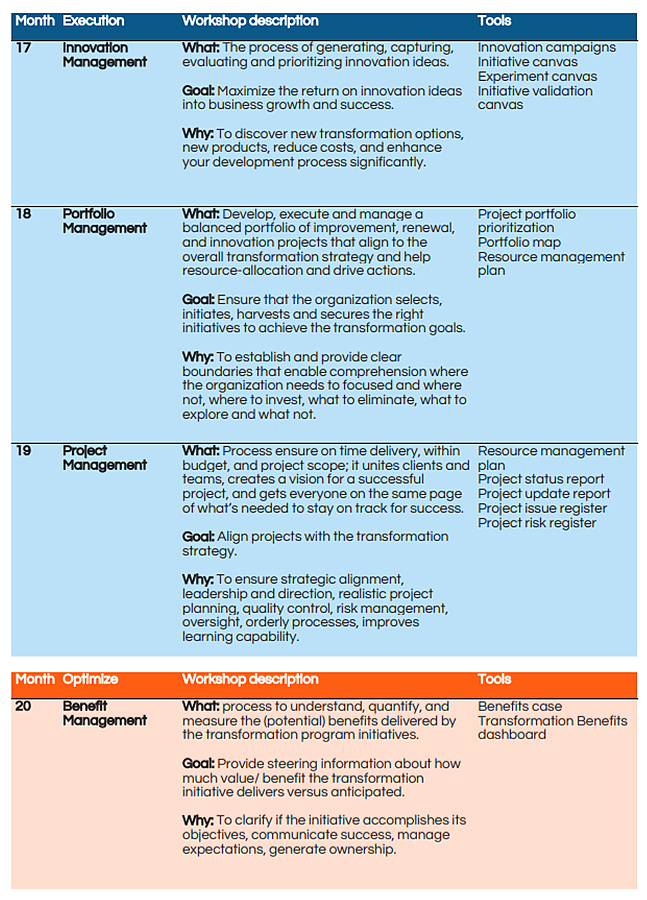 ---
Industries
This service is primarily available to the following industry sectors: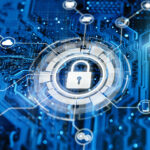 Cybersecurity
Cybersecurity is a critical part of managing risk in today's climate. Organizations across the globe are feeling the toll of cybercrime, and maintaining business continuity rests on their ability to protect their network and data. To do this successfully, it's important to understand the different types of cybersecurity and how they defend against cyber threats.
Cybersecurity: Protecting Your Cyber Resources
The U.S. Cybersecurity & Infrastructure Security Agency (CISA) defines cybersecurity as "the art of protecting networks, devices, and data from unauthorized access or criminal use and the practice of ensuring confidentiality, integrity, and availability of information." The definition from the National Institute of Standards and Technology (NIST) is even simpler: "the ability to protect or defend the use of cyberspace from cyberattacks."
With these two definitions in mind, let's take a closer look at some of the types of cybersecurity that you should consider.
Network security
Network security is a broad term that includes the activities and controls designed to protect the integrity of your networking infrastructure — defending the network and the data against threats, unauthorized access, intrusions, breaches, misuse, and so forth.
In broad terms, this type of cybersecurity ensures that your entire underlying network infrastructure, from devices and applications to end-users, is working securely. Since the network is an integral part of their IT ecosystem, this is an area where organizations focus a large part of their security efforts.
Endpoint security
Endpoint security could be considered a subset of network security. But endpoints deserve a separate look in today's hybrid, mobile workplace, where the network perimeter is no longer defined and employees are using both personal and corporate devices to access the network assets and resources from anywhere.
Trends such as workplace mobility, remote work, and bring your own device (BYOD) create additional risks and complexities for securing endpoints, as well as additional concerns about shadow IT.
Cloud security
Cloud security refers to the technology, policies, and processes you use to mitigate the security risks of cloud computing, whether you're using public, private, or hybrid clouds. This type of cybersecurity has several unique challenges, such as:
• Visibility: Your in-house IT or security team has less visibility into the data stored in the cloud because the services are accessed outside the network and are managed by a third-party provider.
• The multi-cloud: About three-quarters of organizations have multi-cloud environments, and this trend will likely continue to grow.
• Compliance: The reliance on an outside provider when you use the public cloud adds another layer to your regulatory compliance management process.
Application security
While application security is a major focus for developers, this type of cybersecurity goes beyond the development and design process. Even if you're only deploying off-the-shelf software and applications, you need to continuously ensure that they remain secure throughout their lifecycle.
Vulnerabilities are one of the biggest risks because cyberattacks use them to gain access into your environment. There are numerous examples of breaches that showed the potential devastation of exploits. For example, the estimated total damage from the WannaCry ransomware campaign—which exploited a weakness in the Microsoft Windows operating system—climbed into the billions of dollars.
Internet security
Internet-borne threats are behind the majority of data breaches. Hacking is the top type of action during the first stage of a breach and the second top action during the middle and end stages—and web applications are the top hacking vectors.
Although other types of cybersecurity, including network and cloud, help defend against internet threats, the prevalence and magnitude of these threats warrant placing internet security into its own category. And while internet security is often viewed as securing the data in transit over the internet, it encompasses much more than that.
Moving toward identity security
As you explore the types of cybersecurity that your organization needs, one area to consider is identity security. Digital transformation and the digitalization of your data mean your operations revolve around access to digital information, and identity security brings tremendous advantages by protecting against threats that target digital identities.
Also known as identity governance or identity management, identity security goes beyond access management to grant, manage, and secure access based on least privilege principles. This ensures that your employees and other users can only access the data and resources they need for typical activities—preventing sensitive data from falling into the wrong hands.
---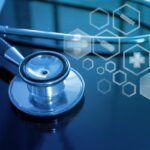 Healthcare
The healthcare sector consists of businesses that provide medical services, manufacture medical equipment or drugs, provide medical insurance, or otherwise facilitate the provision of healthcare to patients.
• The healthcare sector consists of all businesses involved in the provision and coordination of medical and related goods and services.
• This sector enjoys some significant advantages in the U.S. but is also beset with a several factors that present potential economic problems.
• The U.S. healthcare sector accounts for an outsized share of spending relative to health outcomes, which has led to uncertainties around politically driven reform of the industry.
Understanding the Healthcare Sector
The healthcare sector is one of the largest and most complex in the U.S. economy, accounting for 18% of gross domestic product (GDP) in 2020. The U.S. healthcare sector benefits from a strong system of medical research and development, in cooperation with the higher education system and the technology industry. The aging U.S. population and the advancing senescence of the Baby Boomer generation are driving ongoing strong demand in the healthcare sector.
Industries Within the Healthcare Sector
The healthcare sector contains a diverse array of industries, with activities ranging from research to manufacturing to facilities management.
Drugs
Drug manufacturers can further be broken down into biotechnology firms, major pharmaceutical firms, and makers of generic drugs. The biotech industry consists of companies that engage in research and development to create new drugs, devices, and treatment methods.
Many of these companies are small and lack dependable sources of revenue. Their market value may depend entirely on the expectation that a drug or treatment will gain regulatory approval, and FDA decisions or rulings in patent cases can lead to sharp, double-digit swings in share prices. Examples of (larger) biotech firms include Novo Nordisk (NVO), Regeneron ( REGN), Alexion ( ALXN), Vertex ( VRTX), Gilead Sciences Inc. (GILD), and Celgene Corp. (CELG).
Major pharmaceutical firms also engage in research and development but tend to focus more on manufacturing and marketing an existing portfolio of drugs than the typical biotech firm. These companies tend to have more dependable streams of revenue and a more diversified "pipeline" of drugs in the research and development stages, making them less dependent on make-or-break drug trials and their shares less volatile. Examples of major pharmaceutical firms include Johnson and Johnson, Roche, Pfizer, Eli Lilly, Novartis AG. GlaxoSmithKline, and Astrazeneca.
Some pharmaceutical firms specialize in generic drugs, which are identical to name-brand drugs but no longer enjoy patent protection. As a result, there is often competition to manufacture identical drugs, leading to lower prices and thinner profit margins. An example of a generic drugs firm is Teva Pharmaceutical Industries Ltd.
Medical Equipment
Medical equipment makers range from firms that manufacture standard, familiar products—scalpels, forceps,