Strategic Transformation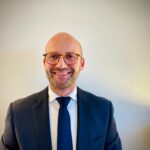 The Appleton Greene Corporate Training Program (CTP) for Strategic Transformation is provided by Mr. Remme Certified Learning Provider (CLP). Program Specifications: Monthly cost USD$2,500.00; Monthly Workshops 6 hours; Monthly Support 4 hours; Program Duration 20 months; Program orders subject to ongoing availability.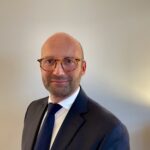 Personal Profile
TO BE ADVISED
To request further information about Mr. Remme through Appleton Greene, please Click Here.
---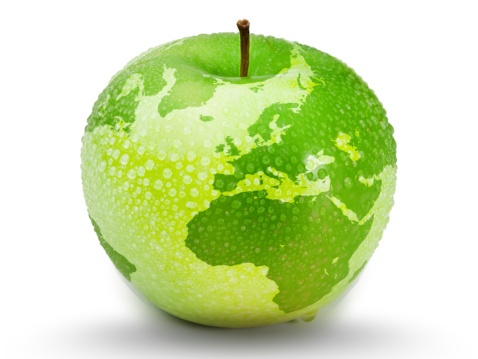 (CLP) Programs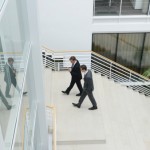 Appleton Greene corporate training programs are all process-driven. They are used as vehicles to implement tangible business processes within clients' organizations, together with training, support and facilitation during the use of these processes. Corporate training programs are therefore implemented over a sustainable period of time, that is to say, between 1 year (incorporating 12 monthly workshops), and 4 years (incorporating 48 monthly workshops). Your program information guide will specify how long each program takes to complete. Each monthly workshop takes 6 hours to implement and can be undertaken either on the client's premises, an Appleton Greene serviced office, or online via the internet. This enables clients to implement each part of their business process, before moving onto the next stage of the program and enables employees to plan their study time around their current work commitments. The result is far greater program benefit, over a more sustainable period of time and a significantly improved return on investment.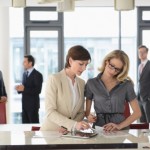 Appleton Greene uses standard and bespoke corporate training programs as vessels to transfer business process improvement knowledge into the heart of our clients' organizations. Each individual program focuses upon the implementation of a specific business process, which enables clients to easily quantify their return on investment. There are hundreds of established Appleton Greene corporate training products now available to clients within customer services, e-business, finance, globalization, human resources, information technology, legal, management, marketing and production. It does not matter whether a client's employees are located within one office, or an unlimited number of international offices, we can still bring them together to learn and implement specific business processes collectively. Our approach to global localization enables us to provide clients with a truly international service with that all important personal touch. Appleton Greene corporate training programs can be provided virtually or locally and they are all unique in that they individually focus upon a specific business function. All (CLP) programs are implemented over a sustainable period of time, usually between 1-4 years, incorporating 12-48 monthly workshops and professional support is consistently provided during this time by qualified learning providers and where appropriate, by Accredited Consultants.
---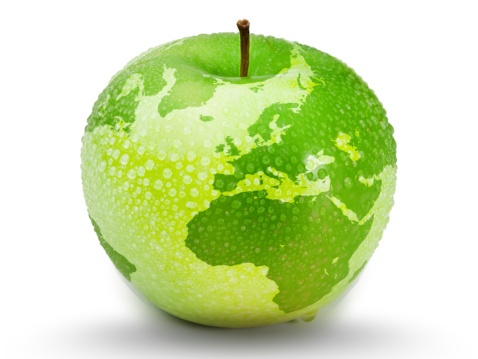 Executive summary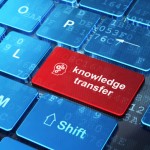 Strategic Transformation
Because it includes changing a company's essential essence, strategic transformation is transformation with a capital "T." From liquid to gas, from lead to gold, from computers to consumer electronics, from advertising to self-driving cars, from retail to cloud computing, from pharmacy retailing to chronic illness treatment, and so on. Strategic transformation, when done well, revitalises a company's growth engine. When a corporation fails to execute, critics pounce and protest that it should have "stuck to its knitting."
A business's main goals and objectives are referred to as strategy. Decisions about strategy have an impact on a company's line of business, who it serves and how it serves them, as well as how it runs internally. Although it is difficult to forecast exactly what will happen when a company changes its strategy, there are a number of frequent good and bad consequences that occur when a company undergoes a strategic transition.
Significance
All administrative choices, from the front line to the boardroom, are guided by organizational strategy. Strategic plans serve as a road map for companies to realise their owners' and top-level executives' great visions in realistic ways. Changing an organization's strategy can have a significant impact on how it functions, affecting everything from organizational structure to employee daily routines.
Changing your strategy might have a lot of advantages. A company's ability to react to changes in the legal environment or the marketplace can be aided by new strategic directions. New strategies can assist a company in becoming more productive or cost-effective, or in entering a new, more profitable industry or market niche. Changes in strategy might also assist a company that has been stagnating, recapture its previous growth rates.
---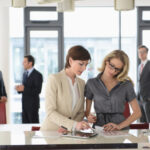 The Diamond Methodology
The strategic transformation program's objective is to enhance or build the strategic planning and execution capabilities at a corporate or business unit level. The program will implement the Diamond Strategic Transformation process covering internal and external analysis, vision development, strategy formulation, strategic planning, and execution.
This program utilizes the "Diamond" methodology, which provides a framework for implementing different training programs for client organizations.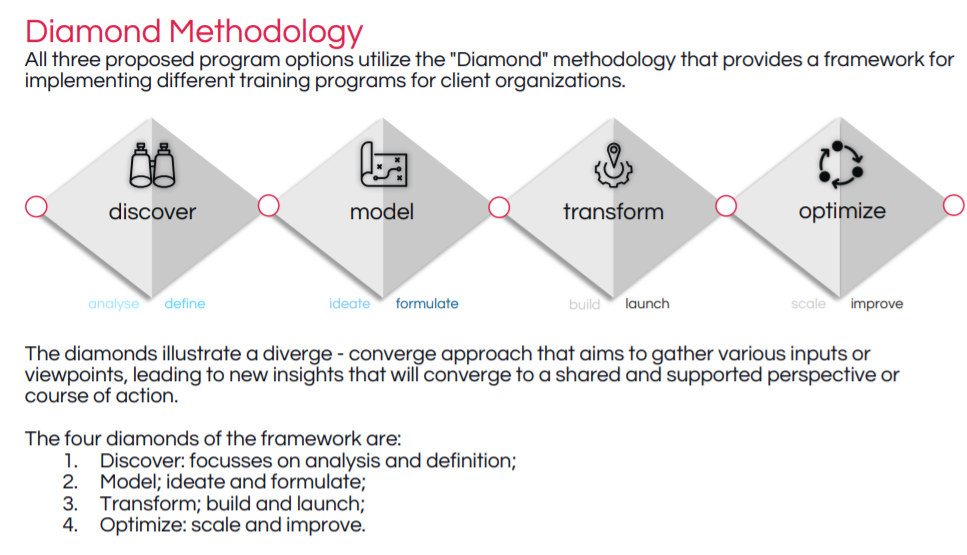 Each phase considers the physical, technological, legal, organizational, environmental, and financial aspects of the subject at hand.
The process is pragmatic but robust, utilizing industry-standard tools and techniques and best practices. The methodology supports traditional development approaches or agile ways of working.
Strategic Transformation is inevitable for businesses that want to thrive and stand the test of time. Companies today have to go through several disruptions and market turbulence quite frequently. In this fast-changing environment, sustainability can only be achieved by adapting and evolving with the consumer, market, and industry demands.
This program aims to help companies, particularly from the Telecommunications, Information Technology, (Managed) Service Providers, Cyber Security and Healthcare industries, to understand what Strategic Transformation is and how it can be achieved through continuous improvement and by challenging the status quo.
Several variables can influence a company's decision to alter or transform. Market competitiveness is constantly evolving and expanding. When customers have more options, their expectations tend to rise. They're always on the lookout for a product or service that offers a bit more value than the competition. Technology is also a major motivating force. Newer, technology-driven enterprises that comprehend the current technology landscape and make the most of it have challenged the legacies of many major, established organizations. Products and services evolve in tandem with technological advancements. Customers want the same high-quality services and tailored experiences that tech-driven businesses provide.
Organizations that may have been established years ago with traditional processes and cultures that were once relevant but not any more often find it hard to cope with the changing demands. To remain in the competition, they must evolve with the changing landscape. That is where Strategic Transformation comes in. Strategic Transformation involves setting new goals for the organization and changing the way the business functions, in order to achieve those goals. It requires identifying processes that are not 100 percent efficient and making radical changes to these processes that gradually transform the way the organization operates. This training program on Strategic Transformation will focus on 20 workshops:
Discover
1. Framework Introduction
2. Scope Definition
3. Environmental Analysis
4. Transformation Vision
5. Transformation Principles
Model
6. Business Model
7. Value Proposition
8. Customer Journey
9. Operating Model
10. Transformation Strategy
11. Initiative Ideation
12. Transformation Roadmap
13. Governance & Metrics
14. Transformation Readiness
Execution
15. Transformation Preparedness
16. Innovation Management
17. Portfolio Management
18. Project Management
Optimize
19. Benefit Management
20. Evaluation & Recommendation
---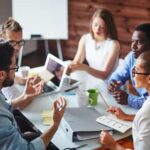 Strategy Factors
Strategic planning got inextricably tied to the concept of time somewhere along the road. If tactical plans are short-term, strategic plans must be long-term, the argument went. Annually, strategic plans were supposed to be modified — or even fully rewritten. The most important aspects were to create three- to five-year goals and then move the organization ahead to attain them. These annual rituals gradually degraded into budget predictions and bonus bludgeons that had nothing to do with why customers bought from the company in the first place.
Organizations devote tremendous time, money and management firepower into designing a strategy. There should be clarity in two areas as a result of this strategy: The first is to bring the business's "table stakes" — conventional customer and staff expectations — up to median. The majority of what most firms accomplish on most days is just meet the basic expectations of consumers or employees. Any customer considering purchasing from your firm does so because of the blocking and tackling.
The attempt to continuously deliver on multiple true competitive advantages is the second factor. These are the characteristics that not only distinguish your company from its competitors, but also that it can cling onto long enough to generate genuine profits. These competitive advantages are what drive clients to choose you over your competitors and buy from you – ideally at a higher price, but even simply getting them to come to you is a victory.
Implementing a strategy entails pushing these two parts as far and as long as possible. You will reap the benefits of a solid strategy the more consistent you are with your employees and customers.
Strategy, however, does not remain static and must adapt. When should you consider changing your plan, is the true question. Four variables typically cause the need to re-evaluate your strategy:
1. Competitors. Customers may fail to notice your advantage if one or more of your competitors has closed the gap on one of your actual competitive advantages. This is, in fact, the whole nature of business. Competitors are always seeking for methods to acquire an advantage, and one way to do so is to take another's competitive advantage away. A company may have been the industry leader in a specific field, and the leadership just does not comprehend why customers will not continue to reward them for their early leadership after competitors catch up. When a new competitor enters the market in a disruptive manner, another competitor can induce a re-evaluation of strategy.
2. Regulators. One of your competitive advantages could be harmed by a dramatic change in the regulatory environment. Regulatory changes frequently have a broad impact on an entire industry. They have the ability to level the playing field so that clients are no longer enticed by your advantages.
3. Technology. The pricing, development, and/or delivery of your product, service, or offering may be impacted by a substantial technological change. Consumer behaviour may alter as a result of technological advances beyond the traditional sector.
4. Socio-environmental. Significant shifts in society's direction, such as activism, can have a significant impact on a company's strategy. Nationalist movements that make previously accepted norms obsolete; eco-activism that affects how things are made or crops are cultivated; and the #MeToo movement, which exposed businesses' secret practises and forced significant changes in their corporate operations.
A solid strategy method is to regularly analyze these four areas of the environment, looking for changes that could effect the organization's strategy. This entails creating trigger metrics to show when those changes may have an influence on your company's strategy. Additionally, it's crucial to assess the organization's current competitive advantages and determine if they're still genuine. If that's the case, keep everyone's attention on executing the strategy consistently. However, if these external changes appear to have an impact on the organization's competitive advantages, it's time to re-evaluate and possibly re-craft the organization's strategy.
As a general rule, strategy should be implemented for as long as possible.
---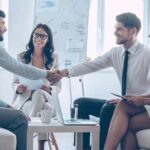 Strategic Transformation in the past and where we are today
Whether you're just starting out as an entrepreneur or have been in business for decades, there's a good chance you've seen a lot of things shift.
The economy has undergone countless changes, each one appearing to be more dramatic than the previous. Offices are no longer recognisable from even a few years ago, thanks to new technology. Because of a new Millennial workforce with different goals than their predecessors, even what motivates employees has changed.
With all of this in mind, it's no surprise that company strategy has had to evolve as well. Businesses are more aware than ever before that attracting and maintaining the best people is critical to their success.
The Age of Industrial Entrepreneurs (Late 1800s). The entrepreneurial spirit grew in the United States, contributing significantly to the advancement of the American corporate system and raising the standard of living. It resulted in an increase in the demand for produced items.
The Production Era (Through the 1920s). The focus was on creating more things in a shorter amount of time, which led to production innovations such as assembly lines. Internal processes received more attention than external impacts in the business world.
The Marketing Era (Since 1950s). Businesses could no longer expect to sell all of their goods due to the Great Depression. They needed to pay more attention to their goods and service markets. The consumer orientation, which is a business philosophy that focuses on identifying unmet consumer wants and requirements before producing products to meet those needs, was created. They wanted to learn about and meet the needs and preferences of various client groups.
The Relationship Era (began in the 1990s). Transaction management refers to businesses that focus on developing and promoting items in the hopes that enough customers would buy them to cover costs and achieve acceptable profits. They discovered value in long-term relationships with consumers, employees, suppliers, and other businesses.
The Social Era (Since 2000s). This epoch can be defined as a shift in how organizations and individuals interact, connect, communicate, share, and exchange information through virtual communities and networks all over the world. Through the internet and social media, it was a new avenue for businesses and customers to communicate and exchange information. Emphasis on relationship management, which is the collection of activities that help customers and other partners form and sustain long-term, mutually beneficial relationships.
There's no doubting that we live in a more digital environment, and businesses have had to adapt their tactics quickly to keep up. It's no longer enough to consider how you present your products and services to potential clients; turning digital has ramifications that include:
• Marketing efforts – most people now view websites on their phone, so having a mobile-friendly site is a must.
• How you communicate with clients and how they communicate with you! Think of all the customer service now taking place on social media, especially Twitter.
• Your internal processes and admin – there are now so many apps that can help you will all aspects of running your business.
In keeping with the concept of 'change,' today's organizations must guarantee that their strategy is adaptable and that they are able to capitalize on new opportunities. This is a hard one because you'll undoubtedly have a very clear vision of where you want your company to go, and deviating from that can put you in danger of losing your footing.
Adaptability and willingness to shift direction can pay off in the long run – just ask Nintendo, The Gap, and PayPal, all of whom began with completely different strategies from the ones that helped them build a name for themselves.
The new competition is collaboration. Networking has never been easier thanks to technological advancements, and this opens up more options to collaborate directly with firms in your sector and those that complement it.
---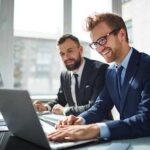 Future Outlook
The role of leadership in fostering conviction and dedication to a long-term strategic transformation is crucial.
Leaders face numerous hurdles during strategic transformations, which typically last two to three years. For starters, a company may develop a lot of ideas, but there may be no consensus on which ones would move the needle on value creation and which ones should be pursued.
Biases are the second issue. Many management teams have a legacy bias when it comes to how they've done things in the past. They may have distributed resources in a particular way in the past and wish to do so again.
The funding of projects is the third aspect of strategic transformation that is extremely difficult. In a performance transformation, the dollars often impact the bottom line rapidly, resulting in a self-funding model. Some of the activities in a strategic transformation may demand a large amount of time or money.
Introducing new products, expanding into new geographies, altering business models, or investing in digital capabilities are all strategic actions that often involve an upfront investment before a company enjoys a financial return. These changes will be made feasible thanks to a finance mechanism embedded into the strategic transformation road map. That's why strategic transformations are frequently combined with performance transformations, resulting in a self-funding transformation.
Leadership skills for a strategic transformation
Leadership is crucial in fostering long-term strategic transformation conviction and commitment. They must gain agreement from the management team on major decisions, which isn't always easy. A corporation in the midst of a change is usually at a fork in the road or doesn't believe it is reaching its full potential. Its executives perceive market upheavals that they need to anticipate. And they're generally bombarded with suggestions for how to proceed.
Leaders can achieve alignment by comparing all potential moves to the generation of value. This gives management a way to prioritize which changes are most likely t