Sales Enablement
Insert (CLP) Photograph on Web Page (Align Right)
The Appleton Greene Corporate Training Program (CTP) for Sales Enablement is provided by Mr. Oluwole Certified Learning Provider (CLP). Program Specifications: Monthly cost USD$2,500.00; Monthly Workshops 6 hours; Monthly Support 4 hours; Program Duration 15 months; Program orders subject to ongoing availability.
Insert (CLP) Photograph on Web Page (Align Right)
Personal Profile
To request further information about Mr. Oluwole through Appleton Greene, please Click Here.
---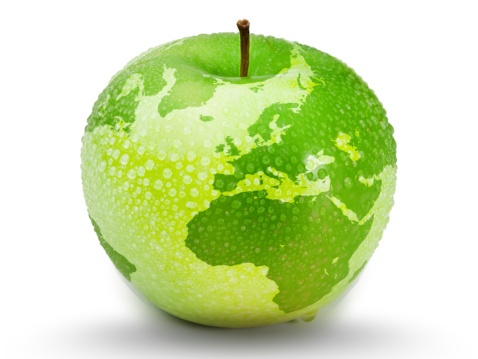 (CLP) Programs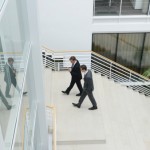 Appleton Greene corporate training programs are all process-driven. They are used as vehicles to implement tangible business processes within clients' organizations, together with training, support and facilitation during the use of these processes. Corporate training programs are therefore implemented over a sustainable period of time, that is to say, between 1 year (incorporating 12 monthly workshops), and 4 years (incorporating 48 monthly workshops). Your program information guide will specify how long each program takes to complete. Each monthly workshop takes 6 hours to implement and can be undertaken either on the client's premises, an Appleton Greene serviced office, or online via the internet. This enables clients to implement each part of their business process, before moving onto the next stage of the program and enables employees to plan their study time around their current work commitments. The result is far greater program benefit, over a more sustainable period of time and a significantly improved return on investment.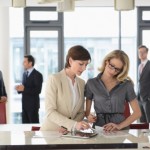 Appleton Greene uses standard and bespoke corporate training programs as vessels to transfer business process improvement knowledge into the heart of our clients' organizations. Each individual program focuses upon the implementation of a specific business process, which enables clients to easily quantify their return on investment. There are hundreds of established Appleton Greene corporate training products now available to clients within customer services, e-business, finance, globalization, human resources, information technology, legal, management, marketing and production. It does not matter whether a client's employees are located within one office, or an unlimited number of international offices, we can still bring them together to learn and implement specific business processes collectively. Our approach to global localization enables us to provide clients with a truly international service with that all important personal touch. Appleton Greene corporate training programs can be provided virtually or locally and they are all unique in that they individually focus upon a specific business function. All (CLP) programs are implemented over a sustainable period of time, usually between 1-4 years, incorporating 12-48 monthly workshops and professional support is consistently provided during this time by qualified learning providers and where appropriate, by Accredited Consultants.
---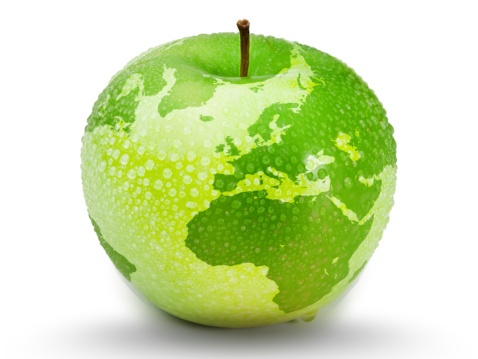 Executive summary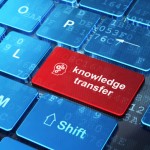 Sales Enablement
As a simple definition, sales enablement is anything you can do to help your salespeople close more deals, faster. Although this definition is simplistic, the phrase 'anything you can do' is not so simple to implement.
To better understand what 'anything' in the sentence above means, consider these more detailed definitions:
Forrester, one of the most globally influential research and advisory firms that uses customer centric insights to help business leaders accelerate growth, defines Sales Enablement as:
"A strategic, ongoing process that equips all client-facing employees with the ability to consistently and systematically have a valuable conversation with the right set of customer stakeholders at each stage of the customer's problem-solving life cycle to optimize the return on investment of the selling system."
Gartner, another globally recognized research and consulting firm focused on providing unbiased, rigorously vetted and vendor-agnostic guidance to help business leaders make mission-critical decisions, defines Sales Enablement as:
"The activities, systems, processes, and information that support and promote knowledge-based sales interactions with client and prospects."
No doubt, sales enablement is fast becoming a mission critical ingredient for the sales function of top performing organizations. Unfortunately, many organizations are not fully clear on what sales enablement means in their context and how they can go about building a fit-for-purpose sales enablement function – we have designed this Sales Enablement Program to help you with these challenges.
This Sales Enablement program has been created to help move your organization's sales enablement function to the next level, irrespective of the level you may be currently. Designed in modular workshops, this program is intended to firstly understand where you are on your sales enablement evolution journey, then using leading practices and concepts, this program will accelerate your sales enablement function so you can start realizing faster and higher returns on investments in your sales function.
The illustration below shows how sales enablement directly impacts how you meet your sales objectives. The more evolved your sales enablement function is, the higher your chances of meeting and exceeding objectives.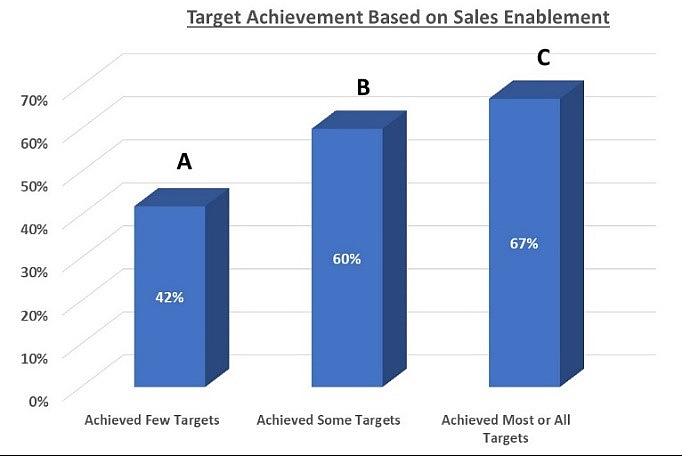 Organizations in Column A have their Sales Enablement function suited for yesterday's world.
Organizations in Column A have their Sales Enablement function suited for yesterday's world.
Organizations in Column B, have their sales enablement function designed to meet the demands of today's world.
Column C refers to organizations with a sales enablement function equipped and ready to excel even with the future of work (tomorrow's world)
The illustration below describes these 3 levels of evolution of a sales enablement function. A review of this provides you with some initial estimation as to the current level of your sales enablement function.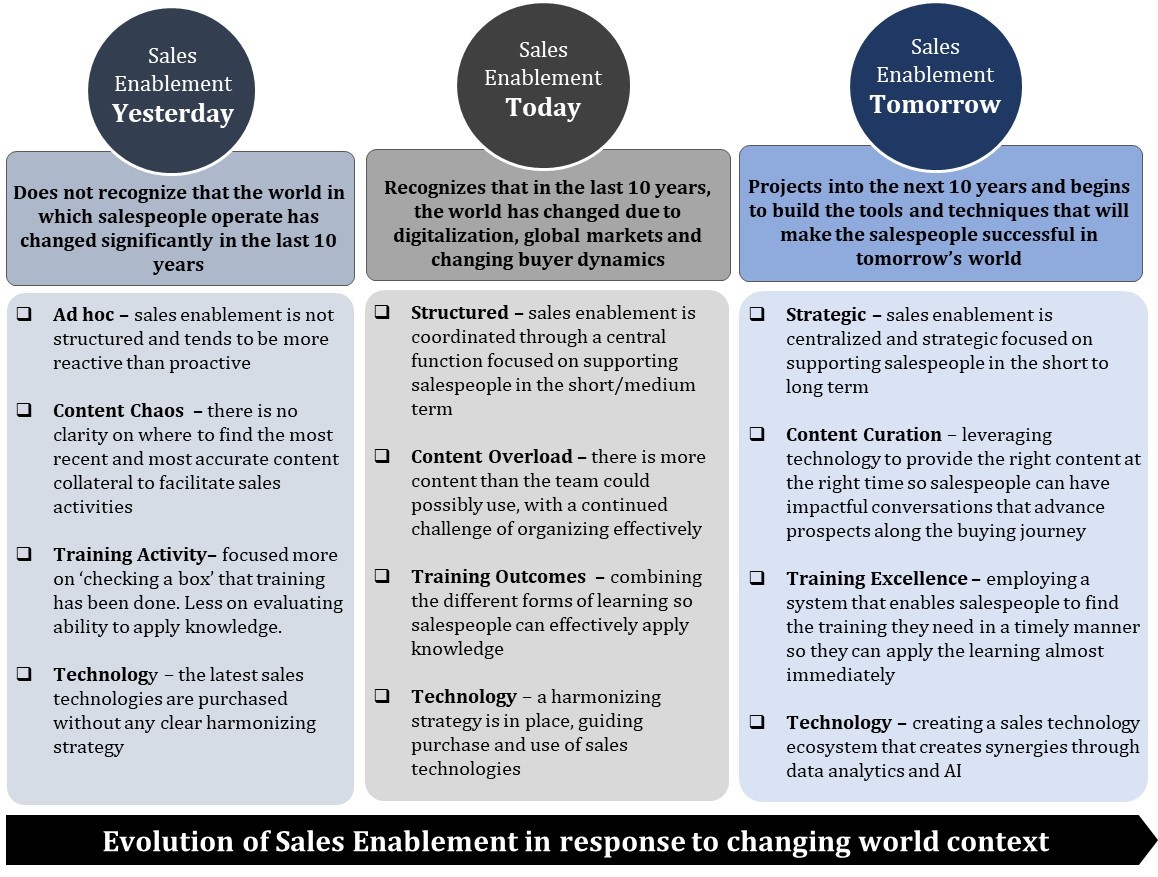 No matter where your sales enablement function might be at the moment, this Sales Enablement Program is designed to get your sales enablement to align with what is required in today's world, but more importantly to get you ready for the future. Find below more details on the 3 evolution stages and how this program gets you there.
---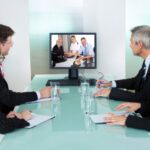 Sales Enablement for Yesterday's World
Compared to about 10 years ago, the world in which your salespeople operate today has undergone a lot of change Unfortunately the support that salespeople receive in form of sales enablement has not changed accordingly.
Below are some of the major drivers in which the context of your salespeople has significantly changed:
• Digitalization: coming out of the pandemic, everyone and everything has become more digital, traditional sales processes like cold calling are not as effective as before.
• Global Markets: The pandemic also opened organizations to global markets which is a great opportunity but also a great challenge as many companies have salespeople in various geographic locations as such, providing centralized sales enablement support has become more challenging.
• Changing Buyer Dynamics: – more people are getting involved in the buying process of companies especially for big-ticket B2B deals. Buyers are now more informed due to the internet and now require the salesperson to be more than just a source of information.
• Changing Buying Processes: – these are becoming more formalized because of specialization resulting in longer buying cycles. The buying criteria also keeps growing. In the past selection criteria was mainly down to ability to deliver and cost to deliver. Now, all other factors such as the company's position on the environment, diversity, equity, inclusion, etc.
With these drivers of change affecting the world of salespeople, it is unfortunate to see that the Sales Enablement Function for many organizations has not evolved in response to these changes. For many of such organizations, support to their salespeople is still being provided on ad hoc basis without any centralized, coordinated process. This ad hoc sales enablement is characterized by flooding the salespeople with a lot of content and training, responding to enablement needs with more content and/or more training or allows sales leaders to buy and deploy the latest fad in sales technology without a harmonizing strategy.
This Sales Enablement Program is designed to help you arrive at that harmonizing strategy so that you are focusing on the sales enablement initiatives that matter the most to your salespeople.
---
Case Study – Changing Your Sales Enablement Approach in Response to a Changing World
Bayer, a global enterprise in life sciences, healthcare, and nutrition space, historically had its medical sales reps relying on face-to-face interactions with their customers (pharmacy owners) to meet sales targets. Unfortunately, when Covid-19 happened and physical interactions restricted, the team struggled to close sales.
The sales enablement function quickly revised their approach and set up an end-to-end email sales program. They obtained contact details and consent of the pharmacy owners, developed approved email formats that the reps could personalize for their customers. This was then linked with a sales enablement tool that enabled tracking customer engagement with email content (opens, clicks, conversions, content access) to inform continuous improvement of the new approach.
This approach helped the sales reps stay in touch with and effectively engage with 91% of their targeted customers and this helped them achieve their quota during a challenging period for many businesses.
Source: Bigtincan
---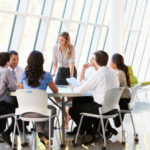 Sales Enablement in Today's World
Sales Enablement has become a very trending topic today. If sales leader were to do a Google search right now with the term 'sales enablement, they will be inundated by the so many options of sales enablement software vendors and firms offering their own version of what they think organizations need. The challenge in today's world is there is 'too much information'. Resulting in organizations not being able to effectively identify what works best for them and their organization.
To help you with this challenge, we created this Sales Enablement program. Through this Program, we want to help you avoid the mistake investing in the latest or loudest sales enablement solution which has not been well customized to the unique need of your organization in line with your objectives. When you get into this Sales Enablement Program, we come alongside you to collaboratively understand what your organization needs. In that collaboration, we will bring the leading sales enablement concepts and practices in the industry/market, while you (and your sales leaders) will bring your deep understanding of your business and together we will uncover ground-breaking insights!
These insights will equip us with the understanding we need to help you develop some strategic enablement documents which become the building blocks for your enablement function. Such as your Sales Enablement Strategy & Operating Model and your Sales Enablement Charter, which are tailored to help you meet your specific sales objectives.
The next few months will see us implementing these strategic documents along our 8 Enablement Disciplines – Customer Journey, Value Messaging, Content Management, Training Management, Sales Enablement Technologies, Meetings Framework, Process Improvement & Leadership Development.
These will help you get your Sales Enablement up-to-speed with the latest and greatest in the Sales Enablement in today's world, but that is not where we stop! We need to help you build for the future as well.
---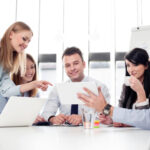 Sales Enablement in Tomorrow's World
The explosion of Data Analytics, Machine Learning and Artificial intelligence is radically influencing the sales enablement landscape.
Data Analytics is providing more useful insights on the value of content assets and training materials. Helping sales enablement professionals know what about the content is driving the impact such as length of content, mode of delivery, messaging etc. There are tools doing this today and their product roadmaps show they will continue to develop the functionality of their tools in this area.
Machine Learning and Artificial Intelligence is beginning to shape the identification of sales enablement needs. For most organizations today, sales enablement functions obtain feedback on enablement needs from their sales team through surveys, polls, and interviews but in the future, AI will be able to suggest what the team needs enablement on. The are sales recording tools that are already providing sellers with suggested responses to questions from the prospects right there on the call. While other tools are able to analyze sales calls and produce useful insights such as talk to listen ratio, use of open-ended questions, key words repeated by customer etc.
For you and your organization to be at the forefront of the leading sales enablement practices, a solid sales enablement foundation is a non-negotiable requirement. We will be working with you to achieve this during the first few months of this Sales Enablement Program. After laying that foundation, we will work with you to define the Performance & Reporting Frameworks for your sales enablement function. These frameworks will help us align on the success criteria/metrics most relevant for your organization's maturity level and strategic objectives. These reports then become the basis for leveraging leading sales enablement technologies aligned to your sales objectives. This process of monitoring and reporting also becomes the driver for continuous improvement.
---
Case Study – Driving Sales Enablement Through Reliable Data Analytics
Abbott, a biotechnology company producing a portfolio of feature products which provide options for treating structural heart disease (SHD), was having challenges evaluating how well their sales team was evaluating the value of their products. Historically, they had relied on the product and clinical training team to equip the sales team, but they had no data or metrics to see how much of this was resonating with the prospects/customers.
To help with this, the sales enablement function rolled out a sales enablement tool that allowed the sales team provide feedback on how the sales content is helping them sell. The feedback was mostly around product messaging, objection handling, and clinical data product positioning. This feedback helped the sales leadership identify coaching opportunities which could also be delivered through video calling in the sales enablement tool.
This way Abbott, was able to receive feedback data on their sales enablement initiatives and use that to refine their future initiatives while being able to demonstrate how the initiatives were helping the sales team sell better. A good example of Sales Enablement built for the future.
Source: Bigtincan
---
What does this mean for you and your organization?
Looking at the illustration again, where would you say your organization's sales enablement function is at the moment?

If you are responsible for sales, revenue, business development for your organization and you are wondering, how you can you help your sales team continue to meet and exceed targets in this ever-changing world, this tailored Sales Enablement Program is your answer.
It is not just about having more salespeople; it is more about ensuring the salespeople are well enabled and equipped to meet their sales quota.
It is not just about having more sales and marketing content; it is more about enabling the team to know how to access and use the most relevant content at a given time to advance their customer along the customer's buying journey.
It is not just about providing more training; it is more about leveraging technology to provide people with access to the specific learning material they need as close as possible to the time when they will use it.
It is not just about buying more tech assets for your sales team, it is more about enhancing the adoption and ensuring seamless integration across, so you are receiving full return on your investments, while leveraging the analytics and AI functionalities to drive continuous improvement.
When you enrol 10 of your leaders/managers who work in a sales related function into this program, they will be equipped with all this content from this Sales Enablement Program. They can then bring all this back into your organization to instil a dynamic sales enablement procedure and culture built for today and the future. This is why you need this Sales Enablement Program.
---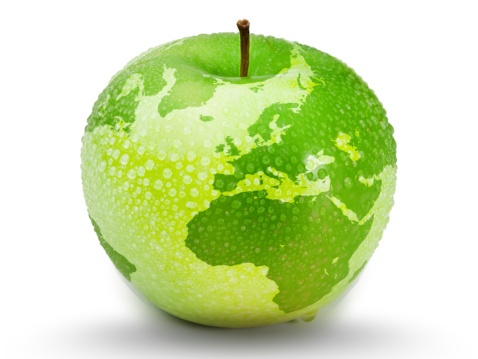 Curriculum
Sales Enablement – Part 1 – Year 1
Part 1 Month 1 Enablement Diagnostic
Part 1 Month 2 Enablement Strategy
Part 1 Month 3 Enablement Model
Part 1 Month 4 Enablement Charter
Part 1 Month 5 Customer Journey
Part 1 Month 6 Value Messaging
Part 1 Month 7 Content Management
Part 1 Month 8 Training Management
Part 1 Month 9 Enablement Technologies
Part 1 Month 10 Meetings Framework
Part 1 Month 11 Process Enablement
Part 1 Month 12 Leadership Development
---
Sales Enablement – Part 2 – Year 2
Part 2 Month 1 Performance Framework
Part 2 Month 2 Reporting Framework
Part 2 Month 3 Continuous Improvement
---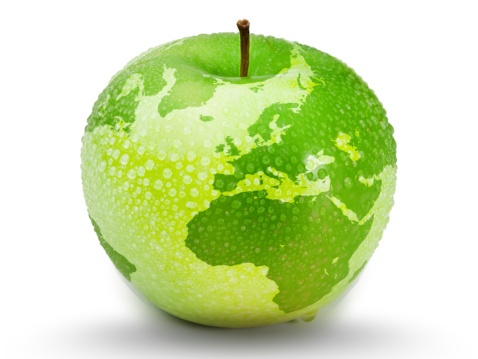 Program Objectives
The following list represents the Key Program Objectives (KPO) for the Appleton Greene Sales Enablement corporate training program.
Sales Enablement – Part 1 – Year 1
Part 1 Month 1 Enablement Diagnostic – The wholistic understanding of the Sales Group of an organization and how it is organized and functions, is critical to developing a fit-for-purpose Sales Enablement function. (Sales Group here does not refer to just the sales team but everyone involved in customer-facing activities within your organization, including marketing, business development, partnership, and sales enablement). This diagnostic review of your Sales Group will be an adopted format of the SWOT Analysis model. This provides a simple, yet powerful way to effectively assess the current state and identify opportunities for enhancement. The diagnostic review will cover these key Diagnostic Dimensions: organization structure, workforce numbers, % of sales group meeting/exceeding quota, team culture & dynamics, time to top productivity for new hires, feedback on content and training services, sales pipeline metrics 3Vs – Volume, Value and Velocity We will work together to assess the Sales Group along these dimensions and generate a Enablement Diagnostic Scorecard which highlights your organizations current standing along these dimensions in comparison to industry and or desired standards and rated on a 3-point Likert Scale – Below Standards, Meets Standards, Exceeds Standards. For some of these Diagnostic Dimensions, there are industry standards which top players in the industry abide by. In some other cases, your company may choose to go below or above these standards due to some other considerations. We will work with you to define and align on these standards prior to conducting the diagnostic review so we have an objective basis for evaluating performance. Using this scorecard ratings, we will work with you to prioritize these dimensions. The prioritization will inform the key elements and themes that will be incorporated into the development of the Sales Enablement Strategy (Month 2). This scorecard also becomes the basis for evaluating the impact of this program as we progress through the modules.
Part 1 Month 2 Enablement Strategy – The Sales Enablement Strategy refers to a wholistic approach you will be taking to ensure your Sales Group is provided with the content, training, mindset and resources required for them to effectively sell and raise your organization's topline. The horizon of this strategy will be for the medium to long term (i.e., next 5 to 10 years) and articulate what the desired long-term vision of what your enablement function will look like in its most ideal state. The strategy will also define the main purpose of your organization's enablement function and how it fits into all the other pillars of your customer facing strategies and organization. The strategy will also contain the core principles that will be guiding the activities of your sales enablement function. Examples of such core principles include – customer-centric design, just-in-time content delivery, micro-learning approach, willing and able. Finally, the strategy will contain the high-level measure of success which will be the foundation on which the KPIs and other metrics for enablement function will be defined. The Sales Enablement strategy becomes the bedrock on which all other key elements of your Sales Enablement function will be built. As such, the strategy will be built through a facilitated workshop designed to engender collaboration and co-creation. The co-creation will be based on the synergy between your strong understanding of your business and our strong understanding of leading enablement practices. This will ensure we are building a Sales Enablement Strategy for now and the future. The goal is to have a future-proof Sales Enablement Strategy. This means that while there may be an opportunity to refine a few parts of the Sales Enablement Strategy, the expectation is that the fundamental tenets of the strategy will remain unchanged as they will intricately woven into the fabric of your organization's core. With that the Sales Enablement strategy truly becomes an enabler of your organization's revenue and growth philosophy.
Part 1 Month 3 Enablement Model – The operating model for your Sales Enablement function refers to how this function will create and deliver value to all the members of your Sales Group. The key value drivers of an enablement function include content, training, coaching, process & technology. The operating model will clearly articulate how your Sales enablement function will organize and leverage its people (capabilities & capacity), its workflows, infrastructure, hardware and software to generate and seamlessly deliver value to your Sales Group. This Sales Enablement Operating Model defines how the Enablement Strategy will come to life. The Sales Enablement Operating Model becomes the blueprint for defining the organization structure where we distinguish the design/development from the service delivery with high-level functional descriptions for each. The Model will also define business process workflows for how the development and service delivery components will work together. Finally, the model will define the people requirements specifying what skills and competencies are required and how many team members are required to deliver for the short, medium and long term. The approach we will adopt for developing this model with you will be an iterative consulting approach. This means we will provide with pre-populated templates and tools which we will then work with you to update and refine, through a few iterations. This way, we ensure the model aligns with your current and future needs. The Enablement Model is the interpreter of the Enablement Strategy. It helps interpret the model from a seemingly esoteric, idealistic state to tangible practical terms that provide the basis for developing the Sales Enablement Charter.
Part 1 Month 4 Enablement Charter – The Sales Enablement Charter is a well-detailed tactical plan for how identified aspects of the Enablement Strategy and Enablement Model will be implemented over the next three to four quarters of the year. The charter contains prioritized initiatives arranged in a roadmap format which specifies when the initiatives will be completed, who will be involved and how it will be implemented. Because the charter has a time horizon of 9 to 12 months, it is expected that it will be refreshed on an annual cycle. The refresh will be based on reviewing the elements that are yet to be implemented in the Charter for that year and other aspects in the Enablement Strategy and Enablement Model, which have not yet been implemented. This approach will ensure the most relevant items from the Strategy and Model are prioritized into the Charter on an annual basis. The Sales Enablement Charter will be built through a facilitated workshop designed to engender collaboration and co-creation. The co-creation will be based on the synergy between your strong understanding of your business and our strong understanding of the ideal sequencing of enablement functions. This will help ensure we are developing a charter that is built-for-purpose to support your sales objectives and plans. We will work with you to develop the Sales Enablement Charter consisting of these 4 main sections ( 4P)s. The first section, Purpose – here we will document the vision, mission, and core principles of the enablement function, extracting relevant sections from the Sales Enablement Strategy. Posture – here we will articulate elements of the Sales Enablement Operating Model that will be the focus for the next 9 to 12 months. This section will also contain the stakeholders/audiences that the enablement function will serve. The Third Section, Priorities – in this section we will detail the priorities for the year, specifying their objectives, timelines, who is involved, and how the priorities will be executed. The fourth and final section, Progress – in this section we will define the measures of success for the enablement function (current & desired), how this progress will be measured and to whom it will be reported. This is important in ensuring the value of the enablement function is visible across the Sales Group.
Part 1 Month 5 Customer Journey – The Customer's Buying Journey refers to the steps your customers take to identify a challenge (or opportunity), analyze options on how to overcome the challenge (or seize the opportunity), choose an option and implement the chosen options or solution. The methodology we will adopt in developing the Customer's Buying Journey will be a facilitated workshop designed to engender collaboration and co-creation. The co-creation will be based on the synergy between your strong understanding of your customers and our strong understanding of the key pillars required in developing a fit-for-purpose customer journey. The value in co-creating the customer journey is that begins to engender and reinforce a customer-centric approach to enablement activities. This is intentional as it shifts the focus of enablement from activity based to impact/outcome based, ensuring that everything the enablement function does is aimed at helping the Sales Group advance the customer along their buying journey. The customer buying journey becomes the framework for organizing how the sales enablement activities will be delivered to the Sales Group. For example the enablement activities delivered for customers in the early stages of the buying journey will be different from the activities delivered at the mid or late stage. Aligning the sales enablement activities to the customer buying journey creates a more systematic approach to delivering enablement support to the Sales Group. While we expect each organization's customer buying journey will differ in some way, we will work with you to ensure we have a minimum of 3 stages and a maximum of 7 stages. This ring-fencing is to ensure the steps in the customer journey have an optimum balance of being broad enough to accommodate unique customer buying journeys but specific enough to guide the delivery of the enablement activities. Once completed, the Customers' Buying Journey output document will be rolled out across your Sales Group to reinforce the customer-centric mindset.
Part 1 Month 6 Value Messaging – One of the most effective forms of selling is value selling where key messages and scripts are prepared to enable your Sales Group effectively communicate the value of your products/service to prospects and customers. Obtaining support from your buyer's executive leadership team and the required financial investment is easier when your buyer understands the value your products and services will deliver to their organization. The Value Messaging is important to enablement because all enablement activities and assets need to be infused with these value messages. All enablement activities and assets for the early stages of a customer's buying journey need to contain and reinforce the value messages so the Sales Group can effectively communicate this to the buyer. The approach we will adopt for this is a classic consulting approach, using our 4C Framework – Clarity, Consistency, Coverage & Customer Impact. The 4C Framework will be used to review existing enablement activities and assets to assess how well the value messages have been infused into these enablement activities and assets. For Clarity, we will assess how clear the value messages come through in the content of the enablement assets or the delivery of the enablement activities. In Consistency, we will evaluate how consistently the most current value messages come through in the content of the enablement assets or the delivery of the enablement activities. For Coverage, we will assess how well the value messages come through in the enablement assets across all the different stages of the customer's buying journey. Finally in Customer Impact, we will be assess how effective these enablement activities and assets are in equipping the Sales Group to effectively communicate value to the buyers. This outcome of this review will provide recommendations that will impact how better to infuse the value messaging in the enablement activities and assets. It is also possible that the review may inform a need to further refine the existing value messages. The ideal value messages will include key elements such as the business problem/opportunity linked to the business value and contextualized to the relevant buyer persona. The final step involves developing and implementing a tactical plan to infuse these refreshed value messages into all enablement activities and assets going forward.
Part 1 Month 7 Content Management – Content refers to all assets, materials, tools guides, documents and resources that are designed to help the Sales Group have impactful interactions with the prospects and advance them along the customer buying journey. These content types could be customer facing, external content which the Sales Group can share directly with prospects, with little or no customization. The content types could also be internal, team enablement focused content, designed to better equip the Sales Group with the required knowledge, skills, mindset, and behaviours. Content Management refers to the processes and technologies put in place to ensure the efficient and effective development, delivery, evaluation, and enhancement of content. The overall success metric of a Sales Enablement function's content management approach is its ability to provide the Sales Group with the right content at the right time, so they are better equipped to have the right conversation with the right buyer. In this module, we will build on the findings from the 'Enablement Diagnostic' module – especially the findings that relate to feedback on your current content services. Feedback on content services usually highlight two major concerns from sales team members – quantity and quality. On quantity of content, the root-cause of the feedback is not necessarily asking for more content but requesting better support in finding the content. Many times, when a salesperson cannot find the content they need, they assume it is not available. As such, the 'quantity' issue can be greatly improved by enhancing the organization of and access to content. The other feedback around 'quality' of content usually refers to the inability of the content to effectively impact the prospect (for external content) or inability of the content to further enable (for internal content). This 'quality' issue can be greatly improved by setting up a system for obtaining regular, real-time feedback on content and improving on this. The approach we will adopt to respond to these potential issues of 'quantity' and 'quality' of content is the Shewhart Cycle or PDCA approach. The PDCA (Plan-Do-Check-Act) Cycle