Culture Evolution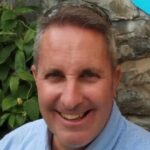 The Appleton Greene Corporate Training Program (CTP) for Culture Evolution is provided by Mr. Bonnes (B.Sc.) Certified Learning Provider (CLP). Program Specifications: Monthly cost USD$2,500.00; Monthly Workshops 6 hours; Monthly Support 4 hours; Program Duration 12 months; Program orders subject to ongoing availability.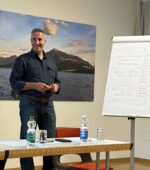 Personal Profile
Mr. Bonnes (B.Sc.) is a highly accomplished business professional with over 25 years of expertise in Project Management, Sales, Marketing, Leadership, and Learning & Development (L&D). With 18 years of hands-on experience in the business world, he possesses unparalleled clarity on what truly adds value in terms of people and organizational development efforts and investments.
As a Change Management and Culture Development Expert, Mr. Bonnes has an impressive track record of guiding leaders and their teams through global change workshops while reinforcing and nurturing the enterprise's culture. His ability to drive disciplined action during periods of transformation is widely recognized.
Furthermore, Mr. Bonnes is a certified Executive Coach, specializing in coaching CEOs and senior executives. He has successfully worked with global businesses across diverse country, cultural, and language divides, assisting teams and their leaders in achieving personal and professional growth.
Mr. Bonnes' expertise extends to being an experienced and influential Facilitator, Presenter, and Trainer, with a genuine passion for people development. In his previous corporate role as Vice President and Head of Global Training and Learning at the Hilti Corporation, he led a team with global responsibility for world-class Leadership, Talent Development, Sales, and Marketing Programs. Additionally, he held headquarters responsibility for "soft" skills training and development.
Having collaborated with businessmen and women in over 30 different countries throughout his career, Mr. Bonnes possesses a truly global perspective and an exceptional sensitivity and appreciation for individual cultures. This exposure has shaped his ability to navigate diverse business environments with ease.
In summary, Mr. Bonnes is a highly accomplished professional with a wealth of experience in various business domains. His expertise in Change Management, Culture Development, Executive Coaching, and People Development has made him a sought-after leader in the industry. With his global perspective and cultural sensitivity, Mr. Bonnes brings a unique and valuable perspective to every endeavor he undertakes.
To request further information about Mr. Bonnes (B.Sc.) through Appleton Greene, please Click Here.
---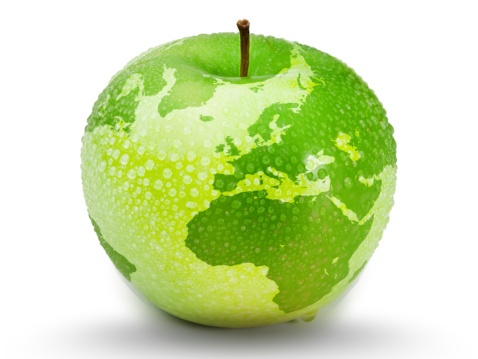 (CLP) Programs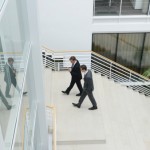 Appleton Greene corporate training programs are all process-driven. They are used as vehicles to implement tangible business processes within clients' organizations, together with training, support and facilitation during the use of these processes. Corporate training programs are therefore implemented over a sustainable period of time, that is to say, between 1 year (incorporating 12 monthly workshops), and 4 years (incorporating 48 monthly workshops). Your program information guide will specify how long each program takes to complete. Each monthly workshop takes 6 hours to implement and can be undertaken either on the client's premises, an Appleton Greene serviced office, or online via the internet. This enables clients to implement each part of their business process, before moving onto the next stage of the program and enables employees to plan their study time around their current work commitments. The result is far greater program benefit, over a more sustainable period of time and a significantly improved return on investment.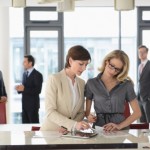 Appleton Greene uses standard and bespoke corporate training programs as vessels to transfer business process improvement knowledge into the heart of our clients' organizations. Each individual program focuses upon the implementation of a specific business process, which enables clients to easily quantify their return on investment. There are hundreds of established Appleton Greene corporate training products now available to clients within customer services, e-business, finance, globalization, human resources, information technology, legal, management, marketing and production. It does not matter whether a client's employees are located within one office, or an unlimited number of international offices, we can still bring them together to learn and implement specific business processes collectively. Our approach to global localization enables us to provide clients with a truly international service with that all important personal touch. Appleton Greene corporate training programs can be provided virtually or locally and they are all unique in that they individually focus upon a specific business function. All (CLP) programs are implemented over a sustainable period of time, usually between 1-4 years, incorporating 12-48 monthly workshops and professional support is consistently provided during this time by qualified learning providers and where appropriate, by Accredited Consultants.
---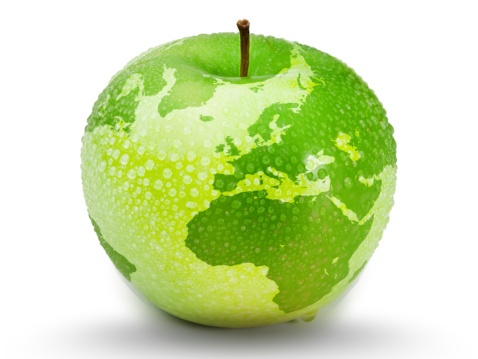 Executive summary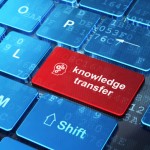 Culture Evolution
History
In the 1950s, company culture was largely characterized by a hierarchical structure and a top-down management style. Organizations were often centralized, with decision-making power concentrated at the top levels of management. Employees were expected to follow strict rules and procedures, and there was a clear division between management and workers. Loyalty and conformity were highly valued, and employees were expected to stay with the company for long periods of time.
As the 1960s and 1970s rolled in, a shift began to occur in company culture. The rise of the counterculture movement and the civil rights movement influenced the workplace, leading to a greater emphasis on individualism and diversity. Companies started to recognize the importance of employee satisfaction and began to offer more benefits and perks. The concept of work-life balance started to gain traction, and employees were encouraged to express their opinions and contribute to decision-making processes.
In the 1980s and 1990s, the corporate culture became more competitive and focused on achieving results. The rise of globalization and technological advancements led to increased competition, and companies started to prioritize efficiency and productivity. This era saw the emergence of performance-based cultures, where employees were rewarded based on their individual achievements. The concept of teamwork also gained prominence, with companies encouraging collaboration and cross-functional communication.
In the 2000s and beyond, company culture has continued to evolve. With the advent of the internet and social media, organizations have become more transparent and open. The emphasis on diversity and inclusion has grown, with companies recognizing the value of different perspectives and experiences. Flexibility and remote work options have become more common, allowing employees to have a better work-life balance. Additionally, there has been a greater focus on corporate social responsibility, with companies aligning their values with social and environmental causes.
---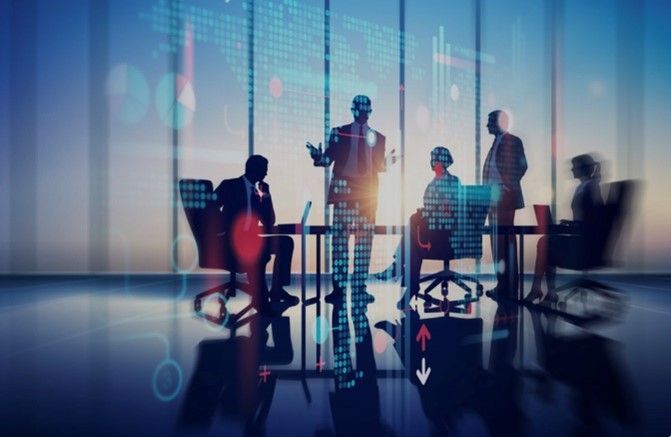 ---
Overall, company culture has shifted from a rigid and hierarchical structure to a more flexible and inclusive approach, with a greater emphasis on employee satisfaction, collaboration, and social responsibility.
---

---
Many companies refer to their culture as "how we get things done around here." Company or corporate culture encompasses the shared values, beliefs, behaviors, and practices that shape an organization's identity. Over the years, the importance of organizational culture to business success, brand, and longevity has become increasingly evident.
Why is Company Culture Important?
A strong and healthy organizational culture is vital for businesses in today's competitive landscape. It is crucial for several reasons. Firstly, it sets the tone for how employees interact with each other and with customers, shaping the overall work environment. A positive and inclusive culture fosters teamwork, collaboration, and innovation, leading to increased productivity and employee satisfaction. It also helps attract and retain top talent, as individuals are drawn to organizations with a strong culture that aligns with their values.
During good times, a strong company culture can propel an organization to even greater success. It creates a sense of purpose and shared values among employees, driving them to work towards common goals. It promotes a positive and supportive work environment, boosting morale and motivation. This, in turn, leads to higher levels of employee engagement and loyalty, resulting in increased productivity and profitability.
During challenging times, such as the 2008 financial crisis or the Covid-19 pandemic, company culture becomes even more critical. A strong culture provides a sense of stability and resilience, helping employees navigate uncertainty and adversity. It fosters open communication and transparency, allowing for quick adaptation and decision-making. A supportive culture also promotes employee well-being, ensuring that individuals feel valued and supported during difficult times. This can lead to increased employee loyalty and commitment, as well as improved teamwork and problem-solving abilities.
What kind of Wind is blowing through your Organization?
---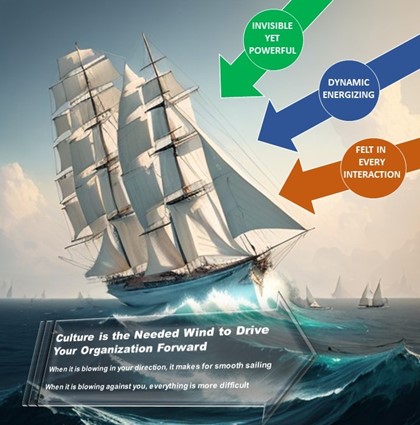 ---
In summary, company culture is important because it shapes the work environment, attracts and retains talent, and drives productivity and business success. It is particularly valuable during challenging times, as it provides stability, resilience, and support to employees, enabling organizations to navigate crises and emerge stronger. Understanding and evolving organizational culture is crucial for sustained success in a changing world.
Culture Evolution – Workshop Solution & Process
The Culture Evolution workshops provide a comprehensive solution for organizations at any level of culture development who are seeking to understand, analyze and evolve their culture to power their business. The workshops cover a range of topics connected to organizational culture, including vision and values, leadership, communication, goal alignment, high-performing teams, diversity & inclusion, employee well-being, talent attraction, employee engagement and retention, customer satisfaction, social responsibility, sustainability, innovation, creativity, resilience and agility.
Through a structured process, participants engage in a series of workshops that facilitate deep exploration and analysis of their organization's culture. During the workshops, participants engage in interactive exercises, discussions, and case studies that encourage self-reflection and exploration. They are encouraged to share their experiences, challenges, and successes, fostering a collaborative learning environment.
Through this process, participants will gain valuable insights into the current state of their culture, identify areas for improvement, and develop strategies to make necessary adjustments. The workshops provide a roadmap for Culture Evolution, equipping participants with the knowledge, tools, and methods to unleash the potential of their people and drive positive change.
---

---
What's in it for You?
By investing in an analysis of their own company culture through the Culture Evolution workshops, clients gain a powerful starting point for unleashing the potential of their people and driving business success. The workshops offer numerous benefits, including:
1. Enhanced Employee Engagement and Productivity: A strong culture fosters higher levels of employee engagement, leading to increased productivity, improved performance, and a positive work environment. Engaged employees are more committed, motivated, and aligned with the organization's goals.
---